So you and your significant other have chosen Maui as your next vacation destination, and now you're ready to get planning. With so much to see and do, there can be a lot of pressure to put together the perfect itinerary, but don't worry — that's why we're here. Whether you're looking to spend your time sunbathing on Ka'anapali or roadtripping through Hana, we've put together some must-see spots that are sure to provide a healthy mix of both relaxation and adventure. Here some of the top things to do as a couple in Maui.
Drive the Road to Hana
The Hana Highway, also known as "The Road to Hana," is a 64.4-mile highway connecting the towns of Kahului and Hana. More than a means of transportation, The Road to Hana makes for a day trip filled with history, scenic views, and adventure. So if you came to Maui looking to swim in waterfalls, experience local culture, and find some of the best beaches, this is the tour for you to take.
There are two different ways to tour the Road to Hana: Driving yourself or taking a guided group tour. There are several different group tours you can book, but there's definitely something more romantic about road-tripping through the island as a couple.
If you decide to drive yourself, we recommend downloading the Gypsy Guide app for easy off-roading. For $10, you have access to a self-guided audio tour that gives directions and recommends scenic stops you otherwise might not know about, all while guiding you through the history of the island based on your location.
Whichever way you choose to experience The Road to Hana, you can plan on your tour taking 10-12 hours roundtrip – but we promise, it's an all-day adventure that is absolutely worth it!
Eat Dinner at Mama's Fish House
You may have already heard this from family or friends who have visited Maui, but we're going to tell you again anyway: Mama's Fish House is one of the most romantic dinner spots you'll find on the island. 
The highly popular local landmark has sat on the island's North Shore since 1973, providing fantastic food alongside stunning views of Kuau Bay. Their website even states that "some call it a beachfront restaurant, we call it an oasis." The idyllic setting is accompanied by plenty of Polynesian decor, with pieces of Hawaiian history scattered throughout the property.
And if its dreamy location and beachfront beauty aren't enough to convince you, the local flare should be. Mama's family of fisherman set sail daily to catch a variety of fresh fish for their seafood-forward menu, and all produce is delivered daily from local Maui farmers. Furthermore, Executive Chef Perry Bateman is a fifth generation chef born and raised in Maui, committed to creating a truly local, gastronomic experience for guests.
Due to the restaurant's overwhelming popularity, Mama's Fish House is currently booked 3-6 months in advance. We'd recommend booking your reservation as far in advance as possible, or setting up reservation notifications via OpenTable if you can't find the date or time you're looking for.
Watch the Sunrise at Haleakala National Park
It doesn't get more romantic than watching the sunrise together … 10,023 feet above sea level! Haleakala National Park, known as "house of the sun" in Hawaiian, is a dormant volcano featuring staggering landscapes, soaring views, and one of the most spectacular spots to watch sunrise on earth. According to Hawaiian legend, the crater got its name when Maui, the demigod, stood atop the volcano and lassoed the sun in efforts to make the days last longer. 
The first and most essential step in planning your perfect sunrise trip is booking your reservation with the National Park Service. All personal and rental vehicles need a reservation to enter the park from 3 a.m. to 7 a.m., which can be made 60 days in advance. This reservation includes parking at the summit but does not include the park's entry fee. 
The second step is the actual drive. If you're heading to Haleakala from Wailea or Ka'anapali, you can expect the drive up to the summit to take about two hours. If you want to make the most of seeing sunrise, make sure you plan accordingly!
If you're looking to stick around after sunrise, there are also many hiking trails available to explore the 30,000 acres of Mars-like landscape Haleakala has to offer. Additionally, you can explore the rocky terrain by booking guided tours, horseback tours, or bus tours.
Attend a Traditional Luau
Your Hawaiian vacation isn't complete without attending a traditional luau. If you're unfamiliar with the festivity, a luau is traditional feast featuring live music and entertainment. These celebrations are a staple of Hawaiian culture and a great way to experience traditional foods, entertainment, and history. As a couple, they're a perfect way to celebrate an engagement, honeymoon, or anniversary as well.
You're experience starts with a welcome drink, then leads to a buffet-style feast filled with Hawaiian classics such as Poi, a dish made from the fermented root of taro. Followed by the food will be hula dancing, festive music, and storytelling about the Hawaiian people.
While the first luau occurred in 1819, the popularity of luaus emerged in the 1930s to 1950s resulting in a number of different hotels, resorts, and venues hosting their own luaus today. Now, it's hard not to find one! Some of the most popular luaus include the Old Lahaina Luau, Te Au Moana, and The Feast at Mokapu, but you're bound to find one wherever you are on the island.
It's best to book your ticket in advance for the popular luaus, as reservations fill up quickly. If tickets are unavailable on your selected date, try giving the resort a call, as they may be able to add you to their waitlist.
Set Sail on a Sunset Cruise
There's no better way to end your day than cruising on a sunset sail, especially as a couple. Sunset catamaran cruises are not only romantic, but give you a new breathtaking view of Maui that you can't see from shore. If your timing is right, you might even catch a glimpse of whales and other marine wildlife while out at sea.
In addition to beautiful views, you'll get the chance to enjoy appetizers, dinner, classic tropical cocktails, music, and dancing depending on the cruise that you choose. If you'd rather stick to just sailing, most catamarans pick up and drop off from Ka'anapali Beach, giving you easy access to shopping and dinner after the cruise is complete.
There are several popular catamaran companies offering sunset sails, including Teralani Charters and Alii Nui, both of which provide plenty of cruise packages for you to enjoy.
Snorkel the Molokini Crater
Scuba and snuba and snorkel, oh my! There are so many options when it comes to exploring the Molokini Crater, Maui's world-famous reef and snorkel site. 
Located just a few miles off of Maui's coast, Molokini is a crescent-shaped volcanic crater and Hawaii's only island marine sanctuary. Due to its protection, depth, inhabitation, and lack of soil, the waters near Molokini are extremely clear, resulting in ideal conditions for snorkeling. You can often see up to 150 feet down, coming across tons of tropical fish and coral reefs.
If you aren't scuba certified but want to go a little more below the surface than snorkelign allows, try to snuba – the perfect cross between snorkeling and scuba diving. Instead of wearing an oxygen tank, snuba divers are connected to a surface air tube that lets you explore up to 30 feet below the surface.
Tours of Molokini aren't hard to come by, as they're one of the most popular attractions on Maui.
There are several snorkel tours to choose from, many of which offer both half-day and full-day tours that include a catamaran cruise to the crater, lunch, and a few hours of snorkeling.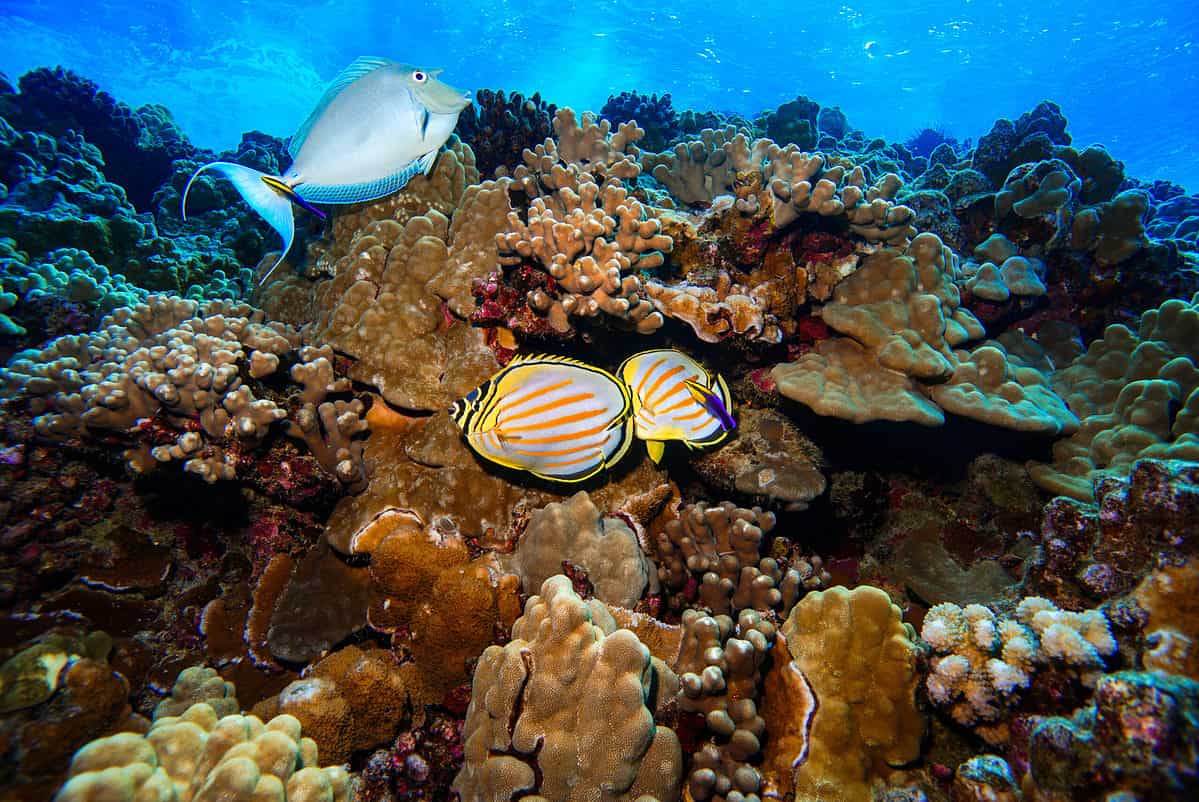 Spend a Day at the Spa
No matter where you are, nothing beats a classic couples day at the spa. Luckily, Maui has many wonderful, luxurious spas throughout the island, allowing you and your significant other to rest, relax, and recharge between your island adventures.
Enjoy a romantic couples massage at The Andaz Maui at Wailea, experience a full-on wellness retreat at Spa Montage, or soak up beachfront bliss with an outdoor massage at The Spa at Black Rock. Or if you're looking to stay local, there are plenty of masseuses who can bring the ultimate spa day right to the room of your resort as well. 
Picnic on the Beach
For a unique, intimate, picture-perfect couples experience away from the crowds, Maui Luxe Picnics offers luxury-style picnics in paradise for both groups and couples.
Perfect for proposals, birthdays, or anniversaries, their Picnic for Two experience includes a romantic picnic setup complete with fresh flowers, pillows, blankets, furniture, and more. Along with the lovely setup, a gourmet grazing table is provided for snacking. You can also choose your desired location, whether that's beachfront or in Maui's upcountry.
Picnic pricing starts at $650 for the setup and a two-hour picnic, with optional add-ons including photography/videography, live musical artists, and local entertainment. 
Whether you're looking to experience Maui as a couple or you want to bring the whole family, we can help you plan the perfect getaway. Check out our Maui vacation planning guide.
The image featured at the top of this post is ©Evan Austen/Shutterstock.com.