Traveling to Hawaii has been my all-time favorite vacation destination. I have been to Oahu, Kauai, and Maui (twice), and plan to visit the Big Island this next year. One of the questions I get asked very most is "Which Island is better? Maui or Kauai?" I'm going to focus today's post on Maui vs Kauai because although I love both islands very much, they are very different from each other. Before you dive into this article, read our main Hawaii Tips article where I share everything I wish I knew before planning my trip to Hawaii.
On our very first trip to Hawaii, we spent 3 days on Maui, and then 4 days on Kauai, which in my opinion is the very best way to do it! It's not that much more to add an inter-island flight to your trip. I would only advise this if your trip is going to be more than 7 days long though. Otherwise, you just won't have enough time to see both islands as you should!
P.S. If you visit Maui, our favorite area to stay is along Ka'anapali Beach. This is our favorite place by far (we've stayed at this resort 3 times).
Maui vs Kauai: What's the Same?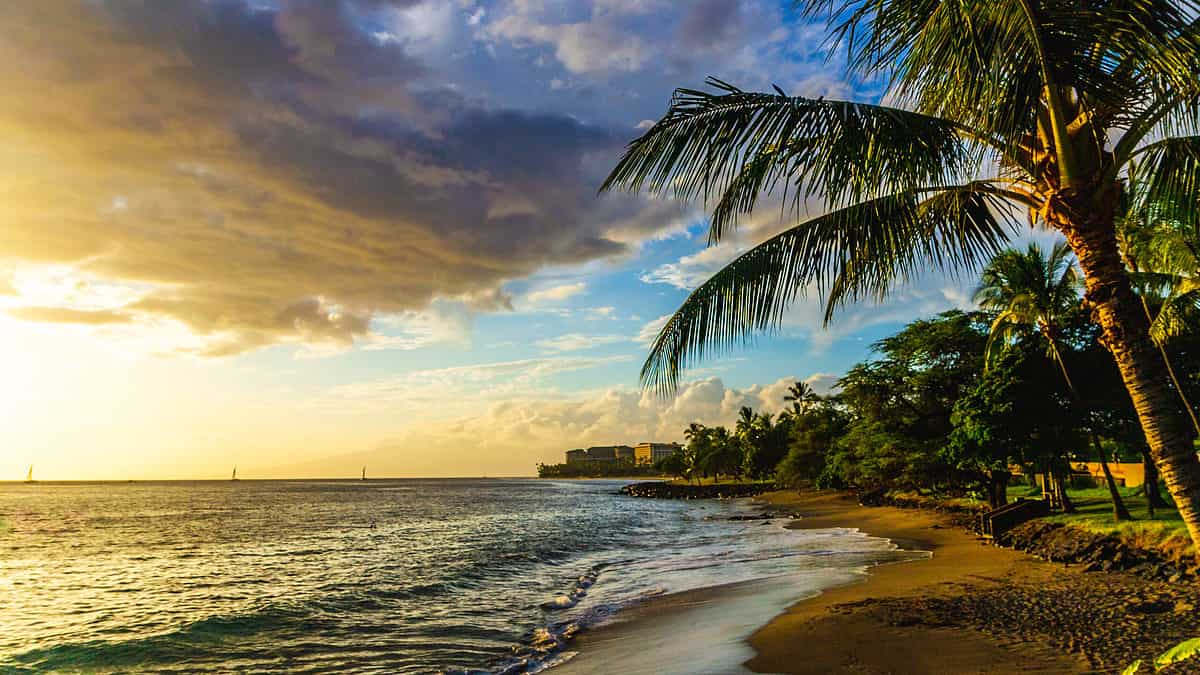 Maui vs Kauai is a difficult comparison because you really can't go wrong going to either island! I deeply love them both. Both have wonderful hiking opportunities and equal amounts of outdoor adventure, as well as unlimited ways to relax and rejuvenate. Both have good snorkeling, although Maui's is better in my opinion due to the calmer waters.
Maui vs Kauai: What's Different?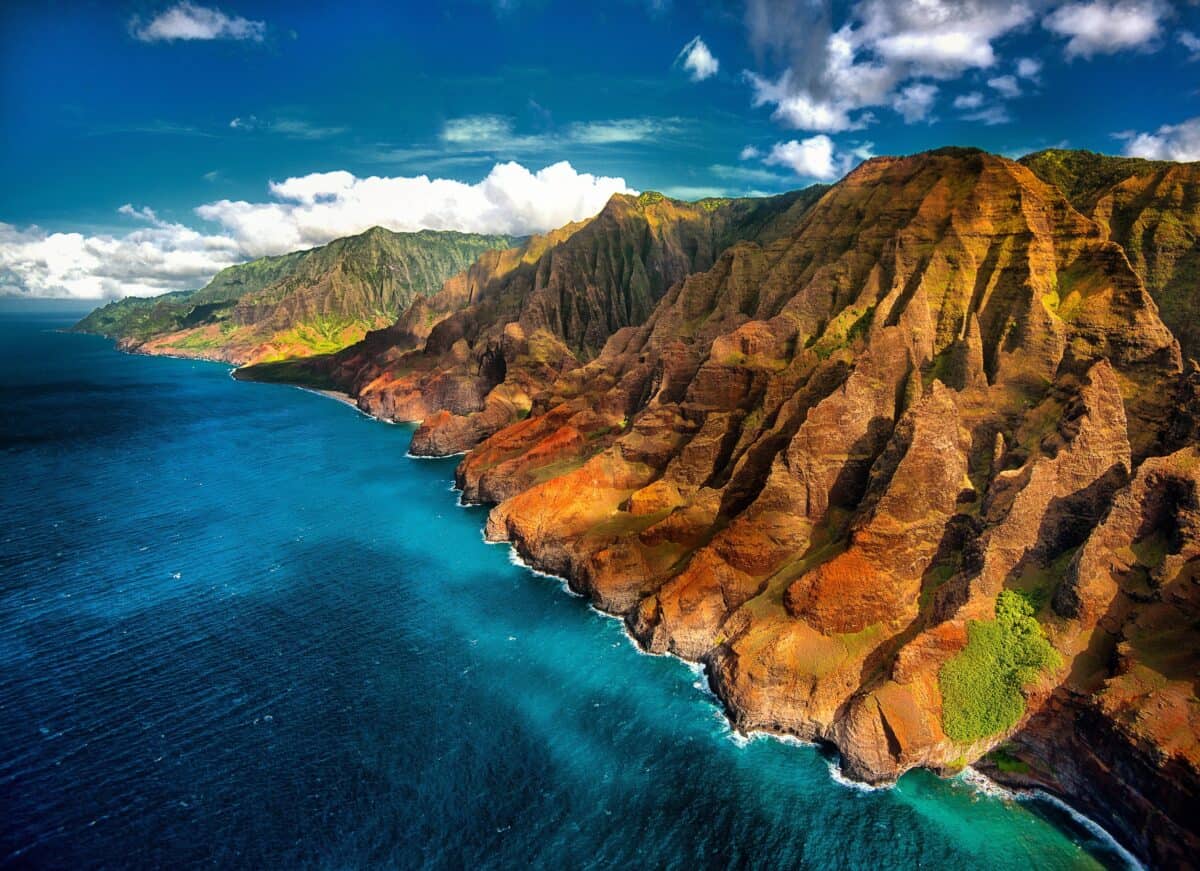 Maui is more about fancy restaurants, and has more beachfront accommodations and lovely scenery. Kauai is the only island of its kind and is lush and rural: you won't find high-rise resorts here (I believe the law is nothing higher than a coconut tree).  Here are some more noticeable differences between Maui and Kauai:
Maui: Relaxing, Honeymooner's appeal
See the Things We Did in Maui in this video:
Maui is Hawaii's honeymooners' destination due to its calm waters, touristy appeal, and beachfront accommodations. The best place to stay on Maui (in our opinion) is the west side. See West Maui Hotel Reviews here, or check out the top 50 West Maui vacation rentals on VRBO.
I'm going to start with the two main things that set Maui apart:
Haleakala – Haleakala is a large dormant volcano taking up 40% of the island. You can drive, bike, or hike parts of the volcano, and it's really popular for the sunrise at the top (although I recommend sunset for less of a crowd).
Road to Hana – Arguably one of the most beautiful, scenic drives in the world with waterfalls and beaches at every hairpin turn. Most of the amazing beauties that you find pinned on Pinterest, are sites from the Road to Hana, including white, black and red sand beaches, the bamboo forest, all kinds of waterfalls, and the famous rainbow eucalyptus trees.
Maui is more accessible: Maui has a lot more going on close together (especially if you are staying in Lahaina). Your main drives that will be longer are going to be Road to Hana or Haleakala. Everything else is pretty close by.
Better snorkeling and more beachfront properties. Maui is going to be more touristy, and as such you have a lot more options for beachfront properties and resorts.
Whales. If you are traveling during winter, Maui is going to be your choice for whale sightings. Whales have been spotted off of Kauai, but not nearly as easily as Maui due to more protected waters. In fact, many have spotted humpback whales from their hotel room (bring some binoculars).
Turtles! Although you can find turtles on both islands, they are pretty much a guarantee on Maui. There are a few spots where you can always find them, and I saw and swam with many turtles on Maui. Here's a picture my husband took of one of our first turtle sightings underwater: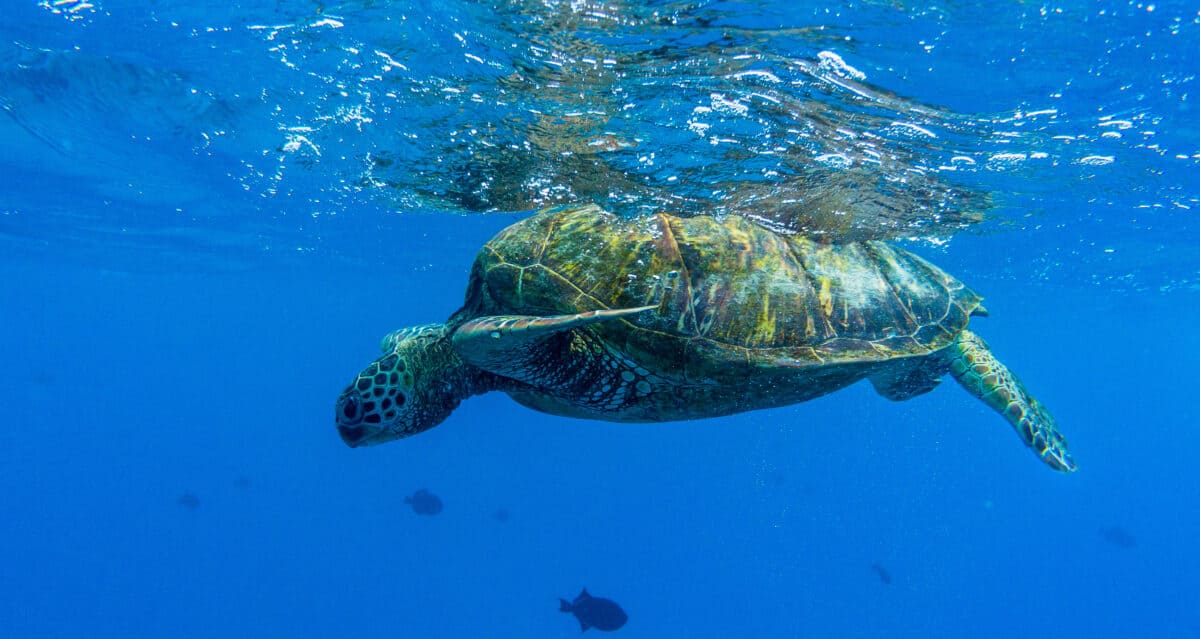 Swimmable beaches. once again, because the water is calmer in Maui, you have many more options for swimmable beaches. You can find some swimmable beaches in Kauai, but you will be driving more.
Relaxing boat tours. One of my all-time favorite memories is taking a catamaran snorkeling trip in Maui. It's the reason I had to go back a second time. This is the first time I swam with a turtle, and the entire experience was so relaxing and majestic. I still dream of that boat tour. We also did a boat tour in Kauai, but it was hard to relax as I felt I was going to be swallowed by the ocean. ROUGH seas on our Kauai boat tour and it was considered a "good day."
cons: Maui isn't quite as lush and quiet as Kauai since there is more touristy appeal here.
Kauai: Adventurous and Rugged (Stay in the North Shore)
Pros
As with Maui, there are two main sights that set Kauai apart:
Napali Coast – The mammoth coastline is featured in countless movies (Like Jurassic Park). Although the coastline is majestic and beautiful, it's hard to see unless you boat, kayak, or hike this coastline. Helicopter tours are also offered. We did a top-rated boat tour, and although the site was spectacular, I probably wouldn't do it again due to how choppy the water was. We had people barfing off the side of the boat, and we went during the calmer season when it was calm enough to go in the caves (I can't imagine doing this in winter).
Waimea Canyon – Considered the "Grand Canyon of the Pacific," this Hawaiian grand canyon offers jaw-dropping views and adventurous hiking opportunities.
Rivers to Kayak: Unlike other islands, Kauai has a few rivers that you can kayak! We almost booked a vacation rental that was walking distance to Hanalei river. It sounded so fun!
Quiet: Kauai is going to have less families and honeymooners, so if you want to go somewhere quiet with fewer people, Kauai is your island!
Monk Seals. The total population of Hawaiian monk seals is 1,100, so seeing one is a pretty big deal. The chance that you will see one while in Maui is extremely rare, but we saw TWO while in Kauai! In fact, our resort had a special protected spot where they like to rest. This picture below is a quiet beach we found near Hanalai Bay, and also where we saw a monk seal.
Cons: I would say Kauai's biggest con is that the water isn't as calm here, and it's the reason I chose Maui over Kauai for our second visit. However, I have been longing to go back and will probably choose Kauai next time. You really can't go wrong choosing either island. My preferred way to go is to visit them both in one trip.
Pin Maui vs Kauai to read later:
Readers opinion for Maui vs Kauai: Which would YOU choose?