Have you been wanting to visit the Hawaiian Islands and you're just not sure which Hawaiian Island to visit? It's the dilemma of many, as each island has such different things to offer. We have traveled a lot in the last several years, but the Hawaiian Islands remain one of my favorite travel destinations!
What's the BEST Hawaiian Island to Visit?
Picking which is the best Hawaiian Island to visit will generate different answers depending on who you are talking to, which is why it's better to compare the different options and let you choose for yourself!
We have been to them all and I still switch back and forth on which one is my favorite. And it certainly depends on what your main goal is for your vacation: Are you wanting relaxation? Adventure? City life? Whatever your goal may be, make sure you read our "Hawaii Tips" article that covers everything we wish we knew before our first trip to Hawaii (it applies to all the islands).
To help you plan the best Hawaii vacation, we have put together a comparison of the islands so you can pick which one is best for you. But first things first, one of the questions that gets asked a lot:
How Many Hawaiian Islands Are There?
You can see on this map, there are 8 main islands that make up Hawaii, listed below from largest to smallest. Typically the first 6 islands are your tourist destinations that we will focus on, with the first four being the most popular (Hawaii, Maui, Kauai and Oahu).
It's good to get familiar with the island names so that you can keep them straight when you ask people for travel tips.
Hawaii – The Big Island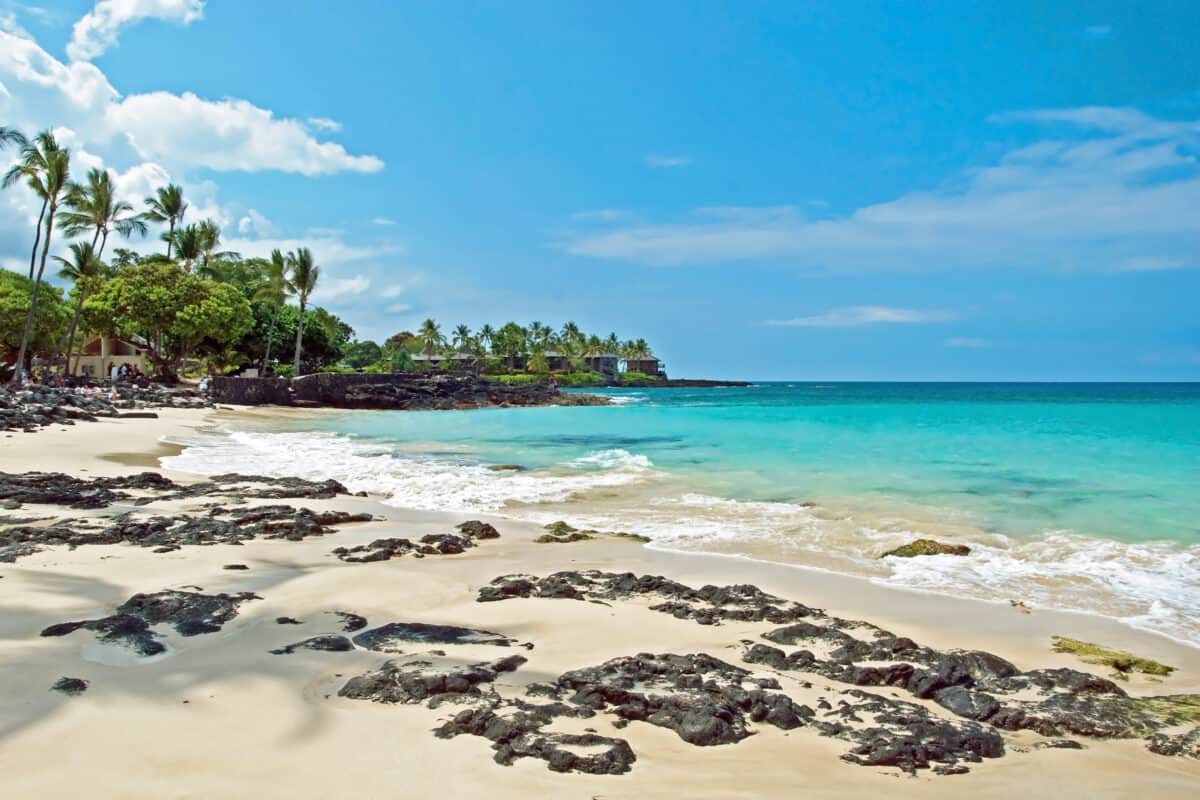 With about 4,000 square miles and a population of somewhere around 185,000 people, Hawaii is by far the biggest island — about 60% of the total area of all the islands. It is still smaller than the state of Connecticut, one of the smallest states in the continental U.S.
This is the only Hawaiian island with an active volcano and certainly has some of the most diverse climates because of that. The volcanoes act as shields and you can catch everything from snowy mountaintops to tropical rainforests. You can choose your climate here, the wetter tropical side (hilo), or the sunnier dry side (kona).
Temperatures average in the low to mid 80s with very low rainfall on the kona side and quite a bit of rain on the hilo side.
Maui – The Valley Isle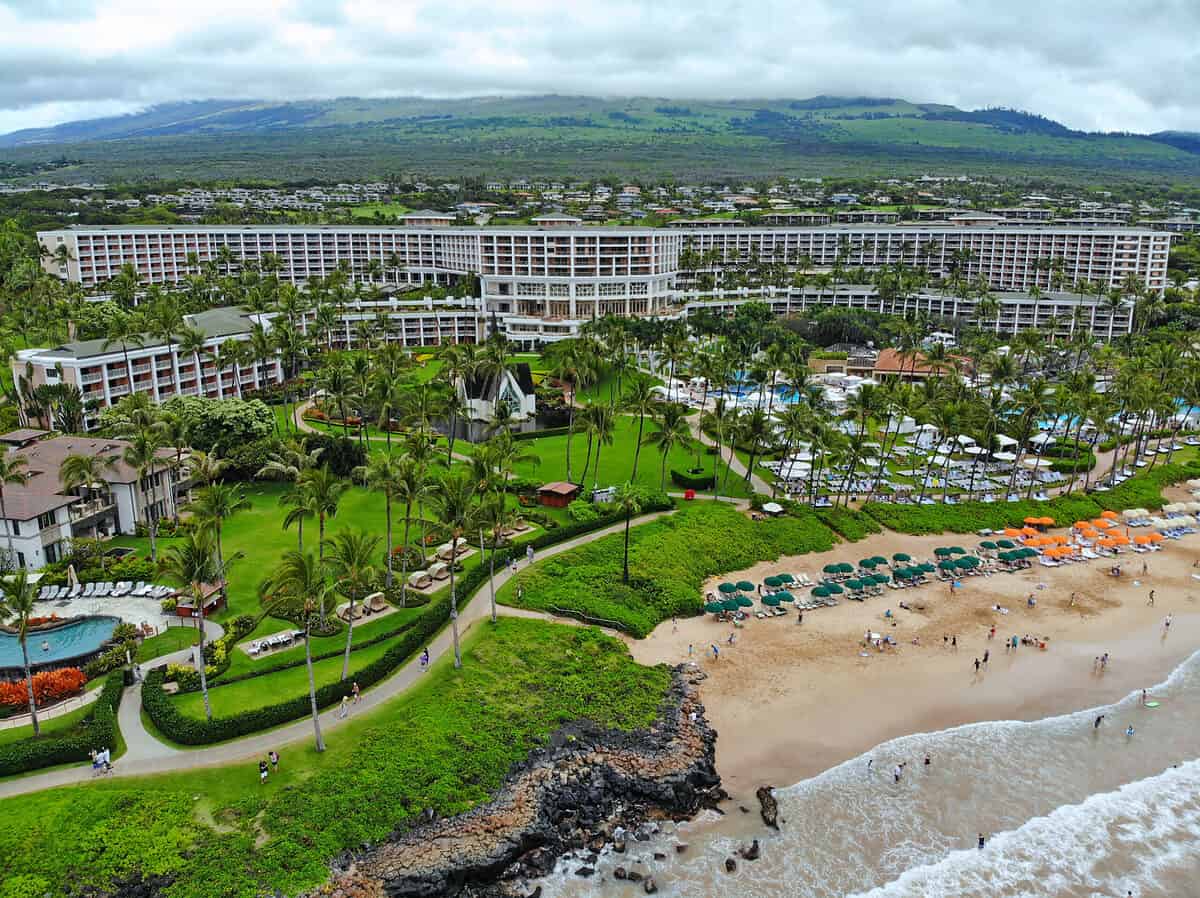 Oh how we love Maui! Wondering if you can afford the luxurious Maui? Check out our article on how to do a Hawaii vacation on a budget.
A little over 700 square miles (just smaller than Rhode Island) and a population of 140,000, Maui is one-fifth the size of the Big Island but similar in population size. This is the best fit for someone looking for a mix of rural life and adventure, while not breaking the bank. The road to Hana can't be passed up which makes it important to have a car on this island.
You will get to experience beautiful gardens, amazing waterfalls and more. Haleakala National Park houses its dormant volcano and for an awesome treat, catch this at sunrise. You can see some amazing beaches, and black, red and white sand, all on this one island. A black sand beach is not an experience to be missed!
Flights are typically the second cheapest to Maui (the cheapest being to Oahu). Maui gets a little warmer (especially on the south side) averaging in the high 80s and fairly low rainfall except for Hana.
Check out more about Maui in our Maui Vacation Planning Guide.
Oahu – The Gathering Place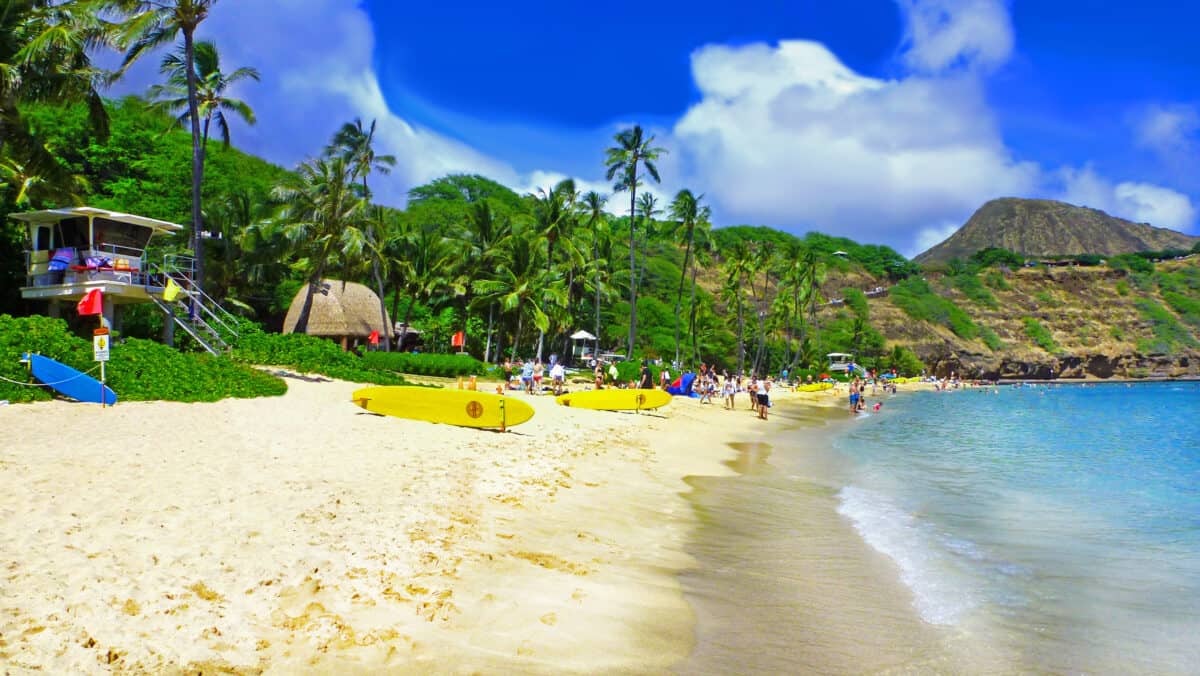 We have been to this island multiple times (see our article on North Shore Oahu: Top Things to Do and See). And if you are traveling on a budget, don't miss our list of 103 Free Things to Do in Oahu
Almost 600 square miles and a population of 950,000 people — about 70% of the population of all the Hawaiian Islands — Oahu is much smaller than the Big Island and slightly smaller than Maui with five times the number of people. The state capital of Honolulu is on the island of Oahu.
Known for value (typically flights to Oahu are the cheapest of the islands), city, nightlife, history and activities, some of the most well-known surf towns are on this island. Must-sees here are Waikiki Beach, Pearl Harbor, and the North Shore. This is the most "touristy" for good reason, with some of the best eats, and cultural activities you will never have a dull moment here.
You can find a little of everything from sunbathing and snorkeling, to surfing, to great luaus. This island certainly gives you a taste of everything that makes Hawaii Hawaii. Temperatures on most of Oahu hover in the mid 80s with moderate rainfall.
Check out more about Oahu in our Oahu Vacation Planning Guide.
Kauai – The Garden Isle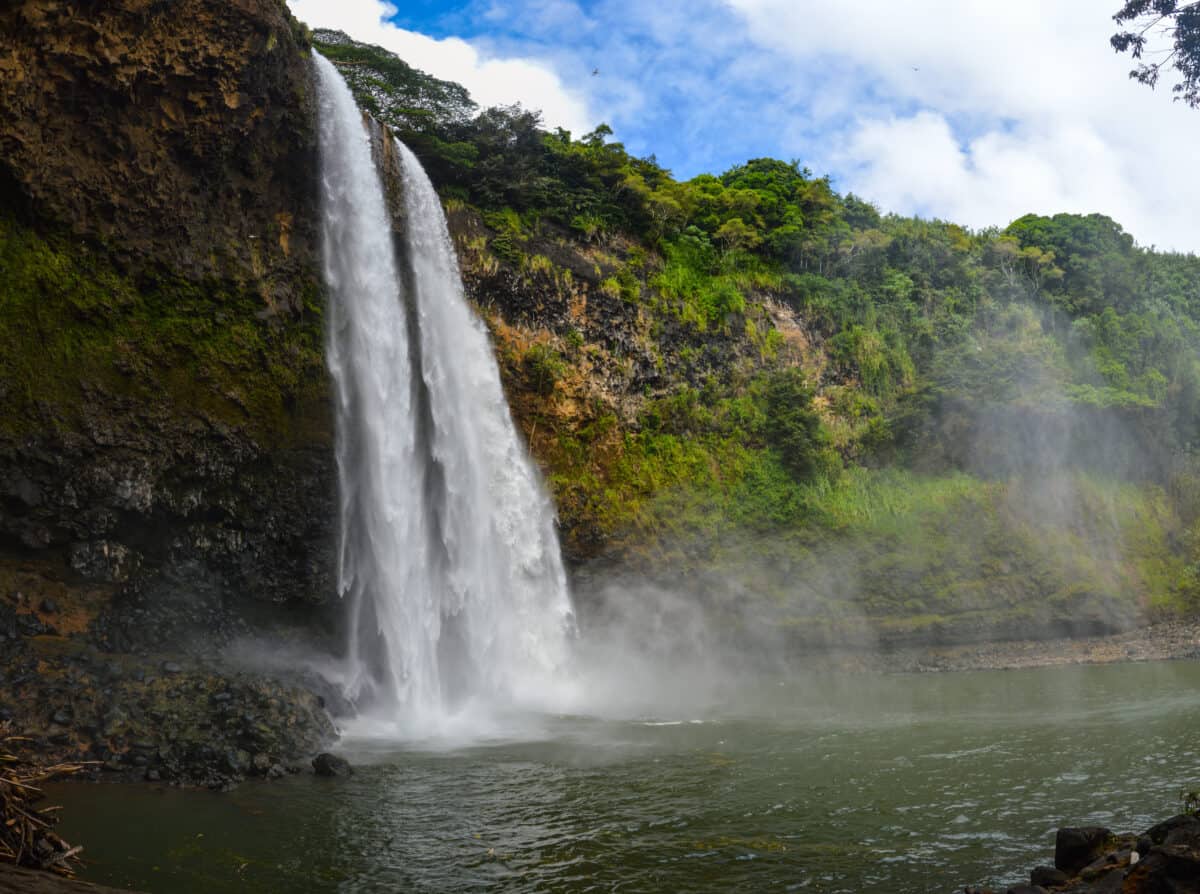 At 550 square miles and with only 66,000 people, Kauai is the oldest of the islands and because of that has a much more diverse topography. It is most well-known for its outdoor activities because of the mountains, cliffs, rainforests, rivers and waterfalls.
It's great for kayaking, snorkeling, zip lines, helicopter rides or hiking (basically the outdoor adventurer). It will typically cost you a little more to fly here, but some of the must-sees are Hanalei Bay, Poipu Beach, Kokee State Park, and Waimea Canyon State Park.
You'll find great resort options here (just like Oahu and Maui), with added adventure and a little more peace and quiet. Average temperatures are in the mid 80s with moderate to high rainfall compared to Maui or Oahu.
Molokai – The Friendly Isle
Molokai is 260 square miles and has only about 7,000 people. This is one of the most remote islands, lacking in modern amenities and is the most off the beaten path. If you are looking to get a Hawaii experience "off grid" and away from the hustle and bustle of most of the islands, this could be a great fit.
There are no longer any resorts on Molokai but smaller accommodations can be found, and no direct flights from the mainland to Molokai. See Molokai lodging options here.
Lanai – The Pineapple Isle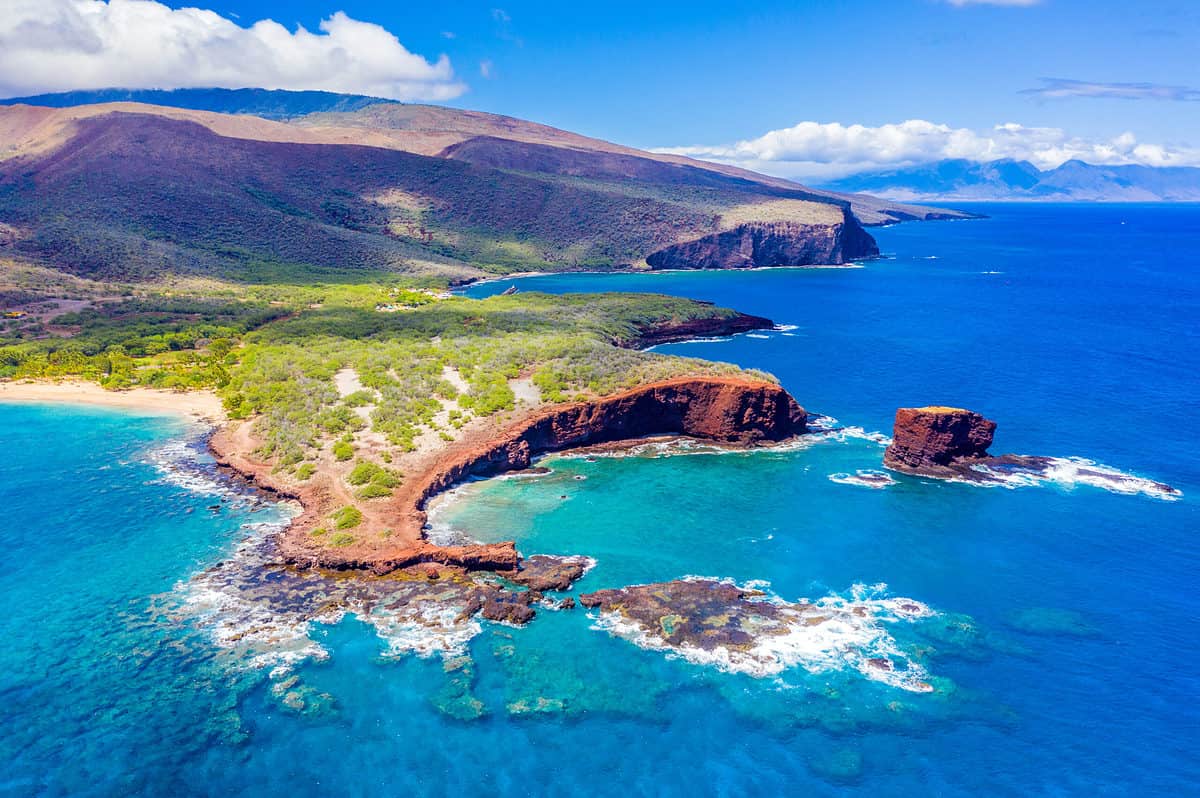 At 140 square miles and with about 3,000 people, Lanai is a tiny, tiny island, and you get there by ferry from the island of Maui, so you might want to visit Lanai in addition to another island. Most of the population are plantation workers, but have no fear — there are two great resorts as well as a renowned golf course.
Niihau – The Forbidden Isle
At 70 square miles, Niihau has only around 170 inhabitants.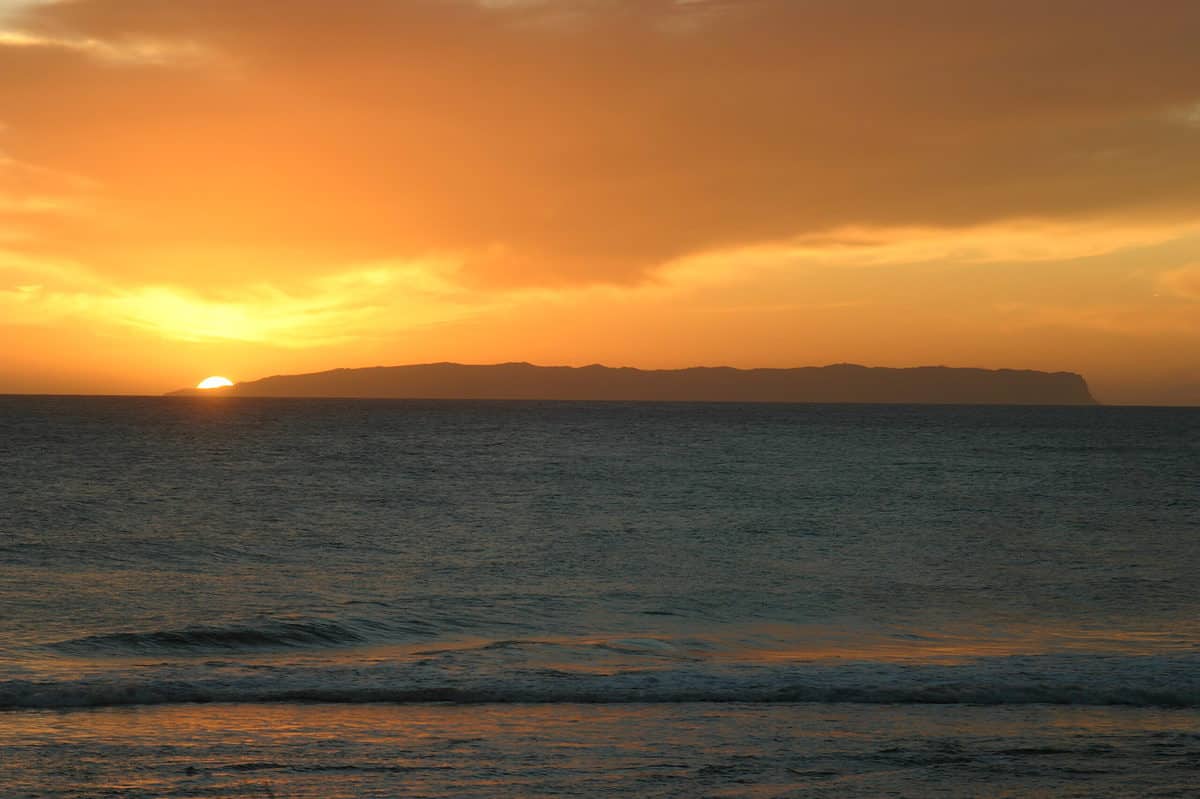 Kahoolawe – The Target Isle
Kahoolawe is 44 square miles and uninhabited.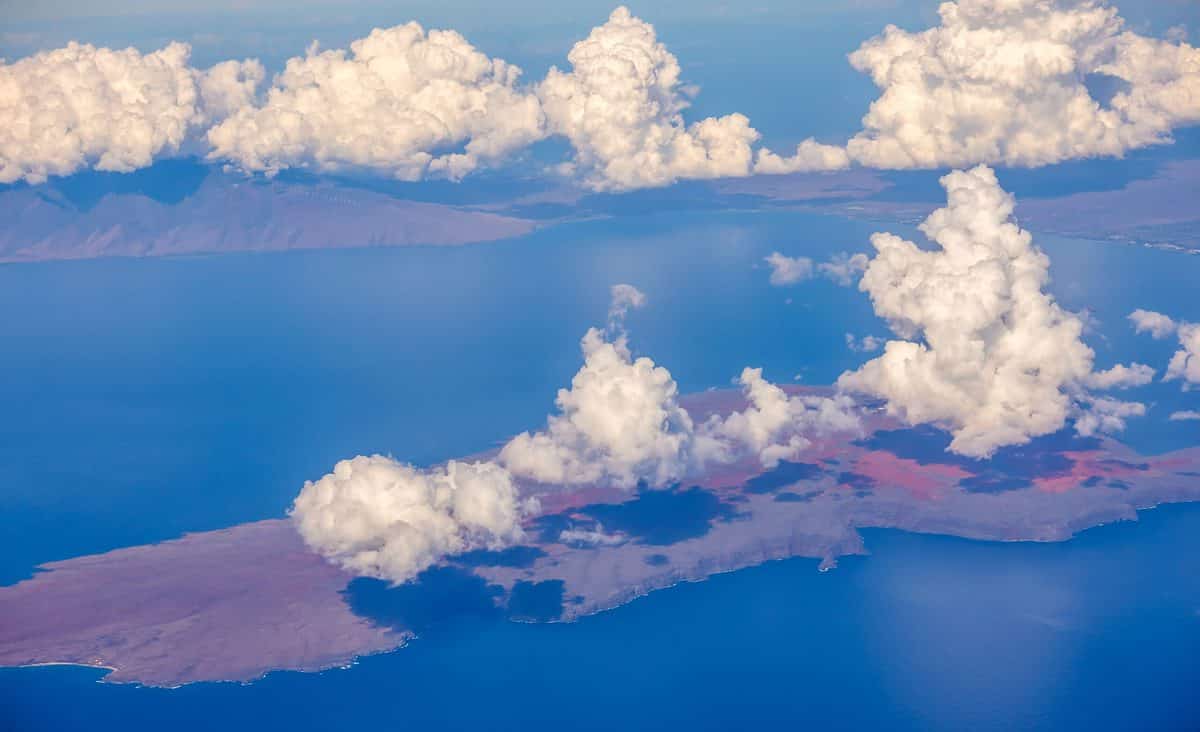 Still looking for vacation destinations? Check out our travel section here.
The image featured at the top of this post is ©TravisHoppe3781/Shutterstock.com.