Headed to Maui and looking for a few beautiful beaches? Good news: the iconic Hawaiian island has over 80 different beaches across 120 miles of coastline, and each one is accessible to visitors and the general public. Whether you're looking for family fun in the sun, a romantic day away, serious surfing, or some spectacular snorkeling, the many beaches of Maui offer the perfect amount of adventure for everyone. Read on to find our favorite sandy spots to add to your island itinerary.
Ka'anapali Beach
Location: West Maui
Good For: Swimming, Lounging, Snorkeling, Shopping/Dining
Wheelchair Accessible: Yes
Public Restrooms: Yes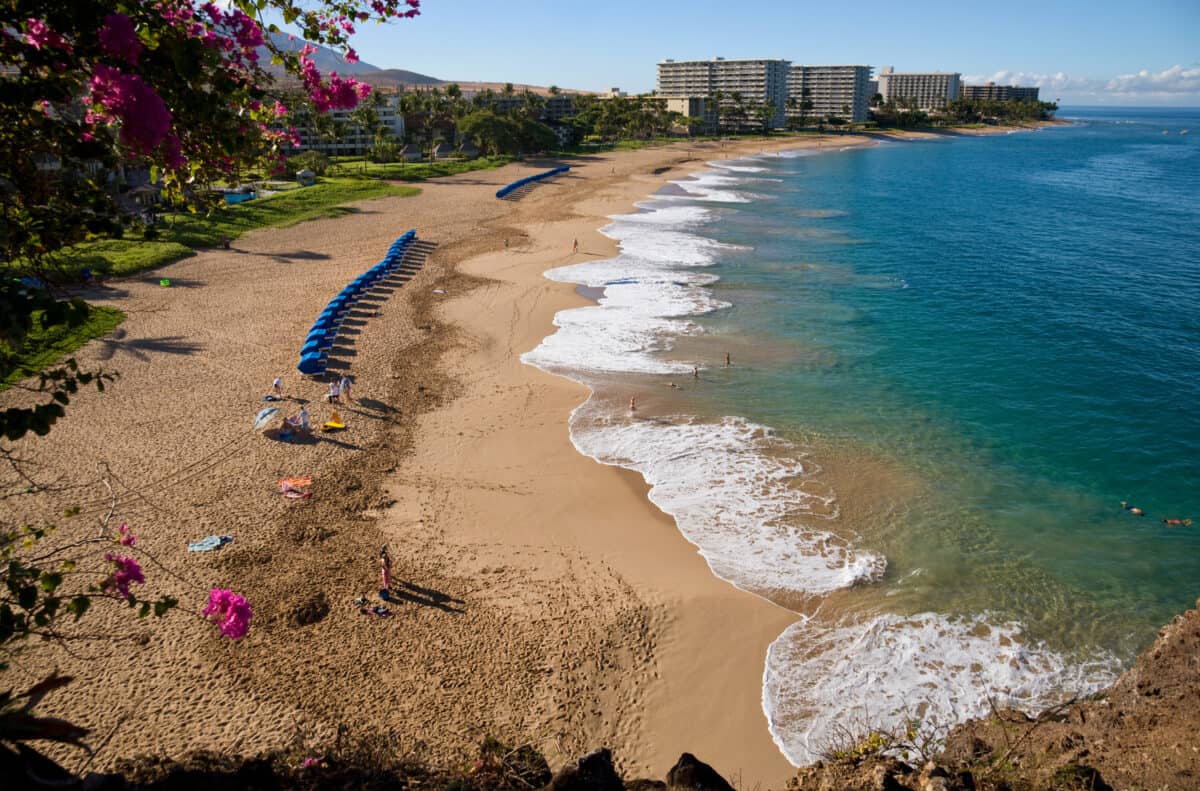 Frequently named one of the best beaches in the United States and the world, Ka'anapali Beach boasts three miles of white sand and crystal clear waters along the island's west coast. Although oceanfront resorts crowd the coastline, the beach still feels big enough (and beautiful enough) for everyone.
Ka'anapali Beach itself is perfect for all types of travelers due to its location and array of activities available, along with much of the area being accessible and connected via boardwalk. Swim in the blue waters, sunbathe in the sand, or head to the north end of the beach to snorkel Black Rock – you're sure to see a green sea turtle or two. If snorkeling isn't quite your speed, daredevils can climb and dive off the cliffs of Black Rock instead.
Beyond the beach lies Whaler's Village Shopping Center, an open-air mall filled with restaurants and stores. Here you can easily grab a quick bite to eat, snag another bottle of sunscreen, or explore local stores and boutiques. Whaler's Village also provides prime parking spots for visitors.
Location: South Maui
Good For: Swimming, Bodyboarding/Boogie Boarding
Wheelchair Accessible: No
Public Restrooms: Yes
Makena State Park is spacious, scenic, and surrounded by nature, making it perfect for a calm and relaxing day at the beach. Loved by locals and visitors alike, it is one of the largest undeveloped beaches on the island.
The park is divided into two beaches: Big Beach and Little Beach. While Big Beach spans 100 yards wide and two-thirds of a mile long, Little Beach is smaller and more secluded, hence their names. This gives you the chance to conveniently access hit two different beaches in one trip to the state park.
Oh, and we can't forget to mention the abundance of boogie boarders at Big Beach. When you're ready to take a break from sunbathing, grab your board and hop in the water to catch some of the strongest wave breaks on Maui.
Location: South Maui
Good for: Swimming, Standup Paddle Boarding (SUP), Shopping/Dining
Wheelchair Access: Yes
Public Restrooms: Yes
Located in South Maui, just south of Kihei and a tad north of Makena, you'll find Wailea Beach and the surrounding town of Wailea. This area is known to be one of the most luxurious spots on Maui, filled with five-star resorts, golf courses, and high-end shopping in addition to its pristine beach.
The beach lies in front of a few resorts and is easily accessible using the Wailea Beach Path, which runs about a mile and a half long across the beach. Sugary sand is accompanied by clear, calm waters making it ideal for casual swimming or standup paddle boarding. If you're looking to rent a board, Wailea Scuba, Surf and Paddle offers hourly rentals just off the shore.
When you need a break from sunbathing or paddle boarding, follow the beach path into town and explore The Shops at Wailea and Wailea's town center for fantastic food and some of the best shopping on Maui.
Napili Bay Beach
Location: West Maui
Good for: Swimming, Snorkeling, Dining, Sunsets
Wheelchair Access: Above the beach
Public Restrooms: No
As its name suggests, Napili Bay Beach lies on a small bay on the northwest side of Maui. The bay's outer reefs keep the waters crystal clear and calm, while also providing some great snorkeling opportunities.
Napili Beach is also known for its sweeping views and stunning sunsets. If you'd like to end your beach day with dinner and a view, head over to Sea House Restaurant or The Gazebo at sunset for fantastic oceanfront dining overlooking the bay.
If you decide to pay a visit to Napili Beach, its important to note is that parking is scarce. Due to a lack of parking lots nearby, street parking is your best (and maybe only) option. Being one of the best beaches on Maui, we'd recommend heading here as early as possible for easy parking.
Kapalua Bay Beach
Location: West Maui
Good for: Swimming, Snorkeling, Dining, Sunsets, Family Photos
Wheelchair Access: Above the beach
Public Restrooms: Yes
Kapalua Bay Beach is just a few miles north of Napili Bay, and still just as stunning. Similar to Napili Bay Beach, Kapalua Bay is protected by outerreefs that keep waters calm and clear.
Although both bays make for great snorkeling, Kapalua Bay Beach is known to be one of the island's best snorkeling spots. It's home to several species of Moray Eel, tropical fish, and several lingering green sea turtles. The bay is about 200 meters wide, but you'll find the most wildlife staying near the rocky reefs on each side of the bay instead of swimming through its sandy middle.
Additionally, Kapalua Bay is a popular spot among photographers. If you're planning to snap a few family photos on your own or with a professional, head to the beach at sunset for a quick photo op with a gorgeous backdrop. When you're done, you can hop over to Merrimans for famous fine dining with a view.
Ho'okipa Beach
Location: North Shore
Good for: Surfing, Windsurfing, Sunsets, Turtle-watching
Wheelchair Access: No
Public Restrooms: Yes
Unlike some of the calm, blue bays we've mentioned, Ho'okipa Beach is known for its big waves and winds that draw in professional surfers, windsurfers, and kite surfers. It's even been nicknamed the "Windsurf Capital of the World".
While Ho'okipa is a great spot for watching professionals, it's not a recommended beach to surf on yourself, or even swim in due to its rocky, unpredictable waters. Instead, see the surfers from the sidelines on the beach's observation deck.
Surfers and their stunts aren't the only thing to watch here either: every day there are TONS of green sea turtles that line up to lounge on the shore, especially at sunset, making for a great photo op.
Honokalani Beach (Black Sand Beach)
Location: Wai'anapanapa State Park on the Road to Hana
Good for: Exploring, Sightseeing, Boogie Boarding
Wheelchair Access: No
Public Restrooms: Yes
When you dream of a spending a day at the beach, most people picture powdery white or golden sands– not black.
Honokalani Beach, popularly known as Black Sand Beach, is one of the Maui's most unique beaches and a must-see stop on your visit to Maui. In addition to swimming and boogie boarding, visitors can explore several sea and lava caves that are spread along the rocky shore.
Honokalani Beach is located in Wai'anapanapa State Park, accessible via the famous Road to Hana. As of March 1, 2021, reservations are required for all visiting tourists and are available to book beginning two weeks in advance. No same day reservations are allowed, so be sure to book accordingly.
Slaughterhouse Beach
Location: West Maui
Good for: Snorkeling, Surfing, Lounging
Wheelchair Access: No
Public Restrooms: No
Slaughterhouse Beach lies between rocky cliffs in a beautiful bay, ideal for surfing, snorkeling, or simply sunbathing. Although the name may strike fear in some there is nothing actually dangerous about the beach, which was named after the slaughterhouse that once sat atop the cliffs.
The neighboring bay, Honoloa Bay, is one of the absolute best areas on the island for snorkeling but doesn't have a beach. Slaughterhouse Beach combines the best of both worlds, providing access to some of the best snorkeling while having a big sandy beach to come back to.
In the summer, Slaughterhouse also provides an ideal surf spot for beginners due to the mellow waves and low tide. However, the beach can vanish during high tide in the winter, so exercise caution during the winter months.
Pe'ahi Beach
Location: North Shore
Good for: Professional Surfing, Surf-Watching
Wheelchair Access: No
Public Restrooms: No
Pe'ahi Beach is a world-famous surf beach and home to the biggest wave surfed in the world. Known for its famous "Jaws Surf Break", top surfers head here for the global surf contests that are hosted at Pe'ahi annually.
These waves are not meant for your average surfer– we want to emphasize that surfing here is meant for professionals only. However, the beach provides a the perfect vantage point for watching some of the biggest events in surfing on its cliffside lookout.
Unfortunately, it's not every day or week that these famous events take place, but if you're lucky enough to be visiting when they are, you could have the once-in-a-lifetime chance to view some of the best surfers and largest waves in the world.
Find more amazing destinations in our family travel section.
The image featured at the top of this post is ©Elena_Suvorova/Shutterstock.com.