Talk to almost any visitor to Oahu, and one of the first things they'll rave about is the powdery white sand and crystal-clear waters of its beaches. The world-famous Waikiki Beach is still breathtaking even when it's crowded. There are plenty of other eye-popping stretches of perfect sand on Oahu, however. Each offers a slightly different experience from the others, so there's really an ideal beach for every taste and activity.
To orient yourself to Oahu's beaches, note that the island's shores are generally divided into four zones: the popular and more crowded South Shore, which includes Honolulu and Waikiki; the less crowded and more wild North Shore that is known for its towering waves in winter; the eastward-facing Windward Coast that intercepts the strongest winds hitting Oahu; and the westward-facing Leeward Coast, which is usually calmer and sunnier than the Windward Coast. Each of these zones has incredible beaches that are within an hour's drive of Honolulu. Below are some of the best.
Windsurf at Kailua Beach
The beach at windward-side Kailua Beach Park is often rated one of the best beaches in the United States, and for good reason. It has everything a beachgoer would want: silky-soft white sand and relatively calm and super-clear waters that invite almost any kind of water activity. One of the most popular is windsurfing due to the steady breezes that keep windsurfers upright. If you're new to windsurfing, you can rent equipment and arrange lessons at several shops in the city of Kailua, which is close by.
Another fun thing to do here is to kayak or paddle-board along the beach's pristine shores to view all the vibrantly colorful fish in the transparent water. The lack of heavy surf makes it easy to kayak out to the tiny Popoia Island about 1,000 feet offshore. Swimming and snorkeling are popular, too. To make a full day of your visit, you can use the park's picnic tables with shelters, barbecue pits, volleyball courts, and shower and restroom facilities. If you're a beach-lover, Kailua Beach needs to be on your list of must-sees!
Kayak at Lanikai Beach
Just down the road from Kailua Beach Park is Lanikai Beach, which many locals consider to be Oahu's most beautiful beach. Lanikai is not nearly as long as Kailua Beach and can be accessed only from a residential neighborhood, and that makes this beauty less crowded. The sand is still amazingly soft and white and the waters calm and crystal clear. Another feature making Lanikai distinctive are the two "twin" islands of Moko'lua and Moko'iki just offshore. Locals refer to these volcanic outcrops as "the Mokos." Moko'lua is actually a sanctuary for seabirds. Because the waters are usually so calm, it's worth kayaking the 2,000 feet out to Moko'lua to get a closer look at the birds and to get expansive views of Oahu's towering Ko'olau Range in the distance.
After your kayak ride, walk about three blocks inland to hike up the Pillbox Trail. It's a short but steep trail that takes you to an overlook with one of the best views on Oahu. From the namesake World War II-era pillbox at the top, you'll get endless views of Lanikai Beach and the Mokos offshore. This viewpoint makes a great picture spot. You'll find that Lanikai Beach is an unforgettable experience.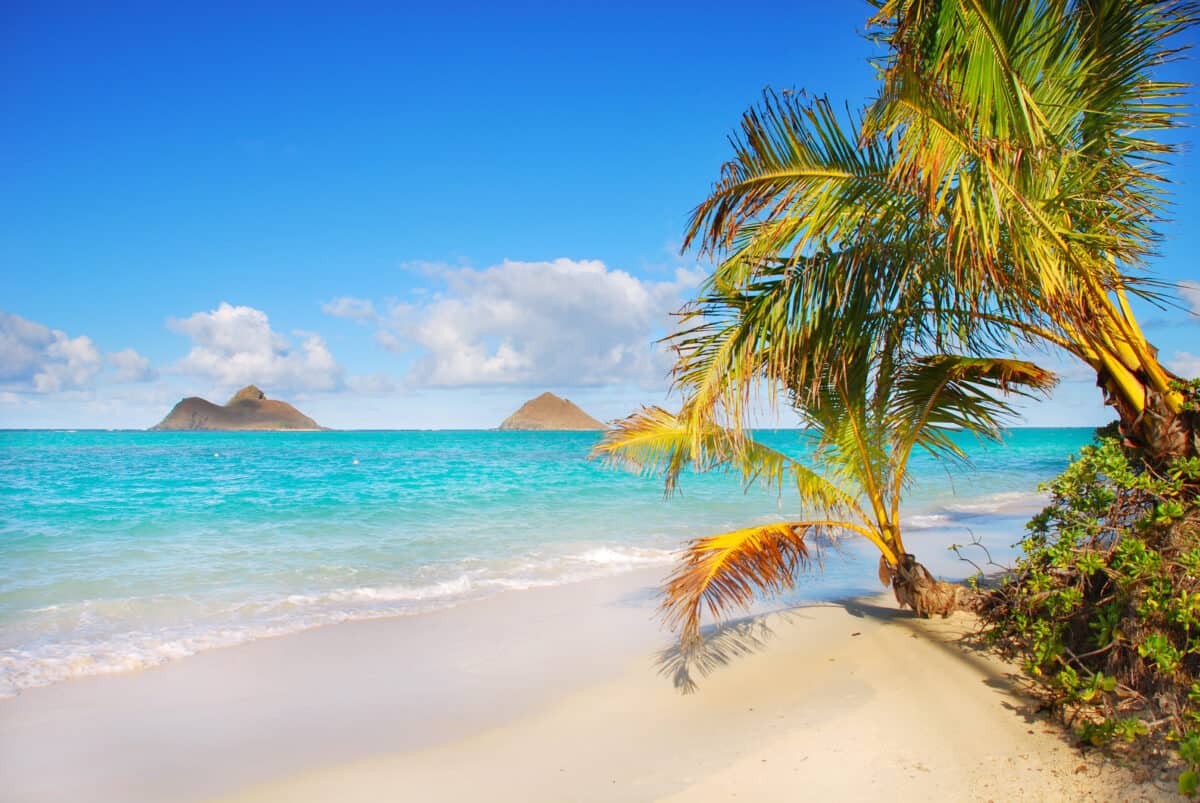 Snorkel at Hanauma Bay
On the southeastern tip of Oahu is the idyllic Hanauma Bay, which many locals say is the best place for snorkeling on the island. The bay, formed inside the crater of an extinct volcano, is walled in on three sides, so it feels like a giant, natural aquarium. The shallow waters are warm and perfectly clear, which makes viewing the many species of tropical fish effortless. Bring your snorkel gear so you can venture farther out and see even more aquatic life hovering over the coral that fills much of the bay. Between snorkeling sessions, you can rest on the beautiful beach that lines the back of the bay.
Note that Hanauma Bay is a protected nature reserve, so entry is limited and all must view a safety and environmental protection video before entering. Also, sunscreen is not permitted in order to protect the sealife and coral reefs, so be sure to bring sun hats and coverings. The wide beach has lifeguards, restrooms, showers, and a snack bar, which makes it easy to spend an entire day here.
People Watch at Waikiki Beach
We've already mentioned the fame and popularity of Waikiki Beach. Its soft sands and calm, clear waters framed by swaying palm trees and the iconic Diamond Head practically define Hawaii in many people's minds. What many people don't know, however, is that this two-mile stretch on Oahu's South Shore comprises eight different beaches: Kahanamoku Beach, Fort DeRussy, Gray's Beach, Royal Hawaiian Beach, Kuhio Beach, Queens Beach, San Souci Beach, and Kaimana Beach. Some are dominated by particular resorts, like the Royal Hawaiian, but all are publicly accessible. Note that at high tide there's a break in the beach in front of the Halekulani and Sheraton Hotels, which have boardwalks connecting Gray's Beach to Royal Hawaiian Beach.
Because Waikiki is fronted by Hawaii's largest city, Honolulu, and many high-rise hotels and resorts, Waikiki is easily Oahu's most visited beach. Weekends can be especially crowded. But this can make for great people watching if you set up your beach chairs and umbrellas near the center. Locals and tourists alike love Waikiki for swimming, snorkeling, and just plain strolling. The boardwalk at its edge is shaded by palm trees and is popular with walkers, bikers, and rollerbladers. The beach also has many spots for picnics and barbecues. Just beyond the boardwalk is Kalakaua Avenue, which is lined with many restaurants, bars, and shops for when you need a break from the sun and water.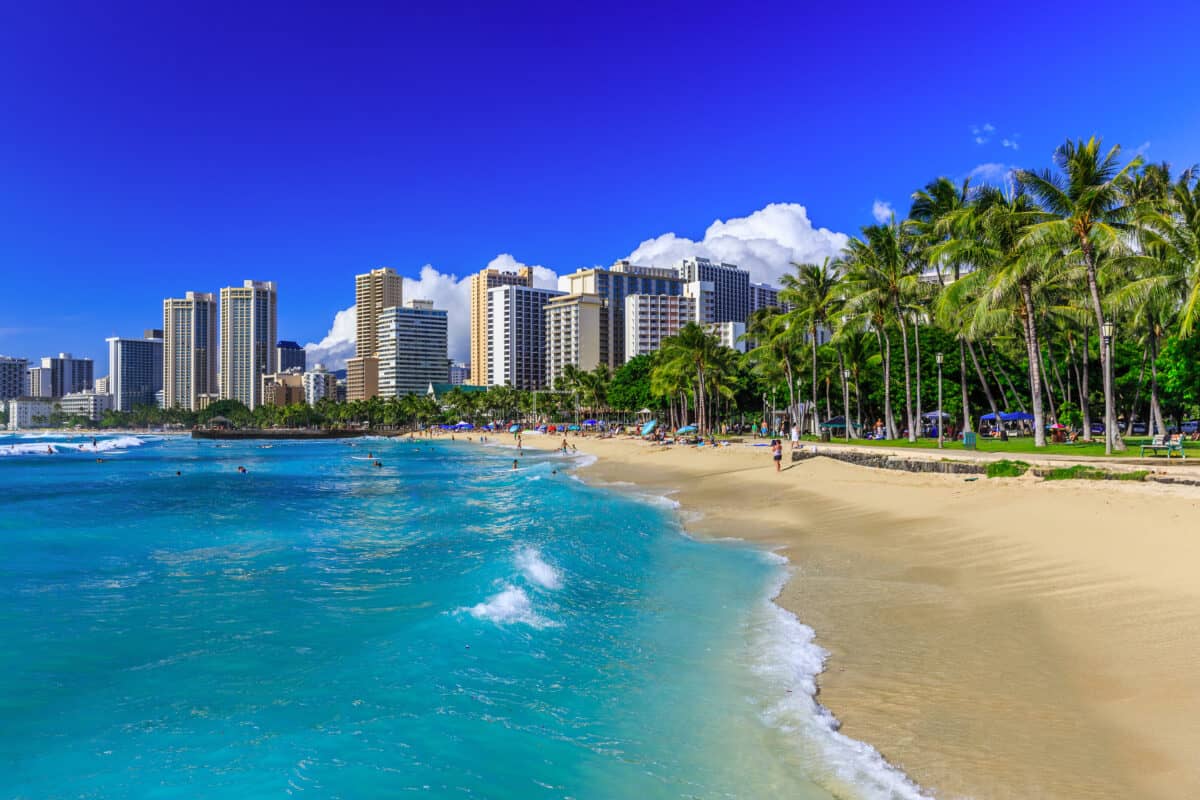 Surf at Waimea Bay
Made famous by the Beach Boys song, Surfin' USA, Waimea Bay on the North Shore is known as a surfer's paradise. During the winter, when monstrous storms in the North Pacific generate huge swells that crash ashore, expert surfers from all over the world come here to test their mettle. Sometimes waves can reach as high as 50 feet, so this is no place for beginners. But it can be a lot of fun watching surfers barrel down the inside of a giant tube wave as it breaks.
Outside of winter, when the waves are much smaller, non-experts can have fun surfing, boogie boarding, and bodysurfing. The calmer waters and lack of rocks on the bottom make this an ideal spot for swimming, too. The beach itself is no more than 1,500 feet long, but its sand is still powdery soft. There are lifeguards, public restrooms, and outdoor showers, and many food trucks line the nearby Kamehameha Highway, so you'll have everything you need for a day-long outing.
Watch the Sun Go Down at Sunset Beach
Sunsets don't get any more picturesque than at this isolated North Shore wonder. Sunset Beach is known for its huge waves in winter and for hosting the World Cup of Surfing from late November to early December. During the rest of the year, the waters are much calmer, which make Sunset Beach ideal for swimming, boogie boarding, and bodysurfing. The clear waters also make this a good spot for near-shore snorkeling. But after a day of water activities and lounging on the super-soft sand, stick around for the sunset and have your camera ready!
The two-mile-long Sunset Beach has lifeguards, restrooms, showers, and a few food trucks and eateries can be found on the adjacent Kamehameha Highway.
Find out more about Oahu in our Oahu Vacation Planning Guide here!
The image featured at the top of this post is ©Dmitrii Sakharov/Shutterstock.com.