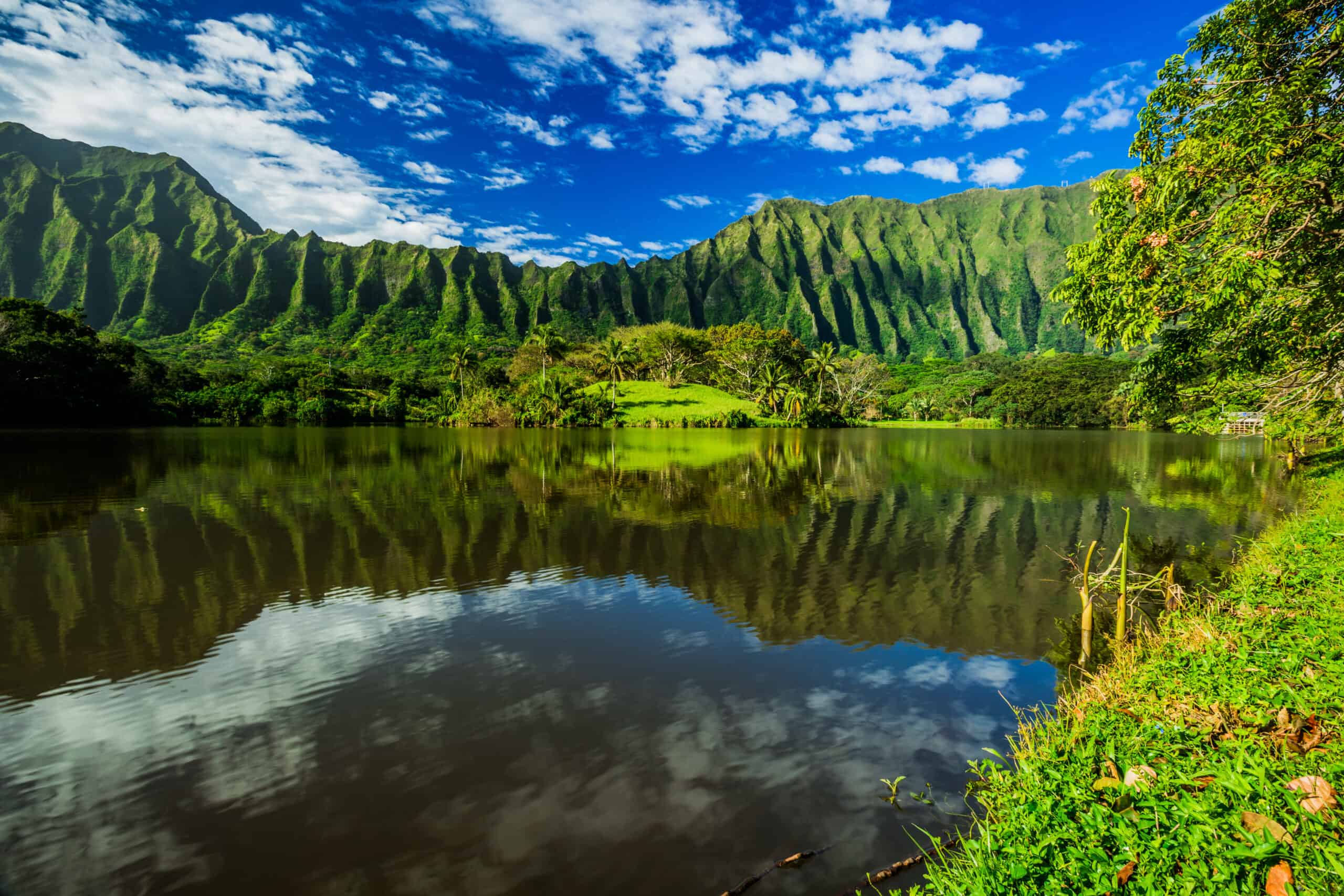 Let's Get Ready for Baby!
Sign up for our monthly pregnancy email series, and you'll get regular updates on your baby's development, helpful timelines to get ready for their arrival, must-have baby needs and so much more! PLUS, you'll get instant access to the MomsWhoThink "Ultimate Guide to Baby Naming in 2022."
CLICK HERE
to get started!
Beyond the well-known tourist attractions of Waikiki Beach and Diamond Head, Oahu is full of off-the-beaten-path destinations that will delight adventure seekers of all ages. Oahu, once the center of the century-old Kingdom of Hawaii, is also full of history and culture that will enrich any visitor's experience on this tropical island.
Kaniakapupu Ruins
These ruins of the summer home of King Kamehameha III are nestled deep in a bamboo forest in the highlands north of Honolulu. Built in 1845 and abandoned a few decades later, the home was used by the king to escape the summer heat and to consult with his advisors away from Western influences. The ruins are near the end of an easy-to-walk trail in the Nu'uana Valley and offer a glimpse into Hawaii's royal past. At the end of the quarter-mile Nu'uana Trail is the small but beautiful Luakaha Waterfall.
Note that the ruins are on private land and considered sacred, so their exact location is not marked or widely advertised. All visitors are asked to treat this unwatched site with respect. The Nu'uana Trail can be accessed through an opening in the bamboo forest off of State Highway 61. Visit this website for more information.
Shangri La
The Shangri La Museum of Islamic Art is one of the more unexpected finds in Polynesian Oahu. It occupies the former home of philanthropist Doris Duke, whose father founded Duke University. Doris traveled extensively throughout the Middle East in the early- and mid-20th century and put together an impressive collection of Islamic Art. The collection contains over 3,500 pieces, some dating to 1,500 B.C.E. They include Persian tiles, Moroccan wood carvings, and Central Asian embroidery. 
Even if Islamic art is not your thing, the Shangri La house and grounds are still worth a visit. Doris built the house in 1937 on five spacious acres overlooking the Pacific Ocean just east of Diamond Head in Honolulu. The property has a 75-foot saltwater pool and the reproduction of a 17th-century Persian playhouse. The Honolulu Museum of Art operates tours. Visit the museum's website here for more information.
Corsair Plane Wreck Dive Site
In 1948, a seasoned pilot flying his World War II-era plane experienced engine trouble and was forced to make a water landing about three miles southeast of Oahu. The pilot managed to escape unharmed and was rescued, but the undamaged plane still sank to the bottom of the ocean.
Today, the nearly intact Corsair has become one of Oahu's most unusual dive sites. It's home to many rare garden eels, jacks, and stingrays. Even though it sits in about 115 feet of water, the crystal-clear blue waters make it easy to spot the aquatic wildlife. Note that this area is known for swift and unpredictable currents, so it's for expert divers only. Tours can be arranged at the Koko Marina Center on the southeastern tip of Oahu or by visiting this website.
Submarine Scooter Ride
If you're not SCUBA-certified, you don't have to miss out on seeing and touching Oahu's amazing aquatic wildlife. One Honolulu outfitter offers rentals of self-propelled, electric underwater scooters on a guided tour. You'll get close to green sea turtles, vibrant tropical fish, and coral without any SCUBA experience. The two-hour tour will take you on a powered catamaran through Maunalua Bay to a diving spot close to the south shore of Oahu. Go to this website to book a tour.
Street Murals of Kaka'ako
When most people think of Honolulu, they think of palm trees swaying over Waikiki Beach or the iconic Diamond Head volcanic crater. What most don't realize is that Honolulu's westside Kaka'ako neighborhood is host to dozens of street murals covering the sides of buildings and other public places. The artwork is celebrated every February during the POW! WOW! Hawaii Festival when local and international street artists come to freshen up existing murals and create new ones. Visit the festival's Facebook page for more information.
Some of the more unique murals include a tribute to Monet's garden in Giverny, France–it really does resemble a Monet painting! Others have included the eye-popping "Coral Jam" that draws attention to coral bleaching in Hawaii, kid-friendly monsters and sea creatures by world-renowned street artist Kevin Lyon, and a giant green sea turtle, which is endangered in Hawaii. Many of the murals can be found by just wandering around the compact Kaka'ako neighborhood, or tours can be arranged on Viator for a more enriching experience.
Spitting Caves
Near the base of a giant cliff in southeast Oahu are caves that spit back waves with tremendous force, especially when the surf is heavy. Sometimes the "spit-back" waves extend 30 feet over the ocean and briefly form a rainbow, making for one of the most spectacular natural sites on Oahu. The high vantage point here is also a good place to watch a famous Hawaiian sunset or spot humpback whales during their annual migration in winter.
If you visit, you might find some intrepid cliff jumpers diving up to 70 feet into the crashing waves below. It can be nail-biting to watch them. Before you try cliff diving yourself, look for the on-site plaque that commemorates the divers who didn't survive the ultimate adrenaline rush. The Spitting Caves are just past the China Walls in the Portlock neighborhood of southeastern Oahu. TripAdvisor has some great photos of the caves and information on how to find them.
Ho'omaluhia Botanical Garden
If you're looking to escape the crowds and experience tropical nature, look no further than this beautiful park on Oahu's northeast, or windward, coast. This 400-acre lush botanical garden has hundreds of varieties of tropical trees and flowers from all over the world. A visitor center near the entrance explains all the different types of vegetation zones and highlights how some of the species were used by ancient Hawaiians. The paved road that winds through the park makes accessing the gardens easy. There's even a fish pond near the center of the park that sometimes allows fishing. Hiking trails and a free campground are also available.
For the best experience, check the weather forecast for the windward side of Oahu. It can be warm and sunny in Honolulu at the same time the north side is socked in with rain and clouds. On a sunny day here, you'll be wowed by the steep, razor-sharp peaks of the Ko'olau Range to the south and the beautiful Pacific Ocean to the north. Check out this website for specific visitor information.
Hawaiian Railway at Ewa Beach
If you have kids that love trains, they'll love this historic railway right on the ocean southwest of Pearl Harbor. It's the only operating historic train on Oahu. The restored, open-air train cars take passengers a few miles along a route that once transported sugar cane to the mills. Along the way visitors learn about the history of railroading in Hawaii while taking in sweeping views of the Pacific. During the journey, the train stops in a town where passengers can buy ice cream–a nice refreshment on a hot day. Families or large groups can book entire passenger cars. 
At the embarking station, there's a small toy train museum, displays of steam locomotives, a luxury passenger car dating to 1900, and other railcars used on this historic railway. It's a fun and interesting way to spend a few hours. Visit the website of the Hawaiian Railway Society for more information.
Check out more about Oahu here and start planning your trip to this Hawaiian paradise.