Given that Oahu is Hawaii's most populous island, it has by far the most attractions in the state. And because Hawaii is such a popular destination for families from the mainland, many of Oahu's attractions are designed to appeal to everyone in the family – from the littlest ones to tweens and teenagers. Of course, parents are not left out of the fun when they decide to take the whole clan to any of the super family-friendly attractions on Oahu listed below.
Waimea Valley
Waimea Valley Road, Haleiwa, HI 96712
(808) 638-7766 • waimeavalley.net
On Oahu's North Shore about an hour's drive from Honolulu is one of the island's most beautiful spots. Natives have been coming to the incomparable Waimea Valley for centuries and even built many religious structures here in times past. Along the mile-long trail that leads to Waimea Falls, teenagers and adults can learn more about ancient religious practices at several temple ruins. There's also a reconstructed ancient village that has activities for younger kids, like learning to play traditional Hawaiian games and creating traditional crafts. Everyone will enjoy the botanical gardens, which are full of more than 5,000 species of fragrant tropical plants and flowers like orchids and hibiscus.
The trail to the falls is paved and gently sloped, which makes it ideal for families with babies and toddlers in strollers. You could even bring a wagon full of snacks and gear for a swim at the falls. The 45-foot Waimea Falls plunges into a large pool that makes a good spot for a dip on a hot day; the pool even has a lifeguard. Note that life vests, which are provided, are required for everyone and sometimes the pool is closed to swimming after heavy rains. Note, too, that the area is privately managed, so there are entrance fees; you can find out more about swimming conditions and entrance fees at this webpage. The Waimea Valley tends to get crowded, so it's best to come early in the day.
If you want to make a full day of your visit, stick around until late afternoon for the start of the family-friendly Toa Luau near the entrance of Waimea Valley. You'll get free entry to the valley and the falls if you buy a luau package. Visit the Toa Luau website to learn more.
Bishop Museum
1525 Bernice Street, Honolulu, HI 96817
(808) 847-3511 • bishopmuseum.org
Often regarded as one of Oahu's most family-friendly attractions, the acclaimed Bishop Museum offers a variety of experiences for most members of the family. Toddlers on up will be amazed at the science center's miniature erupting volcano – there's no better way to learn about volcanology other than visiting an active volcano! The J. Watumull Planetarium offers daily shows about the stars and how early Hawaiians navigated the vast Pacific using them; most programs are suitable for toddlers up to teenagers (and adults!). The Bishop also offers special live programs on many cultural and scientific topics related to Hawaii; these need to be reserved in advance. 
The main part of the museum has three levels of Hawaiian exhibits, including historical and modern art that older kids and teenagers will be interested in. While they're exploring upstairs, you can take the baby and toddlers around the beautiful, flower-filled gardens outside. Everyone in the family will enjoy the Bishop Museum and come away knowing a lot more about Oahu and Hawaii.
Snorkel at Hanauma Bay
Hanauma Bay State Park
7455 Kalanianaole Highway, Honolulu, HI 96825
hanaumabaystatepark.com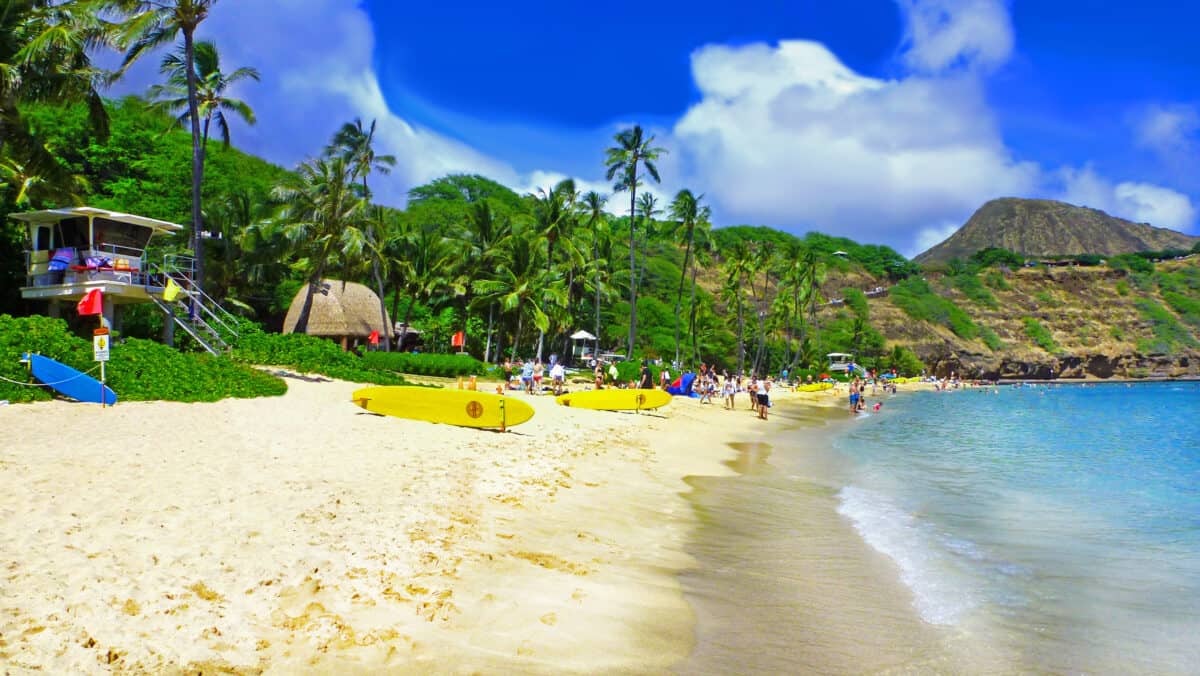 Hanauma Bay on the southeast coast of Oahu is one of the best all-day outings for the whole family. Many locals say this secluded spot is the best place for snorkeling on Oahu. For kids about age five and up, Hanauma Bay is the perfect place to take them snorkeling; some experts say snorkeling can also be suitable for kids between two and five if they're comfortable in the water. The bay is in a circular cove protected from large waves and has shallow, warm waters with a sandy bottom, which makes it perfect for spending hours watching its many tropical fish. Older kids and teenagers can venture farther out to see even more aquatic life hovering over the coral reef there. Babies and toddlers will like splashing around in the shallow water at the bay's edge. Between snorkeling sessions, everyone can rest on the beautiful beach that lines the back of the bay.
Hanauma Bay is a protected nature reserve, so entry is limited and everyone must view a safety and environmental protection video before entering. Also, sunscreen is not permitted in order to protect the sealife and coral reefs, so be sure to bring sun hats and coverings. The wide beach has lifeguards, restrooms, showers, and a snack bar, which makes it easy to spend an entire day here.
Get Wet at Wet 'n' Wild Hawaii
Wet 'n' Wild Hawaii
400 Farrington Highway, Kapolei, HI 96707
(808) 674-9283 • wetnwildhawaii.com
Just west of Honolulu on Oahu is Hawaii's largest water park and one of its best family-friendly attractions. It covers 29 acres and has over 25 water slides, pools, and other water features that will thrill everybody in the family. Thrill-seeking older kids and teenagers will love the Tornado–a ride that will send them barreling down a 45-foot funnel. Real adrenaline addicts won't be able to resist the Shaka–a 36-foot plunge down an almost vertical water slide. Younger kids and toddlers will have hours of fun at the Water World Playground and the giant Hawaiian Waters wave pool that alternates between waves and calm water. Even babies can get their feet wet at the edge of the wave pool when it's calm. 
Wet 'n' Wild makes a great all-day family outing because you can rent private cabanas, eat at the on-site cafe or food carts, and cool off with ice cream. There's even a bar for the parents who need a break from the sun and water. On Sundays evenings, everybody will enjoy the sunset concert and hula show. Wet 'n' Wild is open year-round, so there's no excuse to miss this fun attraction the whole family will love!
Ride the Hawaiian Railway at Ewa Beach
Hawaiian Railway Society
91-1001 Renton Road, Ewa, HI 96706
(808) 681-5461 • hawaiianrailway.com
If your family is ready for a break from the surf and sand, they'll love this historic railway right on the ocean southwest of Pearl Harbor. It's the only operating historic train on Oahu. Kids and toddlers will have fun riding the restored, open-air train cars along a route that once transported sugar cane to the mills. Teenagers and adults will enjoy learning about the history of railroading in Hawaii while watching the waves of the Pacific. Everyone will find that the best part is getting some ice-cream when the train stops in a small town during the journey. The Hawaiian Railway is great for families because you can book entire passenger cars, which makes it easy to bring the baby and all your gear on board.
Kids and toddlers will also have fun exploring the small toy train museum, displays of steam locomotives, and other railcars at the embarking station. It's a fun way to spend a few hours. Visit the website of the Hawaiian Railway Society for more information.
Savor Matsumoto Shave Ice
Matsumoto Shave Ice
66-111 Kamehameha Highway, Suite 605, Hale'iwa, HI 96712
(808) 637-4827 • matsumotoshaveice.com
A must-do for everyone in the family is to sample Hawaii's most famous treat–shave ice. It's finely shaved ice sweetened with a variety of syrups. One of the best places to get it on Oahu is Matsumoto Shave Ice on the North Shore. They have one of the biggest and most interesting shave ice menus on the island. Flavors include tropical options like mango, lychee, guava, pineapple, and pina colada. Others include root beer, bubblegum, and lemonade. But don't miss out on trying some of the more exotic Asian options like green tea, yuzu, ume, and li hing mui. You can also try combinations of flavors, and they even have sugar-free options if you don't want the kids to get too spun up. Matsumoto Shave Ice makes for an enjoyable treat for the whole family.  
Hike to Manoa Falls
Manoa Falls Trail Parking Lot
North end of Manoa Road, Honolulu, HI 96822
Just north of Honolulu in the foothills of the towering Koolau Range is the beautiful Manoa Falls. It plunges 150 feet down a cliffside into a small pool. It's surrounded by tropical rainforest and accessed by a 0.8-mile long trail. Near the start of the trail, kids and teenagers may notice some familiar terrain as this has been a popular filming spot for the Jurassic Park and Jumanji movies. The trail is wide and gently sloping, so it's not too exhausting for toddlers and younger kids. The trail can get muddy and slippery after it rains, so wearing sturdy hiking shoes and having a sturdy baby carrier is essential. It can also get crowded, so it's best to go in the early morning or late afternoon. Manoa Falls makes a good outing for the whole family.  
Watch the Animals at the Honolulu Zoo
Honolulu Zoo
221 Kapahulu Avenue, Honolulu, HI 96815
(808) 971-7171 • honoluluzoo.org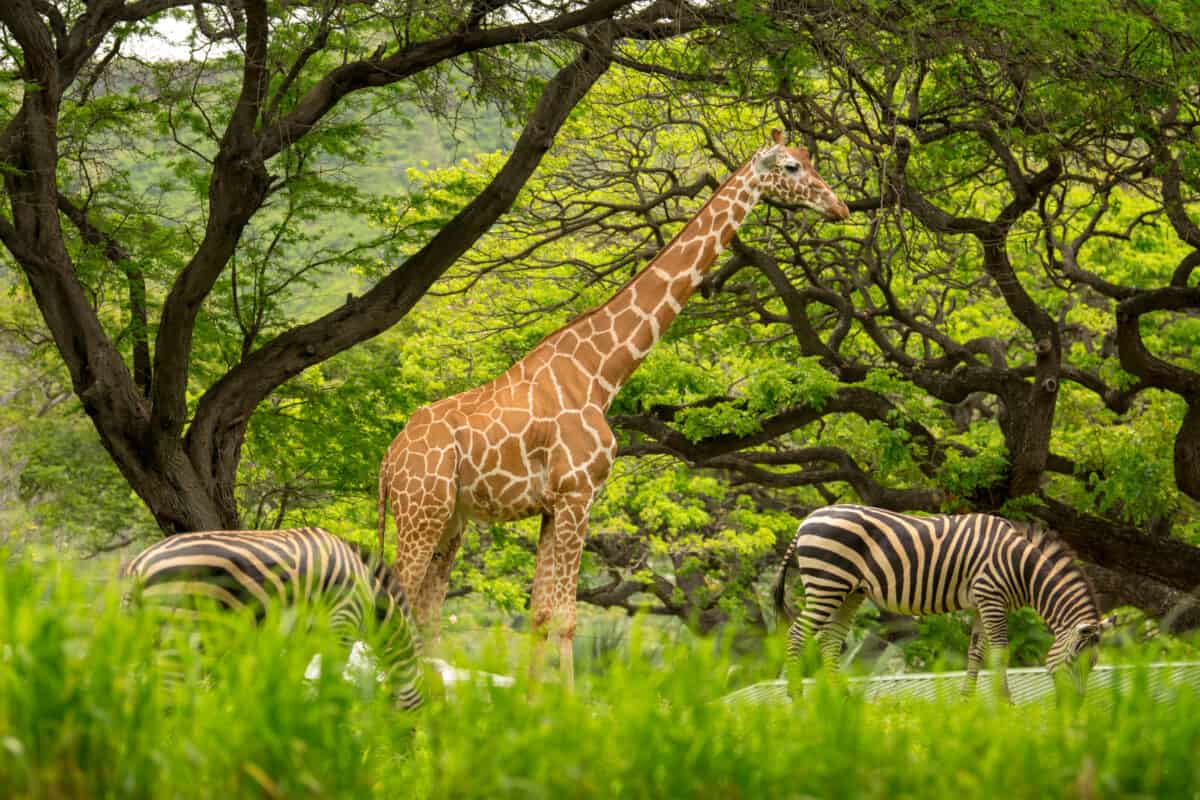 Families that love animals will love the many exotic species at the acclaimed Honolulu Zoo. This attraction on the South Shore of Oahu has creatures from the tropical regions of North America, Africa, Asia, Australia, and the Pacific Islands. Toddlers, kids, and teenagers will be in awe of animals like the giant Galapagos tortoise, Komodo dragon, 12-foot-long American alligator, Asian elephant, giraffe, black-handed spider monkey, and two-toed sloth. The Honolulu Zoo also hosts various educational programs geared toward kids of all ages. The zoo has plenty of stroller-friendly walkways for babies and toddlers, too. There's even a playground for younger kids who want a break from the animals.
Find more amazing vacation planning information in our Oahu Family Vacation Planning Guide here.
The image featured at the top of this post is ©Klara_Steffkova/Shutterstock.com.