Because Oahu is such a family-friendly destination, there's a wide range of activities parents will find even for their little ones ages 1-3. The attractions below will capture and keep the short-lived attention of toddlers, and when they tire out, their parents will be happy that many of these places are suitable for strollers as well. Take a look below for some of these things to do with toddlers on Oahu that will keep them — and you — entertained!
Anyone who's visited an aquarium has probably noticed one thing: all the toddlers have their faces stuck to the glass in amazement at the ocean life on the other side. The Waikiki Aquarium is no different. It features a colorful coral farm, a display of tropical angelfish from the northwestern Hawaiian Islands (got any Finding Nemo fans?), and an exhibit of puppy-faced Hawaiian monk seals whose antics toddlers will love. There are also exhibits of giant clams, ocean predators like sharks and grouper, and jellyfish pulsating to changing colors. The Waikiki Aquarium is almost guaranteed to amaze kids three and under, whose entry is free. Even better, tickets are timed-entry to keep crowds small, making it easier to navigate with strollers. The Waikiki Aquarium is located in South Waikiki near the Honolulu Zoo, which makes it a nice complement to the land animals–if your toddler isn't too tired! For more information, visit the aquarium's website.    
Kaneohe Bay Sandbar Excursion
Just off the Oahu's Windward Coast is a sandbar in Kaneohe Bay that becomes exposed at low tide. Even during high tide, the crystal-clear waters are shallow and calm, making them a perfect place for toddlers to experience the ocean. Tropical fish abound, and it's even possible to spot sea turtles in the water without snorkeling gear. Even so, the snorkeling here is excellent, and if your toddler likes the water and can swim, they may want to try snorkeling. Some say kids as young as two can try it, but it really depends on the child's comfort level. Either way, your little one is bound to be delighted by what they see here. To book a catamaran that will take you to the sandbar, check out this website. 
Hawaii Children's Discovery Center
Toddlers and young kids will have hours of fun with the many interactive and hands-on exhibits here at the former Children's Museum in Honolulu. The Discovery Center has five diverse galleries that let children learn about themselves and the world they live in. Rainforest Adventures teaches the importance of the rainforest in the global environment, and Fantastic You highlights how the human body works. Hawaiian Rainbows teaches little ones about what makes Hawaii special. And Your Rainbow World introduces them to what's similar and what's different in other parts of the world. It's an educational and fun way to spend a rainy day, or just to take a break from the water and sun! Go to the Discovery Center's website for visitor information.  
Swim With Dolphins
There may be nothing more exciting for toddlers (and older kids, too) than petting and even kissing a friendly, real-life dolphin! They will also love watching dolphins swim around them, roll over, and jump out of the water. We like the Dolphin Quest Oahu encounter at the Kahala Hotel because it's private for groups up to six, guided by a trainer, and perfectly safe for even young children. Everyone must wear a life vest and the water in the lagoon is shallow, which also helps ensure a safe experience. There are no age restrictions, but they do require one adult per child four and under to ensure proper supervision. Not only will your young children have a blast, they will get an early appreciation for ocean life and the importance of protecting it. For more information and to book a 30-minute session, visit the Dolphin Quest Oahu website. 
Ride a Pony on the North Shore
If you're looking for a break from the water and sea life, there's a perfect solution at the Gunstock Ranch on the North Shore of Oahu. Even toddlers who've never ridden a horse before will feel right at home here because they tailor their experience to children ages 2-7. Little kids will be tickled at riding atop the gentle ponies (with mom or dad walking alongside) and getting the chance to feed and pet them after the ride.The ranch's friendly tour guide will walk rider and horse along a relatively short and easy trail. Helmets for all riders are provided as well. If you've been looking for the perfect opportunity to introduce your toddler to horseback riding, there's no better place than the Gunstock Ranch. To book your experience, visit this website here.
Tour the Bottom of the Ocean
As most parents can attest, toddlers are full of questions as they learn about the world. They can get all their questions about the underwater world answered on a submarine dive 100 feet to the bottom of the ocean just offshore from Oahu. Informative guides on the Atlantis Submarine can explain everything your toddler wants to know about what'll see, including giant schools of tropical fish, endangered green sea turtles, and natural coral reefs. The large, panoramic windows will also give them a chance to marvel at man-made reefs formed by sunken ships and airplanes. Your little ones will be talking about this adventure for days!
Note that the minimum height requirement to ride the submarine is 36 inches, so this two-hour tour may work only for taller two-year-olds and three-year-olds; it's a good idea to check your toddler's height beforehand. Tours start with surface boat departures from the Hilton Hawaiian Village on Waikiki Beach. To book this underwater adventure, visit the Viator site.
Get Hands-On at Sea Life Park
One of the best places on Oahu for toddlers to get up close and personal with sea life is this marine park on Oahu's southeastern shore. Its primary purpose is to educate visitors about Hawaii's diverse sea life, but it also sponsors breeding programs, like that for the endangered green sea turtle. Little kids will love Sea Life Park because of its many interactive, hands-on exhibits featuring dolphins, sea lions, Hawaiian manta rays, native fish, and sharks that are harmless to humans. Toddlers will also delight in educational shows where dolphins jump out of the water in tandem and penguins waddle and dive into the water. They will be mesmerized, too, at the Discovery Reef Touch Pool where they can handle sea stars, sea urchins, and baby sea turtles. This mostly outdoor marine park is stroller-friendly and has several on-site eateries with kid-friendly food. Sea Life Park makes for a perfect outing that toddlers will love. Visit their website for more information. 
Visit the Animals at the Honolulu Zoo
Almost any toddler will love visiting their favorite exotic animals at the Honolulu Zoo. This attraction on the South Shore of Oahu has creatures from the tropical regions of North America, Africa, Asia, Australia, and the Pacific Islands. Toddlers will be in awe of animals like the giant Galapagos tortoise, Komodo dragon, 12-foot-long American alligator, Asian elephant, giraffe, black-handed spider monkey, and two-toed sloth. The Honolulu Zoo also hosts various educational programs geared toward younger kids and a two-hour twilight tour that shows animals "getting ready for bed" and some just waking up!  Go to the zoo's website for visitor information and to learn more.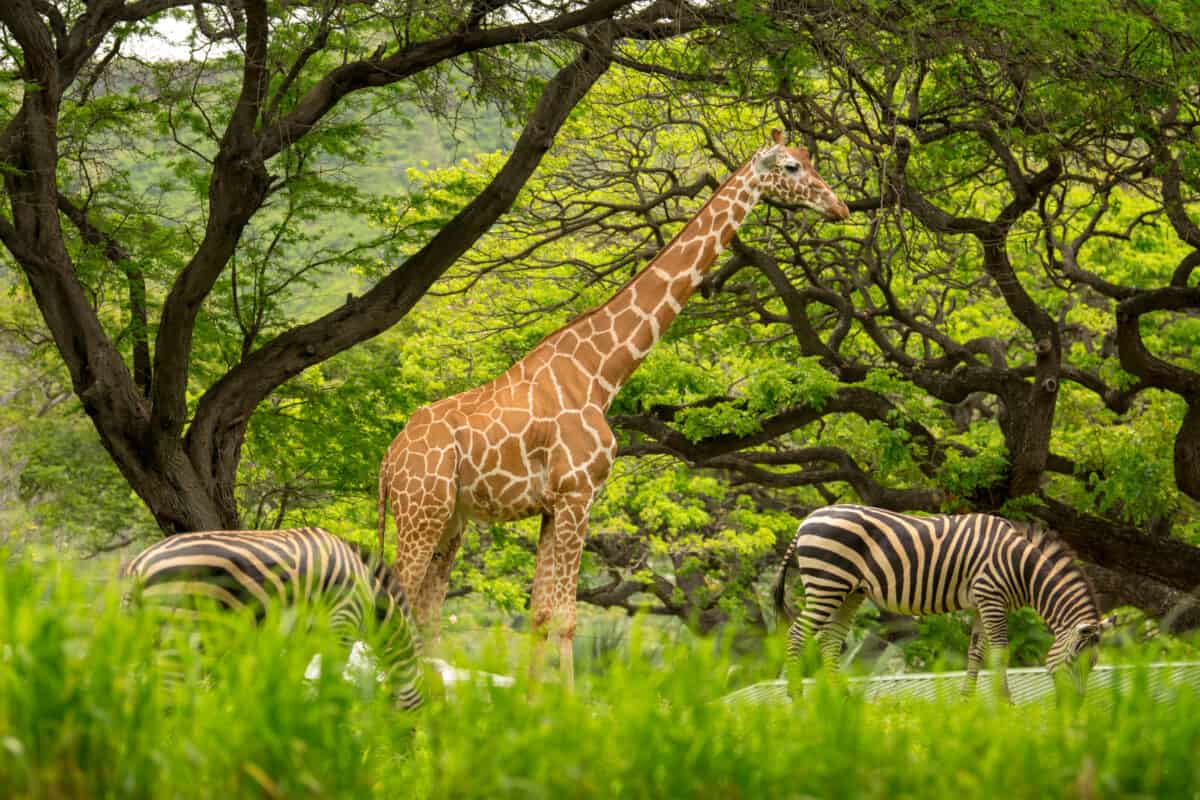 Ride a Train at Ewa Beach
Toddlers love the adventure of riding trains, and they'll have a blast riding this pint-sized train right on the ocean southwest of Pearl Harbor. Before they hop aboard, they'll have fun exploring the small toy train museum and climbing the steam locomotives at the station. The train itself only goes a few miles, so the journey will end before the little ones get too restless. If they need a pick-me-up, the ice cream parlor at the end of the line will help. The historic train at Ewa Beach is a fun diversion toddlers will enjoy. Go to the website of the Hawaiian Railway Society for visitor information.
Find more handy Oahu vacation planning tips here!
The image featured at the top of this post is ©skvalval/Shutterstock.com.