Let's Get Ready for Baby!
Sign up for our monthly pregnancy email series, and you'll get regular updates on your baby's development, helpful timelines to get ready for their arrival, must-have baby needs and so much more! PLUS, you'll get instant access to the MomsWhoThink "Ultimate Guide to Baby Naming in 2022."
CLICK HERE
to get started!
There are a few places on Oahu that say "Hawaii" like nothing else. These are the places everyone will ask you about when you return from your holiday. To avoid a twinge of regret or FOMO, be sure to carve out time for one, if not all, of the must-see sights you've got to see on Oahu. They have defined the island for generations!
Waikiki Beach
This beautiful stretch of sand framed by swaying palm trees, calm Pacific waters, and the iconic Diamond Head volcanic crater is what most people think of when "Hawaii" is mentioned. What many don't realize is that Waikiki is an urban beach fronting the busy city of Honolulu. It's just as popular with locals as it is with tourists. At its edge, pedestrians, cyclists, and rollerbladers frequent a mile-long paved path that darts between palm trees. At the path's midway point is a bronze statue memorializing Duke Paoa Kahanamoku, the Hawaiian Olympic gold medalist who popularized the sport of surfing in the early 20th century.
None of this diminishes Waikiki's beauty, however. A stroll on its silky soft sands before sundown will most likely lead to a spectacular sunset. If you're here on Friday night, it's worth sticking around for darkness when the Hilton Hawaiian Village Resort, on the northwest end of Waikiki, lights up the sky for an impressive fireworks show.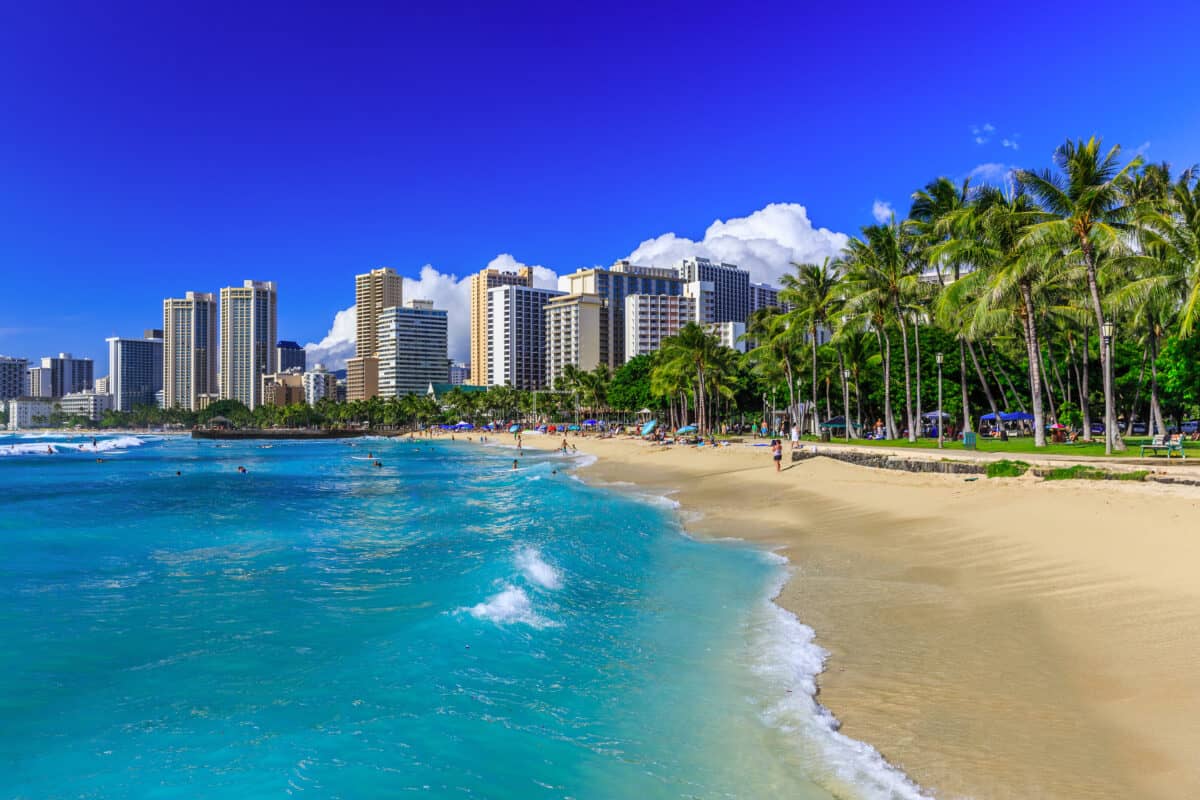 Diamond Head
For many Oahu visitors, it's enough to just see the distinctive, pointed peak of Diamond Head south of Waikiki Beach. For the more adventurous, it's more rewarding to hike to the top of this 400,000-year-old volcanic crater and see all of Waikiki and Honolulu laid out before your feet. We won't kid you–the trail is steep and strenuous, climbing 560 feet from the floor of the crater to the highest part of the volcanic rim in less than a mile. You'll see some other interesting things once you get to the top like a 1917 lighthouse and World War II-era pillboxes used for the island's defense. Diamond Head is also a state monument and a National Natural Landmark. Once you've climbed it, you can say you did more than saw it! Go to the state's website for visitor information.
USS Arizona Memorial at Pearl Harbor
One of the most-visited sites in Oahu is the over-water memorial that straddles the remaining hull of the USS Arizona, one of the battleships sunk during the Japanese attack on Pearl Harbor in 1941. More than 1,100 sailors and Marines died aboard the ship, and the hull remains their final resting place. The bulkheads still leak small amounts of oil that can be seen floating to the surface; some call this the "black tears" of the lost sailors. The USS Arizona was one of only three battleships sunk at Pearl Harbor not to be raised and put back into service. As somber as all this sounds, the memorial structure itself is white and airy and designed to evoke serenity, not sadness. It's a fitting tribute to the sacrifices that servicemen made here. (Note that the memorial is accessible only by boat. Departures are rather limited and are sometimes booked up weeks in advance.)
The USS Arizona Memorial is part of the larger Pearl Harbor National Memorial that includes a shoreside museum and a bus tour of Ford Island that takes visitors to the USS Utah and USS Oklahoma memorials. The separately managed USS Missouri battleship, Pacific Fleet Submarine Museum, and Pearl Harbor Aviation Museum are also nearby. The Missouri, then moored in Tokyo Harbor, is where the Japanese ultimately surrendered to end World War II. There is no shortage of history to explore at Pearl Harbor, and it makes for a memorable day outing. See the National Park Service's website for visitor information.
Dole Pineapple Plantation
In the center of Oahu is a real working pineapple plantation that harkens back to Hawaii's glory days as the world's top pineapple producer. James Dole started the first pineapple cannery near here in 1903. Oahu has since switched to fresh pineapple production, and many say the golden tropical fruit grown here is the sweetest and best-tasting anywhere. You'll get a chance to taste for yourself when you take a tour of the Dole Pineapple Plantation, one of Oahu's most popular attractions.  
Your tour starts by taking a narrated 20-minute train ride around the grounds of the plantation. The guide will explain how the pineapple is grown and packaged for shipment to the mainland. You can then stroll the grounds of eight mini-gardens, where you'll get a chance to touch and smell many of the other tropical fruits and flowers grown on Oahu. And the fun isn't over until you try to navigate the world's largest botanical maze. Part of it is even laid out in the shape of a pineapple! If all that wears you out, you can get a refreshing Dole Whip at the on-site restaurant. Visit the plantation's website here for more information.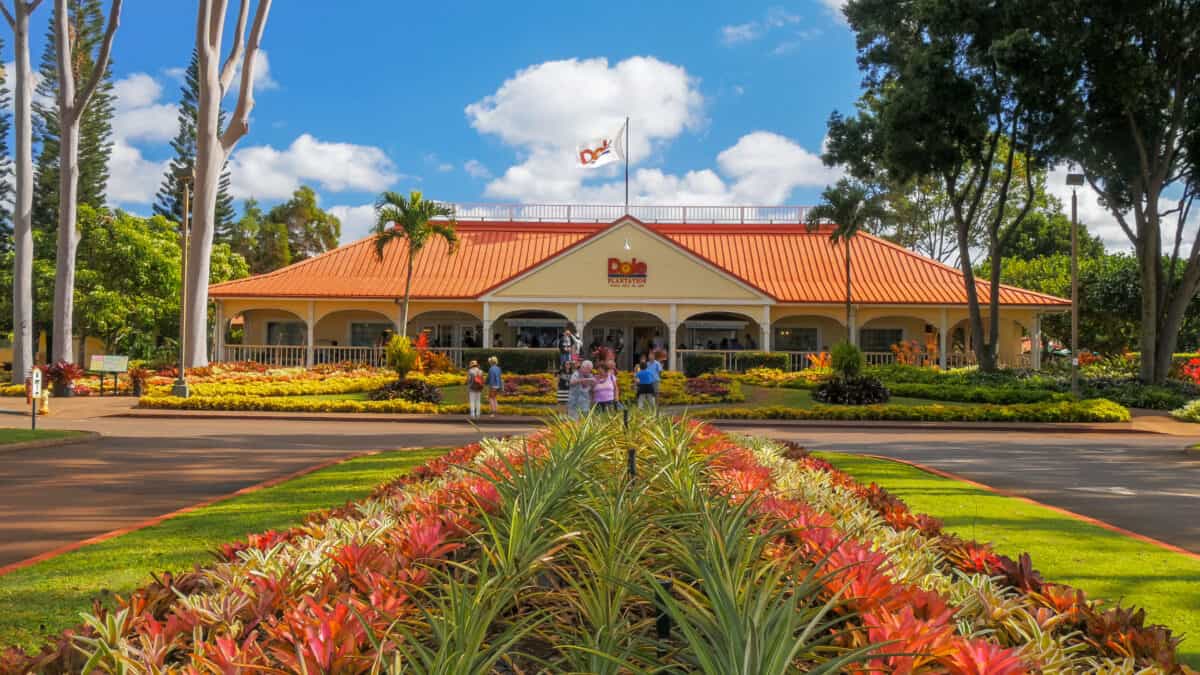 Polynesian Cultural Center
Given Oahu's many beautiful beaches and resorts, it might be easy to forget that the island is part of a distinctive cultural region that predates the arrival of Americans. Polynesia–which means "many islands"–spans most of the Pacific and has an ocean-going culture going back thousands of years. Hawaii is the northeastern most outpost of this cultural region. There's probably no better place to experience authentic Polynesian culture than here at the Polynesian Cultural Center, which clings to the rocky northeastern shore of Oahu.
Founded as a non-profit organization in 1963, the Polynesian Cultural Center brings to life Polynesian culture in eight mini-villages, each highlighting the culture of different Polynesian island chains like Hawaii, Samoa, Fiji, Tahiti, and New Zealand. During the day you'll get to witness various singing, dancing, and cooking demonstrations in each village. A lagoon is also the scene of a parade of different types of Polynesian canoes, and visitors can try their hand at paddling one. In the evening, a multicultural show brings all of these elements together, complete with a lu'au and traditional pig roast. Visit the center's website for hours and showtimes.
The North Shore
Extending from Ka'ena Point on the west to Kahuku on the east, the northern coast of Oahu — which locals call the "North Shore" — is considered the surfing capital of the world. Giant swells, some exceeding 50 feet in height, are generated every winter by powerful storms in the North Pacific that crash ashore here. Expert surfers come from all over the world to try to tame these huge waves. Every December, the North Shore brings together the world's best surfers for three surfing competitions known as the "Triple Crown of Surfing." One of them, the Pipeline Masters, takes place on Ehukai Beach, the home of the world-famous Banzai Pipeline. Being close to the beach, this is a great place to spot and photograph surfers barreling down the center of massive "tube waves." Visit this website for more information on the competition schedule.
Even if the waves aren't huge during your visit, the North Shore still makes for a scenic drive on a nice-weather day. You can even take surfing lessons in coves that are sheltered from the biggest waves. And save your appetite for the famous shrimp taco stands and food trucks that dot the shore. They are some of the best you'll ever eat!
Find out more about Oahu and start planning your escape. Here's our Oahu vacation planner.