Los Angeles, California boasts not only beautiful weather but activities of all kinds. The best things to do in LA for kids feature theme parks, landmarks, and the natural beauty of the city and its surrounding areas. Explore the many iconic movie sets and gorgeous outdoor areas, or visit LA's kid-friendly museums. There are numerous beaches as well as lots of educational centers, museums, and excursions that are sure to make your trip super fun and informative. Whatever you decide to do with your time in LA, your day is sure to be packed. Keep on reading to learn about the best things to do in LA for kids.
Outdoor Adventures
One of the best things about Los Angeles is the weather and the scenery. A trip to the beach, a hike near the observatory, or an evening along the pier are great places to make some California memories.
Venice Beach, Mother's Beach, and Santa Monica State Beach
One of the best things to do in LA for kids is a trip to the beach. And Los Angeles has lots of beaches. Some of the easiest for parking and playing include Venice Beach, Mother's Beach, and Santa Monica State Beach. Venice is located right off the Venice Pier and has wide open spaces for all kinds of beach day activities. Mother's Beach is right in Marina Del Ray. It has a roped-off swimming area that's perfect for young swimmers. And finally, Santa Monica State Beach, which is located right off the Santa Monica Pier. It's a fun-in-the-sun kind of day (almost) every day in Los Angeles!
La Brea Tar Pits
An iconic part of downtown Los Angeles, the La Brea Tar Pits are a world-famous fossil site. This active paleontological site has discoveries dating back to the Ice Age. The La Brea Tar Pits are contained within Hancock Park and are a beautiful place to walk around and a chance for your young scientists to learn some significant evolutionary history. Check out their website for more information on their 3-D movies, live show, and real-time discoveries!
The Santa Monica Pier
At the Santa Monica Pier, there is something to do no matter the time of day. Ride the iconic Ferris Wheel, walk around the shops, and listen to the local talent that busk, day or night. There are all kinds of easy snacks available for purchase, tables for sitting, and restaurants for eating – all of which are kid friendly. Not to mention the beautiful view of the Pacific Ocean, the Santa Monica pier is well worth a visit. Their website will have updates on live shows or special events happening at the pier.
Griffith Observatory
Featured in movies and a must-see landmark of Los Angeles, Griffith Observatory should be on your list. This beautiful center has an amazing view of downtown Los Angeles, a planetarium, rotating nature exhibits, and more. This center is also located in the sprawling beauty of Griffith Park. Bring your sunscreen and some snacks and after an afternoon in the observatory, your family can take a hike across the beauty of Los Angeles.
Entertaining Excursions
From puppet shows to roller rinks, these entertaining excursions are some of the best things to do in LA for kids. And your trip to Los Angeles isn't complete until you visit Disneyland or check out Universal Studio's immersive theme and adventure parks!
Bob Baker's Marionette Theater
For a great show during your time in Los Angeles, check out Bob Baker's Marionette Theater. This theater has been around since the 1960s and is an amazing, kitschy, and interactive puppet experience. Located right in Highland Park, they host seasonal shows and traveling showcases. Check out their website for their current showtimes.
Moonlight Rollerway
If you need a break from the Los Angeles sunshine, check out the Moonlight Rollerway. At this 1950s roller rink, your whole family can skate to their heart's delight. Just a bit outside of Los Angeles, this gem of Glendale hosts open skate times for all skill levels. Get rolling with some family fun at the Moonlight Rollerway!
Disneyland
This excursion is self-explanatory, because who doesn't want to spend an afternoon at the most magical place on earth? Disneyland has locations all over California. The closest one to Los Angeles is the Anaheim location. At the Los Angeles park, you have your pick of two different theme parks: Disneyland® Park and Disney California Adventure® Park. Both feature unique rides will all your child's favorite characters. There are food and gift shops and simply so much to see and do. Book your trip today!
Universal Studios
For another great theme park experience, check out Universal Studios Hollywood. This park has attractions like The Wizarding World of Harry Potter, Minionland, Jurrasic World, The Brand New Nintendo World, and more. You can also take a studio tour of Universal's lots where numerous iconic films of Hollywood have been filmed over the years. If anyone in your family is interested in movies, this is the spot to visit!
Educational Activities
Include some learning in your trip with a visit to any of these wildlife and science centers. Vacations are a great time to see new things and from the zoo to the Kidspace Museum, here are some of the best things to do in LA for kids.
The Wildlife Learning Center
Pay a visit to the Wild Life Learning Center on your next trip to Los Angeles. This conservation facility is located in Sylmar, California, and was founded in 2007 as a community outreach and animal care center. It cares for wild animals that have been displaced or are currently endangered. You can take private tours of the facility and they have lots of programs that showcase the care and protection that is offered to its creature inhabitants. Check out their website for more information and ticketing prices.
The Los Angeles Zoo
At the Los Angeles Zoo, your family will get the chance to see all kinds of beautiful creatures that call planet Earth their home. There are all kinds of exhibits and activities to check out around the zoo as well as a dedicated restaurant. For one of the best things to do in LA for kids, a day at the Los Angeles Zoo should be considered at the top of your list!
Aquarium of the Pacific
For an aquatic animal experience, visit the Aquarium of the Pacific. Located in Long Beach, about a 40-minute drive from Los Angeles proper, this aquarium has so many wonderful things to see. There are sea otters, jellyfish, and sharks, as well as all kinds of sea creatures from tropical, northern, and southern waters. This is a unique experience to be close to the sea and see so many creatures you might not become across regularly. Bring the whole family, make it a day trip, and enjoy the many fish!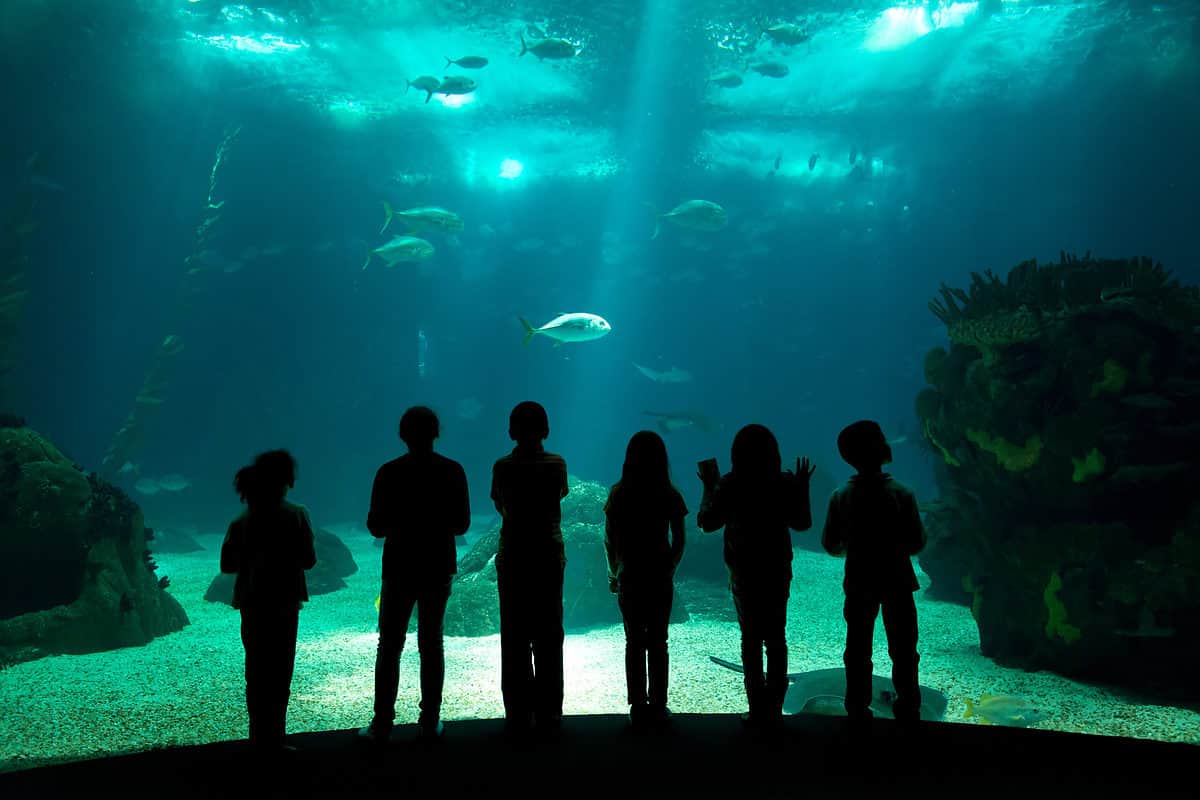 The Kidspace Museum
Check out the Kidspace Museum, where children have total space to create and explore in this wonderful hands-on nonprofit center. There are all kinds of exhibits, some are seasonal, and some are permanent. A few of their current ones include Los Trompos, an interactive art playground made from traditional Mexican weavings. The Physics Forest is another interactive exhibit that showcases the principles of physics through play. Check out their website for ticketing info and a calendar of exhibits.
The image featured at the top of this post is ©iStock.com/Joecho-16.