From endless sandy beaches to playgrounds for kids of all ages, Myrtle Beach is one the top vacation destinations in the country. With over 60 miles of white sand, it's no wonder families love visiting Myrtle Beach. If you're planning a trip and want to find the most family-friendly activities, check out our list of the best things for kids to do in Myrtle Beach.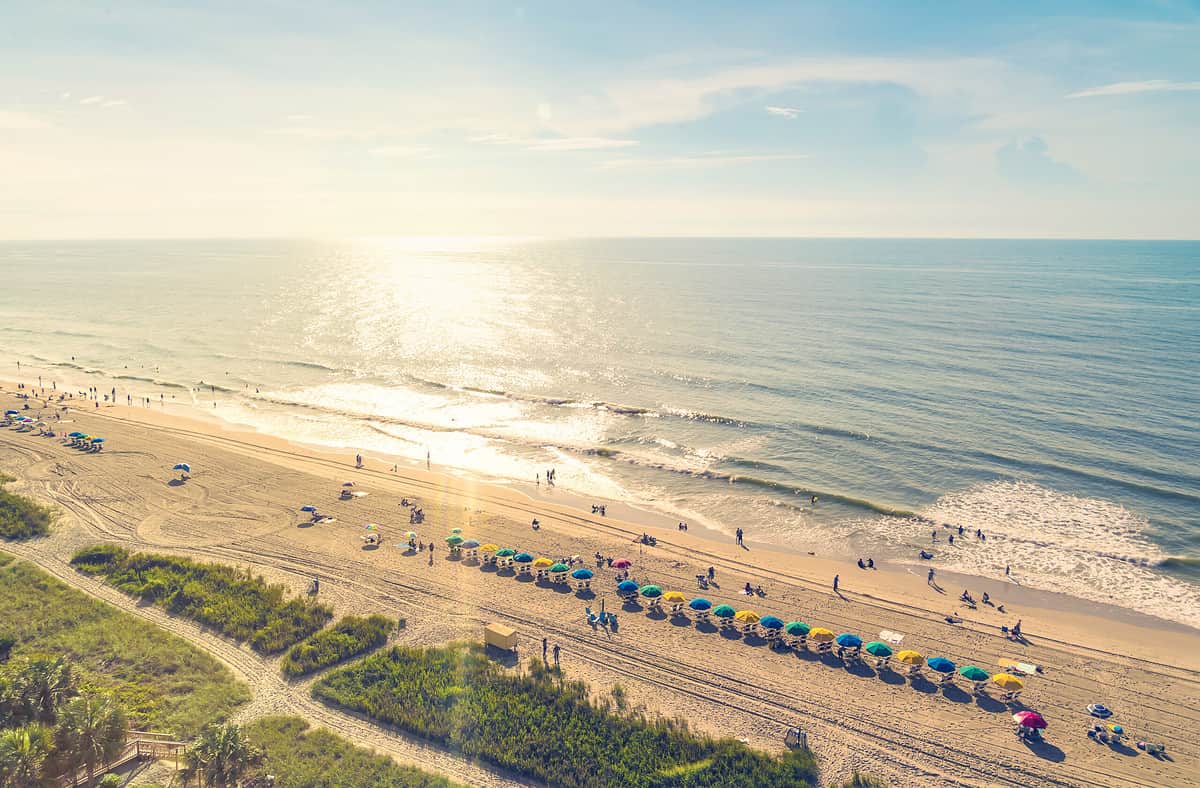 10 Best Things for Kids to Do in Myrtle Beach
In Myrtle Beach, there's no shortage of attractions, restaurants, or family-friendly beaches. Even though the miles of white sand are probably what drew you to Myrtle Beach in the first place, beaches aren't the only fun thing to do in the area. Here are the 10 best things for kids to do in Myrtle Beach:
Broadway at the Beach
During your time in Myrtle Beach, take your family to Broadway at the Beach, a lively shopping center in the area. It's one of the most popular tourist destinations in Myrtle Beach due to its numerous shops, restaurants, entertainment, and attractions.
Some of the attractions for families include the Hollywood Wax Museum, Myrtle Waves Water Park, and Dino Park. Don't forget to take your kids on the Broadway Carousel while you're there. Many of the most popular attractions in Myrtle Beach are located in or near Broadway at the Beach.
Ripley's Aquarium
Ripley's Aquarium is a well-loved attraction in Myrtle Beach that's fun for the whole family. Located in Broadway at the Beach, this kid-friendly marine life attraction is worth the trip during your time in Myrtle Beach.
There are plenty of exhibits at Ripley's including the Penguin Playhouse, Planet Jellies, and Ray Bay. Your kids will see all their favorite marine animals at the aquarium, and there are also plenty of educational experiences, live shows, and events throughout the year.
Alligator Adventure
Alligator Adventure is the perfect place for kids to get up close and personal with alligators and other wildlife. This animal park is home to albino alligators, American alligators, crocodiles, birds, and other reptiles.
Part of the adventure is seeing the live shows at Alligator Adventure. These shows include live alligator feedings, as well as alligator and snake handling. If your kids are brave enough, it's an experience they won't forget!
WonderWorks
WonderWorks Myrtle Beach is a must-see attraction with over 100 science exhibits. Considered an amusement park "for the mind," WonderWorks has over 40,000 square feet of entertainment for the family.
There are plenty of exhibits to see, from the Extreme Weather Zone to the Space Discovery Zone. After your family has visited the exhibits, you can head over to the 6D XD Simulator Ride, laser tag, or the zipline and ropes course.
Family Kingdom
If you're looking for some outdoor fun, spend the day at Family Kingdom, a seaside amusement park in Myrtle Beach. From thrilling rides to bumper cars, it's fun for adults and kids alike and there's something for everyone at this park.
For older kids and adults, you can enjoy the Twist 'n Shout steel coaster, or the Swamp Fox wooden coaster. For little ones, there are classic rides such as the Kiddie Coaster, Kiddie Speedway, and the Frog Hopper. There are also plenty of treats throughout the park to enjoy.
SkyWheel
Ferris wheels are always a memorable experience for kids, so don't miss out on the opportunity to take your family on the SkyWheel. This 187-foot-tall observation wheel gives you a full view of the beautiful sights in Myrtle Beach.
When you visit toward the end of the day, you can watch the sunset from the top of the wheel from a private, climate-controlled gondola. When riding on the SkyWheel, you can see Myrtle Beach from a completely new perspective.
Blackbeard's Pirate Cruise
Blackbeard's Pirate Cruise is an interactive adventure for the whole family. Your kids will love their time on the largest pirate ship in the Carolinas. Blackbeard's Pirate Cruise is a one-hour cruise that includes singing, sword fights, and a treasure hunt.
During the cruise, your kids will experience a water cannon battle and an interactive sword fight. The price of the cruise includes a free pirate mustache, pirate tattoos, a map, and treasure for the kids.
Savannah's Playground
Savannah's Playground is one of the highest-rated playgrounds in Myrtle Beach. This park isn't like other playgrounds, in fact, it was the first enabling playground in the Southeast. The entire park was designed with children with special needs in mind. It was named after Savannah Thompson, a local Myrtle Beach resident with Williams syndrome. The mission of Savannah's Playground was to create social interaction for children with all abilities through play areas that meet their needs.
The park includes several playgrounds, a rope and zipline course, a musical park, and a gymnasium. There are many options for kids to choose from and soft ground to keep children safe. This park is truly great for children of all abilities and ages.
EdVenture
A children's museum like EdVenture is always a great stop when you need a break from the business of the city and beaches. The goal of EdVenture is to build a love of learning within all children through their non-profit organization. There are three different museum locations and since their opening in 2003, they've had over 3 million visitors.
Their exhibits include many educational experiences such as learning through the Publix Supermarket play area, Toddler Beach, Auto Works, or Performance Space. Children can learn practical skills and use their creative thinking to explore, discover, and play.
Fun Warehouse
Take the fun indoors at Fun Warehouse Myrtle Beach. This indoor amusement center has everything your family needs for a day of excitement. From laser tag to roller skating, there are activities for all ages and even adults can get in on the fun.
At Fun Warehouse, they also have go-karts, an arcade, and virtual reality games. Younger kids can enjoy bouncing on the inflatables. They have specials each week, so be sure to check the website before your visit.
Best Beaches and Parks in Myrtle Beach
Despite the numerous indoor and outdoor attractions in Myrtle Beach, you can't experience this city without spending some time at the beach. If you're traveling to Myrtle Beach with family, here are some of the best beaches and parks in the area:
Cherry Grove Beach
Cherry Grove Beach is a beautiful area near North Myrtle Beach. If you're looking for a quieter beach with endless white sand, check out Cherry Grove. You can swim, relax on the sand, or walk down the Cherry Grove Pier. There, you'll find many people fishing and enjoying the water. You can also visit Cherry Grove Oceanfront Park, which is a perfect place to stop for a picnic.
North Myrtle Beach
North Myrtle Beach is another great spot to enjoy a beach day. The shore is lined with plenty of resorts, dining, and shopping so there are numerous opportunities to explore the city with your family, and you're never far from attractions or places to shop or eat.
Central Myrtle Beach
Central Myrtle Beach not only holds a beautiful section of the beach but it's also home to many of the best Myrtle Beach attractions. Broadway at the Beach, the Myrtle Beach Boardwalk, and the Myrtle Becah Skywheel can all be found in Central Myrtle Beach. It's a great place to spend the day since it's just a quick drive or walk to many attractions.
Myrtle Beach State Park
Myrtle Beach State Park is a gorgeous stretch of sand along the shore. You can expect to see plenty of wildlife at this state park, including sea turtles. You can even explore the nature trails or catch some beautiful ocean views from the fishing pier.
Murrells Inlet
If you're visiting Myrtle Beach, it's worth the trip to Murrells Inlet, a small fishing town less than 30 minutes away from the city. When you're looking for some peace and quiet or a perfect fishing spot, you'll find it at Murrells Inlet. It's also known as the seafood capital of South Carolina and is a perfect place to find a seafood restaurant for the family to enjoy.
Takeaway
It's no surprise that Myrtle Beach is such a highly-rated vacation destination, especially for families. From white, sandy beaches to beautiful views and sunsets, it's sure to become one of the favorite places for your family to visit. While you're in the city, check out the best things for kids to do in Myrtle Beach, and enjoy your time on the shore!