What is the Difference Between All-Inclusive Resorts and a Regular Beach Vacation?
Are you here because you're asking yourself what the best all-inclusive resorts are to visit with kids? What makes them different than a regular beach vacation as a family?
Picture this. You are sitting on the most gorgeous white sand beach with your children and spouse while the wind blows through your hair. The sand feels hot and toasty between your toes. It is stunning, fine, and fair. The sun is beating down on your skin, creating an incredible feeling of warmth and happiness. All this happens as your children sweetly play together and build a ginormous sandcastle. Life is perfect. Nothing could be better.
Then a high-pitched squeal pulls you back to reality. Two children are fighting over a sand bucket. Surely these aren't the same children who were just angelically playing together. Just as you go to break it up, your oldest moans, "mommy, I'm starving!" "Oh no," you think to yourself, "we forgot to plan for dinner." In a panic, you grab all the beach supplies, your tired and cranky kids, and start towards the hotel. Then you realize your hotel is a forever walk away from the beach, and you are about to embark on a miserable trek. Now, you and your spouse have to wrangle three kids back to the hotel across the street, shower them off, and try to find a place to eat before they go into full meltdown mode. Not to mention you're about to spend extra money, yet again, that you didn't plan for.
Just like that, your picture-perfect vacation is dashed. You're exhausted. All you wanted was one day on the beach where you didn't have any added stress. If only there were a resort, you could do everything at the same place, without spending any extra money you didn't account for. Wait, there is! These best all-inclusive resorts are the perfect place to take children on vacation. Not so sure? Here's why. 
What is an All-Inclusive Resort?
As a parent, taking your children on vacation can feel more like a chore than the perfect time you imagine. Let's be honest; children can be hard to vacation with. The extra cost, travel, dragging them around to different places, or even traveling across the street to the beach can be downright brutal. Of course, you want to enjoy a vacation with your child while they are little, but you want to make it feel less like a grind.
All-inclusive resorts include everything you need for the perfect vacation, with no extra costs involved unless you want them! There should be no surprise costs when you go on an all-inclusive vacation.
All-inclusive resorts will include your food, drinks, entertainment, and activities at no extra cost. Extra activities and excursions may be available and can be purchased with an upgrade. However, your family will be satisfied and happy with these resorts' amazing activities and entertainment. You won't even need an upgrade!
When you vacation at an all-inclusive resort, you can leave and return whenever you want. Also, you must pay for additional excursions outside the hotel.
With the all-inclusive cost, fantastic entertainment for the whole family to enjoy, and the ability to explore outside the hotel, there is so much to love about all-inclusive resorts!
What Makes an All-Inclusive Resort Worth It?
All-inclusive resorts are worth it when you have a family. This is because you have your upfront cost with no surprises. That in itself makes them worth it.
However, have you ever been on vacation with a child who wants to try a fun new activity, but the extra cost makes you cringe on the inside a little bit? With an all-inclusive resort, you and your child can try new activities that you may otherwise not try because of the added expense. There is also no leaving the hotel and dragging children out to eat thrice daily. You never have to leave the resort for food, drinks, or entertainment. Fortunately, it's all right there, making your time at an all-inclusive resort more enjoyable!
All-inclusive resorts are excellent for children because they experience entertainment and fun activities, and you get to keep your costs low with no surprises.
Some great features of an excellent all-inclusive resort:
There will be a pool available. Some even have a swim-up bar.
Sometimes you have to work on vacation. An all-inclusive resort that offers the ability to work from anywhere is perfect.
Having the beach right there and accessible anytime at the resort is a plus.
An incredible all-inclusive resort will have a variety of great activities for families to enjoy together, including snorkeling, scuba diving, sports, and so much more!
You will have the ability to purchase upgrades if you want.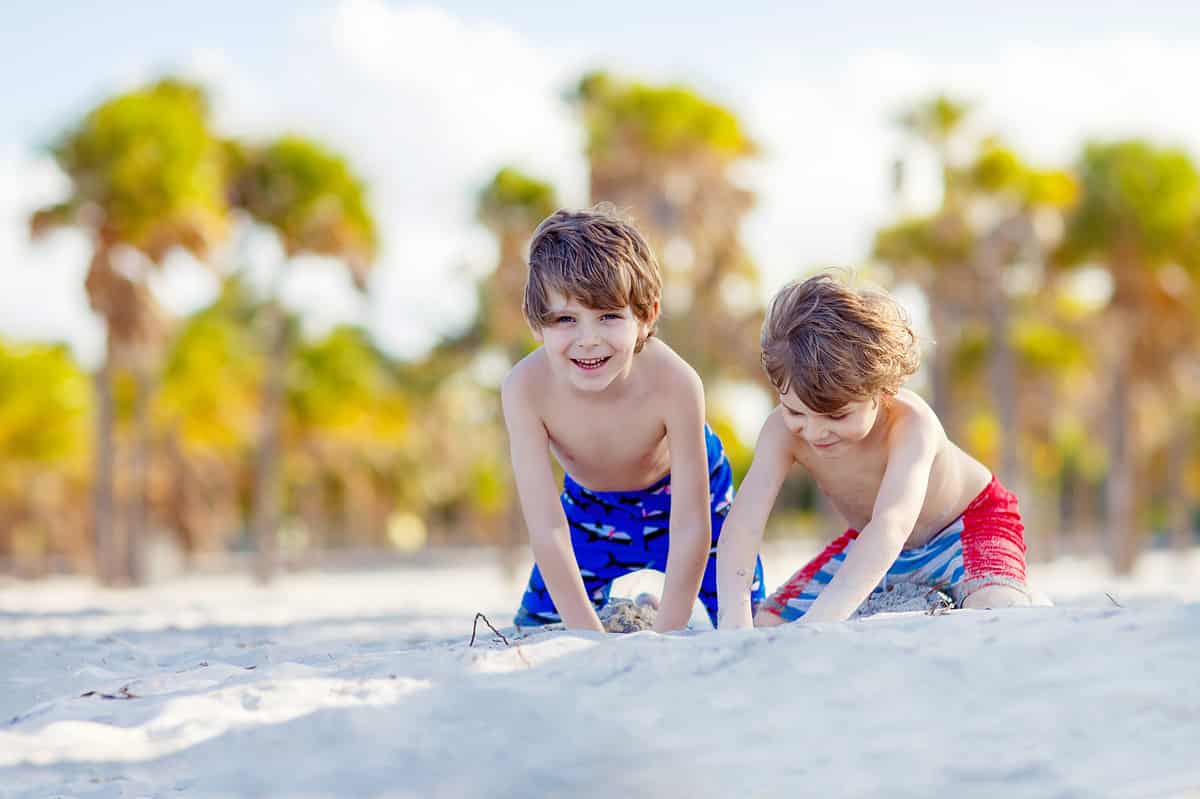 Benefits of Taking Kids to an All-Inclusive Resort
Children love to explore and participate in fun activities, especially while on vacation, and why not? That's the point, right? An all-inclusive resort allows your children to explore to their heart's content without ever having to leave the hotel. As a result, they can participate in fun activities they would otherwise not be able to try.
Taking kids on vacation can feel challenging because you may have to trudge through traffic, long walks, or even a few streets to get to the beach or a fun pool. However, with an all-inclusive resort, you can access the pool and the beach without all the extra work.
As I stated before, the food and drinks are paid for, and you do not have to worry about going out and eating multiple meals. This is a huge benefit for parents because taking small children out numerous times a week to a restaurant is downright grueling sometimes!
All-inclusive resorts relax your vacation and allow you to enjoy yourself and your family more. So, get ready to have the best vacation of your life with these top three all-inclusive resorts, perfect for kids!
The Top Three Best All-Inclusive Resorts for Kids
Beaches Resorts
Rated as the most awarded all-inclusive family resort, Beaches Resorts is top-notch and offer families a gorgeous spot to create memories. These resorts are located in Jamaica and Turks and Caicos. This is the perfect spot for your family if you are looking for a magnificent beach surrounded by beautiful, clear waters. The beach is right at your fingertips. In addition, your family can enjoy more activities: a water park, scuba diving, and snorkeling. Your water bug will be in heaven with all the many options!
Sometimes it's nice to get away with your spouse for an hour or two and enjoy a nice drink, dinner, or even a beautiful sunset on the beach. You can do that at Beaches Resorts even if you have kids! There is a kids camp option that allows children to participate in fun activities, even with Sesame Street! You can rest easy knowing your child is well cared for with the INA-certified nannies on staff.
Eat to your heart's content with unlimited gourmet dining, anytime snacks, and regular meals. Knowing that food is taken care of will help you relax as a parent and enjoy your time with your family. 
When you book at Beaches resorts, you also pay all the tips and taxes, receive airport transfers, and more with your upfront cost. Fun fact, if you book three nights or more at a Beaches Resort, you will be gifted a free wedding!
Website: BEACHES® Jamaica All-Inclusive Resorts & Family Vacations
Club Med Resorts
Seventy years ago, Gérard Blitz had a dream. A place families can enjoy everything they possibly need while on vacation. There would be no need to travel outside the hotel for food and entertainment if it was all right there and available. He brought his vision to life, and Club Med was born. Since then, Club Med Resorts has been bringing joy to families who want to enjoy their vacation with their families without all the added stress.
Club Med has resorts in several locations, including Mexico, the Caribbean, The Alps, Quebec, Brazil, Europe, Africa, and Asia. The possibilities are endless when you book a vacation with Club Med Resorts. They offer excellent accommodations and are family-oriented. Some activities your child will love to participate in while vacationing with Club Med are: 
Sailboating
Kids Club
Sports like pickleball, wing foil, stand-up paddle giant
Snorkeling
Scuba diving
Wakeboarding
Kitesurfing
Swimming
Canoeing
Club Med rooms are spacious and can accommodate families. With endless activities where your family can experience the water, fun entertainment, delicious food, and the ability to enjoy a beautiful vacation, Club Med resorts are undoubtedly a family favorite!
Website: Best all-inclusive vacation deals | Club Med
Nickelodeon Hotel and Resorts
Dora, Blue, Diego, Spongebob, and Skye are a few of the characters you may see strolling around at the Nickelodeon Hotel and Resorts! Imagine walking down the sidewalk, and suddenly, Dora pops up to say hi to your kid. Seeing these characters will surely brighten your child's day and give them a vacation they will never forget. You have two options when you book at the Nickelodeon Resorts. One is in Rivera Maya, Mexico, and the other is in Punta Cana. These resorts include oceanfront suites. It is important to note that these resorts can accommodate a family of five or fewer.
A Club Nick is available, which is simply a club for kids! In addition, your child will enjoy a few fun activities: dance parties, slime, and an immersive theater. Nickelodeon resorts believe that families first is an important concept. Therefore, the accommodations available consider families first always. With oceanfront rooms, characters around the grounds, food and entertainment included, and more, you cannot go wrong with the incredible Nickelodeon resorts!
Website: Nickelodeon Resort | All-Inclusive Family Destinations by Nick Luxury Hotels & Resorts (nickresorts.com)
Tips for Traveling With Kids
While traveling with your kids to a resort can take many headaches out of a vacation, it's still important to be prepared! Traveling with kids requires a little extra time and effort before the trip, to make sure everything is in order. As long as you're well-prepared, your resort vacation should be a blast!
The night before, try to get your kids into bed at a reasonable time. They're sure to be excited, but getting sleep is important! A tired kid will be a cranky kid. Have your child follow their normal bedtime routine to help them get sleepy.
Before you leave, double-check your children's rooms to ensure everything is in order. Excited kids can be forgetful! Make sure the lights are turned off, the windows are shut and locked, and nothing is left plugged in that shouldn't be.
It's a good idea to bring some snacks along for the flight or car ride. Food at rest stops and on the airplane can be expensive, and options can be limited. A child that isn't hungry will be happier, and will have an easier time tolerating a long car ride or flight.
Bring along some activities for your children to do while in the car or on the plane. Whether it's coloring, reading, or playing a video game, giving your child something to do will help pass the time. Waiting to arrive at a destination can be tough for children, and for their parents once the endless questions of "Are we there yet?" start. Keep them occupied and the time will fly by.
In Conclusion
Going on vacation with children can feel grueling sometimes. So, take the hard out of your family vacation this year and choose an all-inclusive resort. Enjoy all-you-can-eat food, an array of family activities, kids' clubs, the beach, and more family time this year.
You will go right with all of the resorts on this list, whether you want to go more traditional with a resort like Beaches or with one geared more towards kids, like Nickelodeon. One thing is for sure, your kids will be smiling more, and you will be back to relaxing on the gorgeous beach, enjoying the sun beating down on you, the wind in your hair, and not worrying about what you will eat for dinner.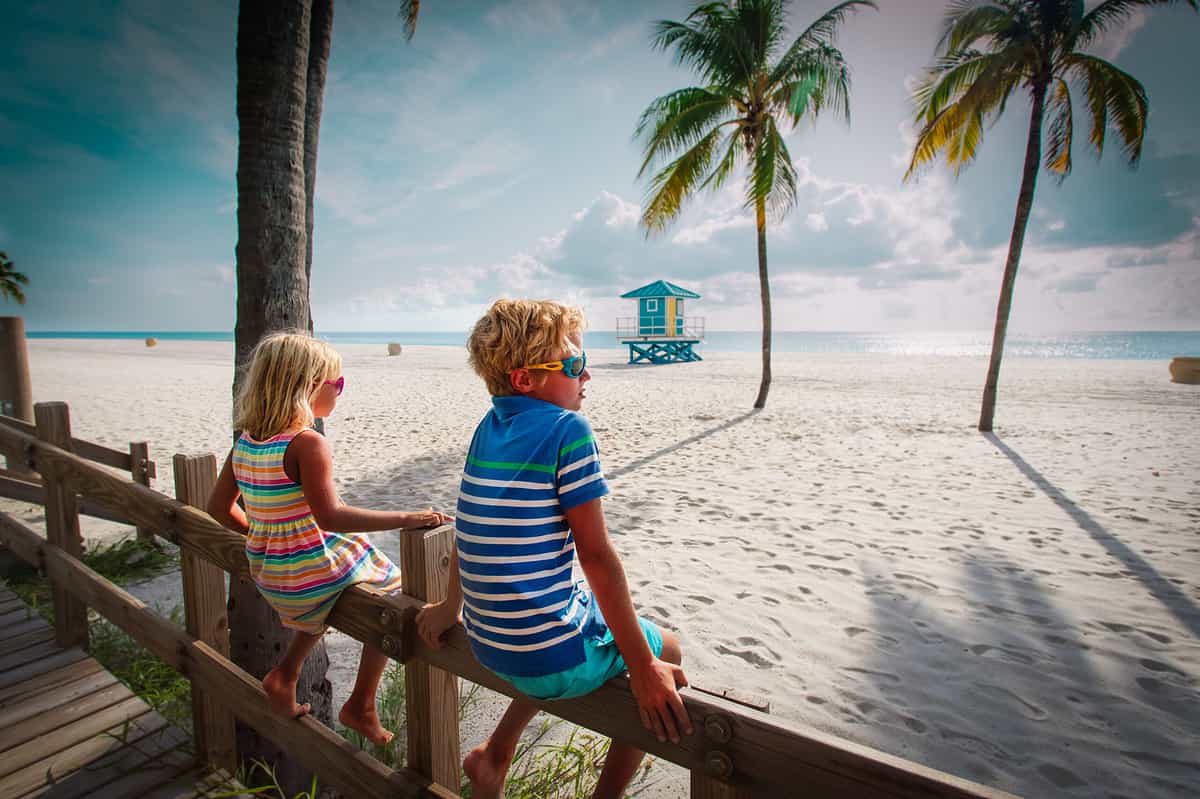 The image featured at the top of this post is ©Olesia Bilkei/Shutterstock.com.