Tampa is a growing city full of sunshine and fun activities for kids. Although it's considered a major business center, it's also home to unique coffee shops, restaurants, and one of the longest sidewalks in the United States. No matter what type of attraction you're looking for, Tampa has it all.
Whether you're local to the area or visiting and looking for ways to keep the kids busy, here are the best things for kids to do in Tampa Bay.
9 Best Things for Kids to Do in Tampa
The Tampa Bay area continues to grow. In fact, it is considered one of the fastest-growing cities in the U.S. That being said, there are plenty of fun things to do with the whole family. If you're in the area, check out these 9 favorite attractions.
Busch Gardens
Busch Gardens is a must-see place if you're visiting Tampa. What started out as a brewery and botanical garden has become one of the most beloved theme parks in the Tampa area. Busch Gardens has something for kids of ages and is a trip the whole family will enjoy.
Spanning over 300 acres, the park has exciting roller coasters, animal encounters, and kid-friendly activities. For little ones, Busch Gardens has the Sesame Street Safari of Fun, which includes a splash pad, kid-friendly rides, and Treetop Trails to explore. The park also has numerous events and promotions throughout the year.
ZooTampa at Lowry Park
ZooTampa at Lowry Park has been rated Tampa's Best Family Attraction. That's no surprise with all of the fun things for kids to see and experience. At the zoo, you can take a trip from Africa to Asia as you explore the Asian gardens or get close to the African elephants and giraffes.
Younger children will enjoy a ride on the carousel while adults or older kids try their luck at some of the carousel games. Then, take a trip back to the Florida wildlife where you can see manatees, flamingos, alligators, and more. ZooTampa has many rides, exhibits, gift shops, and restaurants to make your trip memorable.
Tampa Riverwalk
The Tampa Riverwalk is a great place to enjoy with your family. Voted one of the top riverwalks in America, this 2.6-mile trail is more than just a place to get some exercise. The Tampa Riverwalk takes you along the Hillsborough River and stretches from the downtown waterfront park to the MacDill Park on the river.
The Riverwalk is maintained by Friends of the Riverwalk, a non-profit organization that works in partnership with the city of Tampa. You can stop at one of the parks along the trail or even stop for a bite to eat at one of the excellent restaurants just minutes from the Tampa Riverwalk.
Glazer Children's Museum
If you're visiting downtown Tampa, the Glazer Children's Museum is a fun stop for families. This children's museum is a place where children learn, discover, and explore the world around them. Children can play and have fun while also learning through imaginative play.
Children visiting the Glazer Children's Museum can go from exhibit to exhibit. They might learn how to master money in the Central Bank exhibit or learn to care for animals in the Vet Clinic. The children's museum is a great place for children to use their imagination.
The Florida Aquarium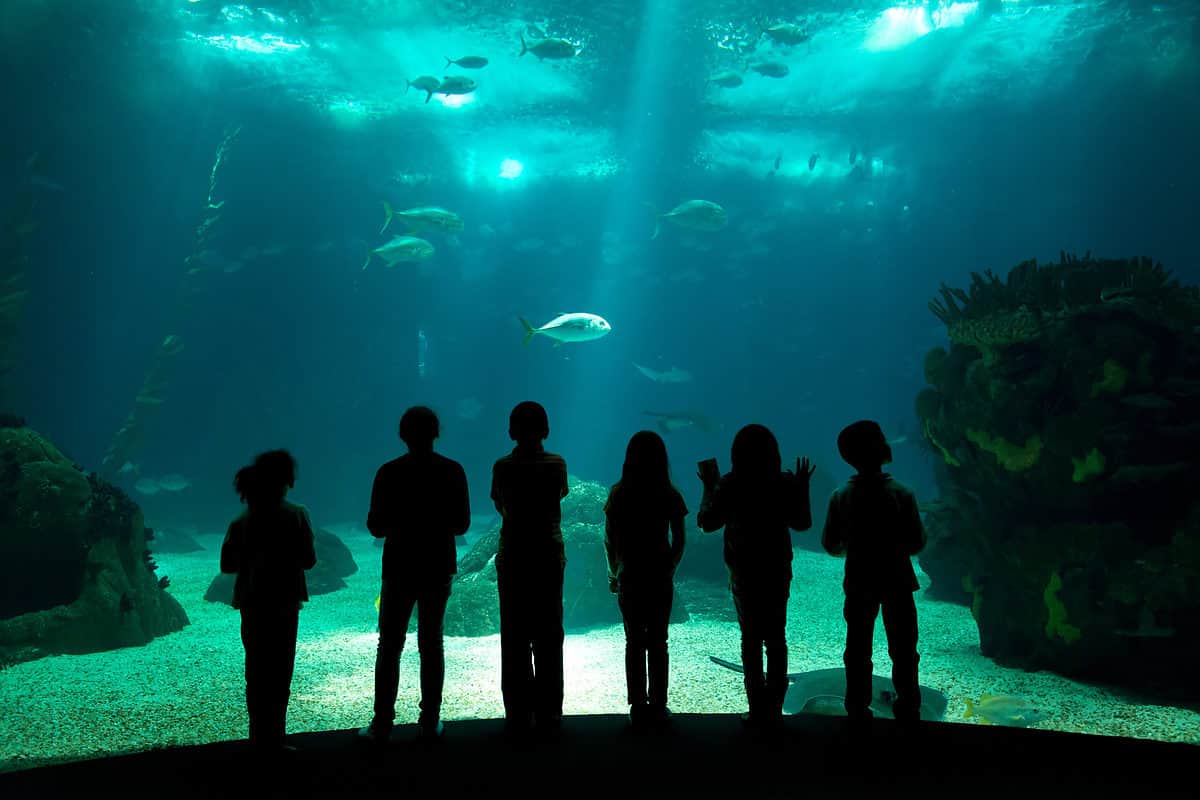 Whether you're trying to beat the heat or your kids just love sea creatures, the Florida Aquarium is a great place to visit year-round. There are plenty of exciting habitats for your family to enjoy such as the Wetlands of Florida or Stingray Beach.
In addition to its awesome exhibits, the Florida Aquarium also has a splash pad and outdoor playground. Make sure your kids bring their sunscreen and swimsuits so they can cool off while the adults gather at the Cove Bar. Before you call it a day, you can also visit the aquarium gift shop or stop by Cafe Ray for a bite to eat.
Adventure Island
Florida has sunny and warm weather that sticks around for most of the year. A water park like Adventure Island is perfect to add to your itinerary when you visit Tampa. If you're worried about rain, Adventure Island does have a Sunny Day Guarantee policy, which means if your day is impacted by the weather, you can receive a ticket for another day.
If your kids love water, there's endless fun at this water park. Adventure Island has numerous water slides, pools, and kid-friendly attractions. With smaller children, you can visit Shaka-Laka Shores, an interactive splash and play area that's great for little ones. There are plenty of restaurants to choose from during your day at Adventure Island.
Museum of Science and Industry (MOSI)
MOSI, or the Museum of Science and Industry, is a well-loved attraction in Tampa that has been around since 1982. If your kids love science and technology, MOSI combines learning and fun with numerous activities and exhibits. Your trip to MOSI can include visiting the Dinovations Lab, Ideazone, and Mission: Moonbase. Your kids will learn about everything from dinosaurs to human anatomy as they explore each exhibit.
You can also tour the night sky during the Saunders Planetarium Show, travel across the Sky Trail Ropes Course, or play putt-putt at the SciLinx Miniature Golf Course. These three attractions do require an additional ticket. MOSI also has separate events for kids throughout the year, such as Minecraft Mania or Science After Dark.
Old McMicky's Farm
If you're looking for something to do in the Tampa area but want to get away from busy city life, take a trip to Old McMicky's Farm. For over 65 years, Tampa families and visitors have enjoyed creating memories and visiting the animals at the farm.
When you visit Old McMicky's Farm, your family can take a guided farm tour to see the animals and learn about farm life. On the tour, your kids will see chickens, rabbits, and goats. They'll also have the opportunity to milk a cow and ride a pony. The tour also stops at the Barn Maze, and if you pack a lunch, you can have a picnic afterward at the tables overlooking the beautiful Crescent Lake.
Lettuce Lake Park
Lettuce Lake Park is one of the best places in Tampa to hike or have a picnic on a cooler day. Stretching across over 240 acres, the park consists of a hardwood swamp forest and pine flatwoods plant communities.
The Limpkin Loop trail is only 1.71 miles, making it an easy hike for families with young children. Lettuce Lake Park has wooded picnic areas, playgrounds, and a 3,500-foot boardwalk with an observation tower overlooking the Hillsborough River. If you have older children, you can also rent canoes or kayaks at the park.
Tips for Visiting Tampa
When visiting a new city or state, it's not always easy to know what to expect. If you're visiting Tampa for the first time, here are some tips for staying cool and getting the most out of your trip:
Bring Your Sunscreen
No matter what time of year it is, you will need sunscreen in the Sunshine State. Especially if you have an outdoor activity planned, be sure to put sunscreen on you and your kids. A nasty sunburn is a quick way to ruin the rest of your time in Florida.
Plan for Rain
Despite the title Sunshine State, it actually rains a lot during the summer in Florida. Even though some of the rain showers can be short-lived, if you're traveling during the summer, don't get caught without an umbrella. Remember that Hurricane Season is between June 1st and November 30th, with most storms occurring during September.
Be Aware of Parking
Especially if you're headed somewhere near downtown Tampa, like the Riverwalk or the Glazer Children's Museum, leave some extra time to find a parking spot. In the downtown area, parallel parking spots are available with a required parking meter. You can also find a spot in one of the downtown parking garages.
Beat the Crowds
Naturally, there will be more tourists in most major cities during breaks like Spring Break, summer, or even Winter Break. Tampa is a popular tourist destination, so if you're visiting during a school break and want to beat the crowds, you're better off visiting any of the attractions earlier in the day and during the week.
A trip to Tampa with your kids can be memorable for your family, and planning ahead is the best way to ensure your family stays safe and comfortable during your vacation.
Takeaway
Tampa, Florida can be a blast for families traveling with kids. From taking a walk down the Riverwalk to riding the coasters at Busch Gardens, there's never a shortage of fun things to do or delicious restaurants to eat at. If you plan on visiting several of the attractions on our list of the best things for kids to do in Tampa, consider purchasing a City Pass to save on tickets. Enjoy your time in Tampa!