If you're looking for a peaceful vacation, you'll love the gorgeous mountain town of Pigeon Forge. Located in eastern Tennessee, this vacation destination has something for the whole family. But despite its peaceful and quaint environment, this town is home to exciting attractions such as the famous Dollywood and the Island in Pigeon Forge.
No matter what time of year you visit, you'll have a memorable experience. Before you plan your trip, keep reading to find out the best things for kids to do in Pigeon Forge.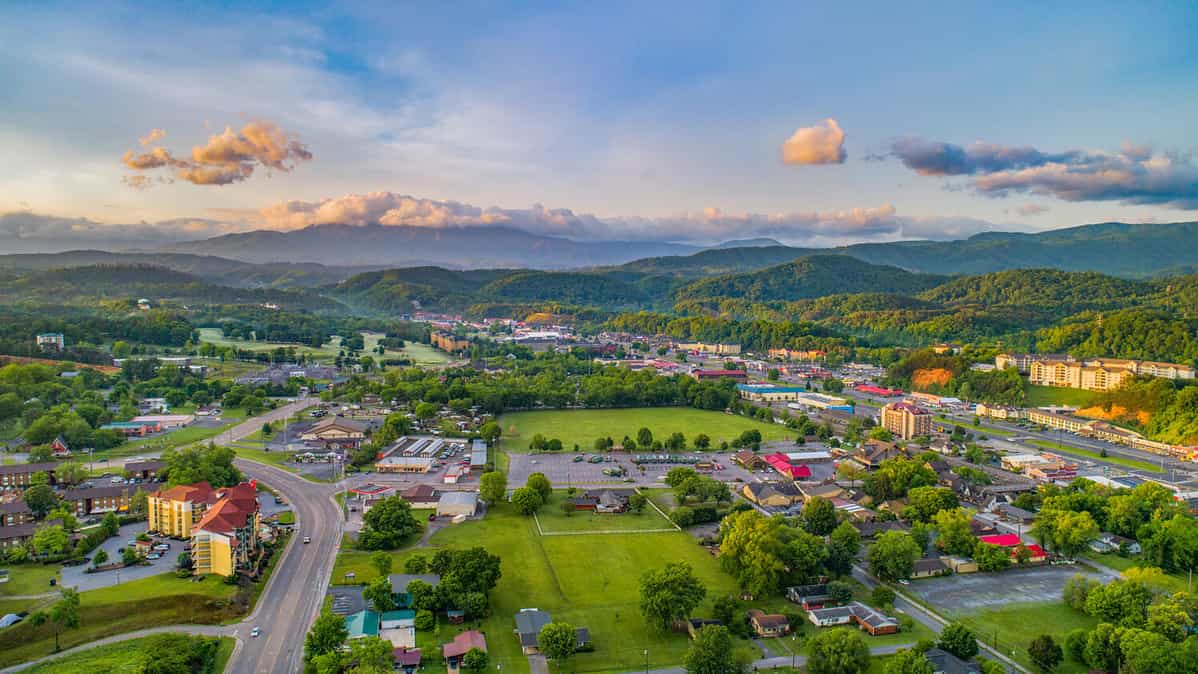 13 Best Things for Kids to Do in Pigeon Forge
Bordering on the Great Smoky Mountains, Pigeon Forge has plenty of attractions and is great for the whole family to visit. If you're planning a trip to Tennessee and need help figuring out where to start, check out the best things for kids to do in Pigeon Forge.
Dollywood Theme Park
You can't visit Pigeon Ford without experiencing Dollywood with your family. Voted in 2022 as the top theme park in the country, it's a well-loved park that's perfect for all ages. The Dollywood Theme Park is located on over 160 acres right in the beautiful Great Smoky Mountains.
There's no shortage of rides, entertainment, and dining options in the park. Some of the rides include Daredevil Falls, Blazing Fury, and the Dragonflier rollercoaster. If you have younger kids, there are smaller kid-friendly rides for little ones. Preschool-aged children can choose rides like the Busy Bees or Frogs & Fireflies and visit the Hidden Hollow play area.
Dollywood Splash Country
During your time in Pigeon Forge, Dollywood Splash Country is bound to be a bit hit with your kids. This expansive water park has various slides, pools, and splash zones for your kids to enjoy.
Take your thrill-seeking family members on Mountain Scream or Fire Tower Falls. The kids can play at Bear Mountain Fire Tower or the family can relax on the Downbound Float Trip. When it's time to cool off, you can choose one of the dining options or sweet shops in the park as well.
Dolly Parton's Stampede
Plan on visiting Dolly Parton's Stampede for dinner one night during your trip to Pigeon Forge. This dinner attraction is a whole experience from the four-course meal to the incredible entertainment.
Considering it's the world's most visited dinner attraction, this is a show you don't want to miss. If you arrive early before the show, you can take a trip down the horse walk to visit with the stars of the show before it begins. Dolly Parton's Stampede is a night full of family-friendly entertainment and amazing aerial performances.
Ripley's Aquarium
Just a short drive from Pigeon Forge is Ripley's Aquarium of the Smokies. This aquarium includes numerous experiences and exhibits for your family. If your kids love marine life, they'll have a blast at this aquarium.
Ripley's Aquarium is home to exhibits such as the Ocean Realm, Shark Lagoon, and Touch-a-Ray Bay. Your family can take part in the Glass Bottom Boat experience to get a closer look at the sea creatures, or even watch the adorable penguins paint a picture!
Parrot Mountain and Gardens
If your family loves making feathered friends, check out Parrot Mountain and Gardens during your trip to Pigeon Forge. This garden and parrot preserve sits on over 4 acres of beautiful gardens and includes hundreds of tropical birds.
You'll be amazed at the beauty of the birds when you visit Parrot Mountain. For an even more exciting experience, you can touch and feed the parrots during your visit. There are also beautiful pathways with views of some of the most beautiful flowers in the garden. After you've walked through the gardens, you can enjoy lunch with your family with a view of the Smoky Mountains.
Titanic Museum
For an educational adventure, take your kids to the Titanic Museum. There are several Titanic museums in the country, but the museum in Pigeon Forge has one of the largest permanent collections of Titanic artifacts.
Before you even walk into the museum, you'll be amazed by the museum's exterior that's a half-scale replica of the Titanic. This museum is home to over 400 artifacts and is great for kids five and up.
The Island in Pigeon Forge
The Island in Pigeon Forge is one of the top family destinations in Pigeon Forge. It's great for locals or tourists with lots to do for families. From arcades to bumper cars to the Island Ropes Course, there's no shortage of excitement.
There's no admission fee to visit the Island in Pigeon Forge. Instead, you only pay for the attractions you choose to visit. If you know you're going to be riding all day, you can buy an unlimited rides pass that's good for 48 hours.
The Great Smoky Mountain Wheel
A Ferris wheel can be one of the most exciting events for children and adults! When you visit the Island in Pigeon Forge, take a ride on the Great Smoky Mountain Wheel. This 200-ft Ferris wheel has glass gondolas that offer magnificent views of the mountains and water below.
Each gondola can hold up to 8 guests, so the whole family can ride together. The Great Smoky Mountain Wheel is one of the tallest attractions in the Southeast and is definitely worth the stop during your time in Pigeon Forge.
Smoky Mountain Alpine Coaster
When you visit Pigeon Forge, consider spending as much time as possible in the mountains. The Smoky Mountain Alpine Coaster is a memorable way to experience the beauty of the Smoky Mountains.
Perfect for families and kids of all ages, this coaster is the longest downhill ride in the country. Each vehicle can carry two guests, and you can control how fast you go in your individual car. Any kids over 56" inches can ride alone, and little ones can ride with an adult.
Rockin' Raceway Arcade
On your trip, check out the Rockin' Raceway Arcade for a day of games and fun. This arcade offers games and entertainment in a retro atmosphere. It has over 150 games so there's sure to be something for every family member.
All ages are able to participate in something at Rockin' Raceway Arcade. In addition to their arcade games, they also have go-karts, 4D experiences, and a VR arena. You can purchase a play card online or in person at the arcade.
Goats on the Roof
Goats on the Roof is an amusement park in Pigeon Forge that includes a roller coaster, gift shop, gem mining, and of course, goats.
During your time at Goats on the Roof, start with the Goat Coaster, a mountain coaster you don't want to miss. It's almost a mile in length and it's rider controlled so you can adjust the ride to your preferences. You can also mine for gems, grab some homemade fudge, or view the goats at the second level of the gift shop.
Paula Deen's Lumberjack Feud Show
For an entertaining day in Pigeon Forge, visit Paula Deen's Lumberjack Feud Show. This 1.5-hour show is lumberjack themed and entertaining for everyone. As Pigeon Forge's only daily outdoor show, they're open every day no matter the weather.
With a unique outdoor experience in the climate-controlled theatre, you and your family can sit back and relax during this interactive comedy show. There are also special events for kids and clean comedy that's perfect for all ages.
Rowdy Bear Ridge Adventure Park
Rowdy Bear Ridge Adventure Park offers tubing and entertainment in Pigeon Forge. Just down the street from the Titanic Museum, this adventure park has numerous rides that are open year-round.
During the summer and warmer months, the family can enjoy summer outdoor tubing at the adventure park as well as axe throwing. If you're visiting during the winter, you can head down the longest outdoor snow tubing hill in the state, which is over 500 feet long. If you're looking for a park with some thrilling rides, Rowdy Bear Ridge is a great spot.
Takeaway
Pigeon Forge is a unique place to visit and has everything you need for a fantastic family vacation. From fun attractions to beautiful views of the mountains, there are a myriad of things in Pigeon Forge you won't want to miss. If you're planning a trip and don't know where to start, try out the best things for kids to do in Pigeon Forge.
The image featured at the top of this post is ©Kevin Ruck/Shutterstock.com.