Dollywood is a great amusement park for all ages, and there's Dollywood's Splash Country, which is all about the water action. Dollywood has a few fabulous water rides, and Splash Country is all splashing fun, all the time. From twisting tube slides to raging rapids, there's something for everyone at these two parks. Here are the best water rides at Dollywood and Dollywood Splash Country, located in Pigeon Forge, TN.
1) Daredevil Falls
The location of Daredevil Falls, an abandoned logging camp, is likely to pique your interest as you ride this fun water coaster. Daredevil Falls is ideal for those hot summer days. This ride has a top speed of 40 miles per hour, which means that even though it will give you a bit of a thrill, it will also keep you cool.
Caution is strongly suggested, however, because, during this boating journey, you will have some perilously close encounters with wild black bears. You will have an even more exciting experience if you dare to ride it at night!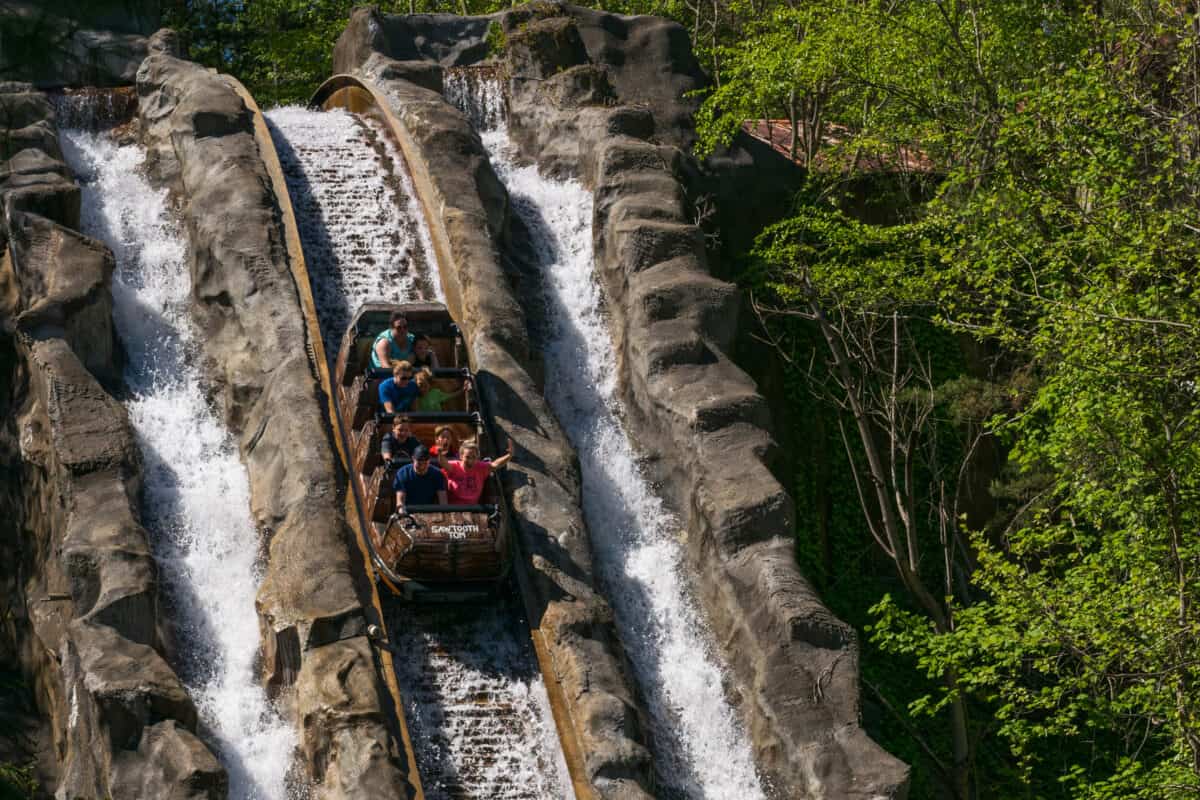 2) Smoky Mountain River Rampage
The Smoky Mountain River Rampage is a clear favorite during the summertime, as it guarantees a thorough soaking and massive grins for all participants.
This journey will take you on a series of dips, twists, and turns while demonstrating why whitewater rafting is still one of the most well-loved outdoor activities in the Great Smoky Mountains.
This is Dollywood's longest water ride, and it is full of surprises. You'll float around sharp turns and over rushing waterfalls.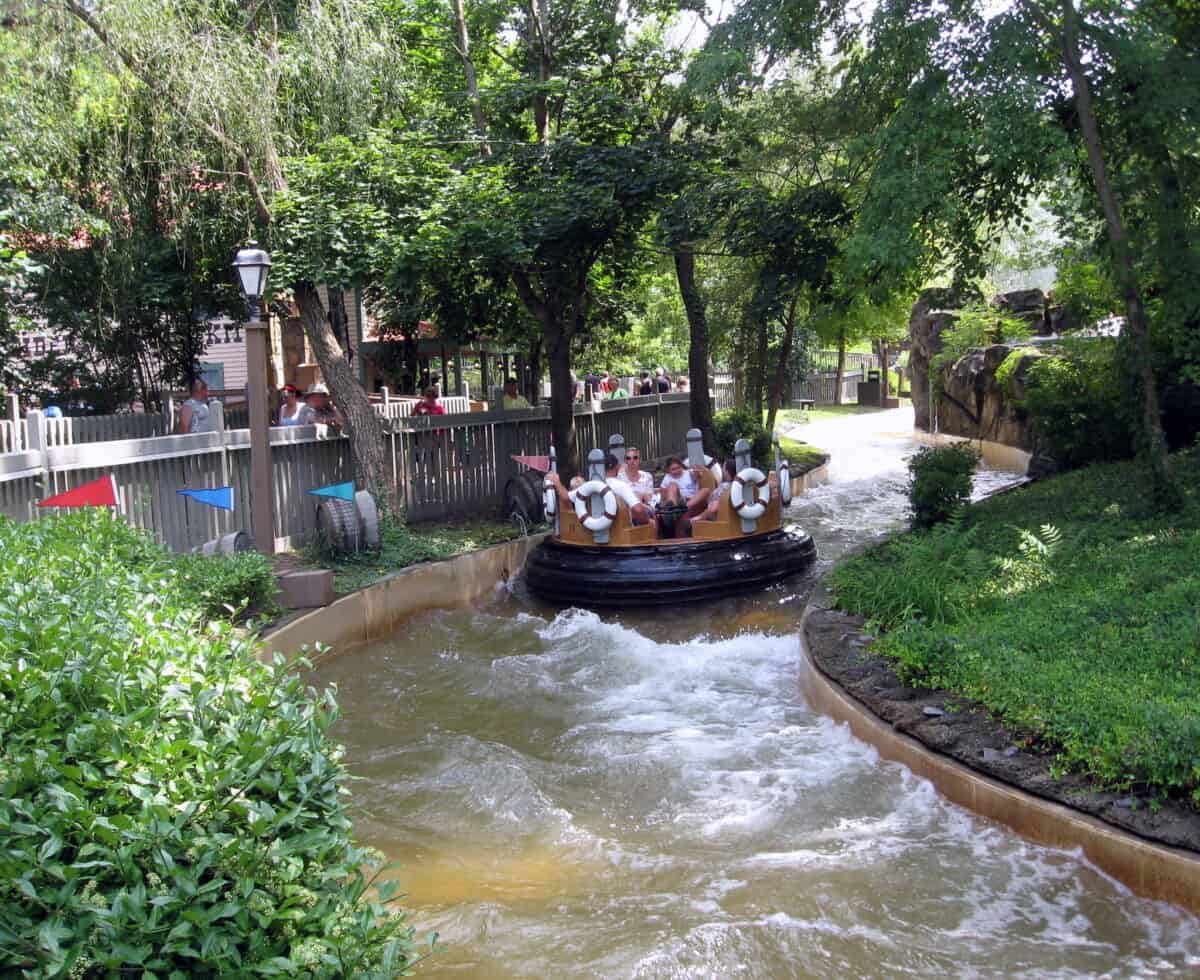 3) Bear Mountain Fire Tower®
At the Bear Mountain Fire Tower, at Dollywood Splash Country, you and your loved ones are in for a good soaking. Climb your way through this interactive attraction that spans multiple levels as you descend its seven slides and water cannons. The enormous bucket dumps a total of one thousand gallons of water. A great time for the whole family!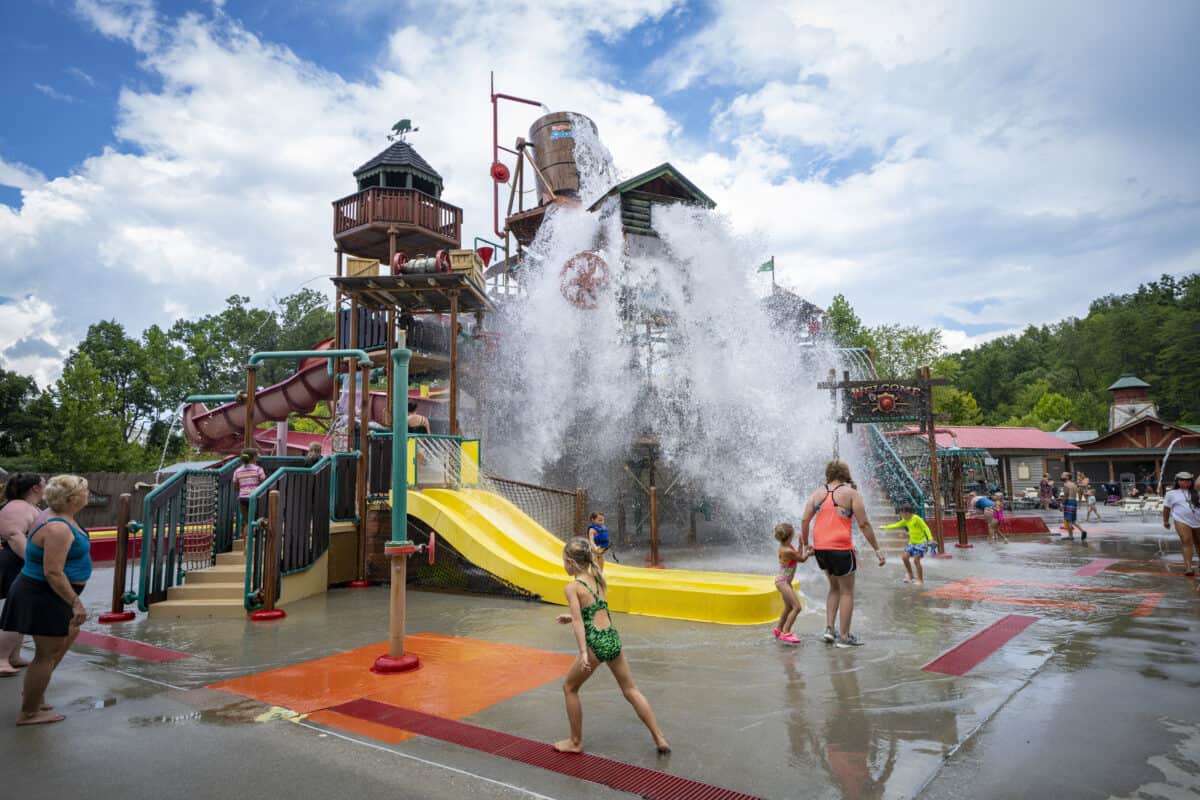 4) Big Bear Plunge
Take the "plunge" on the Big Bear Plunge, a white water rafting adventure ride that will take you through dark caverns with winding bends and steep drops evocative of a challenging river excursion. This ride, located at Splash Country, will take you through the caverns at a rapid pace.
There is a minimum of three and a maximum of four riders for this ride. Smaller groups of fewer than three people will be seated with other riders, while groups larger than four people will be divided up.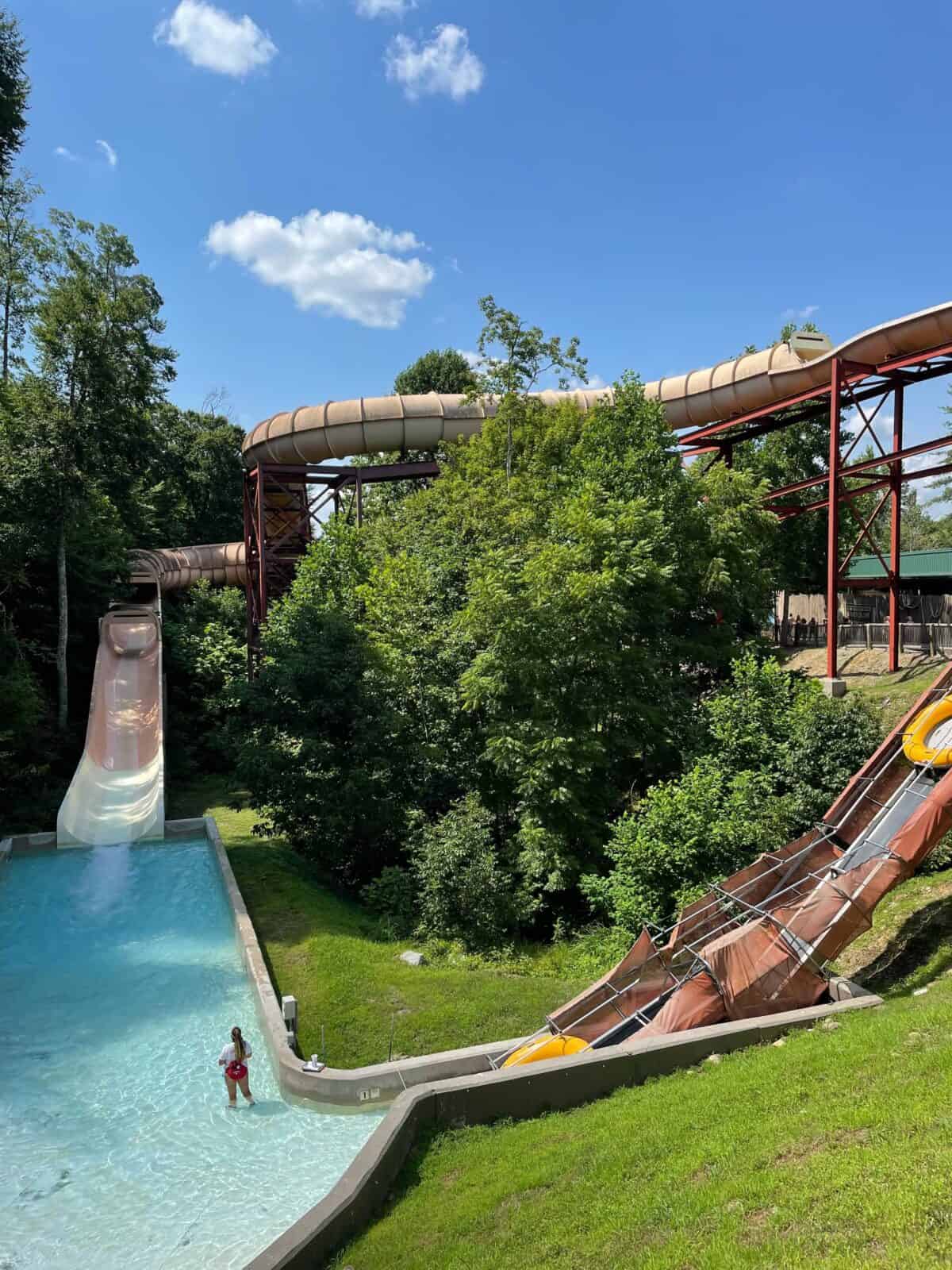 5) Downbound Float Trip
Embark on a leisurely journey down a 1,500-foot-long "river" while taking in the breathtaking scenery of the Smoky Mountains on the Downbound Float Trip. Float beneath the flowing 200-foot-tall waterfall for a refreshing shower as your family cools off. You'll find this cool experience at Dollywood Splash Country.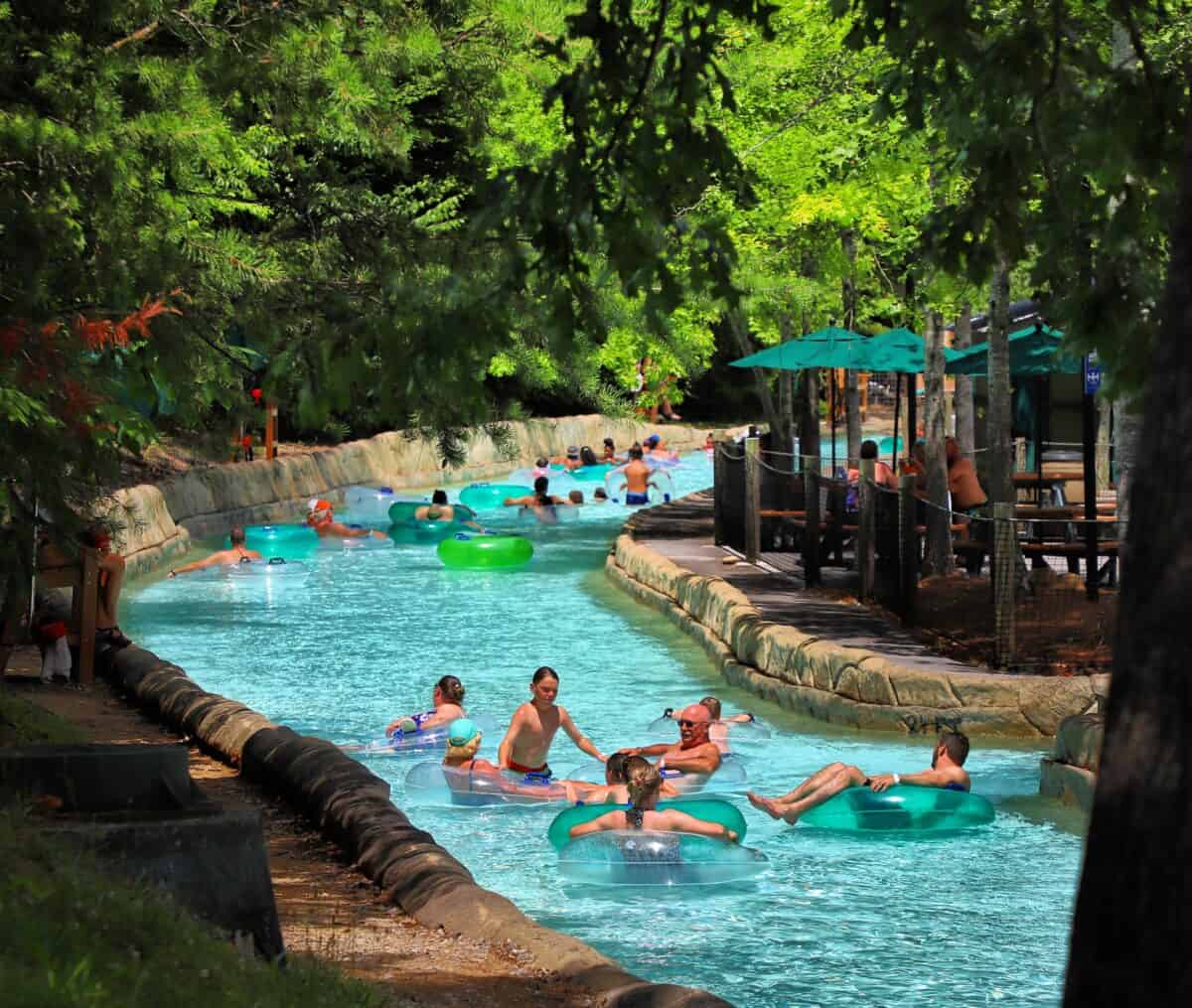 6) Fire Tower Falls
Fire Tower Falls at Dollywood's Splash Country is one of the water parks' most thrilling attractions because it is both the highest and the fastest slide there.
These exciting dual free-fall slides rise to a height of 70 feet in the air and send riders down 280-foot tracks for an exhilarating experience. This high-octane experience ends with a massive splash on the water-filled 140-foot-long track at the base of the ride.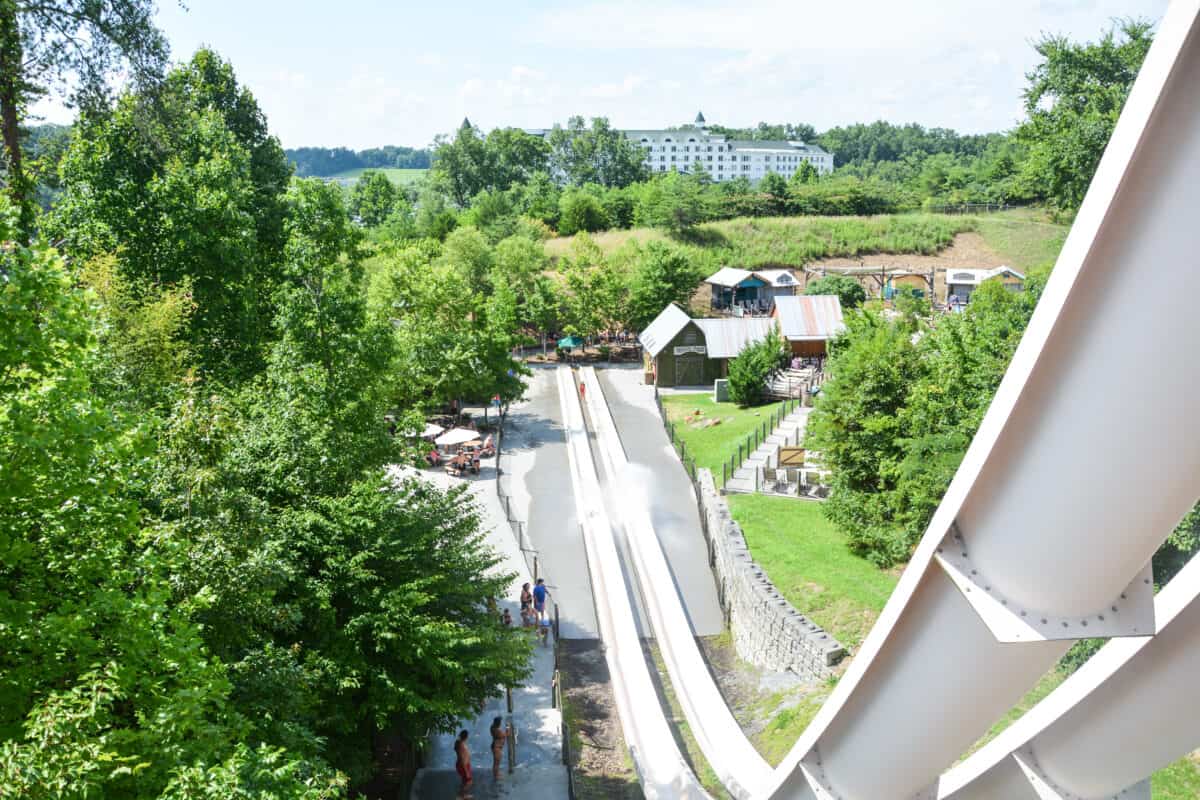 7) Little Creek Falls
The brand-new splash pad at Dollywood Splash Country, Little Creek Falls allows younger children to enjoy the summer without parents having to worry about their safety. This newly renovated play area has just the right amount of splash for infants and toddlers to enjoy themselves all day long.
Then, when you and your young one need a break from the heat, make yourself comfortable in the shade provided by the gigantic butterfly structures.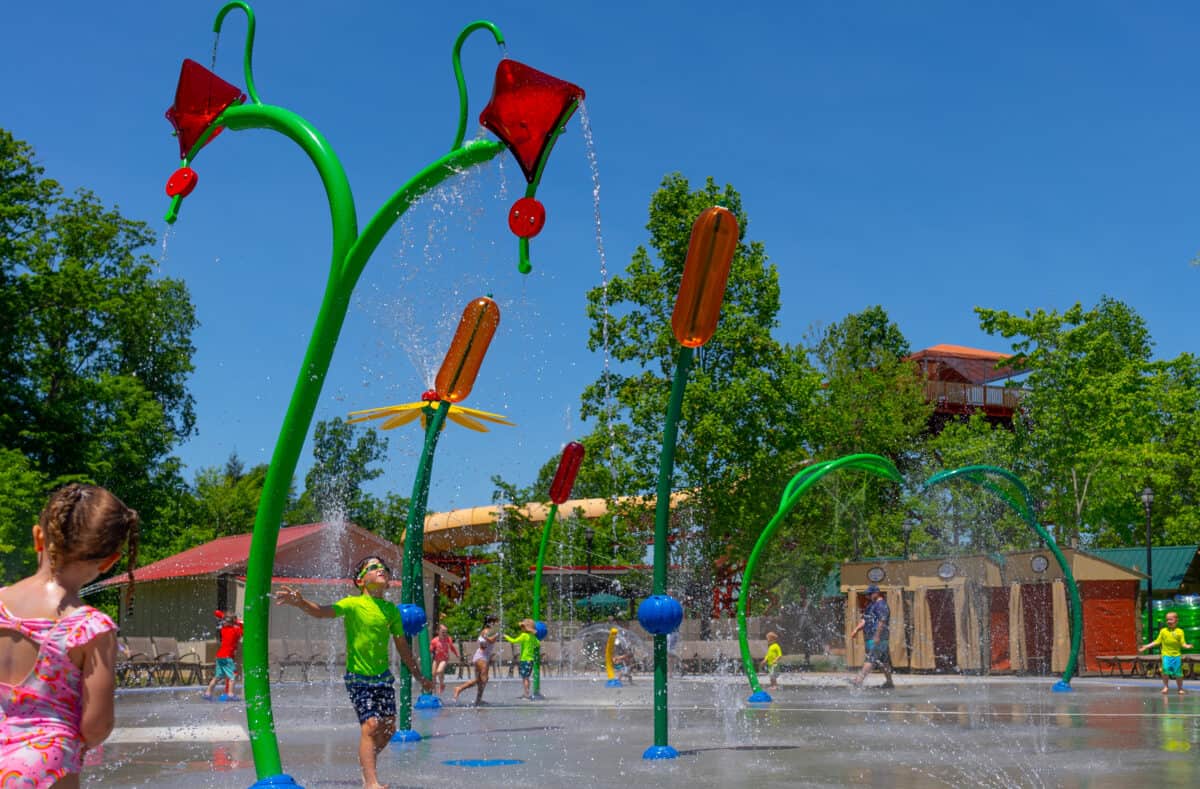 8) Mountain Waves
At Mountain Waves' 25,000-square-foot wave pool, you can ride some waves right in the middle of the Smoky Mountains. Experience all the pleasure of the beach without getting sand between your toes by soaking up the sun poolside or taking on some waves.
9) Raging River Rapids
You and your family can experience the white waters of the Great Smoky Mountains along with a good soaking on the 700-foot Raging River Rapids at Dollywood Splash Country. This thrilling ride can accommodate up to five people in each raft, but the amount of fun you will have is virtually limitless.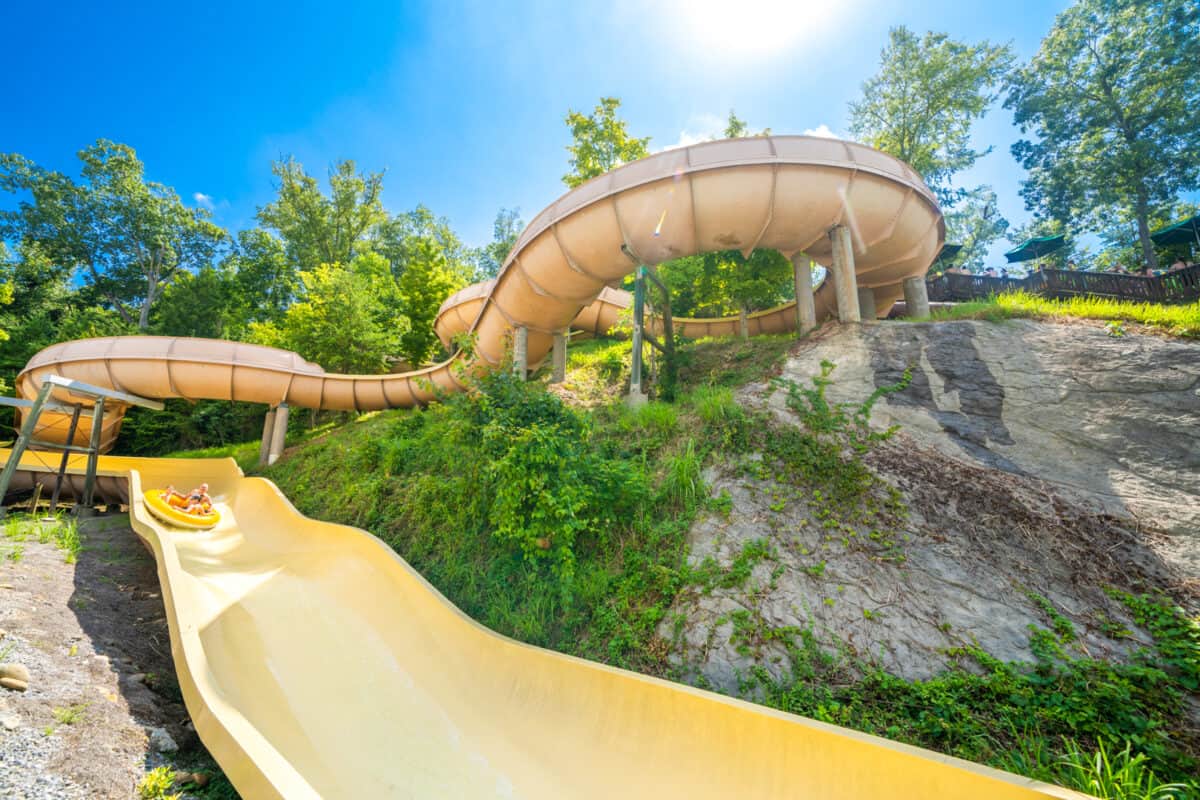 10) Slick Rock Racer
The Slick Rock Racer at Dollywood Splash Country is a multi-lane mat slide that stretches for 300 feet and has four water-drenched lanes, each side-by-side.
Riders travel head first on a channel while positioned belly down on mats. The track has an initial dip to help riders build up their speed. Then, several bumps spread throughout the slide to allow riders to pick up additional speed to the end.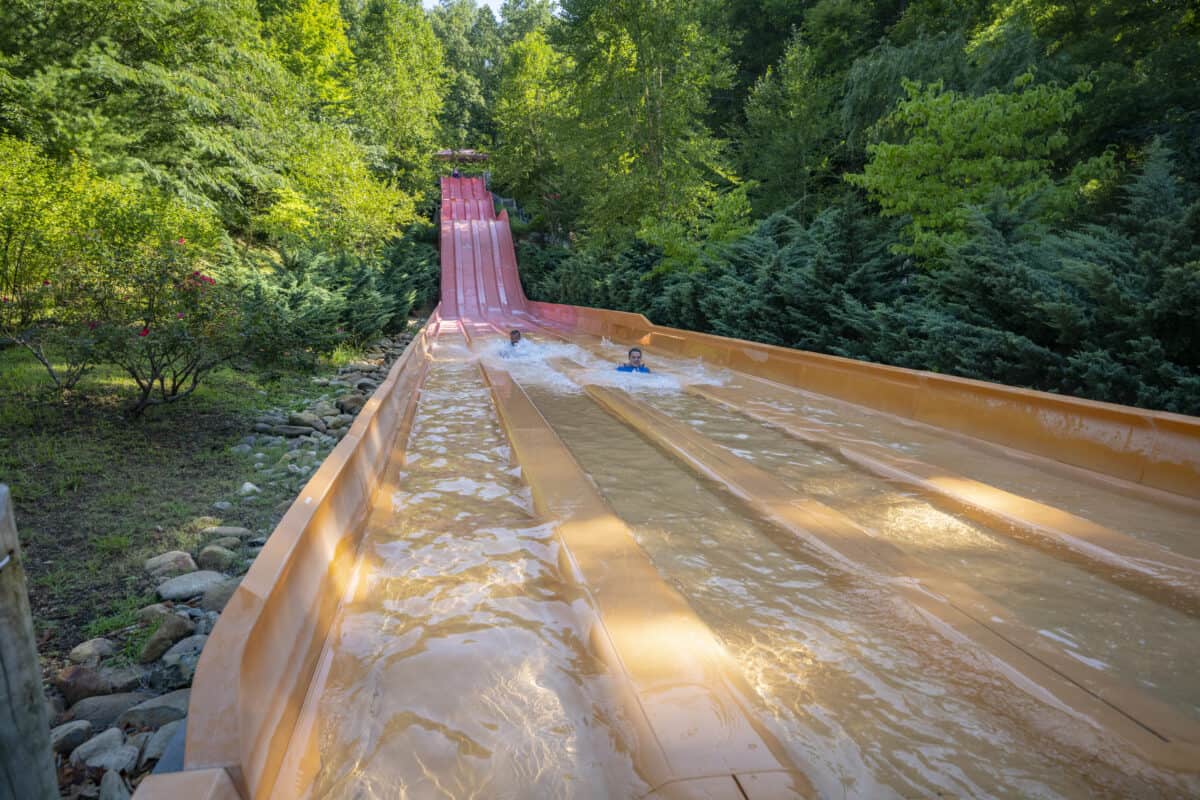 11) TailSpin Racer
Experience the wet and wild twists, turns, and thrills of Dollywood Splash Country's newest attraction, the TailSpin Racer.
From the ride's distinctive AquaTubes, which rotate at high speeds and spiral in a figure-eight pattern, to the final splashdown, the competition is fierce to see who can reach the finish line first.
Riders compete against one another in a head-to-head race while enjoying the excitement of a traditional mat racer-style slide, as well as the thrilling bends and dips of an enclosed slide.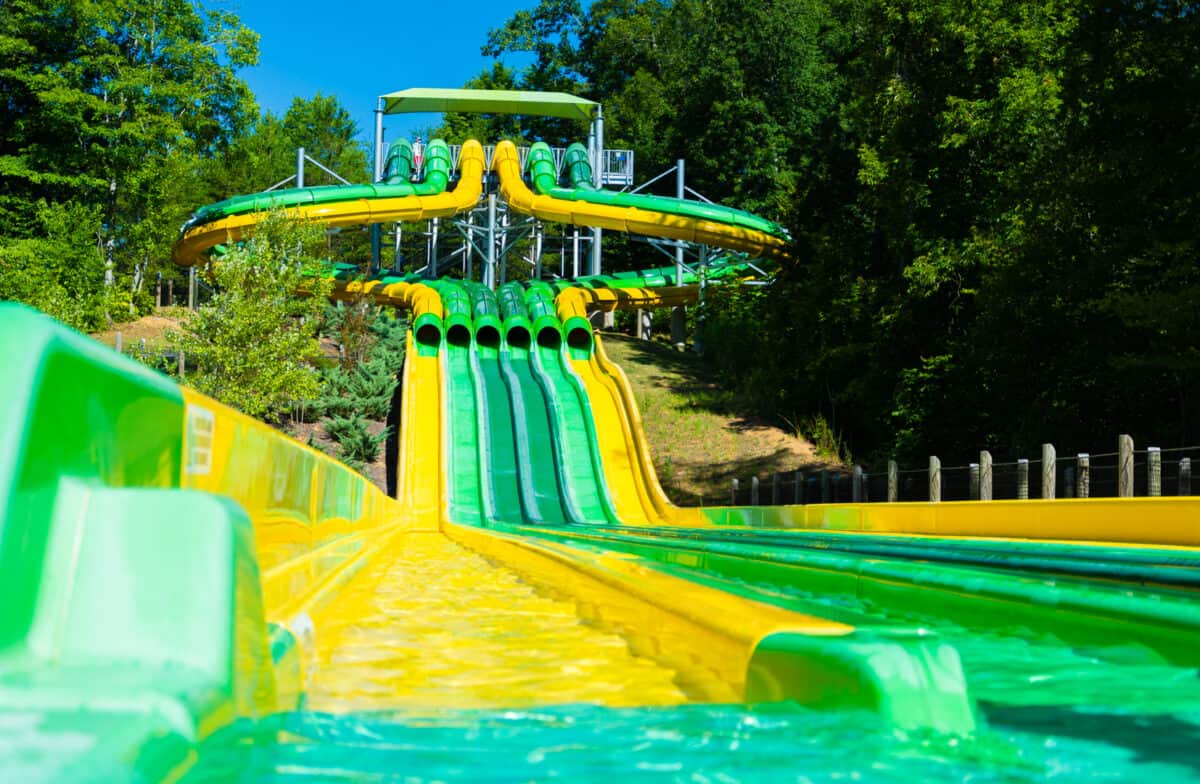 12) The Butterfly
When you ride The Butterfly at Dollywood's Splash Country, an extreme slide 55 feet long, you will go down one of two slides with sharp drops at the end. The journey concludes at the Butterfly Pool, a landing zone that is 3-6 inches deep and has the wings of a butterfly waiting to catch you.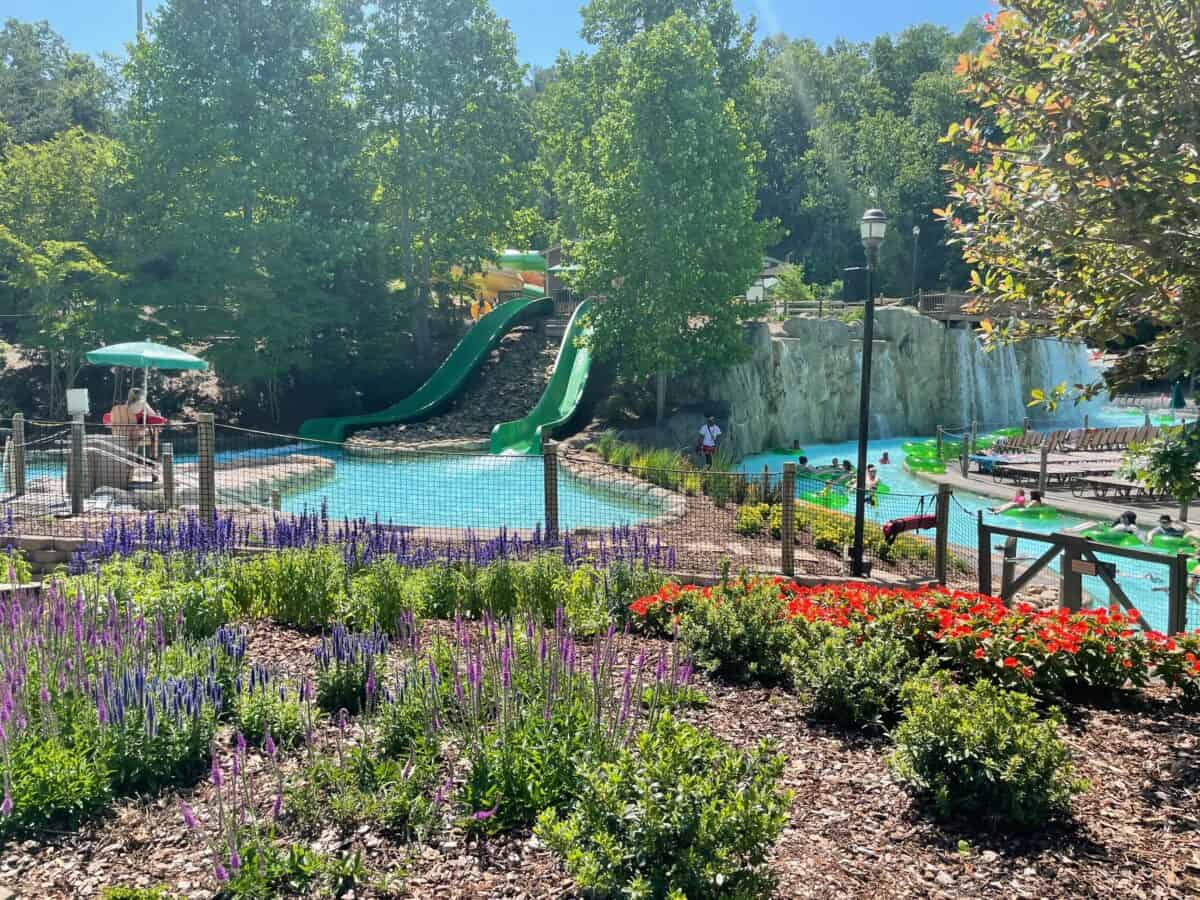 13) The Cascades™
The Cascades at Dollywood Splash Country is an interactive pool that is more than 8,000 square feet in size and is designed in the shape of a lagoon. A pool geyser produces soothing sprays twenty feet in the air while slides wind their way through the massive rock grotto.
Unwind on the deck space, which spans 24,000 square feet, by lounging in the contoured seating area or in one of the chaise lounge chairs. Children have the opportunity to discover misters, bubblers, and slides tucked away in secret coves located all around the circumference of the pool.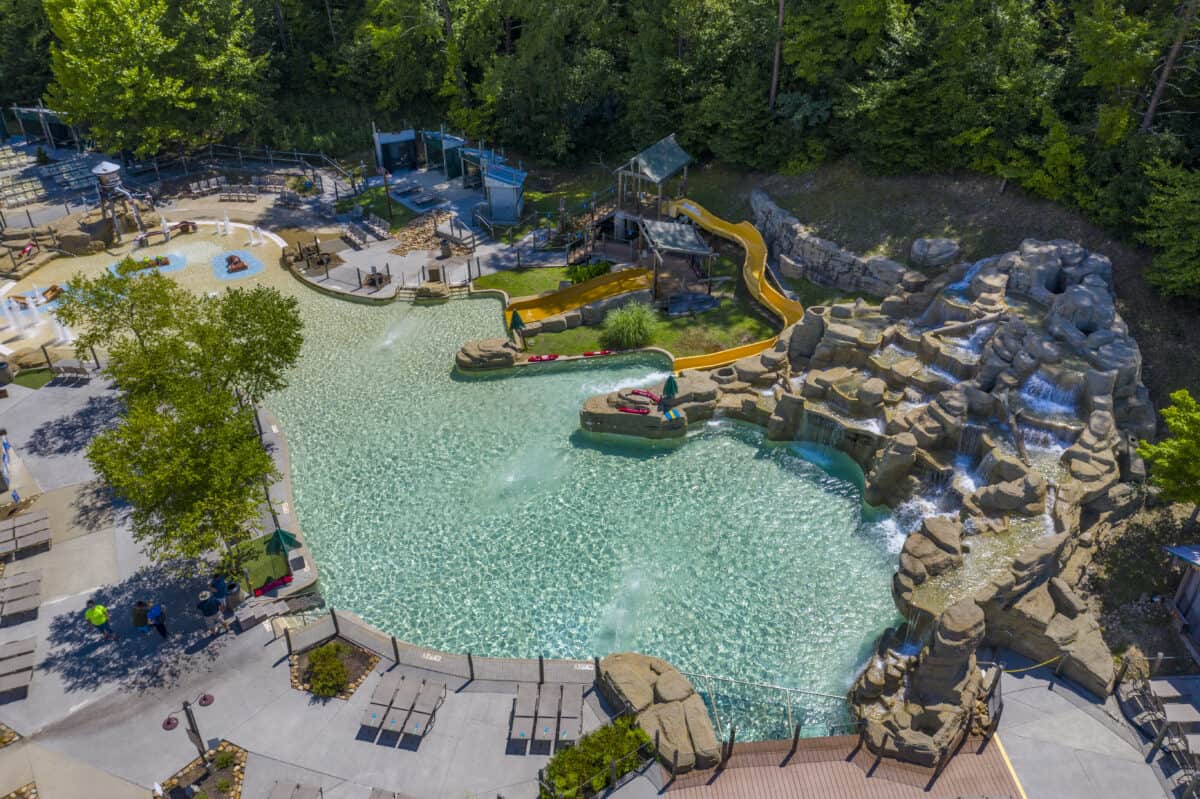 14) Wild River Falls
Nature enthusiasts will find a fantastic playground in the Great Smoky Mountains' many waterways.
On the other hand, you can get the same thrill by going down Wild River Falls, featuring four exciting slides that twist and turn through the chilly water under the warm sunshine. If you dare, you can even go through the pitch-black tunnels.
Wild River Falls has single tubes for individual riders and double tubes designed for an adult and a child.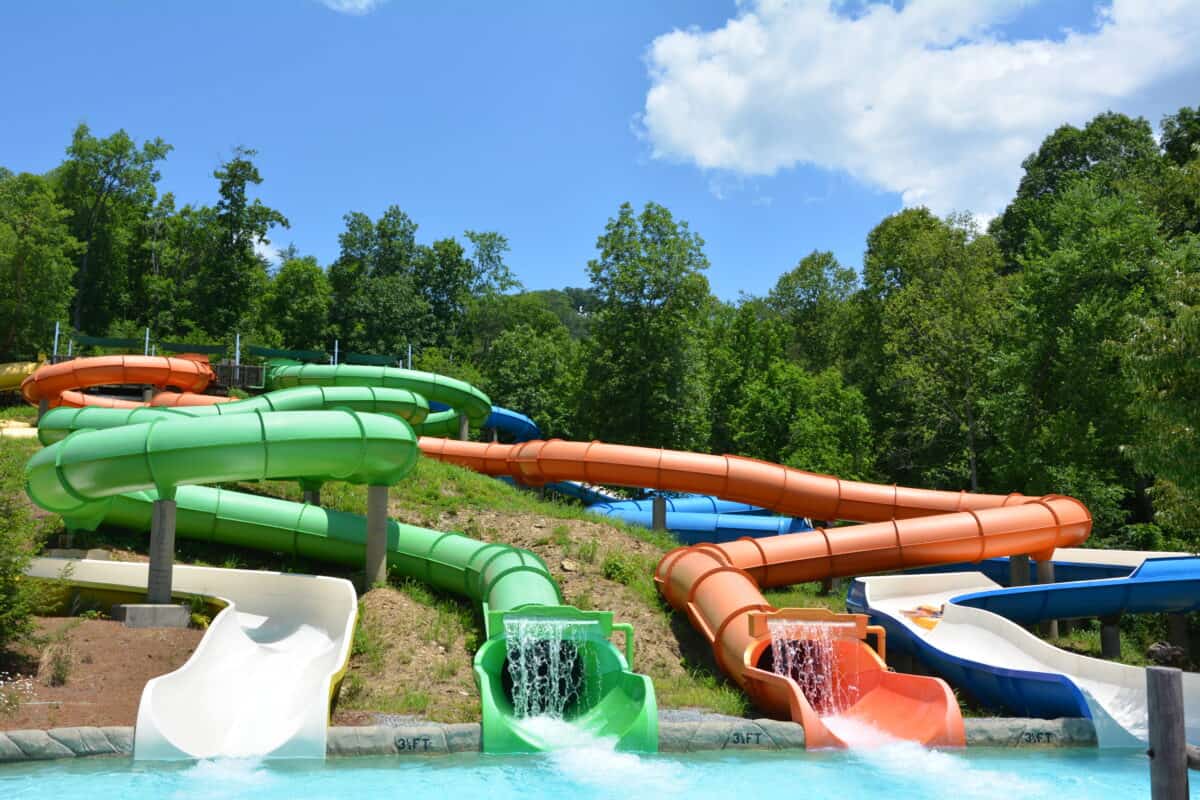 Final Thoughts
Dollywood and Dollywood Splash Country are the place to go if you are looking for some wet and wild summer fun for the whole family. There are 14 different water rides available among the two parks, so guests have plenty of options to choose from. Make a plan to spend a few days at each park for your next family getaway.
Find more great family travel destinations in our Family Travel section — click here.