Disneyland is a staple Disney-themed amusement park in the heart of Anaheim, CA, where families from all over the globe flock to experience the exciting array of rides and indulgences the magical wonderland has to offer. Disneyland highlights your favorite Disney, Pixar, and Superhero storylines and interweaves them within interactive rides and attractions, with a few being water-based. With rising temperatures in the Summer months coupled with sporadic heat waves, there's nothing better than enjoying a nice splash of water to cool the body temperature. Below, we've highlighted the best immersive water attractions in the park for planning your next trip on a warm Summer's day, though not all water rides at Disneyland guarantee you'll get wet.
Located in the Magic Kingdom – this musical cruise flume ride takes you on a suspenseful journey with jolly Br'r rabbit while Br'r fox and Br'r bear are discreetly hunting him. Within the ride, you'll cruise past audio-animatronic critters gallantly singing and storytelling. As the classic Disney bops like "Zip-a-Dee-Doo-Dah" infiltrates the darkness, you'll feel the sudden urge to harmonize, a clever distraction meant before you're faced with 3 flume drops and a finale of a 52-foot plunge going at around 40 miles an hour. This delightful musical experience paired with the stress-inducing drops makes for a well-rounded thrill ride.
A hollow log will be your flotation device as you cruise through vibrant bayous, mainly in the dark. Throughout the 10-minute ride, there will be slow build-ups before sudden drops, and the anticipation is enough to keep your ears perked. Sprinklers sporadically placed throughout the ride will provide small doses of water, but the real bread and butter is the exhilarating 5-story splashdown at the end. Splash mountain is an iconic water ride at Disneyland, where it is inevitable you'll get wet regardless of where you take a seat, though you'll be the most soaked on board if you choose to sit in the back. You must be at least 40″ to ride Splash Mountain, and it is advised to avoid it if you are afraid of dark spaces because there are a few dark scenes throughout the indoor-outdoor adventure. Each vehicle features bench-style seating–2 in each row–and can hold up to 6 people per log.
Travel from country to country, culture to culture by boat on this slow, water-based dark ride as you listen to over 300 audio-animatronic dolls belt out the timeless classic–It's a Small World–in unison. These dolls all have different skin tones and decorated clothing, representing children from different nations. You'll cruise along and sing along to the anthem of world peace, which you'll hear in the native languages of the countries you float by. Keep your eyes peeled for characters from Disney classics, including The Three Caballeros in Mexico, Ariel and Flounder under the sea, Lilo and Stitch in the South Pacific, Peter Pan and Tinkerbell in England, Cinderella in France, Pinocchio and Jiminy Cricket in Italy, Aladdin and Jasmine in the Middle East, and Jasmine in the Middle East, and Woody, Bullseye and Jessie in the southwestern U.S.A. You'll also observe famous landmarks throughout the world, which can be a great educational experience for children to get a glimpse into different cultures.
One thing to note–this is a relatively long ride–sitting at 15 minutes–with no crazy turns or spontaneous character appearances, so you'll get to sit back and unwind and be at peace. One unique feature of the ride is its 15-minute interval parade. Once per ride, you'll see a massive 30ft clock tower open its doors to display 24 animated figures joyfully parading about celebrating peace on earth. Unless you or your children aren't fans of dolls or dark spaces, this ride is fantastic for all ages.
The Grizzly River Run at Disney's California Adventure Park is an ideal attraction for those looking to spin, bob, drop, and float along an aesthetic and untamed river. During this 6-minute river raft ride, you'll strap into an 8-person circular raft and get prepared for an exhilarating experience that goes from 0-100 in a matter of seconds. The ride's pace will start slow as you cruise down a California river deep within the mountains, and as time progresses, the lazy river raft ride escalates as the current becomes more unpredictable. Raging waters suddenly take on more force, propelling your vehicle out of control as you ceaselessly spin and plummet down a bedrock slope. There are 2 large drops on this ride sitting at 20ft, and if those quick descents don't get you wet, you're sure to get soaked at the grand finale, where gushing geysers will temporarily inundate your raft.
Throughout the wild ride, you'll pass by colossal rock formations, an old mining company, lush trees, roaring waterfalls, and breathtaking peaks. You'll also pass under a series of bridges as well as through dimly lit tunnels where the wind and water howl loudly as you whoosh past, which is extra enlivening once night has fallen. Grizzly River Run is a shorter ride than Space Mountain, though both promise a solid drench of your clothes and hair. We recommend wearing a poncho if you want to protect yourself from getting completely soaked. There is lots of spinning going on during this ride, so if you get motion sickness or dizzy quickly, you'd be better off hitting Splash Mountain. You must be 42″ or taller to ride.
Pirates of the Caribbean is a dark ride on the water, which represents none other than the Caribbean Sea. Within this water-based ride, you'll board a weathered boat and follow along with the storyline of a band of greedy scoundrels who caused mayhem for the towns located in the West Indies Islands. This 15-minute cruise is full of ominous scenes from Pirates of the Caribbean, displayed in the form of miniature replicas with exceptional accompanying sound and lighting effects. Some settings you'll encounter include pirates pillaging through towns, prisoners savagely trying to escape their jail cells, drunken buccaneers, and destroyed villages ransacked by drunkards.
There are a few small drops on this ride, and you will likely get sprayed at some point, so if you're in the mood for a subtle splash and a somewhat scary experience, the Pirates of the Caribbean is for you. This ride is suitable for all ages, and each boat fits up to 22 passengers, making it a splendid ride for large groups.
In Tomorrowland of Disneyland, you'll find the immersive semi-underwater attraction based on the Pixar box office hit Finding Nemo. On a mission to find your favorite clown fish, you'll board a bright yellow research submarine and descend below the water's surface–well, mostly. You'll peep through portholes to scope the seafloor for your missing orange and white fish friend, who will appear sporadically throughout your underwater adventure, depending on where you sit below deck. You'll observe fish and artifacts preserved from ancient civilizations for the duration of the ride, and while the submarine moves, it practically feels as though you are stationary.
While not much is happening in terms of movement, you'll get to listen to conversations between notable characters from the movie and have a clear view of Squirt, Marlin, Dory, Bruce the Shark, Mr. Ray, and Bubbles, Peal, Crush, and more. Sonar hydrophones bridge the gap between fantasy and reality, allowing you to hear what the fish are saying. This slow ride is laid-back and undemanding, but it is rather dark and relatively loud. The lax atmosphere and fishy banter provide a playful experience great for small children. Bear in mind that the boat is never fully submerged, and you'll have to climb a staircase to get there, so it is not ADA-friendly.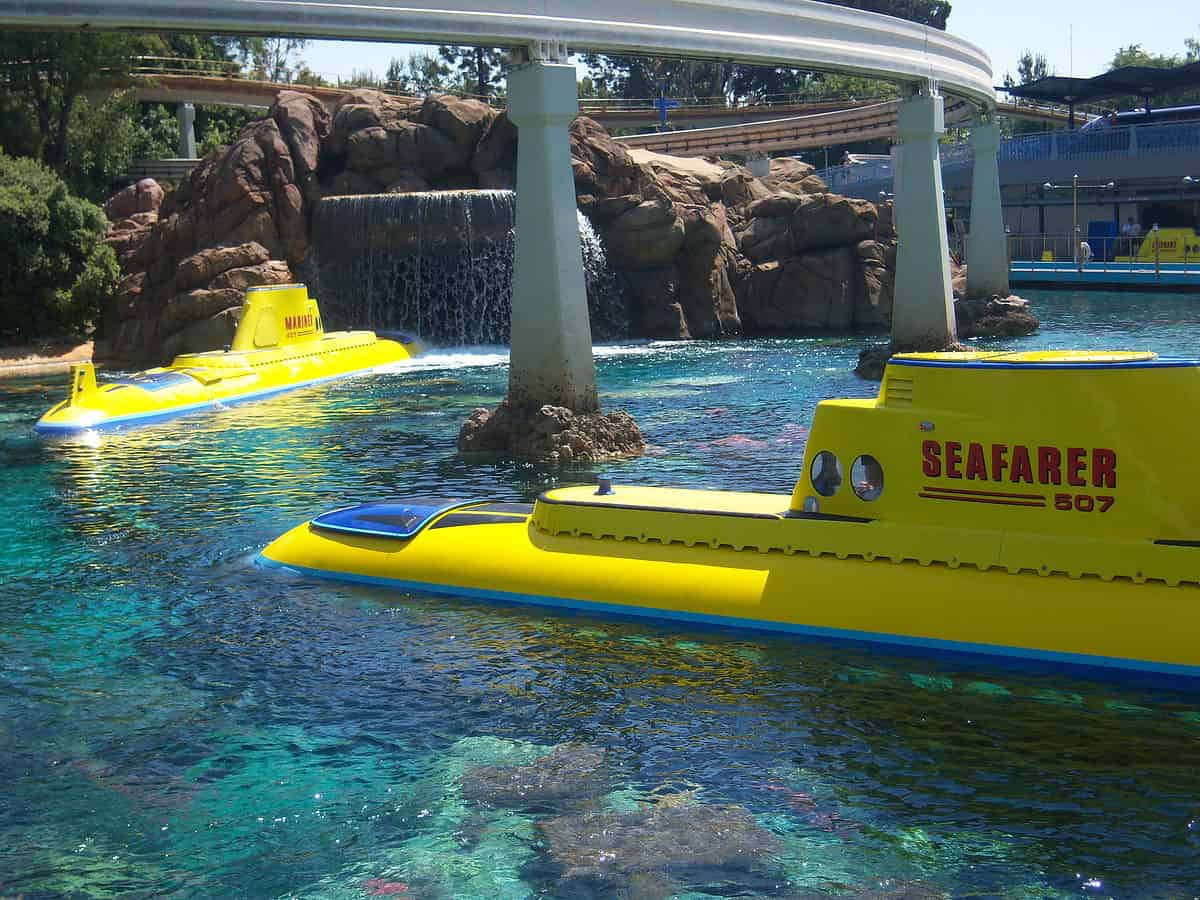 Find everything you need to plan the perfect Disney getaway in our Ultimate Disney Vacation Planning Guide.
The image featured at the top of this post is ©Loren Javier / Flickr.