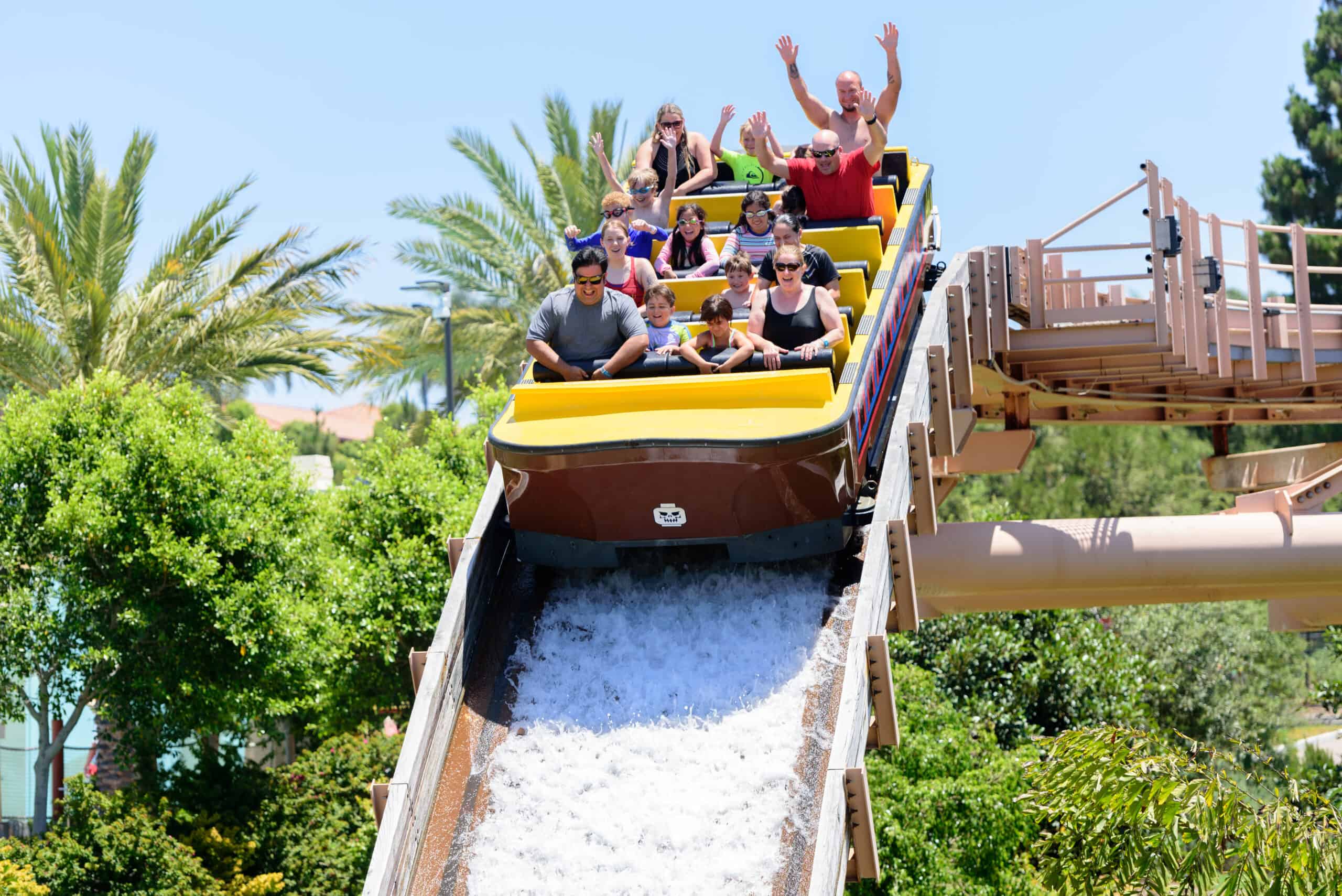 LEGOLAND® is a famed theme park with attractions for adults and children. The park offers rides, shows, and other attractions that take the fun up a notch. If your child loves playing with water, then these are the best water rides at LEGOLAND® Water Park in California that you simply must ride! Read on, make your choice, and have a dip when you visit.
THE BEST WATER RIDES AT LEGOLAND®
Splash Out is a very popular and intense water ride at LEGOLAND®, and it's a must-ride if you're looking for a daring ride infused with tons of fun. This 60-foot water slide features several meandering turns that end in a splash. Riders move quickly down the slide until they splash out at the end. The force generated by the speed of riders down the slide bumps up a huge amount of water. And everyone, including bystanders, are sure to get wet, which is perfect for the searing heat of a hot summer day.
To participate in the ride, you must be at least 42 inches tall and under 300 pounds.
Pirate Reef, as the name implies, is an exciting pirate-themed water adventure with 20-occupant boats. The boats go down a flume between two life-size LEGO pirate ships where Captain Blue Brick and Captain Red Brick are fighting.
The ride starts at a low speed, meandering snaky corners, and slowly goes up to 25 feet. After reaching the top, the boat picks up speed as it descends, finishing off at the bottom of the chute with a huge splash and drenching riders and onlookers alike.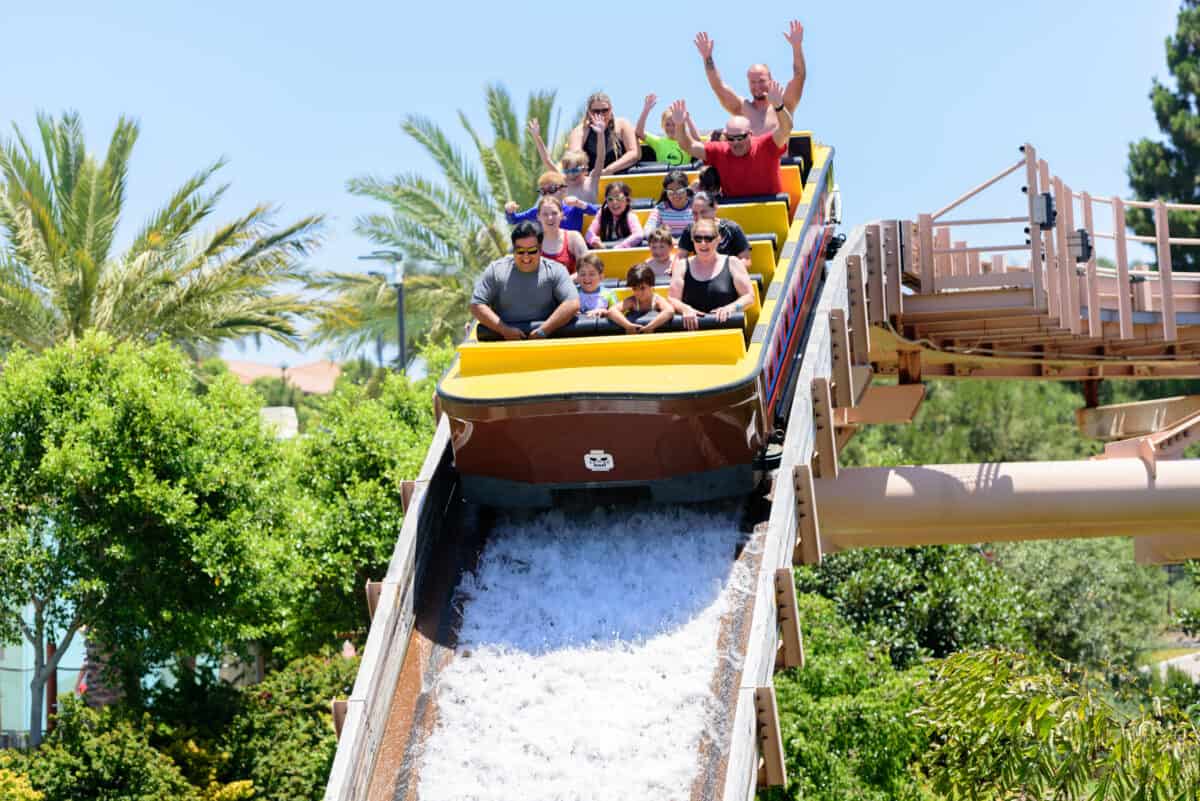 But that's not all. Occupants of each boat will have water cannons to shoot at the others and at the helpless people on the Shoot the Chute boat that goes between them.
Riders must be at least 36 inches tall to join the battle.
This is a thrilling daredevil ride perfect for thrill-seekers. On Orange Rush, four people ride together in a raft that spins as it slides through a giant half-pipe, slowly meandering and ending in a huge plunge at the bottom that bathes all occupants with water. During the ride, your children will need to hold tightly to the grab handles so that they are not tossed about on the spinning raft.
If you're looking for a water ride to enjoy with your family, take a ride in the Orange Rush.
Looking for a child-centric ride that your child can enjoy? The DUPLO Splash Safari is perfect! It's one of the many fun water slides set up specifically for your little children aged 6 and below. It has many small-sized slides and a huge pool filled with life-sized DUPLO animal characters spilling water from their mouths. If you're concerned about your child's safety, you can ride along with them. But you're allowed to only hold them as you ride along, not to ride with them on your lap.
Riptide Racers is one of the best water rides at LEGOLAND®. This is the water slide for you if you prefer fun laced with a little competition. It is a great way to have fun with family and cool off simultaneously during the hot California summer days.
Riptide Racers has six lanes, each with a lane marker. Sliders grab a mat, start at the top of the slide and race down the slide side by side at high speed. The first to reach the bottom wins the race.
All riders must be at least 42 inches and under 300 pounds.
First opened in 2010, the Twin Chasers has quickly grown to become a favorite among visitors of the LEGOLAND® park – thrill-seekers especially.
This water slide consists of two 130-feet tubes placed side by side. Riders get in at the top of each and take a thrilling slide down the meandering tube to reach the pool of water at the bottom. Try racing against your child to see who can be the fastest!
Riders must be at least 42 inches tall and weigh less than 300 pounds.
This is not so much a water ride as a water playground, designed to resemble a shipwreck. It features lots of fun interactive features such as water jets and dunking buckets. The most exciting part of Soak-N-Sail is the 300-gallon bucket that sits overhead. If you are caught beneath it at just the right time (or the wrong time!) those 300 gallons of water will come thundering down on you.
There is no height requirement for this attraction.
This is another play area at LEGOLAND®, with many side attractions which guarantee bursts of excitement from your kids. There are water slides, with one of them having the head of a crocodile built into it. Other water slides available in this area include Cragger's Splash, Crooler's Twist, and Crug's Run. Also, numerous tubes spew out water on everyone in the play area.
Kids must be at least 36 inches tall to play in Cragger's Swamp.
This is an opportunity to get creative, build something together with your friends and loved ones, and have fun. But, of course, it's an opportunity to build bonds with your kids too.
At the start, you and your family work together to build a raft with LEGO bricks. Then, as you sail downstream on the gentle river, you can keep adding LEGO bricks spread out in the water.
Guests must be at least 42 inches tall for this ride.
Wipeout Lagoon is the best spot for your kids to have maximum water-fueled fun. It's a large water play area, with water spewing out of several jets. So your kids are bound to get fully drenched and have fun — and what could be better on a hot California day?!
Plan a Visit to LEGOLAND®
This is just a sampling of the best water rides at LEGOLAND® California. You and your kids are sure to have a blast on these fun water rides; they'll have an experience that lasts a lifetime.
RELATED LINKS: