Legoland California's "Brick-or-Treat Monster Party" is one of the most family-friendly Halloween events you'll find anywhere. Geared toward kids 12 and under, including toddlers, there's nothing particularly scary about Brick-or-Treat. It just has a lot of Halloween-themed decorations, kid-oriented activities, and rides that all of your little monsters will love! Take a look below to learn more about what to expect.
Brick-or-Treat Monster Party
On Saturdays from Sept. 17 to Oct. 29, Legoland California gets dressed up for Halloween during its regular opening hours–no separate ticket is required. Although the spooky decor is in place all day, most of the activities happen in the late afternoon and evening. The advantage of this is that your family can enjoy the park rides, get up close to marine creatures at the Sea Life Aquarium, and, if it's a particularly warm day, splash down the water slides at the Legoland Water Park. The Dragon Coaster is even turned into the Halloween-themed Disco Dragon Coaster with a groovy monster soundtrack. If you do any of these, pack your Halloween costumes ahead of time and put them on for the trick-or-treating that starts at 3 pm. There are 15 trick-or-treat stations around the park, so you're little goblins will have a lot of fun trying to find them all (there's a park map with candy corn symbols marking their locations if you miss some!). Just be sure to say "brick-or-treat"!
While they trick-or-treat, your kids will come across Lego characters like the Lego Witch and Lego Mummy, others dressed up as not-too-scary witches and warlocks, and fantastical characters on stilts. They can compare costumes and get their pictures taken together. Be sure to leave time for the several fun shows happening around the park, too. There's the interactive Lord Vampyre's Very Important Monsters Dance Party, Operation Monster Squad where kids can unleash their inner monster, and a Candy-Coated Curse in which performers sing and dance their way out of a sticky situation. There's also a new special-effects-filled 4-D ride called the Great Monster Chase where tweens try to sneak into a monster party. The older kids in your group will get a (slight) scare at the Spider Queen's Lair Scare Zone in Fun Town. It features live actors and some spooky sounds and makes a good introduction to Halloween mazes. If that sounds like too much for your little ones, they can try the Brick-or-Treat Heist scavenger hunt that starts in Fun Town. Just look for the magnifying glass at the Midnight Monster Jam Boo Crew.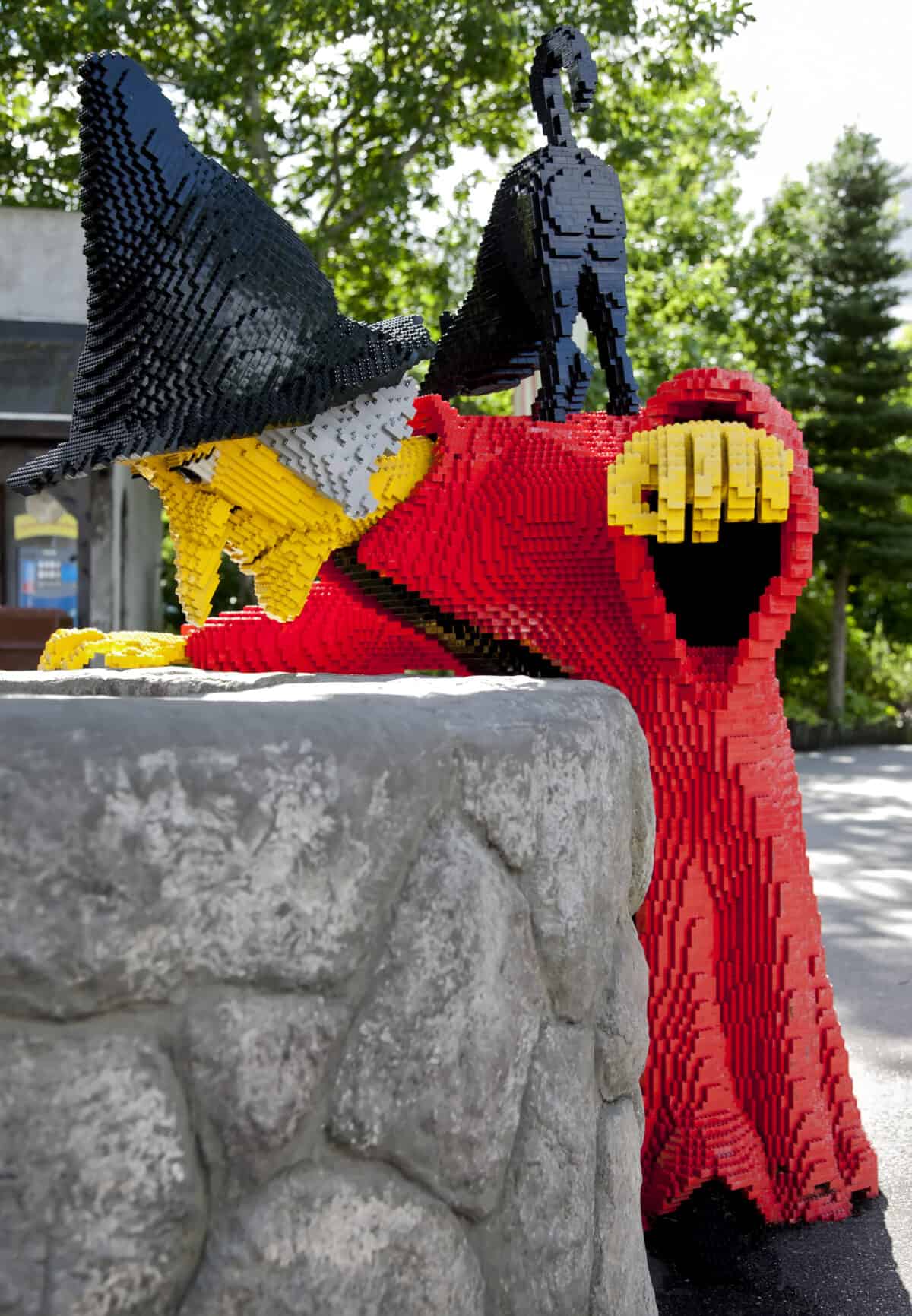 Keep your costumes on for the costume parades and the contests that follow. There's a parade/contest every hour starting at 3 pm; the last one starts at 6 pm (you'll need to register at least 5 minutes beforehand to participate). There are valuable prizes for three categories of costumes: Best Lego Costume, Best Homemade Costume, and Best Group Costume. That last category means the whole family can participate!
If your little ones are starting to turn into zombies, you can bring them back to life with a lot of fun Halloween treats in eateries around the park. Some of them include Chili Mango Monster and pumpkin ice cream, candied apples, purple crispy treats, apple cider, and pumpkin crepes, shakes, and lattes. That should give them energy to join in the Boo Crew Boogie that goes from 7:30 to 8 pm just before the park closes.
Times & Tickets
Brick-or-Treat happens at Legoland California only on Saturdays from Sept. 17 to Oct. 30. The park is open from 10 am to 6 pm in September and 10 am to 8 pm in October, so you'll get more bang for your buck with an October visit. See the park calendar for full details.
Legoland California has a variety of ticket packages depending on how much you want to do in a day; all include the Brick-or-Treat festivities. One-day theme park tickets bought online are $95 for adults and $89 for kids 3-12; kids 2 and under are free. Tickets cost more at the gate. (Note that reservations or dated tickets are required for admission). If you want to add the Sea Life Aquarium to the same day, adult tickets are $115 and kids tickets are $109. For the ultimate experience, get the one-day Hopper ticket for admission to the theme park, Sea Life, and the water park. Ticket prices for this are $121 for adults and $115 for kids. The Legoland Resort also offers a hotel and tickets package that starts at $173 per person. If you're coming from out of town, this is probably your best money-saving option.
More articles you'll love:
The image featured at the top of this post is ©miszaszym/Shutterstock.com.