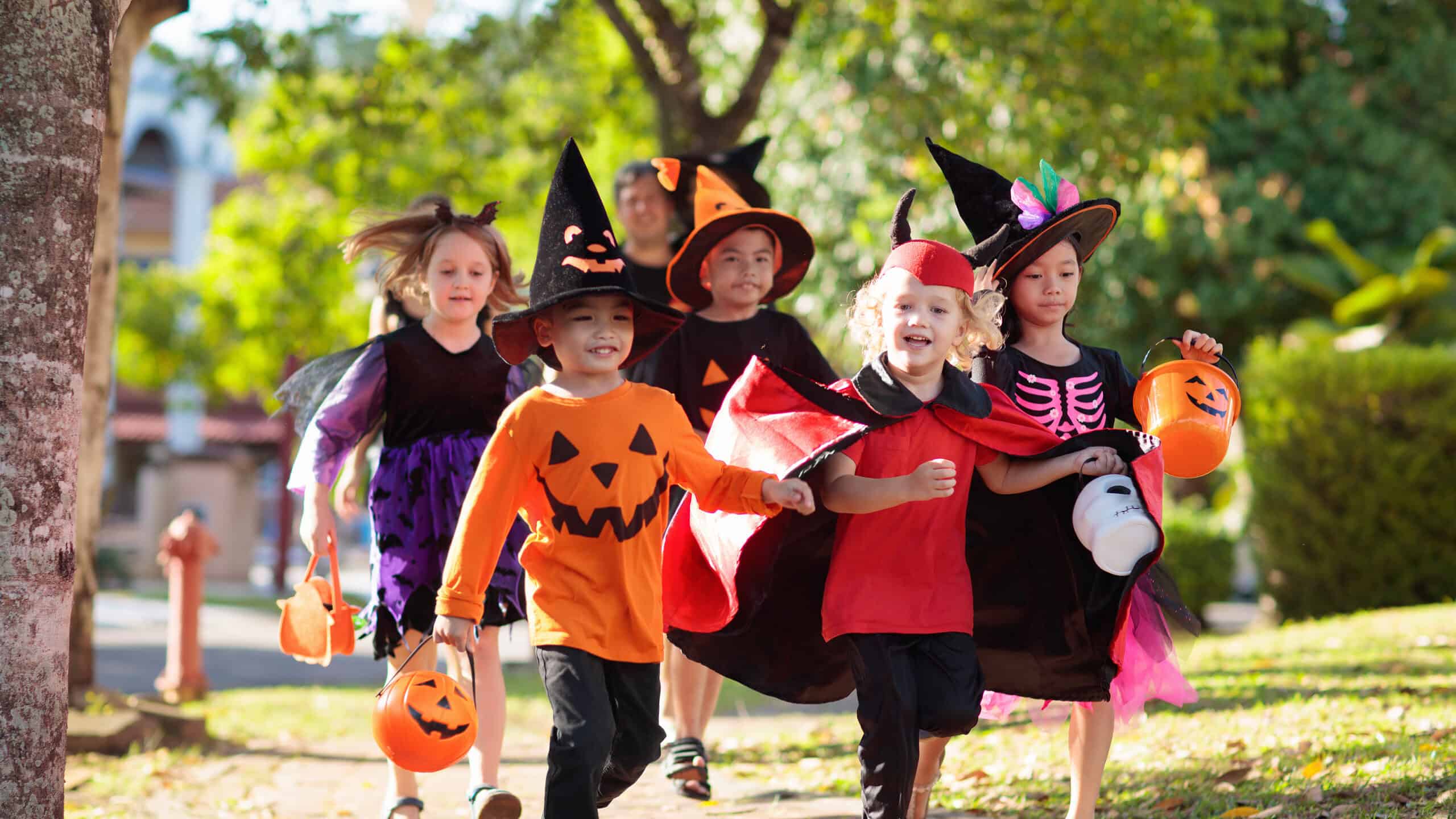 Looking for fun and scary things to do with the kids on Halloween? Whether you want activities you can do at home if you're unable to go trick-or-treating or want to do something different from the traditional pumpkin carving, there are 32 creative best things to do for kids for Halloween to keep your little ones entertained.
1. Edible Slime
Here's an easy way to make slime time exciting! Try our easy-to-make edible slime for the Halloween season. Your kids will be fascinated by this airy, light slime that's better than Play-Doh. It's great for little fingers that can quickly make this slime using simple ingredients, plus it's very delicious!
2. Pumpkin Bowling
Pumpkin bowling is an easy and classic fun game for kids to play. Rolling a small pumpkin to knock down toilet paper rolls is not only exciting and easy to do but, is a great idea for kids to incorporate fresh air and exercise for the night. You can have the kids decorate the toilet paper with their favorite scary monster.
3. Halloween Writing Trays
Writing trays are a great way for younger kids to practice handwriting skills. Add cake sprinkles or colorful sand instantly to make handwriting fun!
4. Educational Halloween Videos
Find a whole selection of spooky Halloween videos. Your kids will learn about Halloween across the globe, practice math problems, or try spooky yoga.
5. Pumpkin Treat Sensory Bin
If you have a preschooler or toddler at home, then create a sensory bin. It's an inexpensive and simple way to keep the little ones busy for hours on end. Add pumpkin cake mix, Dunkin Donuts cups, measuring cups, spoons, and cups filled with cinnamon and whipped cream to the sensory board. You can purchase a Halloween sensory board on Etsy.
6. Pumpkin Witch Broom Race
Grab brooms and small pumpkins, break into teams, and watch your kids race to see who can push the pumpkin across the finish line before the timer is up!
7. Halloween Magnets
Make your spooky magnets by gluing small magnets to the back of plastic spiders, eyeballs, skeletons, and more from a craft store. Then, use them for educational activities such as math, arrange them to spell words and sentences, or use them to decorate around the house.
8. Bake Halloween Treats
Many people's favorite things about Halloween are the delicious trick-or-treat goodies! Desserts, sandwiches, and even snacks get frighteningly creative and tasty. Try Moms Who Think collection of mouth-watering Halloween treats.
9. Cute Paper Witch Dolls
Create these adorable witch paper dolls. All you need is construction paper, scissors, glue, and toilet paper core rolls, and you're done!
10. Seek And Find Counting Game
Seek and find the items in these free printable worksheets with a Halloween theme. Lots of fun and great for improving math skills.
11. Decorate A Spooky Table
Have your kids help decorate your family table using DIY ghost leaves. Take maple leaves from your backyard, paint them white, and paint two dots for the eyes once fully dried. String them together around the edge of the table for a Halloween garland.
12. Halloween Word Search
Encourage your kids to learn new Halloween vocabulary. If you can't find a great word search, create one! Use colors, items, and eye-catching shapes relating to Halloween.
13. Candy Wreath
An easy and delicious project to make with your kids is a candy wreath. Let your kids attach the wreath with tasty treats while you handle the glue gun. Make it colorful with some beautiful ribbons and bows.
14. Monster Pancakes
If you don't want to or cannot go out on Halloween, you can stay home and have a great time with your kids. Monster pancakes are a nice way to bring out the artist in your children.
15. Halloween Handprint Painting
Halloween wouldn't be the same or fun without handprint painting. Have your kids experience different colors of paint by having them dip their hands into it. Then, have them press their hands firmly onto construction paper in Halloween colors.
16. Hang Cotton Ball Ghosts
These hanging cotton ghosts add an adorable but spooky flare around the house. Use cardboard paper, cotton, and glue so they can get started. Your kids can make the entire project themselves; you can also be there to guide them.
17. Host A Halloween Party
Organize a Halloween outdoor party for your kids and invite their friends. They can bake and decorate cookies, design and pass out invitations, and come up with a party to play along with other fun activities.
18. Halloween Jokes
Halloween jokes are a great way to help your kids to interact with their peers. Find some suitable jokes for your kids to explore before asking them to come up with their jokes.
19. Halloween Kid-Friendly Scary Stories
That one childhood scary story your sister used to share when you were younger will be perfect for this activity. If you don't have any scary stories, you can make one up on the spot. Pull another one from your childhood or recite one of these tried-and-true kid-friendly Halloween spooky stories.
20. Halloween Bingo
Bingo is a great way to improve vocabulary, along with attention and listening skills. Start by designing a traditional bingo card with a Halloween theme and involve your kids in this fun and exciting Halloween activity.
21. Candy Bag Building Race
Have each kid pick their favorite candy to include in small goody bags (you can also use a Ziploc bag), then race to see who can assemble the most bags in the shortest amount of time. This race will have your kids entertained assembling bags for hours.
22. Ghost Hand Puppets
Get into the Halloween spirit with these adorable no-sew ghost puppets! All you need are white felt, permanent marker, scissors, and hot glue. Get ready to haunt your house by using them as decorations or perform a hand puppet show for your kid's friends.
23. Make Halloween Costumes
Store-bought costumes are great for last-minute shopping, but if you want to make something unique and to be proud of when your kids tap into their creative side, then making your costume is the way to go. Challenge your family to find a few items at home and build a costume from there. Grab a sheet to make a classic ghost costume. Take a visit to the fabric supply store and make an Incredibles costume. Making costumes is a way for everyone to get a little more creative and potentially save a lot of money.
24. Host A 'Glow In The Dark,' Party
Spook up a room with as many glow-in-the-dark decorations as possible. Use Jack-o'-lanterns, glow sticks, balloons, stars, ghosts, and anything that glows in the dark. Turn out the lights and let the Spooktacular party begin.
25. Bobbing For Donuts
This social distance-friendly and germ-free Halloween activity only requires string and a donut. From there, all you have to do is hang donuts from free tree branches and invite your kid's friends to eat their donuts hands-free, by keeping their hands behind their backs during the whole activity.
26. Apple-Picking
This is a classic and all-time favorite Halloween activity. Pick the apple you want to eat and take a break to enjoy some warm cider.
27. Visit Or Set Up A Haunted House
It wouldn't be Halloween without visiting a haunted house or hosting a haunted house event. Get an adrenaline rush visiting a place rumored to be occupied by ghosts. For setting up your haunted house event, rent out space to decorate the interior with spooky décor to make a spooky house that will make you the talk of the town.
28. Halloween Scavenger Hunt
Deck the Halls with spooky decorations, then walk around the neighborhood to scavenge as a family hunt to track down all the Halloween-themed items they see.
29. Origami Jack-O-Lantern
This requires an expert at work, but the finished result is beautiful and something you will love to save for Halloween years to come.
30. Read Halloween Themed Books
It's a perfect way to encourage excitement ahead of trick-or-treating. Choose a selection of titles, whether that's Harry Potter by JK Rowling or How to Catch a Witch by Alice Walstead, and read them aloud.
31. Halloween Movie Marathon
Open up a few cans of sodas and cook a bowl of popcorn to watch Halloween classics with your kids such as Casper, Coraline, Hotel Transylvania, and The Addams Family.
32. Design Halloween Masks
Instead of buying Halloween masks at your local craft store, challenge your children to make their own. There are a lot of free printable online masks you can choose for last-minute Halloween costume ideas.
Conclusion
Halloween isn't just about trick-or-treating. While Halloween candy may be the top event, there's bobbing for donuts, apple picking, pumpkin carving, Halloween crafts, and parties to attend as well. If you're unable to go trick-or-treating, it doesn't mean you have to miss out on the fun. There are many activities your kids will enjoy to still make plenty of memories on Halloween!