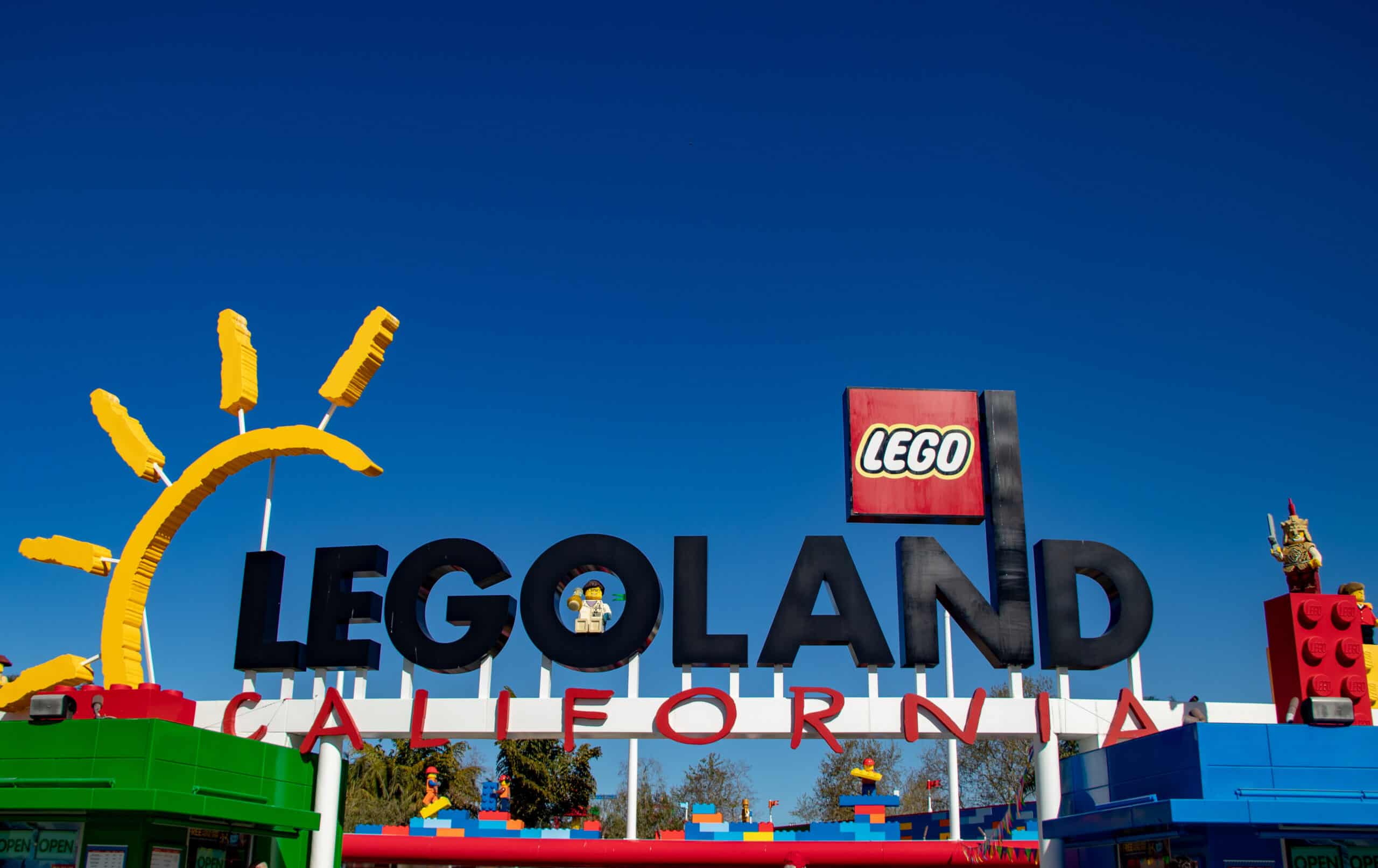 Is your family looking for a break from the chilly fall air? Do you have Lego fans in your midst? Then look no further than Legoland California. Located in sunny Carlsbad, California between Los Angeles and San Diego, this 129-acre park was the first Legoland in North America. Since it opened in 1999, it has grown into a full-sized resort oriented to families with kids of all ages. Here your planning guide for fall break at Legoland.
Why Legoland California?
Southern California's fall weather is warm and sunny, which makes Legoland California the perfect place for a fall family break. (In the fall, Legoland Florida is at risk of hurricanes, and Legoland New York gets cold and closes in October.)  Legoland California also has the greatest range of activities that the whole family can enjoy. The main park has eight themed sections with more than 60 rides, including four roller coasters; a 4-D cinematic experience that takes you inside the Lego movies; a building zone where kids can create Lego structures to their heart's content; and a variety of live-action shows throughout the day. 
The Legoland Water Park has several water slides and kid-friendly water features, including a lazy river ride where kids can build their own raft out of soft Lego blocks! The interactive Sea Life Aquarium has a range of hands-on exhibits and several shows that teach kids (and adults) about marine life from around the world. For a full description of attractions, visit the park's website here. It's easy to spend several days experiencing everything there is to do at Legoland California.  
For a longer family vacation, Legoland California is ideal because it's central to many other popular attractions in southern California. San Diego to the south has SeaWorld and the world-famous San Diego Zoo and its Safari Park. To the north is Disneyland and Knott's Berry Farm, and to the west are the beautiful beaches of Carlsbad and Oceanside.       
When To Go
One of the benefits of visiting Legoland California in the fall is that it's open daily for the rest of the year, except for a few Wednesdays in November and December, and the Sea Life Aquarium is open every day. The Legoland Water Park is open every weekend in the fall through Oct. 30. Check out the park calendar for details. To get your family geared up for Halloween, Legoland hosts their "Brick-or-Treat Monster Party" that is suitable for toddlers, kids, and tweens. It runs every Saturday, Sept. 17 through Oct. 29, and features trick-or-treating stations, a costume contest, new Halloween-themed live entertainment, Lego character meet-and-greets, and a monster-themed dance party. Visit this park webpage for more information. Fall really is a special time of year to visit Legoland California!   
Getting There
Legoland California is located in Carlsbad, California just a few minutes from Interstate 5. It's about a two-hour drive from downtown Los Angeles and a 75-minute drive from Anaheim. If you're driving from the south, it's only about 40 minutes from San Diego. Las Vegas is about five hours via Interstates 15 and 5, and Phoenix is about six hours via Interstates 8 and 5. Flying in is probably a better option from points farther away. San Diego International Airport (SAN) is the closest major airport and is about a 45-minute drive to Legoland. John Wayne Airport (SNA) in Anaheim is the next closest option and is about an hour away. Given California's reliance on freeways, renting a car is probably a good idea. 
Where To Stay
The Legoland California Resort has two hotels that really take the Lego experience to the next level with Lego-themed decor and experiences for the kids. They are also right next to the theme park, so the convenience factor can't be beat. They're also more expensive than many nearby options, but you generally get more for your money in terms of the Lego experience. If you buy a hotel and park package, kids will get a treasure hunt and free gift in their room, and the whole family will get early access to the park. Unfortunately, discounts on park tickets do not appear to be one of the benefits.  
Legoland California Hotel
Frequently rated one of the top family-friendly hotels in America, this resort hotel will give your Lego fans a vacation to remember. It features a welcome treasure hunt for kids, and suites have separate Lego-themed rooms that come with a bucket of Lego bricks. Younger Lego fans will be thrilled to stay here! The hotel also has a large, heated swimming pool where families can rent cabanas and kids can build creations out of Lego soft bricks. A free daily hot breakfast is offered in the Lego-decorated Bricks restaurant, which also serves a dinner buffet. Kids will enjoy the nightly themed entertainment, too. Visit the hotel website for more information and to make a reservation.
Legoland Castle Hotel
If you have family members that have graduated from Lego fans to fanatics, then you have to consider this slightly more expensive hotel at the Legoland resort. Shaped like a castle built of giant legos, this hotel has interactive Lego features throughout the hotel, premium suites with separate Lego-themed rooms filled with Lego models and surprises, and an outdoor castle courtyard with more interactive activities. Families still get a free hot breakfast; access to a heated, zero-entry pool with water play features; and nightly themed entertainment for the kids. Your Lego fanatics will be so enchanted that they will want to come back again! Visit the hotel website to book your stay.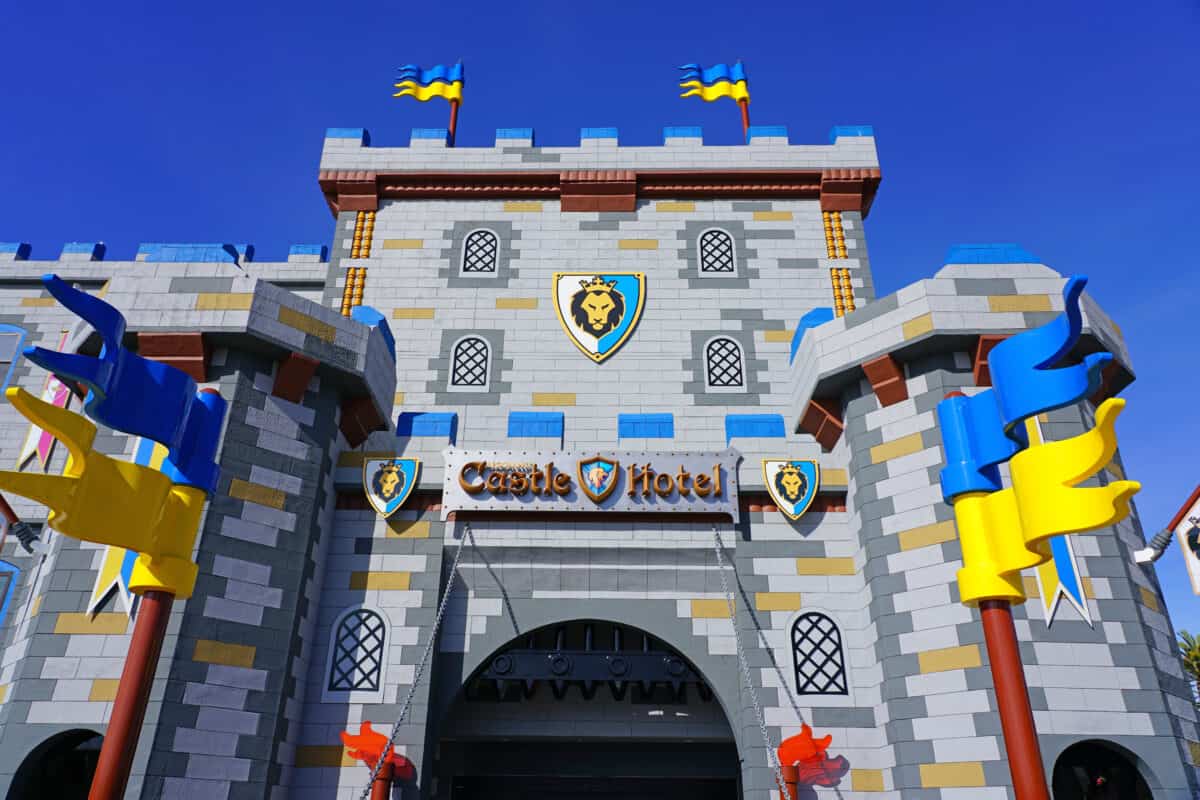 Cape Rey Carlsbad Beach, a Hilton Resort
For families who don't need an immersive Lego experience, or who want to spend more time at the beach, this resort right on the coast is a great choice. It's less expensive than the Legoland hotels, and it's only a 12-minute drive to the park. Families will appreciate suites that sleep four and the availability of adjoining guest rooms. The resort has a beautiful pool overlooking the ocean; an on-site spa; and rentable beach packs that include an umbrella, two chairs, two towels, and bottled water. There's also a free shuttle to Legoland and a concierge who can help plan your day at the park. If you're looking for a good mix of adult amenities and kid fun for your vacation, book your stay at the Cape Rey Carlsbad Beach. 
Where To Eat
Legoland California has the usual selection of theme park fare, including popcorn, ice cream, burgers, pizza, and churros (okay, that last one is a California thing). But it also has some more upscale restaurant options like Everything Is Ramen, Knights' Smokehouse BBQ, and Fun Town's Urban Kitchen, which offers freshly made sandwiches and salads. When your hungry family is ready for something more substantial, we recommend the nearby restaurants below. 
Karl Strauss Brewing Company
This California chain is popular for a good reason. Nearly everyone raves about the quality of the food and the big craft beer selection. Mom and Dad will salivate over the beer sausages, blackened mahi tacos, grilled firecracker salmon, or the 12-ounce ribeye steak. Smaller kids will go for the mac & cheese or fish & chips from the "kiddos" menu, while more adventurous teenagers will gravitate toward the grass-fed burger or ahi poke nachos. There are also a lot of vegetarian and vegan options. The whole family will come away satisfied after eating at Karl Strauss!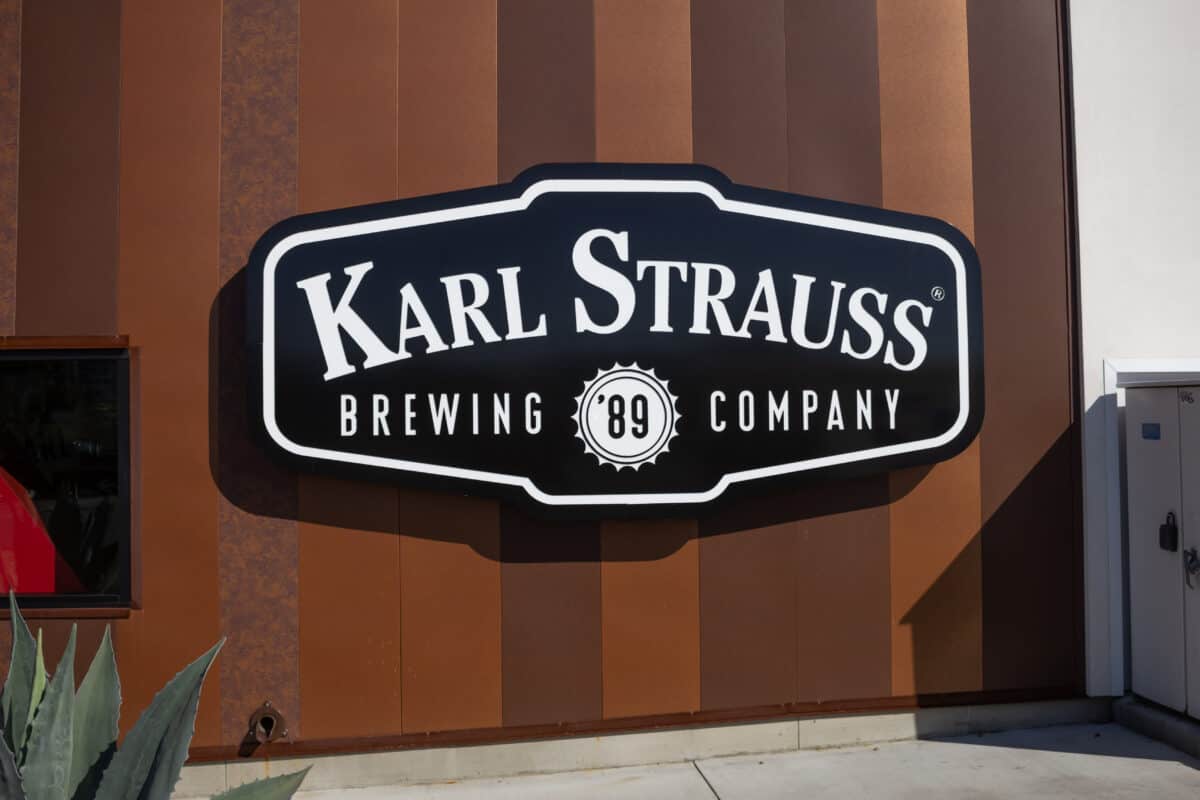 2051 Cucina Italiana
When you're ready to elevate your Italian game from theme park pizza, then you must try this upscale spot just 10 minutes from Legoland. They offer delectable entrées like gnocchi primavera, tagliatelle cacio, clams in white wine sauce, and homemade Italian sausage. Kids stuck in pizza mode can try the excellent margherita or diavola pizzas, and smaller kids have options they'll favor like the kids pasta and chicken tenders. A bonus: everyone will be thrilled watching the small planes landing and taking off at the McClellan-Palomar Airport next door. Check out the full menu at 2051 Cucina Italiana here. 
Bluewater Grill
Do the ocean breezes and crashing waves have you craving seafood? Then this excellent restaurant in downtown Carlsbad is your antidote. It's only 15 minutes from Legoland. Their menu will have you swimming with choices like walnut-crusted halibut from Alaska, pan-seared sea scallops, mussels with Spanish chorizo, or oven-baked lobster tail. "Guppies" 10 and under can pick fun items like shrimp dipping sticks or the "shark attack"–a blueberry soda with gummy sharks circling at the top. No matter what you choose, everyone will have their seafood cravings satiated at the Bluewater Grill. 
RELATED LINKS: