While chilly fall air starts to limit outdoor fun in much of the U.S., southern California is still warm and sunny. That's what makes a fall trip to Knott's Berry Farm in Buena Vista, California such a great option. And unlike most other amusement parks that are open only on weekends in the fall, Knott's remains open daily, giving you more flexibility in planning your visit. Here's a guide to planning your fall break at Knott's Berry Farm.
Why Knott's Berry Farm?
Many call Knott's Berry Farm an "old-style" amusement park because it caters to families and is steeped in nostalgia and Western history. Knott's began as a family roadside berry stand in the 1920s, and it grew in popularity when the Knotts began serving fried chicken dinners. The waiting time for the dinners was so long that the Knotts started adding attractions like a replica ghost town to entertain visitors. By the 1950s, the Knotts had opened a "summer-long county fair" on their farm, and the amusement park was born.
Knott's Berry Farm has grown tremendously since then, but it retains much of its county fair atmosphere. There's a merry-go-round, bumper cars, and twirling rides for small kids, and an old-timey boardwalk lined with cotton candy and popcorn stands and arcade games that light up the night. There's even a train ride and real-life stagecoach ride. This is not to say older kids and adults won't find their thrills, however. There's the Timber Mountain Log Ride with its steep plunge into a pool, and tall modern roller coasters like the HangTime, Silver Bullet, and the famous wooden GhostRider. Visit their website for more information and tickets. Knott's also has a separate-admission water park called Soak City, which has 23 water slides, rafting rides, and a wave pool. It's open on weekends in September through Sept. 18.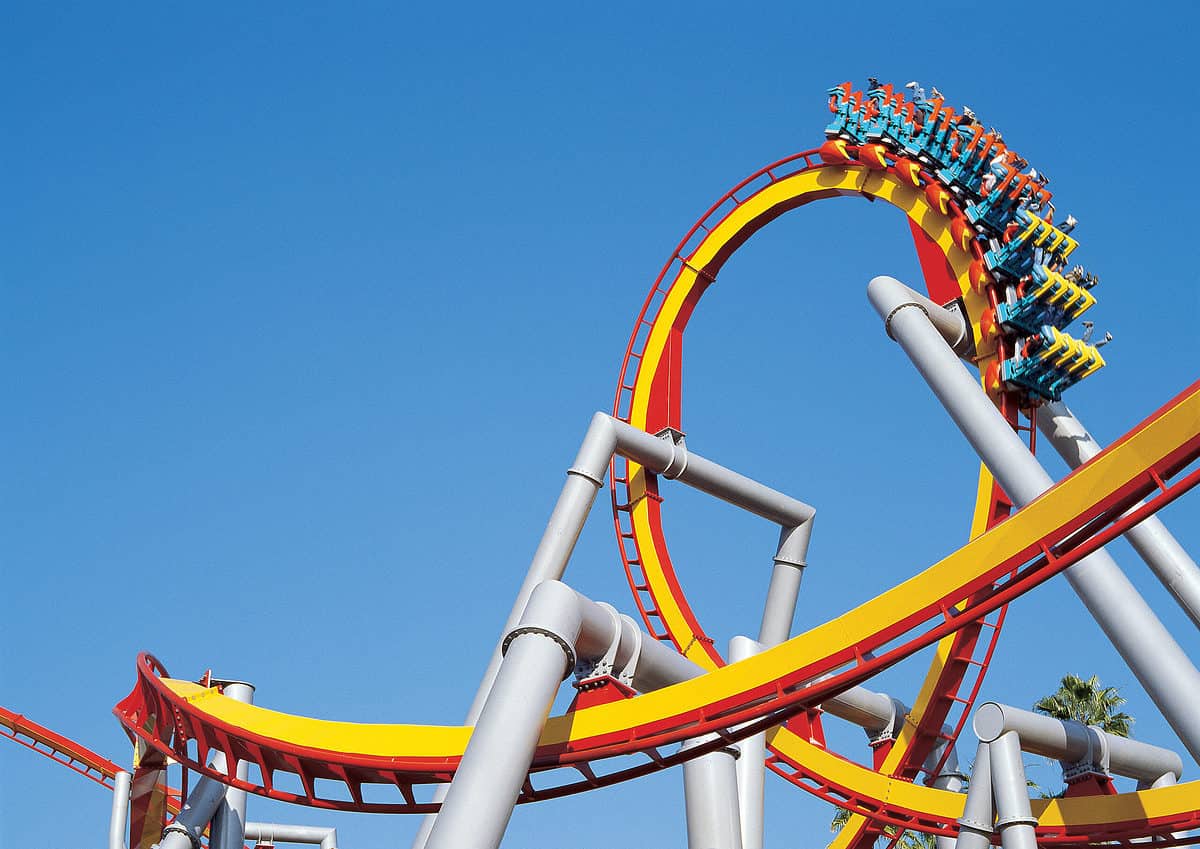 When you're ready for a break from the rides, the Western history of Knott's Berry comes alive in other attractions. Kids can pan for gold, visit a one-room schoolhouse, and pet horses at the livery stable. Craftsmen at the original Ghost Town demonstrate their blacksmithing and glass-blowing skills. Older kids and adults will be fascinated by the models of California missions and unusual exhibits at the Western Trails Museum.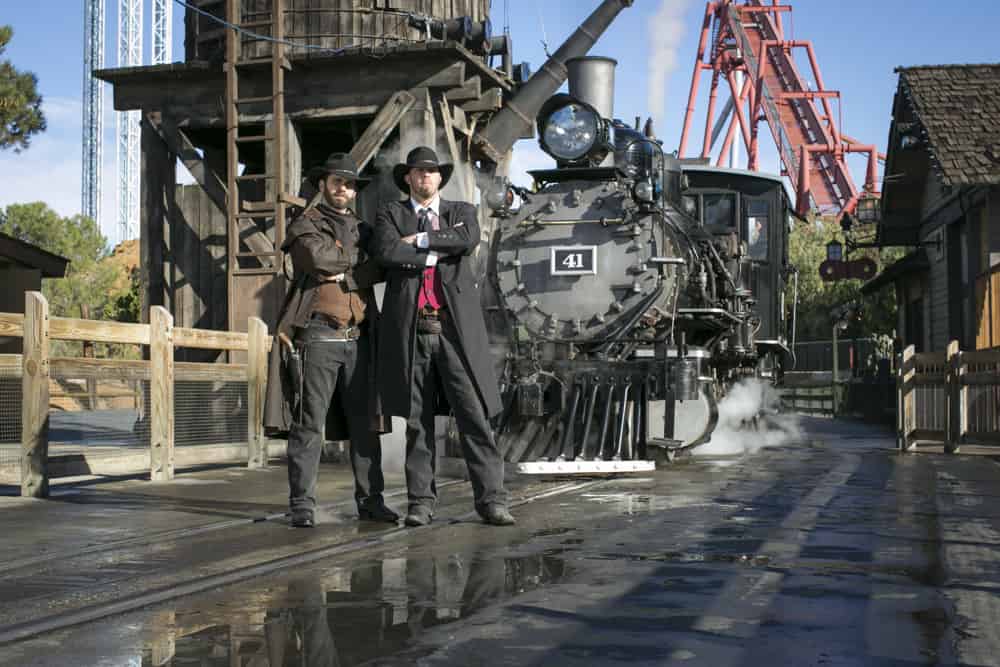 If you want to make your trip to Knott's Berry Farm a longer family vacation, Knott's has the advantage of being close to many other attractions in southern California. It's only 15 minutes from Disneyland, and it's about 75 minutes from Universal Studios Hollywood. Of course, the beautiful southern California beaches are close by as well.
When To Go
As we mentioned, the great thing about visiting Knott's Berry Farm in the fall is that it's open daily through Jan. 1, except for Christmas Day. To get you scared for Halloween, "Knott's Scary Farm" starts in late September and runs through Oct. 31, mostly Thursday through Sunday nights; check out their full calendar here. The whole park is transformed with haunted mazes, scary shows, and more than 1,000 creatures lurking in the fog ready to jump out at unsuspecting visitors. To save the kids 12 and younger from actual nightmares, come to Knott's "Spooky Farm" before 7 pm when they can go trick-or-treating at the Calico town shops and see ghoulish shows without the big scares.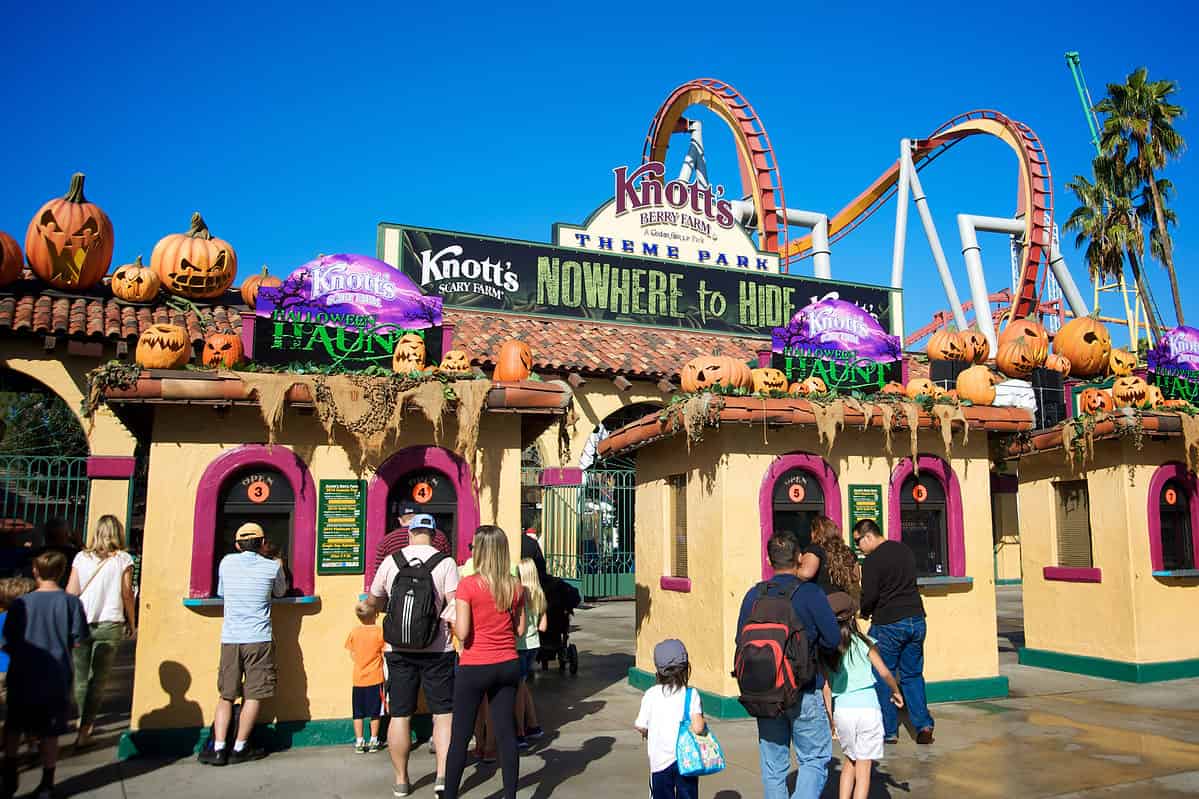 Getting There
Knott's Berry Farm is located in the heart of Orange County in southern California. It's within metropolitan Los Angeles and about a 90-minute drive from San Diego. It's also about a four-hour drive from Las Vegas and a six-hour drive from Phoenix. Knott's is situated just off of California Highway 91 and is easily accessible from Interstate 5. There are several options for arriving by air. The John Wayne/Orange County Airport (SNA) is the closest airport–about 20 minutes away by car–and has many regional connections. Los Angeles International Airport (LAX) is about 30-40 minutes away by car and has more national connections. Ontario International Airport (ONT) often has cheaper flights but is about an hour's drive from Knott's. If you're not driving your own car, you'll probably want to get a rental car given the L.A. area's dependence on roads and freeways.
Where To Stay
Being in the heart of Orange County means you will have many good lodging options for your visit to Knott's Berry Farm. And surprisingly, many of those options are affordable and family friendly. Let's take a look at our recommendations below.
Knott's Berry Farm Hotel
We would be remiss if we didn't suggest this comfortable hotel right next door to the theme park. It's great for big families because it has spacious guest rooms that can be connected in sets of three. Little kids will love the Snoopy-themed wing with its Peanuts decor and take-home plush toys; be sure to ask for a room there if you have any Peanuts fans in your clan. The hotel has special packages that will help you save on admission to the park, too. Everybody will like cooling off at the large outdoor pool with a kids' splash zone. To book your stay, visit the hotel website here.
Holiday Inn Buena Park Hotel
If you're traveling with a smaller group, consider this modern Holiday Inn just five minutes from Knott's Berry Farm. The hotel offers a free shuttle service to the park Monday through Saturday. It has large, comfortable guest rooms that can accommodate up to four people, and some have patios. Rooms come with free wifi, and room service is available. There's also an outdoor pool and indoor fitness center. For more information and to make a reservation, visit the hotel website here.
Best Inn & Suites Buena Park
For a great value option, consider this hotel that has newly remodeled rooms and is located near the southeast entrance of Knott's Berry Farm. They have comfortable guest rooms and suites with kitchenettes. There are even family suites that feature bunk beds and a separate bedroom. The outdoor pool is on the small side, but it's heated, which is a real plus. The Best Inn normally has a free hot breakfast, too; inquire when you book to see if they've resumed that service. If you're looking for less expensive lodging without the sacrifices, the Best Inn & Suites is your best option. Visit their website here for more information and to make a booking.
Where To Eat
California is known for its high-quality food, and your family won't be disappointed with the many great food options inside Knott's Berry Farm. There's the usual assortment of hot dog eateries, bakeries, funnel cake stands, and ice cream shops, but there are also several sit-down restaurants. Of course, you've got to try Mrs. Knott's Chicken Dinner Restaurant, where her delicious fried chicken first made Knott's famous.
Other dining options include a Panda Express, Prop Shop Pizzeria, and Johnny Rockets. You'll find many eateries here have gluten-free, vegetarian, and vegan options, too. But if you're leaving the park for something different, check out the fun and tasty options below: 
Medieval Times Dinner & Tournament
If your family is not ready to leave the fun behind at dinner time, then this dinner theater will keep it going! Just down the road from Knott's Berry Farm, here you'll immerse yourself in medieval Spain with a four-course feast fit for a queen. While you dine, you'll cheer on your team's knight in a real, live jousting tournament and a sword fight for the queen's honor. Swooping falcons will impress everyone with their flying skills. After the show, you'll get to meet the queen herself, and her knights and squires as well. If you haven't gone back in time lately, this is the perfect place to do it! Go to the Medieval Times website to make a reservation.
Pirates Dinner Adventure
Everyone in the family will be in awe of the swashbuckling adventure at this dinner theater just five minutes from Knott's Berry Farm. Your evening starts with a three-course meal, and kids entrees are available. As you devour your meal, you'll witness a story of bravery as galleon sailors fight off scurvy pirates with death-defying stunts, special effects, acrobatics, and swordplay. Your whole family will leave with full tummies and big smiles after this fun evening. Make your reservation at this website.
Rock & Brews
Down the street from Knott's Berry Farm is this rock-themed restaurant and bar. They serve all the American comfort food you'd expect like juicy burgers, scrumptious tacos, fresh salads, pizzas, BBQ, and an assortment of steak and fish entrees. Rock & Brews is also known for its large selection of locally crafted beers. And there's a kids menu for the 10 and under set. You can have fun gazing at all the rock music memorabilia covering the walls and ceiling. There really is something here for everyone, so if you can't decide on a place to eat, Rock & Brews is the place to come. Check out their giant menu here.
RELATED LINKS:
Fall Break at Hersheypark
Fall Break at Legoland
Fall Break at Kentucky Kingdom
The image featured at the top of this post is ©Juan Camilo Bernal/Shutterstock.com.