If your family is ready for a break this fall, then consider a weekend trip to the giant Six Flags Great Adventure theme park in Jackson, New Jersey. It's close to midway between New York City and Philadelphia and offers a whole host of family-friendly rides and the biggest Halloween event in the state, Fright Fest.    
Why Six Flags Great Adventure?
Being close to the New Jersey shore, Six Flags Great Adventure experiences milder weather in the fall than places further inland. If you live in the Northeast, or are coming from colder climates, this family-friendly theme park is a fun place to spend a weekend. It has a wide range of rides and activities that everyone in the family, from toddlers to teenagers, will enjoy. The theme is Warner Brothers characters, including cartoon favorites Bugs Bunny and Foghorn Leghorn for the little ones, and DC Comics superheroes like Superman and Wonder Woman for older kids. There are 15 kiddie rides, some of which have height requirements of only 36" with an accompanying adult. The thrill seekers in your family will love the El Toro roller coaster, which was recently voted the best in America. They'll also get their adrenaline going with the Drop of Doom, Superman: Ultimate Flight, the Slingshot, and the Kingda Ka, the world's tallest coaster. The whole family will enjoy the giant Ferris wheel, fender bender cars, and the Skyway cable car ride that takes you over a nearby lake. Visit this webpage to see all the rides and to book your tickets.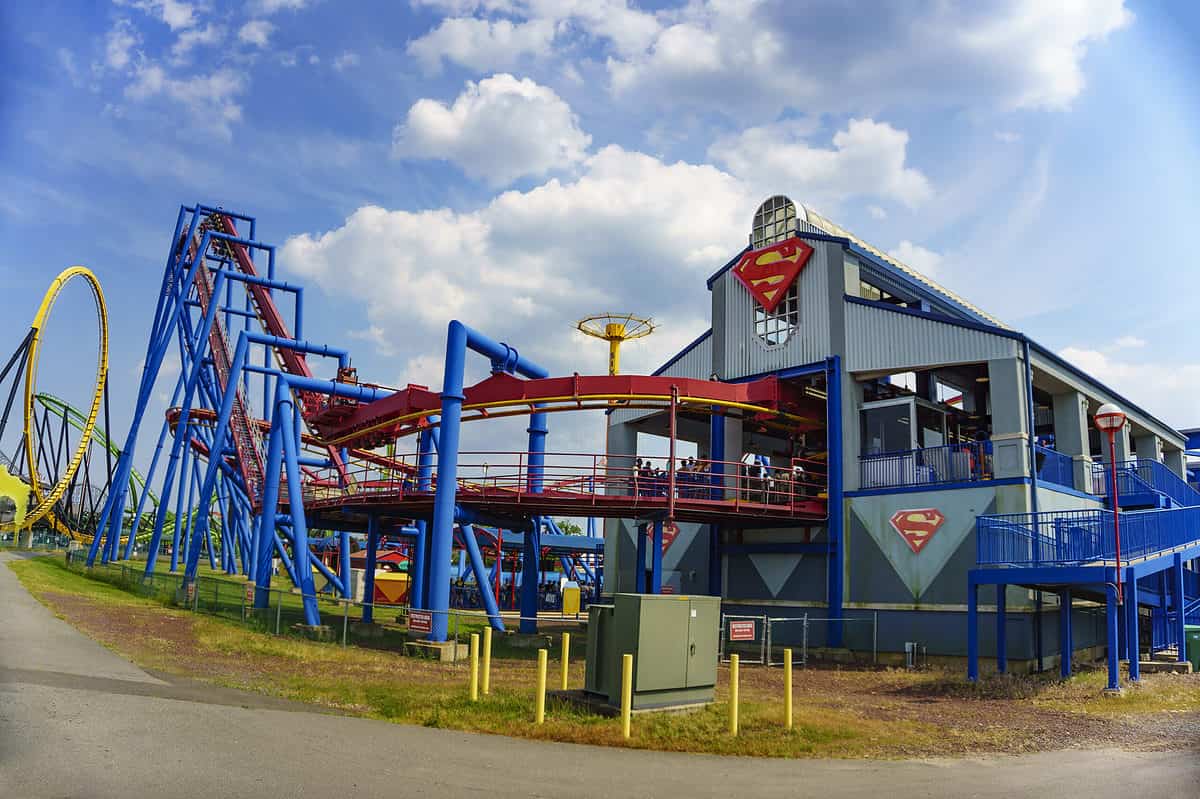 When visiting Six Flags Great Adventure, be sure to save a half day for the incredible 350-acre Wild Safari Adventure animal park. Your family will be transported to the wilds of Africa as you drive through the natural habitat of African elephants, Grant's zebras, white rhinos, water buffalos, and ostriches. On the plains you'll see herds of gazelles, giraffes, elands, waterbucks, gnus (wildebeests), and the occasional African lion and Bengal tiger. The Americas section has herds of bison, elk, llamas, and groups of bears. Be sure to bring your binoculars to see the most wildlife! The five-mile drive takes between one and three hours, depending on how long you stop to view the animals. 
When To Go
Fall is a great time to visit Six Flags Great Adventure because the crowds are smaller and the weather is milder and not yet cold. Although the adjoining Hurricane Harbor water park closes after Labor Day, the theme park is open most Fridays, Saturdays, Sundays, and holidays through the rest of the year. Visit this webpage for the full calendar. And as dark descends Sept. 16 through Oct. 31, the ghouls and scary creatures come out for Fright Fest. The park becomes filled with haunted attractions, scare zones, and roaming zombies to terrify only the bravest in your family. For an added scare, you can ride nine rides in the dark! Check out the park webpage for more information.
Getting There
Six Flags Great Adventure is located in Jackson, New Jersey just off of Interstate 195 about six miles east of Interstate 95. It's about 25 minutes by car from Trenton, NJ; an hour from Philadelphia; and 90 minutes from New York City. Boston, Baltimore, and Washington, DC are all within a three-hour drive. If you're coming from farther away and want to fly in, Philadelphia International Airport (PHL) and Newark Liberty International Airport (EWR) are the nearest major airports at just about an hour's drive away. It's a good idea to rent a car because the hotels nearest to the park are about 10 miles away.
Where To Stay
Six Flags Great Adventure doesn't have its own resort hotels, but there are a number of family-friendly lodging options nearby. You can choose from basic but clean motels to swankier suite hotels. Below are our recommendations in several price ranges.
Homewood Suites by Hilton – Hamilton, NJ
This modern, all-suites hotel about 20 minutes from Six Flags Great Adventure can comfortably accommodate even large families. It offers studio suites that sleep four and two-bedroom suites that sleep up to eight. All rooms have a kitchenette with a full-size refrigerator. There's an indoor pool and fitness center, free breakfast, and free parking on-site. Your family will feel very much at home in this comfortable lodging. Visit the hotel website here to book.
Hampton Inn & Suites – Robbinsville, NJ
For smaller families, this somewhat cheaper and closer hotel is a good alternative. It's only about a 15-minute drive to Six Flags Great Adventure. It offers large guest rooms that can accommodate up to four and studio suites that can sleep up to six. It's also possible to reserve adjoining rooms. The studios have a kitchenette. The hotel also has a free hot breakfast to start your day and a sizable indoor pool to finish your day. This Hampton Inn & Suites is a comfortable, mid-range choice. Visit this website to book your stay.
At 9 Motel – Howell Township
If you'd rather save money with no-frills lodging, this charming Cape May-style motel just 15 minutes from Six Flags Great Adventure is for you. It offers 18 clean rooms that can sleep up to four. The rooms also have a mini-refrigerator, microwave, and coffee maker. There's free wifi, free parking, and a 24-hour front desk. This popular motel tends to get booked up early, so make your reservation as soon as possible at their website.
Where To Eat
Your family will not go hungry at Six Flags Great Adventure, which has more than 60 snack stands, eateries, and restaurants on site. They serve everything from popcorn, funnel cakes, Dippin' Dots (at 5 locations!), burgers, pizzas, and more varied fare like Mexican quesadillas, Asian stir fry, pub-style bangers, and southern po boy sandwiches. Mom and dad will get a chance to relax with a tall cold one or a margarita at the Ale House, Sky Bar, or Wicked Brew. Just don't overdo it if you plan to go back to the rides! When you're heading back to the hotel and ready for a sit-down meal, consider one of the popular restaurants below.
La Piazza Ristorante
If your family hasn't had its pizza fix yet, this is the place to get it! The authentic Italian dishes and pizza are outstanding. You can build your own old-fashioned "pie" or select from many gourmet options. There are also savory traditional plates like chicken parmigiana, veal piccata, and tilapia puttanesca. Little eaters will be happy with the cheese ravioli, spaghetti, or chicken fingers. La Piazza is just off of I-195 in Allentown and makes the perfect stop for dinner on your way back to Robbinsville or Hamilton. Check out their website for their extensive menu.
The Mug Rack
If you didn't get your hotel breakfast, you can still fill up for the day at this local favorite that serves breakfast and lunch. The Mug Rack is not only delicious, it's super affordable, too. They have a huge selection of omelets, pancakes, French toast, and breakfast sandwiches. If you're in lunch mode, there's a big menu of wraps, sandwiches, and burgers. Everybody will leave The Mug Rack quite full and ready for a day at Six Flags Great Adventure. The restaurant is just five miles from the theme park.
Malaga Restaurant
Looking for something completely different? Then add some "flamenco flavor" to your dinner experiences. The Malaga Restaurant brings Spanish Mediterranean cuisine to Hamilton Township, with incredibly good dishes like Paella a la Valenciana, a shellfish casserole, or shrimp in garlic sauce. Little kids will be content with mozzarella sticks, penne pasta, or fried baby shrimp. Malaga is on the expensive side, but worth it for a memorable night out. Visit their website to see the full menu. 
RELATED LINKS:
The Best Fast Rides at Six Flags Great America
The Best Slow Rides at Six Flags Great America