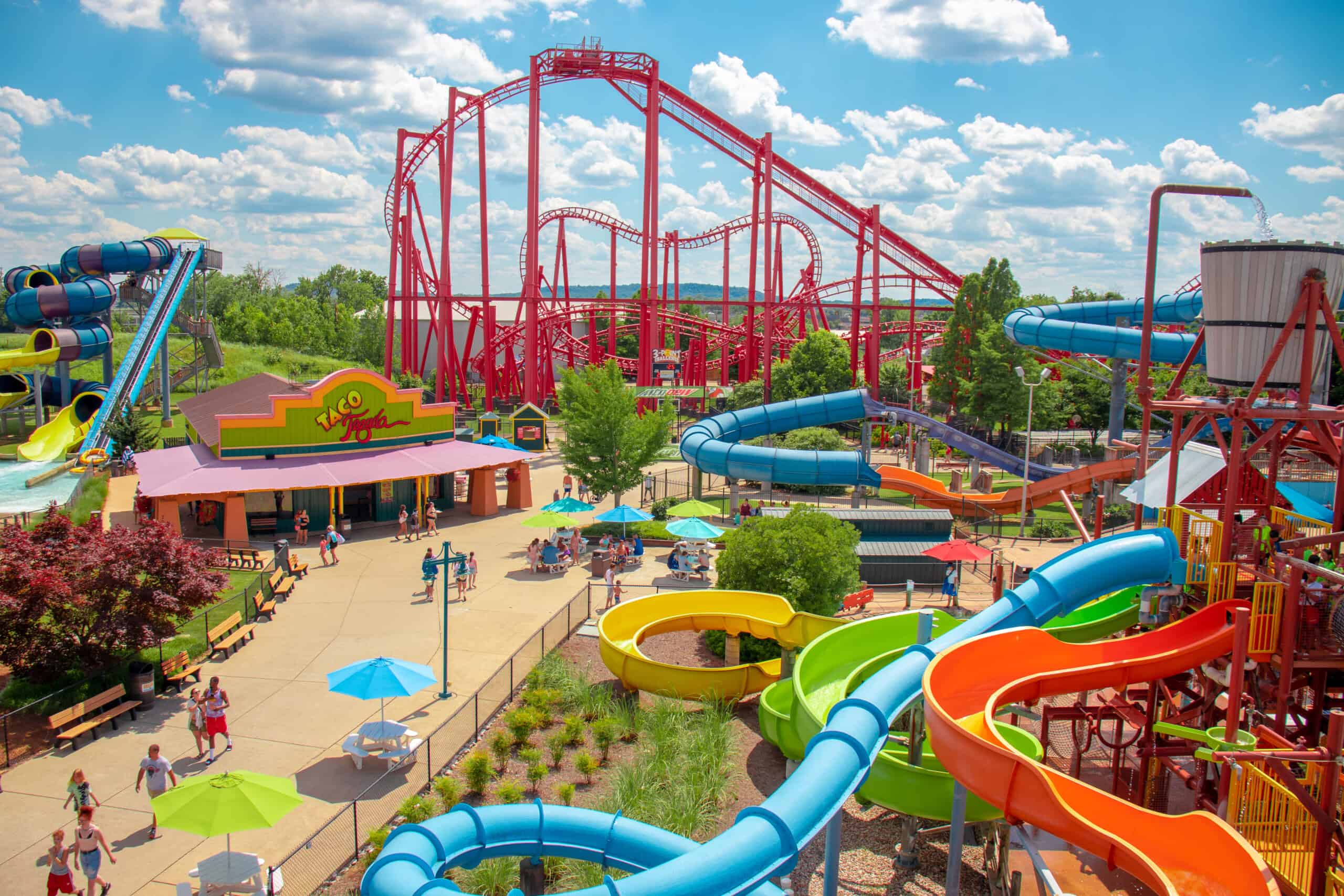 If your family is looking for a break early in the school year, then Kentucky Kingdom in Louisville, Kentucky may be your answer. When the Great Lakes region starts to cool down in September and October, Kentucky is still mild and generally has good weather, making it an ideal place to have fun outdoors. Although Kentucky Kingdom's water park, Hurricane Bay, closes after Labor Day (naturally), the rest of the park remains open, ready to entertain families from throughout the Midwest. Here's how to plan the perfect fall break at Kentucky Kingdom.
Why Kentucky Kingdom?
This amusement park in northern Kentucky was built to entertain everyone in the family, from toddlers to teenagers and parents. Open since 1987, this 67-acre park features at least 12 rides designed for preschoolers, and it has six roller coasters that will thrill even the biggest adrenaline junkies in your family. The Thunder Run and Lightning Run coasters are tall, but the T3 is the tallest coaster in the state. There's even a classic wooden roller coaster. Adding to the nostalgia factor is a classic carousel and a giant Ferris wheel more suitable for family members who like tamer rides. There are plenty of in-between rides, too, that will excite kids age 5-12, like the 5-D cinema ride based on the Ice Age movies. Check out the Kentucky Kingdom website for more information and tickets.
Kentucky Kingdom offers more than just rides, however. There's the King Louie's Dance Party, a daily show that gives kids a chance to dance to their favorite songs. Other live entertainment is periodically offered at the park's amphitheater. Also, next to the park, is the Kentucky Kingdom Gardens, which displays all the flowers and plants grown for the park in a year-round greenhouse.     
When To Go
Kentucky Kingdom ends its daily operations and closes Hurricane Bay after Labor Day, but the rest of the park remains open every Saturday and Sunday through Oct. 30. This fall, the park is starting an all-new event called "Pumpkins at Kentucky Kingdom," which runs every weekend in October (Oct. 1 – 30). The event features more than 1,000 carved pumpkins throughout the park, including some 12 feet high, that light up at dusk. There's also a trick-or-treat trail and Halloween-themed live shows in the park's amphitheater. If you and your teenagers are big rock music fans, consider coming for the "Louder Than Life Music Festival." It's held over four nights, Sept. 22-25, at the Kentucky Expo Center right next door to Kentucky Kingdom.
Getting There
Kentucky Kingdom is located within a four-hour drive of many major Midwestern cities like St. Louis; Indianapolis; Cincinnati; and Columbus, Ohio. It's also a three-hour drive from Nashville and five hours from Chicago. It's located right off of the intersection of Interstates 65 and 264. It's also easily accessible from Interstates 64 and 71. If you're coming from farther away and want to fly, Louisville Muhammad Ali International Airport (SDF) is your airport and is only a few minutes by car from Kentucky Kingdom. Most major airlines in the U.S. have direct flights to Louisville from their hubs. Because the park is so close to the airport and there are many lodging options nearby, renting a car is purely optional. 
Where To Stay
One of the great things about visiting Kentucky Kingdom is that there are many affordable, family-friendly hotels within five minutes of the park. (Being close to the airport and Expo Center only adds to the available options.) Most hotels are the big brand names you're already familiar with and range from simple motel rooms to pricier suites. You'll surely find an option well suited to your budget, and all the hotels listed below are just minutes away from Kentucky Kingdom.
Home2 Suites by Hilton Louisville Airport Expo Center
This all-suite hotel is perfect for larger families looking to spread out. All the studio and one-bedroom suites come with a full kitchen, free wifi, and 50-inch HDTV, and it's possible to book adjoining rooms. This modern hotel also features an indoor pool, a fitness center, and a free hot breakfast. Even better, it offers free parking if you're driving, and if not, a free shuttle to and from the airport. Your family will no doubt be comfortable at the Home2 Suites by Hilton. 
Springhill Suites by Marriott Louisville Airport
Smaller families will feel very comfortable at this upscale, yet affordable hotel. The family-friendly Springhill Suites features studio suites with kitchenettes, an indoor pool, a fitness center, and a free breakfast. Kids 12 and under stay free. There's also a free shuttle to and from the airport that will make getting here a breeze. To make a reservation at this Springhill Suites, visit their website.
Sleep Inn Louisville Airport & Expo
If you'd like to save money and can live without some frills, this Sleep Inn is a good value with its updated and comfortable rooms and suites. All the rooms have free wifi, and pet-friendly rooms are available. There's no indoor pool, but there is a small fitness center. The lobby has free coffee and free "grab 'n go" breakfast items like muffins. If you don't plan to spend much time at your hotel, the Sleep Inn Louisville is a good place to save money without sacrificing comfort. Check out the hotel website to make a reservation.   
Where To Eat
Kentucky Kingdom has several good eating options to satisfy your family's appetite while enjoying the park. There's a bakery, funnel cake shop, hot dog place, and Kingdom Hot Chicken for Kentucky-style fried chicken sandwiches. Casa Mia has some good flatbread pizzas, and Bourbon Craft House features smoky BBQ pulled pork, and of course, Kentucky bourbon for mom and dad. That said, there are plenty of great options outside the park when dinner time comes around:
Frank's Deli
Looking for a quick but delicious dinner? Try this deli inside Frank's Meats and Produce. They source all of their top-quality meats and cheeses locally, and it shows in their scrumptious hot plates, sandwiches, and sides. On the weekend, they serve, among other things, a half-pound hamburger, a bratwurst, and smoked spare ribs that are out of this world. Everything is made fresh to order. It's so good, your clan may just want to come back the next night. Check out Frank's menu here.   
Hometown Pizza
There's no family-pleaser like deep-dish pizza topped with fresh ingredients. You'll find that and more at this popular family restaurant. Hometown Pizza has been serving mouth-watering thick- and thin-crust pizzas since 1982. They also offer a variety of salads and Italian favorites like baked spaghetti, chicken alfredo, lasagna, stromboli, and meatball sandwiches. If you'd rather just skip right to dessert, the dessert pizza is for you! Everyone in your family is guaranteed to come away full and happy after eating at Hometown Pizza.
Mirage Mediterranean
After a day or two of amusement park fare, your family might be ready for something different. The outstanding Mediterranean cuisine here will certainly fit the bill! Appetizers like hummus or stuffed grape leaves will whet your appetite, and lamb kabobs, beef shawarma, or a gyro platter will satiate it. Pickier kids can always order the chicken tenders or fried mozzarella sticks. Mirage Mediterranean is a great way to diversify your eating options while in Louisville.