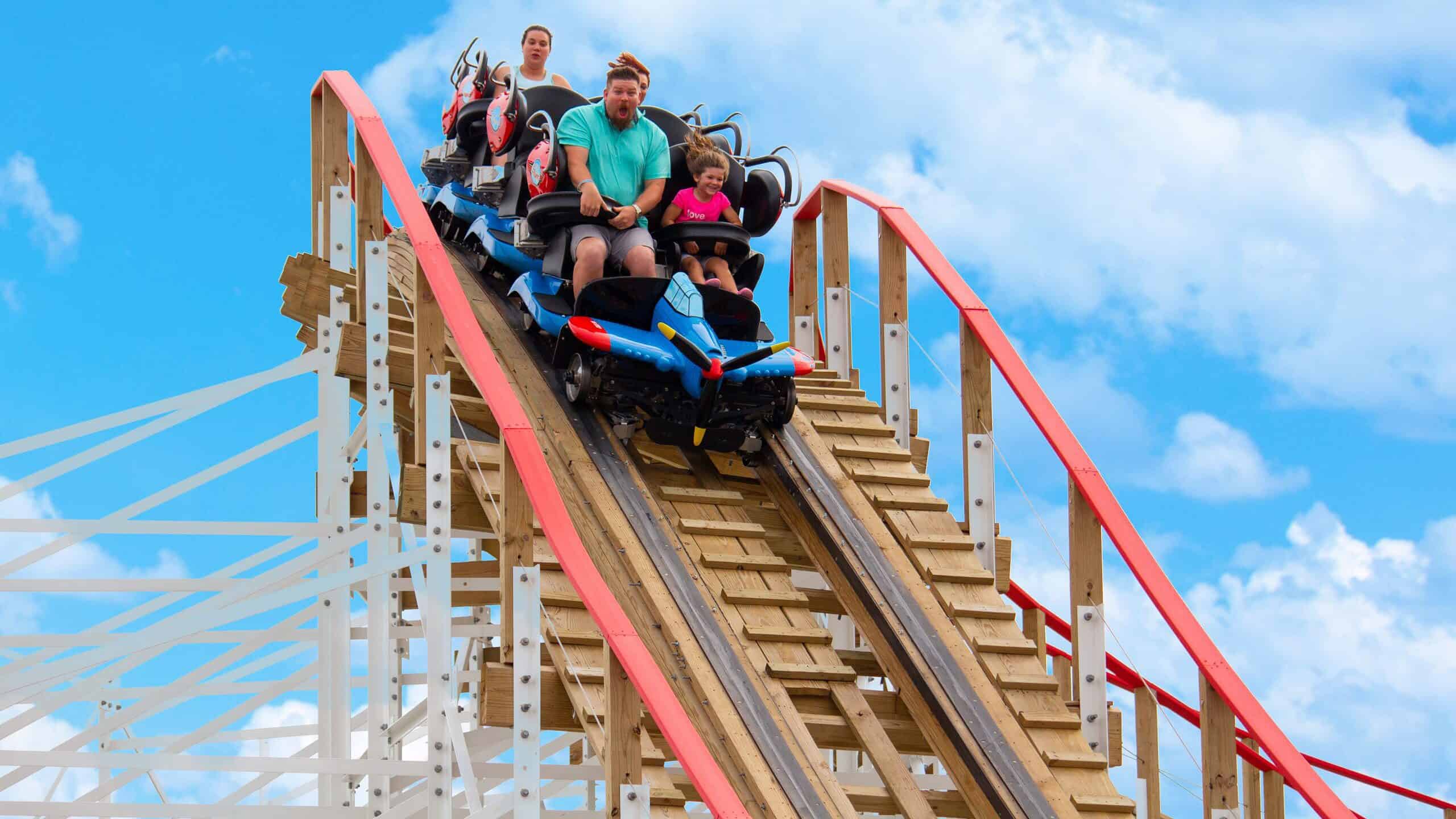 Got a need for speed? Kentucky Kingdom, located in Louisville, KY, is filled with some fantastic fast rides– especially when it comes to rollercoasters. Whether you're looking for some high-intensity thrills or a classic speed run down a wooden coaster, you can find a few of our favorite Kentucky Kingdom fast rides below.
Although it may seem small in size in the grand scheme of rollercoasters, Kentucky Kingdom's Lightning Run packs a serious speedy punch. The 10-story ride was built in 2014 during the park's latest reopening and continues to leave its riders pleasantly surprised by its size-to-speed ratio. Riders can expect to sit two to a car, with about five cars making up one whole train. Lightning Run has speed from the start, immediately diving into a 100-foot, 80-degree drop that takes you straight to the ground. From there you can expect twists, turns, and tons of airtime– before you know it, you find yourself back at the station with wind-blown hair, realizing the ride really does move at the speed of lightning!
According to Kentucky Kingdom, the T3 rollercoaster is "the next generation of fear" with gravity-defying inversions for those who love some upside-down action. This is a huge rollercoaster and has continued to be one of the most popular in the park since its creation in 1995. When riders are ready to take a seat they can expect to ride in pairs, side by side. Your feet are dangling in this style of seat, with shoulder restraints that you can pull down over yourself. When the ride gets started, the train climbs a 101-foot hill that drops straight into an inversion, flipping you upside down a total of five times over the course of the ride. After several loopty-loops, you'll find yourself back at the start of the ride, ready to get in line and experience it all over again.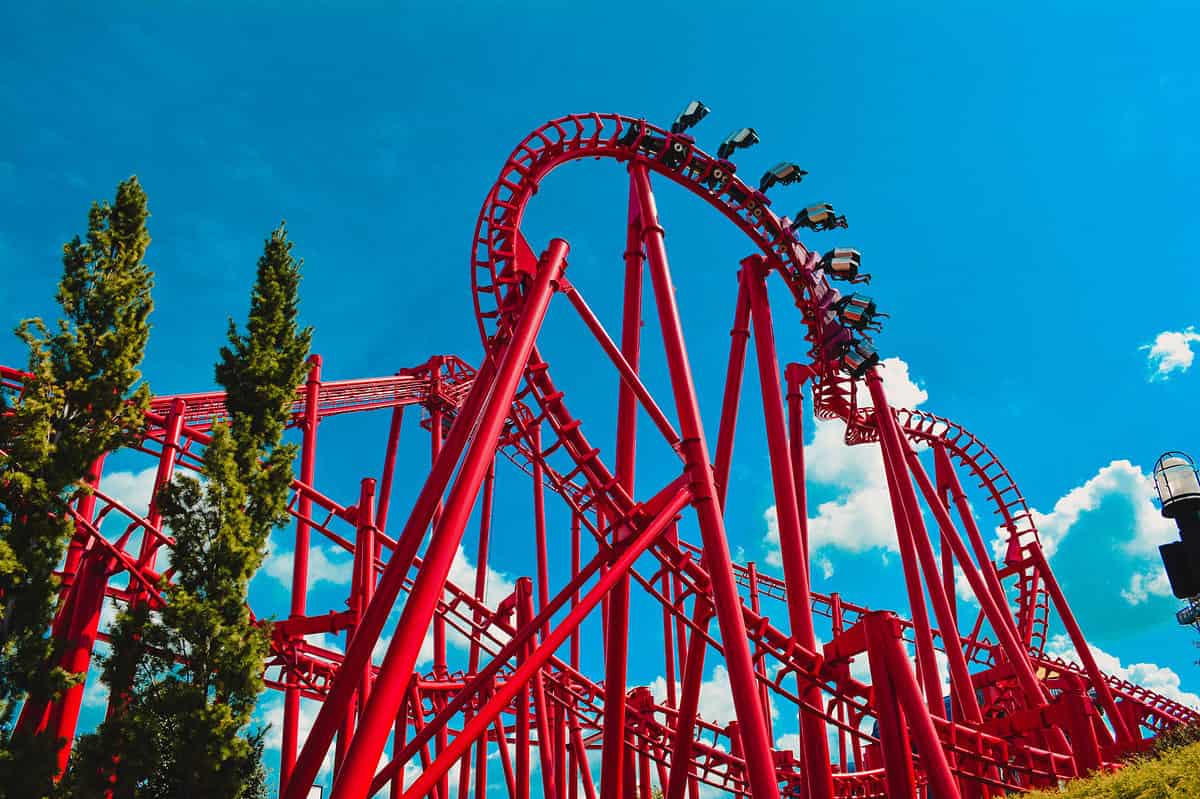 Storm Chaser
Storm Chaser is more than a rollercoaster, it's a record-breaking ride: the first rollercoaster in America to feature a barrel roll drop from a ten-story hill! This famous rollercoaster has been drawing visitors to Kentucky Kingdom since 2016, and for good reason. Once riders make their way up the 100-foot hill, the train corkscrews right back down it at a 78-degree angle, a nearly perpendicular corkscrew experience like no other. After you're past the crazy barrel, you'll be taken through three inversions that give you tons of time out of your seat before you're back at the beginning of the ride.
Thunder Run is one of Kentucky Kingdom's most loved rollercoasters, and recently underwent nearly one million dollars of refurbishments. Now it's back, better, and ready for you to ride its nearly 3,000 feet of track! The wooden rollercoaster's ride holds two to a car in a single-line train, and starts with a 90-foot uphill climb. Riders will have just a few seconds to take in views of the park before dropping down the hill at a speed of over 50 mph. While there are no inversions, loops, or crazy corkscrews, it's easy for riders to enjoy the plenty of high-speed twists and turns that one would expect from a classic wooden coaster.  
The Kentucky Flyer has been flying high since 2019, and while it's not your average airplane, it absolutely gives you plenty of airtime. This wooden rollercoaster has 1280 feet of high-flying family fun, and is complete with 12 different moments of turbulence. When riders leave the station in their two-seater cars, they'll immediately climb a 47-foot hill that gives you a quick moment of banking before its first drop. From there you'll twist and turn for a minute before pulling back into the station. This ride is the perfect introduction to faster ride experiences, especially for park-goers who are newer to rollercoaster experience. 
RELATED LINKS:
Fall Break at Kentucky Kingdom: A Planning Guide
The Best Fast Rides at Carowinds
The Best Fast Rides at Disneyland
The Fastest Rides at Busch Gardens Tampa Bay