If you or your children have a thirst for thrill rides, Anaheim, California's Disneyland amusement park has no shortage of fast-paced, suspenseful attractions to provide you with a surge of adrenaline. Families with the itch for excitement can choose from rides with insane drops, turns, jerks, and accelerations. But with nearly 30 rides scattered throughout the massive amusement park, it can be overwhelming to decide where to go and what rides to prioritize. Among the vast options of fast rides at Disneyland, we narrowed it down to the most exhilarating attractions with the highest speeds. Because Disney is committed to reinventing and constantly expanding imagination, be aware that some of these rides might be temporarily closed for refurbishing.
Hold on to your belongings and get ready to scream on Incredicoaster's infamous "Screamin Coaster" ride–as park goers call it. Located in Incredible's Park Neighborhood, this thrill ride will transport you into the Incredibles movie, where you'll take on the role of Dash as you engage in a high-speed chase to catch your impeccably fast little brother, Jack-Jack. You'll see flashes of Jack-Jack nearly 20 times throughout the attraction, though he's easy to miss since you'll also be flying at such high speeds–with top speeds of 55 miles per hour. The Incredicoaster is over 6,000 feet in length–making it the longest roller coaster that inverts in the entire world–though the ride will feel as though it's over in the blink of an eye.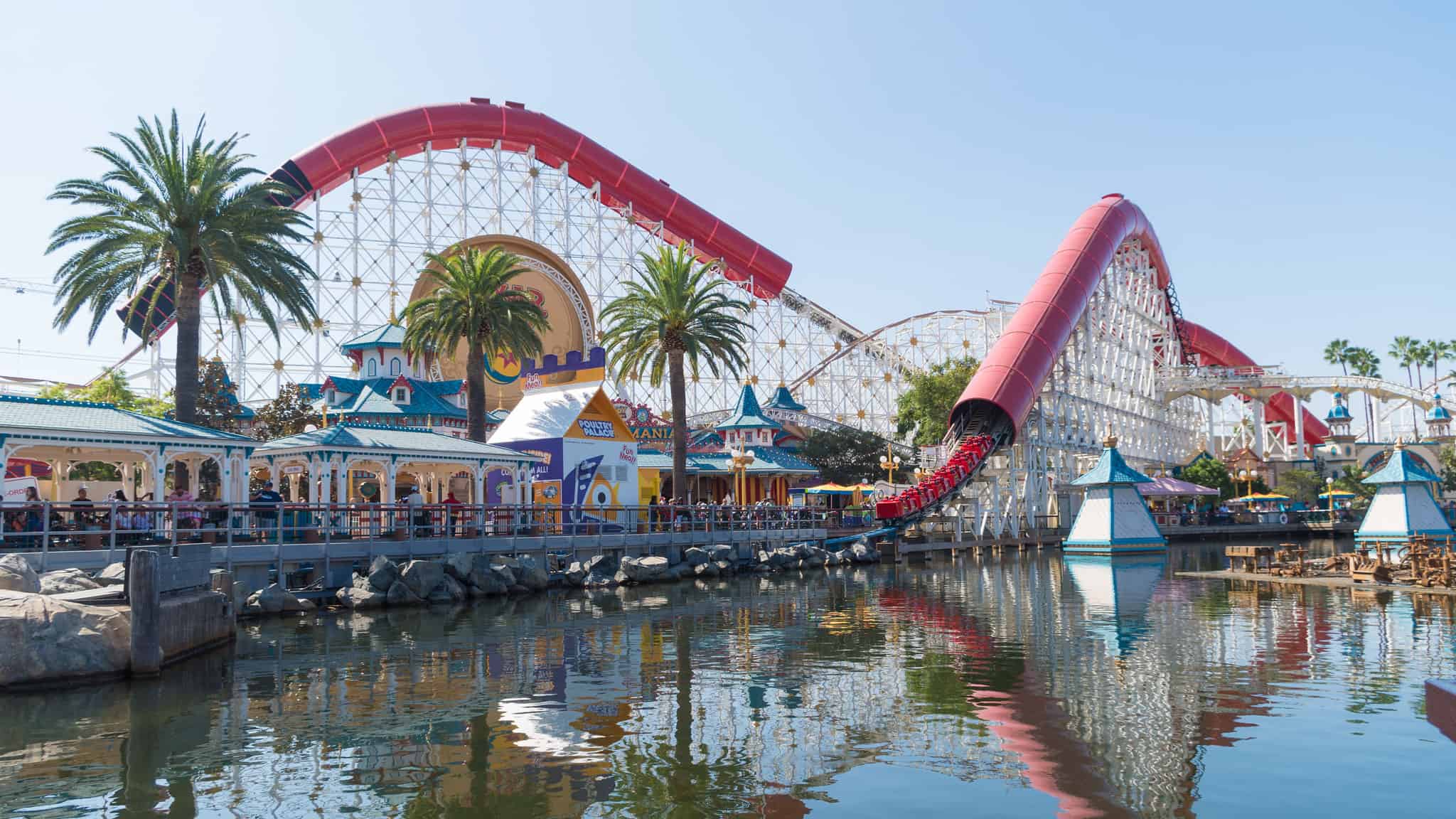 Expect record speeds, inversions, and enormous gut-pulling drops, with the most significant drop weighing 180 vertical feet. The Incredicoaster is the only attraction at Disneyland with a 360-degree inversion, which means this ride isn't for the faint of heart. Sure, you'll have shoulder restraints and handlebars to grip you into place, but this thrill ride has no shortage of abrupt twists and turns that will jerk you into the present moment. To ride the Incredicoaster, you must be 48″ tall, so it is arguably a ride more suitable for teens and adults. That being said, if your kids are game for the thrill of a lifetime and have a need for speed, this experience is sure to give them that WOW factor! Surprisingly, the Incredicoaster is the only ride at Disneyland to be categorized as a true rollercoaster and is the perfect blend of a traditional amusement coaster ride and a Disney-themed park ride. Get ready to clench your knuckles!
Buckle up for this indoor-outdoor wild race car ride as you tour ornament valley, modeled after Peach Springs, Arizona off Route 66. While a tad bit slower than Incredicoaster, Radiator Springs Racers still incites sheer thrill–reaching speeds of up to 40 miles per hour. To start this 4-minute car race, you'll strap into a 6-person vehicle and get prepped to zoom as fast as possible to the finish line. Along the way, you'll carve through obstacles within dark tunnels, hitting sharp curves and slopes as you encounter characters from Pixar's film series Cars, including Mater, Lightning McQueen, Guido, Mack, and Ramone. While you won't be in control of the wheel, all the shifts, turns, and slight uphill and downhill slopes will give off the feeling of actually racing the car. 
Radiator Springs Racers is partially outdoors, allowing you to soak up the beautiful scenery within Disneyland. There are some loud noises such as sirens, beeping, and honking, and a few startling animations from Cars that will catch you off guard and interact with you as you move through the ride, along with some dark corners that will keep you on your toes. If your kids tend to get jumpy, give them the low down before going on this ride. Though the lines tend to be long for a relatively short experience, it's worth waiting to feel as though you've raced to your heart's content.
Splash Mountain is one of the epic water rides at Disneyland that guarantees you'll get wet, no matter where you decide to pop a squat and buckle in. Located in Critter Country–this suspenseful flume ride takes you on an exciting journey with Br'er rabbit while he is being pursued by the intimidating Br'er fox and Br'er bear. To begin the ride, you'll strap into a hollow log that serves as your floating device as you cruise through a colorful bayou, witnessing the playful rabbit hop along, utterly oblivious to the fact that he is in danger. As the story unfolds and the suspense builds, you'll plunge into three separate instances. Expect sudden sprays and full-blown domination from the water. To conclude this 10-minute super soaker of a ride, you'll hit one massive 5-story fall at a rate of 40mph, and it will quite literally make your stomach drop.
This ride might not be for you if you're looking to be glazed with a light mist. While it might not be the fastest ride in the park, it is one of the most suspenseful, and there are brief moments where you'll be in the dark, uncertain of what will happen next. Word of mouth is that the theme of the ride will be rebranded and redesigned to include characters from Princess and The Frog in response to an outdated and controversial song that is heard along the ride.
Major drop alert! As you experience this accelerated drop tower dark ride attraction at Disney California Adventure Park, you'll feel like you're falling below the universe's surface. As the name states, Mission Breakout is based on Pixar's Guardians of the Galaxy and features many scenes from the series. The ride's storyline starts with Collector Taneleer Tivan, who showcases his collection of fantastical fauna–the Guardians of the Galaxy–which he has held in captivity. As the ride escalates, you'll see Star-Lord, Gamora, Rocket, Drax, and Groot in airtight glass cells that dangle over a seemingly bottomless, pitch-black abyss below. 
One of the majestic species — Rocket — manages to escape the grip of the evil collector, and through the ride, you'll help on this ambitious mission to help break his fellow Guardians out of prison. The caveat is that you'll be propelled up and dropped at a high rate of speed through the whole rescue mission, sometimes feeling zero gravity.
The ride features a handful of free falls, simulations, special effects, suspenseful music, and multiple storylines to experience between drop zones. During this rescue mission, you'll scale through different levels and land on different floors, then drop abruptly, only to slowly rise again to another floor, where more scenes from Guardians of the Galaxy will appear as an elevator-like door opens. The entire ride is short, under 4 minutes, and you must be at least 40″ to ride or taller. Because it is also loud, dark, somewhat scary, and contains big drops, it is best suited for teens and adults. If you like abrupt drops and spontaneous shifts in direction and speed, this ride is for you.
In the Magic Kingdom, you'll find the legendary Space Mountain attraction, a 3-minute thrill ride where you'll spiral through space. You'll board a 12 passenger rocket with 2-seater rows, and buckle in before plunging, turning, and whirling through the star-filled nebula. Space Mountain might seem less intimidating on the surface, but this rip-roaring indoor attraction's thrill factor does not disappoint. Along this space-themed ride, you'll encounter sudden jolts, zips, and flashing tunnels as you whip through the pitch black night sky, with only teeny stars to guide you. You'll hear the countdown over the loudspeaker before you make a quick descent back to the space station, further increasing the anticipation. This ride through the cosmos reaches a height of 65ft and a track length of over 3,000ft, situated within a massive dome. 
You must be 40" or taller to ride, so if you're an eager thrill seeker who meets the height requirements, can survive dark, loud, and claustrophobic spaces, and digs unexpected turns and abrupt jolts, Space Mountain is an out of this world experience, literally. Unfortunately, this ride has been closed recently. Space Mountain is reportedly closing in 2024 to be replaced by a newer version of the ride.
As you can see, the need for speed is fulfilled in the many fast rides at Disneyland are in no short supply! Speaking of fast, if you want to skip the long lines and avoid waiting, the Fastpass is a great option to make the most out of your experience at Disneyland.
Find more amazing family travel destinations in our "Travel" section here.
The image featured at the top of this post is ©Patrick Pelletier / Flickr.