The rush of a roller coaster is a thrill for all ages. Disney World offers endless attractions that allow kids to be kids and adults to feel like kids again. There are so many options to choose from to fill your day spent in the park. How do you narrow it down? You can start by identifying what type of experience you want for yourself and your family. If you're at Disney World for the thrilling, fast-paced rides and roller coasters, here are a few you can add to your itinerary.
This classic roller coaster is anything but basic. Ascend Mount Everest in a traditional roller coaster train before plummeting into darkness. Just as you think you've made it through the cave, the track ahead of you is a dead end. There's nowhere to go except back the way you came, back into the lair of the snow monster. The ride of your life becomes a race to escape the Yeti.
Expedition Everest is not for the faint of heart. You'll be met with fast, steep drops, loud noises, high speeds, darkness, and the frightening Yeti. You must also be at least 44 inches tall to enjoy this ride, which can reach 50 mph!
You will find Expedition Everest in Asia at Disney's Animal Kingdom Theme Park.
You'll find a spooky ride featuring big vertical drops inside the Hollywood Tower Hotel. Guests are greeted by Rod Serling himself, joining you from the past via television, who forewarns of the hotel's notorious history of disappearing guests and a haunted elevator.
You find yourself in the infamous elevator, strapping yourself in and questioning what you've gotten yourself into. Soon you will learn the rickety lift has a mind of its own as you're subjected to sudden drops and ascensions. Due to the cable system, you're falling slightly faster than normal free-fall − up to 39 mph!
The Tower of Terror has a minimum height requirement of 40 inches tall, and you can find it on Sunset Boulevard at Disney's Hollywood Studios.
Switching gears to a theme ride that's much less spooky and more lighthearted for a wider range of audience members, the Slinky Dog Dash offers wholesome fun with just the right amount of thrill. Climb aboard a Slinky Dog coaster that reaches 40 mph as it twists and turns through Andy's larger-than-life backyard! It's a wild ride that offers thrills for all ages and accepts Toy Story enthusiasts 38 inches tall or more.
You can find Andy's Mega Coaster Play Kit in Toy Story Land at Disney's Hollywood Studios.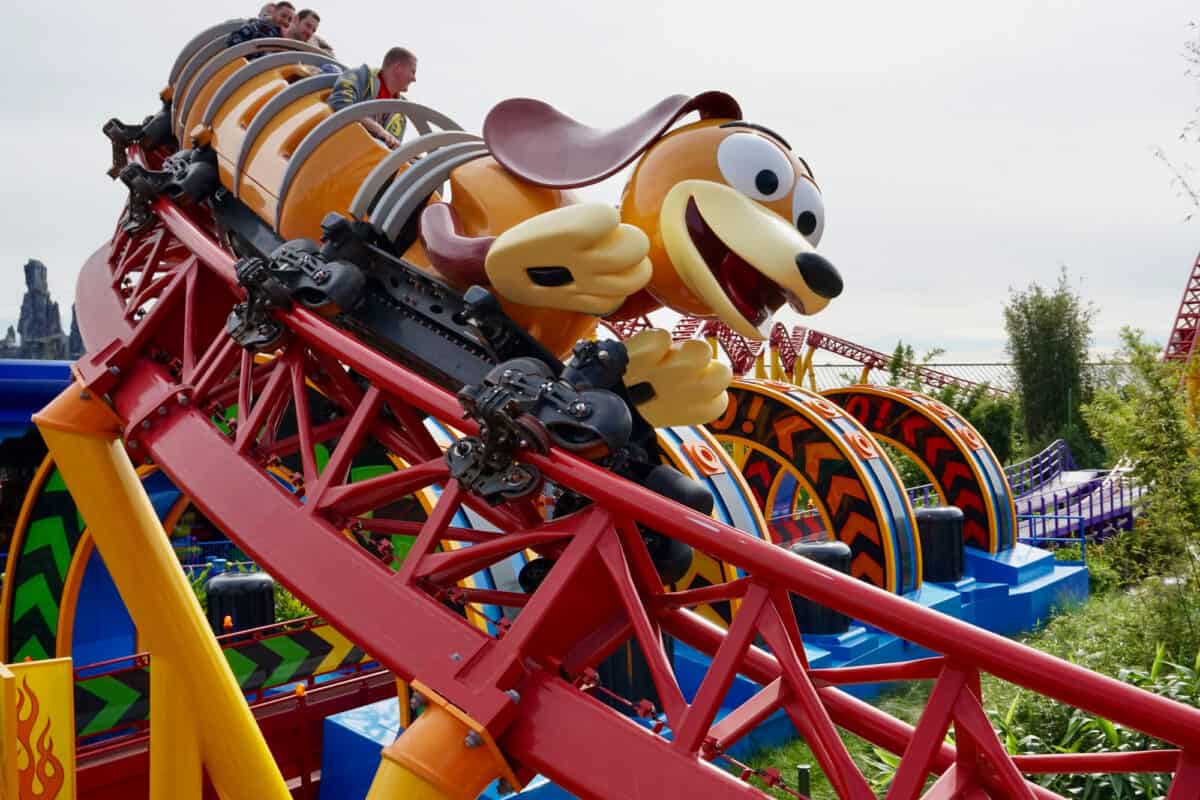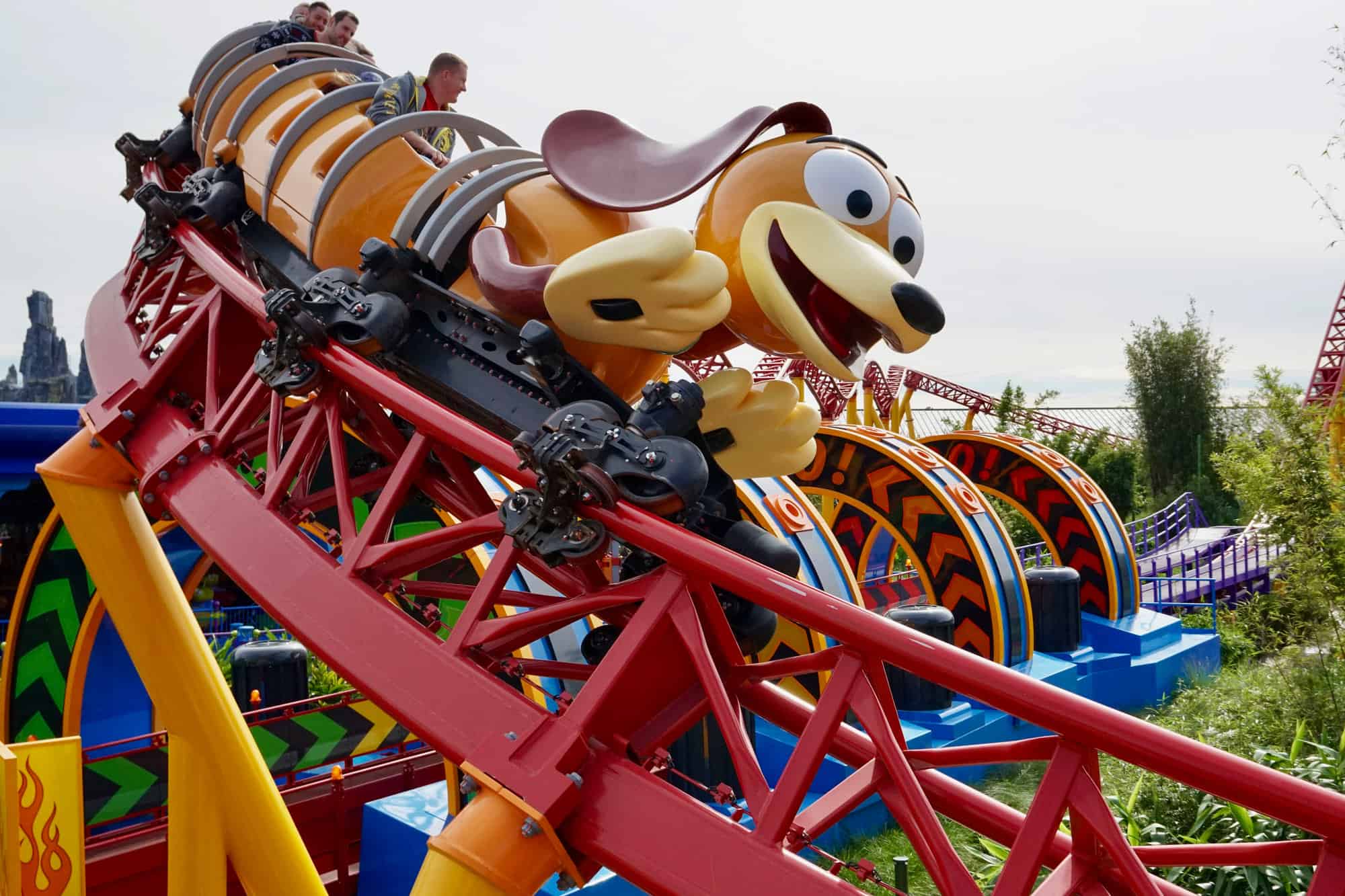 For the hard rock hard-hitters, there's no band as iconic as Aerosmith. If your group is looking for a thrill ride featuring big drops, inversions, and loud entertainment, the Rock 'n' Roller Coaster is a must-ride. Your super-stretch limo is equipped to give you the ultimate audio experience as you coast into a Hollywood music studio and accompany Aerosmith to their next big gig. You're serenaded by classic hard rock Aerosmith hits as you zoom through two rollover loops and one corkscrew as you make your way to the biggest concert of the year.
Reaching speeds of 57 mph almost has this roller coaster in the number one spot for speed at Disney World, although it does have one of the taller height requirements of all the rides at 48 inches minimum. You'll find the Rock 'n' Roller Coaster on Sunset Boulevard at Disney's Hollywood Studios.
Br'er Rabbit is your guide for this ride. Follow him through the bayou as you enjoy classic Disney music tunes and audio-animatronic wildlife before arriving at the ride's main event − a five-story splash descent sure to get you soaked. The closer to the front you sit, the wetter you'll get. Though known more as being a water ride, Splash Mountain still offers some serious speed! Your log flume reaches a speed of 40 mph!
Welcoming guests of heights 40 inches or taller, Splash Mountain is found in Frontierland at Magic Kingdom Park, and is sure to offer you a way to cool off on a hot Disney World day!
For the real speed demons, you'll definitely want to hit the fastest ride in the park. Design your virtual concept car before taking it to the track and putting it through its paces in a six-person "SIM car." You will test your vehicle concept against driving conditions such as inclement weather, switchbacks, 50-degree angled curves, and scale three-story hills while reaching speeds of up to 65 mph. Don't forget to check the scoreboard to see how your vehicle ranked in your race.
Found in World Discovery at EPCOT, Test Track accepts guests 40 inches in height or taller.
A Note on Precautions
Many of Disney World's thrill rides take you through steep climbs, fast drops, inversions, corkscrews, darkness, and high speeds. Some themes may be frightening to younger audiences. Also, make sure you are in relatively good health and do not suffer from a heart condition, high blood pressure, back or neck issues, are not prone to motion sickness, are not pregnant, or have any other medical conditions that normally do not fare well under stress. Disney wants everyone to enjoy their park safely, so take inventory of your ability to do so.
The Best Fast Rides at Disney World
Now you know of several Disney World attractions to add to your itinerary for your visit if you like fast roller coasters with a bit of a thrill. There are certainly more to be discovered, and you might need to visit more than once to see them all. You're sure to find all the high speed and adventure you can handle.
Find more amazing family travel destinations here.
The image featured at the top of this post is ©Jerome LABOUYRIE/Shutterstock.com.