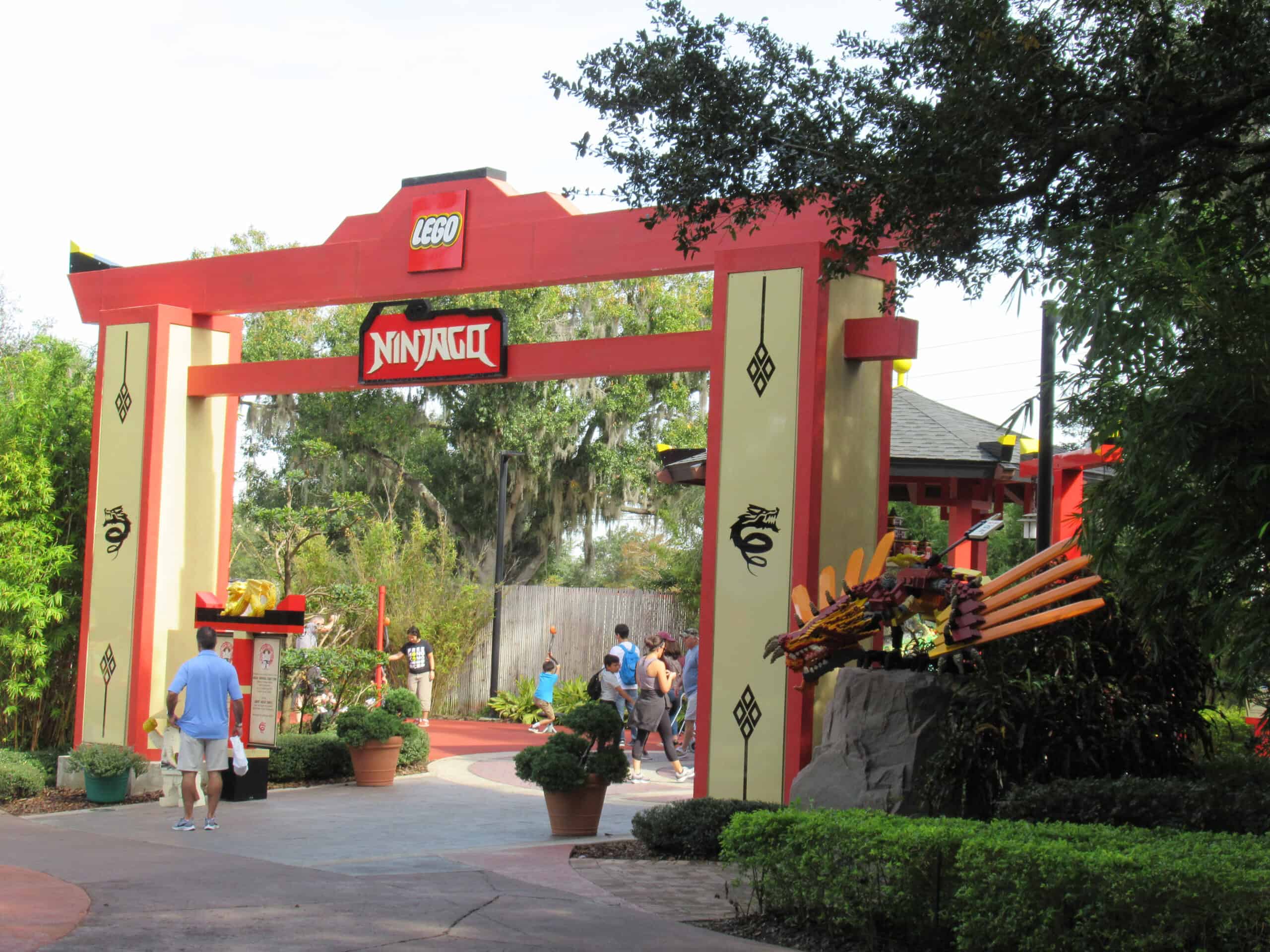 The dark rides at LEGOLAND® provide some unique LEGO-themed experiences you won't find anywhere else. Each of the three United States LEGOLAND® theme parks in California, Florida, and New York, has a different set of rides, so no matter which park you visit, you're in for a fun time.
This article will describe the dark rides at the U.S. LEGOLAND® theme parks. If your children love playing with LEGO toys or watching LEGO television shows and movies, they're in for a real treat with these magical adventures.
The Dragon is a staple at all three U.S. LEGOLAND® theme parks. It is a fantastic ride for anyone who enjoys playing with LEGO toys because it is based on the graphics of LEGO's medieval and fantasy kits.
The ride begins with a completely dark section and takes riders on a castle tour. There are many different LEGO characters and animatronics, as well as a variety of settings that may be viewed here. After this point, the roller coaster moves outdoors away from the castle.
This is an enjoyable ride for families with children in the younger age range. The dark ride segment is fun and exciting, and despite appearances to the contrary, components like the dragon are not supposed to induce fear in riders.
This roller coaster is suitable for younger riders because it consists primarily of turns and drops, with no inverted segments. This could be a good choice for your child's first roller coaster. Note that riders must be at least 40 inches tall.
The Lost Kingdom Adventure is located in the Land of Adventure, in the Florida and California LEGOLAND® theme parks.
During this thrilling indoor ride, you will climb on your desert off-roader vehicle, aim your laser gun, and assist the LEGO explorers in their fight against LEGO mummies and skeletons to uncover the location of the secret treasure. Keep a tally of your points to see if you can top the scores of the other explorers.
Guests are required to have the ability to transfer to their riding vehicle. The minimum height requirement is 30 inches. For the sake of the child's safety, children between 30 and 48 inches tall must travel with a responsible rider who is 48 inches or taller and is at least 14 years old.
Use your elemental powers with ice, fireballs, lightning, and shockwaves to defeat the Great Devourer and achieve ninja rank on this exciting, interactive ride.
LEGO® Ninjago® The Ride is available at all three US theme parks. There is no height requirement for ninjas to join the battle. However, riders shorter than 48 inches must ride with another responsible rider at least 14 years old and at least 48 inches tall.
Your family can board an authentic submarine, explore the ocean's depths with real-life marine life, and search for riches in an exciting, interactive treasure hunt.
LEGO® CITY: Deep Sea Adventure is located in the Castle Hill section of LEGOLAND® California. Riders under 52 inches are required to be accompanied by a rider who is at least 14 years old and 52 inches tall.
This is the biggest ride in THE LEGO® MOVIE World at LEGOLAND® California. The Master Builders invite you and your family to join them on a Triple Decker Flying Couch as they take you through the universe of THE LEGO® MOVIE using cutting-edge technology.
You will have the sensation of flying through a universe entirely constructed out of LEGO® bricks as a full-dome virtual screen surrounds you.
Riders must be at least 40 inches tall. Riders shorter than 48 inches must ride with another responsible rider at least 14 years old and 48 inches tall.
The LEGO Factory Adventure Ride is undoubtedly the most popular attraction at LEGOLAND® New York since nothing is comparable to it. After entering LEGOLAND® New York, take a left, and you'll find yourself in the land of Bricktopia, where a large blue and red building sits at the end of the street, calling you to come and explore it.
This ride takes you on a journey from the perspective of a LEGO Minifigure. You will become a LEGO Minifigure on this ride!
Take one of three vehicles through this factory where LEGO is made. Each vehicle takes a different route, resulting in a different experience each time you ride. After securing the lap bar, three garage doors miraculously open, and you're taken into the attraction's most extensive area. Mirrors make the room look even bigger.
There is no minimum height requirement for this ride, although anyone under 52 inches must be accompanied by a guest that is 14 years of age or older.
This ride is located in LEGOLAND®, Florida. This family-friendly theatrical attraction whisks guests away on Emmet's Triple Decker Flying Couch.
Embark on an action-packed adventure on a suspended ride with a full-dome virtual screen. You'll feel like you're flying alongside old and new faces like Sweet Mayhem from THE LEGO® MOVIE™ 2: The Second Part.
Guests must be at least 40″ tall and three years old for this adventure. Guests 40″ to 52″ and 3 to 8 years old must be accompanied by a 14-year-old supervising partner seated next to them. Guests over 52″ tall and above eight years old can ride alone.
Plan a Visit to LEGOLAND®
Castles and dragons, deep seas and lost kingdoms, giant serpents and ninja, whimsical flying couches – the dark rides at LEGOLAND® have something for every LEGO fan. Your whole family will enjoy these unique, one-of-a-kind dark ride adventures.
So whether you visit LEGOLAND® in California, Florida, or New York, we hope your next trip is something you and your kids will remember for years to come.
RELATED LINKS:
The Best Fast Rides at LEGOLAND®