LEGOLAND® is home to many thrilling fast rides, where riders travel along twisting tracks and over steep hills. Each ride is designed to give guests a unique experience that no other park offers. Here are some of the best fast rides at LEGOLAND®.
The Dragon can be found in all three US LEGOLAND® theme parks. It is a two-part indoor and outdoor rollercoaster. First, you start off with a quick, enjoyable excursion inside the Knight's Kingdom Castle. Your family will see many animated medieval LEGO figures, including the terrifying Red Dragon. The ride then picks up pace as it exits the building for a stunningly quick circuit of a winding track.
The Dragon is a must-do activity for older children, so be ready to wait in line because it can get quite busy. Children must be at least 40 inches tall to ride, and those under 48 inches must be accompanied by an adult.
This is an actual rollercoaster, so it's okay for brave 6-year-olds and older, but if your youngster is apprehensive, you might want to try other rides on this list.
The line can be quite long, although attractive LEGO models are snaking through the castle ramparts that you can gaze at while you wait. There are typically two dragons running at once, and they pack many people each time.
If several Q-bot holders are allowed to skip the line, that's the only thing that will cause it to slow down. If the queue is extremely long, come back later in the day when it's quieter.
Also known as the Test Track, the LEGO Technic Coaster is the fastest roller coaster in LEGOLAND® California. It is possibly the most classic roller coaster focused on thrills the park offers and is a popular attraction there. The excitement is generated by track elements like drops, turns, and twists. The first drop is spectacular, and it frequently catches riders off guard. Most of the ride consists of a play on turns and dips, with varying acceleration experiences at different moments during the journey.
Parkgoers of a slightly more mature age might prefer this activity, but take note of the ride's minimum and maximum height requirements. Your youngster will not be allowed to ride if they're under four years old or shorter than 42 inches. Kids who measure between 42 and 48 inches tall are permitted on the ride so long as they are accompanied by someone at least 14 years old.
This fast ride, available at the California and Florida park, aims to give riders an adrenaline rush by raising them into the air and then allowing them to free-fall back down to the ground. The Beetle Bounce begins with a lift and then progresses via a sequence of peaks and troughs. Although it is geared mainly toward younger riders, adults might enjoy themselves on this amusement park ride as well.
The drops produce a thrilling experience, but the ride is directed so that it may help first-time riders overcome their fears. The ride features an entertaining visual motif, matching the scarab beetles perched on top of the towers using ancient Egyptian images. In addition, because it is located outside and has outward-facing seats, it provides riders with a fantastic view of the park.
Coastersaurus is a wooden roller coaster at both the California and Florida parks. It will transfer you to another time and place. The path winds and undulates through and around an ancient rainforest with animated and life-sized dinosaurs made of LEGO bricks. While at LEGOLAND®, you can't miss out on this family-friendly thrill ride.
The ride can also accommodate visitors with disabilities who can transfer into the ride vehicle and meet the minimum height requirement of 36 inches.
There are comfortable benches outside for people who are not going on the ride to wait on, and there is a LEGO dinosaur that children love to snap pictures with on every visit. The dinosaur motif of Coastersaurus is so entertaining that it invariably inspires guests to take pictures.
If you are ready to take things to the next level, this suspended roller coaster in Florida will delight young thrill-seekers as they soar through the air with their legs dangling below them.
The minimum height for a rider is 44 inches. However, passengers shorter than 52 inches must be accompanied by a responsible rider at least this height.
In this ride, children pull themselves up to the top of the towers, where they are rewarded with a breathtaking bird's-eye view of the park before experiencing a thrilling "free-fall" to the ground below.
This ride is at both the California and Florida parks. Riders must be at least 40 inches tall or accompanied by at least a 14-year-old of 48 inches or more.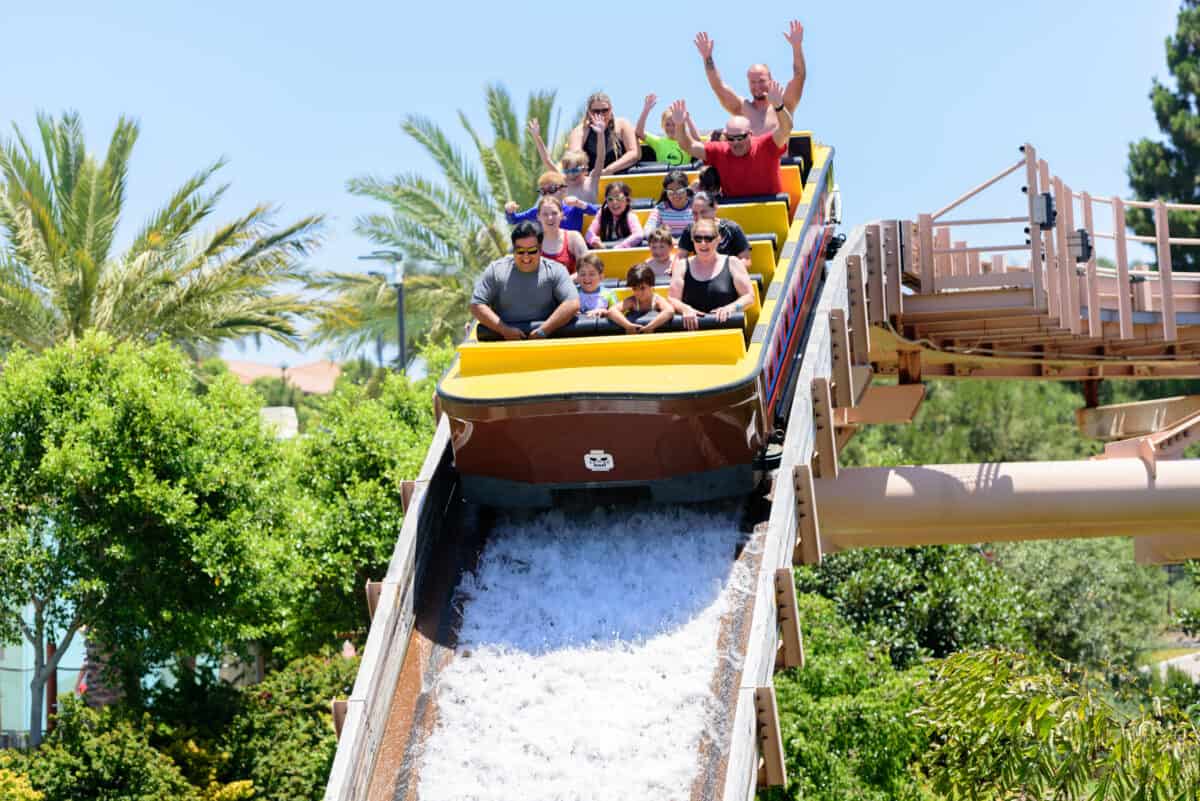 You'll find yourself at the center of an action-packed, thrilling roller coaster throughout this road rally, located at LEGOLAND®, Florida. Guests of The Great LEGO® Race are smack dab in the middle of a high-octane, adrenaline-pumping road rally in which the rules of physics and aerodynamics are only loosely observed.
Riders must be at least 42 inches tall to ride without a virtual reality headset and 48 inches tall to ride with one. However, riders between 42 and 48 inches tall must be accompanied by a responsible rider, 14 years or older, and neither rider wearing a virtual reality headset.
The ever-popular LEGO Friends toys inspired this Mia's Riding Adventure, located at LEGOLAND®, Florida. The ride has an equestrian motif, as riders sit on what appear to be horses' heads as they traverse the course.
The seats are arranged around the disc's rim, backs facing the exterior. The ride consists of two motions that make up the ride's physical experience. First, the disc rotates back and forth on a track that is only half-circular, rising on the edges and falling in the middle of the track. At the same time, the disc rotates in a counterclockwise direction.
Even though it has a pretty lighthearted concept, this ride is rather intense in terms of the physical experience it provides because of the double movement. In addition, the ride is decorated with images related to horses and contains vibrant colors.
Riders are secured in position by a bar, but they are free to lift their arms in the air for an extra dose of enjoyment while on the ride. Riders must be at least 48 inches tall for this ride.
Your family should get on board Emmet's Triple Decker Flying Couch right away. This theatrical experience provides guests the impression of flying alongside old and new faces, such as Sweet Mayhem, who made her debut in the feature film The LEGO Movie 2.
You will be swept away on an action-packed adventure on a suspended ride featuring a full-dome virtual screen. THE LEGO MOVIE: Masters of Flight at LEGOLAND® Florida is the first attraction at a major theme park in the United States to incorporate a complete turnaround.
Children under 40 inches or under 3 years old are not allowed on the ride. Children between 40 and 52 inches and 3 to 8 years old must be accompanied by a supervising partner 14 years or older, capable of assuring the kid's safety and sitting next to the youngster. Guests at least 52 inches tall and over 8 years old may ride unsupervised.
Plan a Visit to LEGOLAND®
Are you looking to experience unforgettable fast rides with your family? If so, plan a visit to any of the LEGOLAND® Theme Parks in the US (they include LEGOLAND® Florida, LEGOLAND® California, and LEGOLAND® New York) for a thrill.
RELATED LINKS:
The Best Fast Rides at Carowinds
The Best Fast Rides at Six Flags Great America
The Best Fast Rides at Disneyland
The Best Fast Rides at Busch Gardens Tampa Bay
The image featured at the top of this post is ©Rob Hainer/Shutterstock.com.