Dollywood is one of the most popular amusement parks in the United States. It's an excellent place for families to spend a day or two, with plenty of rides and attractions to keep everyone entertained. But if you're looking for a more relaxed experience, Dollywood also offers some great slow rides that are perfect for parents with small children.
Here are our top picks that will be sure to please any slow-ride lover!
1) Village Carousel
The first slow ride on our list is the Village Carousel. This classic attraction has been a staple of the park since it opened in 1986, and it's perfect for young kids who want to experience the thrill of a spinning ride without going too fast. The Village Carousel also has some great views of the surrounding area, so you can enjoy the scenery while you spin.
The Village Carousel has sixty beautifully painted animals. The lead horse, with its long blonde mane, is affectionately called "Dolly." Calliope music plays and makes it a fun place for moms and dads to hold their small children while first-time riders sit proudly in the saddle.
2) Whistle Punk Chaser
The Whistle Punk Chaser is a junior roller coaster that provides Dollywood's younger loggers with exhilarating twists and turns. This helps prepare children for the day when they can ride the award-winning Thunderhead wooden coaster with their parents.
3) Dollywood Express
Another great slow ride at Dollywood is the Dollywood Express. The train is a beautiful piece of machinery, with hand-carved animals and stained glass windows.
The ride is slow and gentle, making it perfect for small children. It's a great way to see the park without walking too much.
In addition, this scenic train ride takes you through the park and gives you a chance to see some of the sights you might miss if you walked around. The train also has a few stops along the way, so you can hop off and explore some attractions at your own pace.
4) Waltzing Swinger
The Waltzing Swinger is a great option if you're looking for a little more excitement.
This ride spins you around in circles while also swinging you back and forth, giving you a thrilling but not too intense experience. Great for families with young children, it features some seats for a parent and child to sit side-by-side.
The Wave Swinger is also a great way to get a birds-eye view of the park and is perfect for parents who want to take a break from walking around the park.
5) Treetop Tower
The oak trees in Wildwood Grove provide an abundance of fresh acorns every year, which in turn attracts a large number of sociable forest species. The quirky Treetop Tower was designed to mimic these nutritious acorns, and it whirls riders into the air in exquisite hand-carved acorns. These acorns give panoramic views of the beautiful Wildwood Tree and the surrounding grove before gently descending to the ground below.
Each of the ride's cars may accommodate several people. In private cars, small families can comfortably sit together. Each gondola-style car may technically hold up to four adults. Still, most passengers will prefer to travel with children or in smaller groups.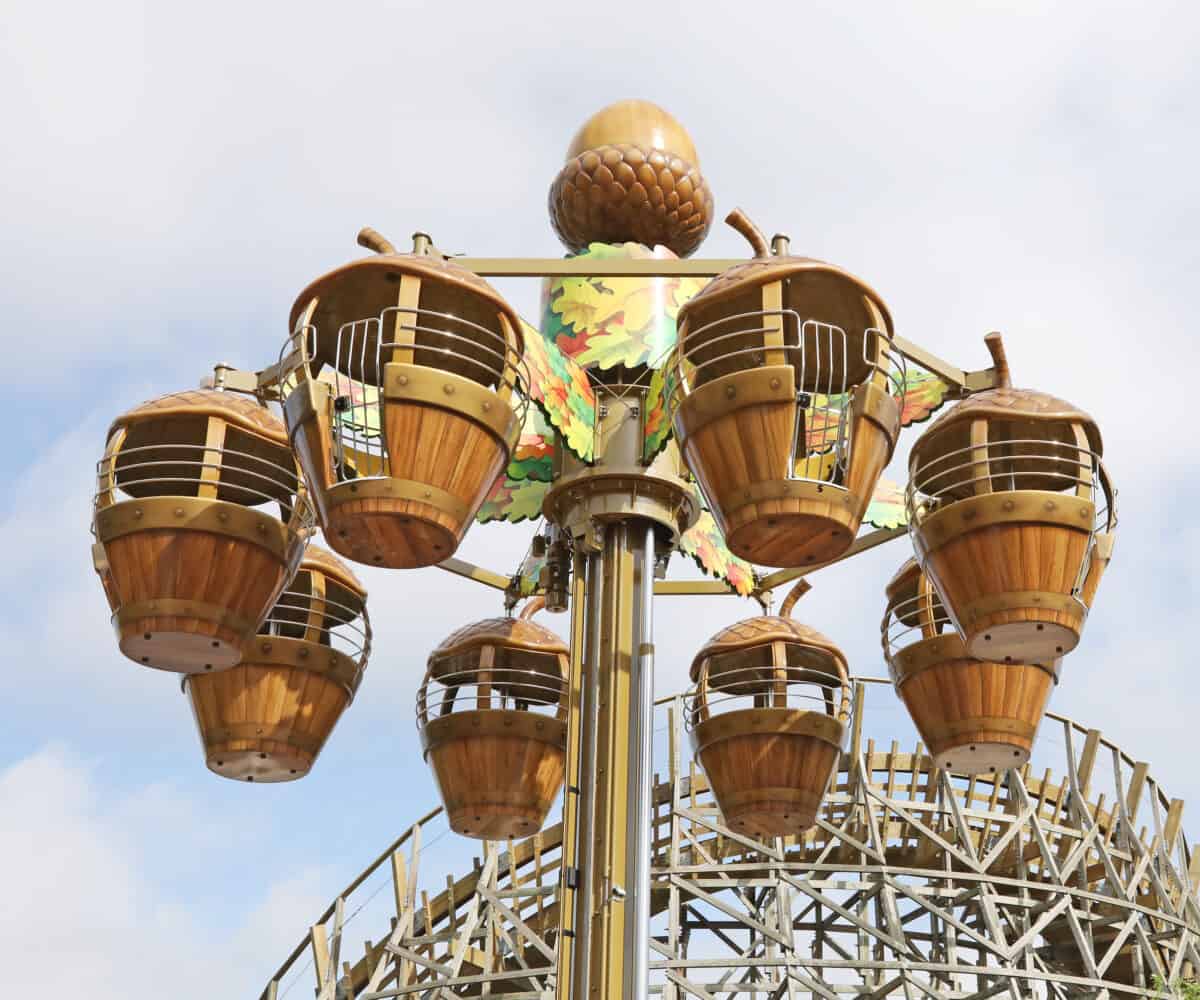 6) Piggy Parade
This parade will be a lot of fun for your young one! A scarecrow much larger than life maintains a close eye on the Piggy Parade as the cute "piggy" cars make their way around in a circle of joy.
In the Piggy Parade ride, children can have their very own pig all to themselves, or they can share their pig with as many as three other riders. They need only to smile and wave as they slowly spin around in circles while their piggy does all the work for them. The cutest parade you'll ever see, and the young riders will have a blast participating in it!
7) Lucky Ducky
This ride is ideal for younger riders who are just getting their feet wet. They ride in style on a large yellow ducky with lights and a fancy vest. Every child can drive their ducky because each seat has its own steering wheel.
Each ducky can accommodate up to four children. As your children ride the Lucky Ducky, you'll have a great time watching their happy expressions as they travel around and around on the ride.
8) Lemon Twist
For children who are itching for some excitement, there is nothing better than a ride on the Lemon Twist. Nine "lemon cups" circle around a pitcher in this classic spinning ride.
Everyone in your lemon cup can grasp the silver wheel to spin the cup; once the ride gets going, you're in charge of how fast you want to spin. This ride is great for families, as each lemon cup can accommodate adults as well as children. Just make sure your kids don't spin it faster than you can handle!
9) Great Tree Swing
As riders soar through the air on the Great Tree Swing, which is adorned with colorful leaves and covered with climbing vines, they experience a rush that is nothing short of exhilarating.
Like many other rides in Wildwood Grove, the Great Tree Swing provides a fun experience for guests of all ages. Thrill enthusiasts will like this ride's moderate intensity, which increases substantially after a few calm swings.
Riders who normally dread heights or strong movements may be eager to try the swing. This is especially true for children, who can take comfort in sitting close to loved ones on the ride's bench seats. Each bench can comfortably accommodate three riders.
10) Frog and Fireflies
Frogs and Fireflies is perfect for children who are ready to graduate from the typical merry-go-round to a ride that is a little bit more challenging, as well as for adults who need a respite from the more thrilling attractions that Dollywood has to offer.
Riders sit in frogs that appear to be trying to catch the fireflies on this slow-moving circular ride. However, the frogs do not simply move in a circular motion; rather, they jump up and down, adding to the fun and excitement of this ride.
11) Dollywood Express Train Depot
The Dollywood Express has been going around the theme park for more than 30 years and has never missed a beat. There are two real engines that run on coal and take turns going around Dollywood. Both engines were used during World War II, so you'll be pulled around the park by a piece of history!
Following the blowing of the engineer's whistle, you begin your twenty-minute mountain adventure. You will be transported on a stunning five-mile journey into the foothills of the Great Smoky Mountains by our genuine 110-ton coal-fired steam engine.
Along the way, riders take in picturesque landscapes and some of the most breathtaking sights that Mother Nature has to offer. Relax and enjoy a fascinating journey back in time to the days when people relied on trains like the Dollywood Express to get around the mountains surrounding Pigeon Forge.
12) Black Bear Trail
Every child rides on the back of their own bear for the duration of an enchanting ride on Black Bear Trail. This provides a more personal and intimate experience than the majority of the others at Wildwood Grove. The bears are also roomy enough to accommodate a parent with a young child with plenty of room to spare.
The bears wander lazily around Wildwood Grove and pass some gorgeous vegetation along the way. You'll get a glimpse of some of the more thrilling attractions at the park, such as the Dragonflier roller coaster, at various moments along the journey.
13) Wildwood Creek
While not technically a "ride," the water park is a great place to cool off on a hot day. It's perfect for families with young kids, and it offers a great way to get around the park without having to walk too much.
Final Thoughts
So there you have it: our top picks for the best slow rides at Dollywood. Whether you're looking for a relaxing experience or a little bit of excitement, these rides are sure to please. So the next time you're at the park, be sure to check them out.
The image featured at the top of this post is ©Dollywood.