Carowinds is all about a day jam-packed full of family fun! Adrenaline pumping, memory making, and tons of laughs, smiles, and giggles are sure to come when you bring the family for a day at Carowinds. Now, kids like to be daredevils and these rides are all about pure speed! These are 10 of the best fast rides at Carowinds and are sure to make an adrenaline junkie out of your kiddos!
THE BEST FAST RIDES AT CAROWINDS
Starting of this list with a bang is Afterburn! This is an inverted steel coaster with floorless cars suspended below the track. Big kids that dare to take on Afterburn will experience weightlessness and rapid movements. With speeds of up to 62 miles per hour and heights of up to 113 ft (the first drop!!), Afterburn isn't anything to mess with! Modeled after a fighter jet, Afterburn's high speeds, smooth ride, and six total inversions make it a "can't miss" attraction for the thrill seeker in your family. Afterburn is the 3rd tallest and fastest coaster in all of Carowinds, and it's sure to take your whole family for a wild ride!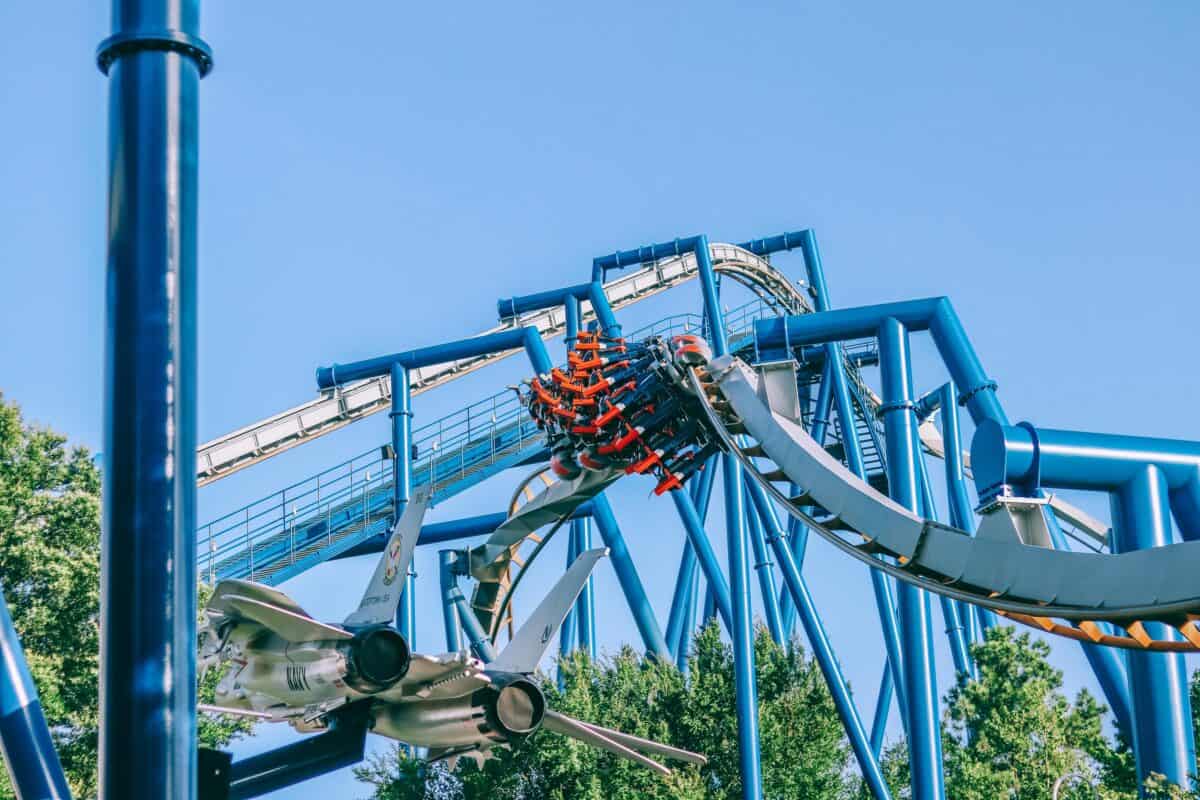 Upon its debut in 1980, Carolina Cyclone was the only coaster in the entire world to have 4 inversions. Riders today still enjoy the thrilling spins, speeds, and spirals that they know and love from the Cyclone. This is an experience for brave kiddos and adults alike! Carolina Cyclone sends riders through 2 360-degree vertical loops, 2 360-degree barrel rolls, and a 450-degree uphill helix, whew! Kids are going to love going up to 41 miles per hour and soaring upside down 4 times. Parents will love seeing the pure joy on your kids face and feeling of accomplishment they get after tackling the Carolina Cyclone.
Carowinds' newest coaster is the Copperhead Strike, the first ever double launch coaster in the Carolinas! Not only does Copperhead Strike take off from 0 to 42 miles per hour in only 2.5 seconds, but a second thrust of acceleration launches you through the remainder of the ride from a complete stop. Exhilarating, adrenaline-pumping, and full of fun, your brave kiddos (and adults) will thoroughly enjoy this backwoods adventure known as the Copperhead Strike! 3,255 feet of steel goodness will leave any kiddo ready to do it all again!
The longest, fastest, tallest giga coaster in North America is Fury 325. That means it has a drop of 300 or more feet. (You can feel your stomach drop just thinking of it, can't you?!) Parents, buckle your seatbelts and watch out for those brave kiddos dying to take a turn on Fury! With an 81-degree drop, 190-foot-tall barrel turn, S-curve reaching mind-numbing speeds of up to 95 miles per hour, and a 91-degree overbanked horseshoe turn, this is one that even a parent would be scared to ride! At an ultimate height of 325 feet, hence the name, Fury is over 1.25 miles long with a ride time of 3:25 (go figure!). After one ride, both you and your kids will surely have the Fury fever!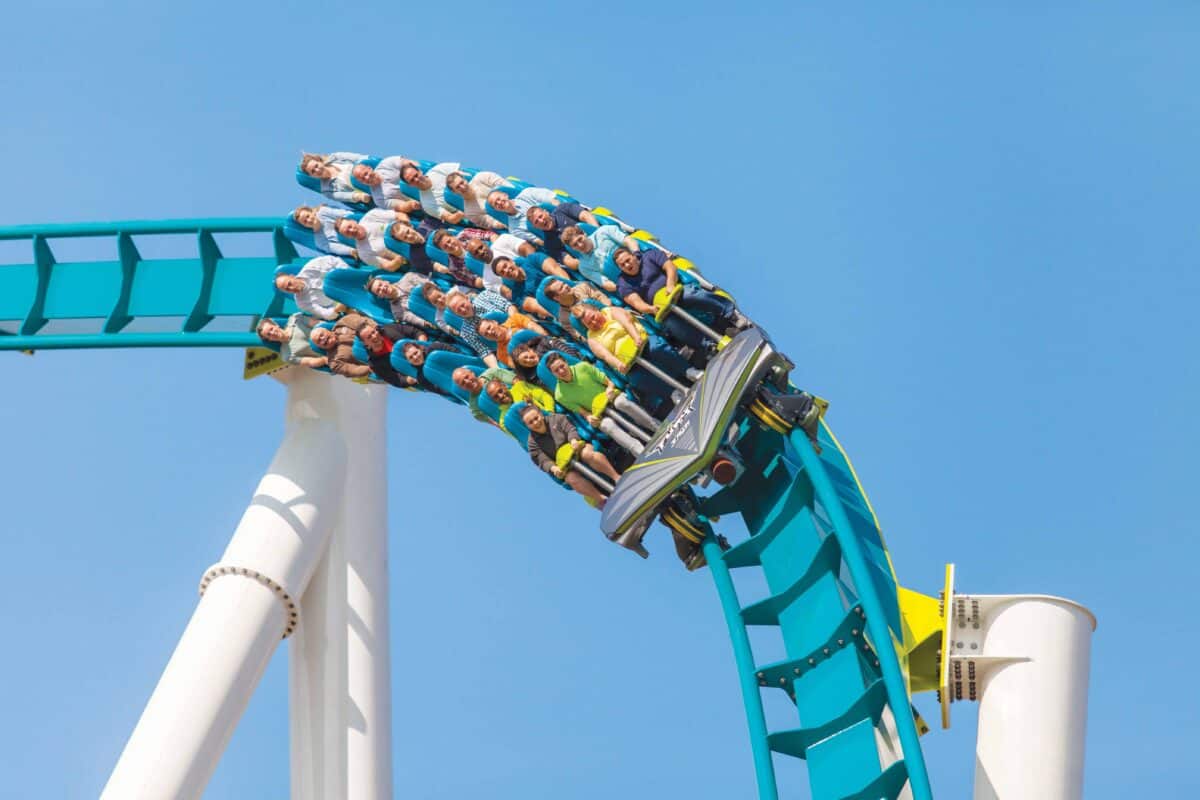 Hurler is the perfect ride for those kiddos who are ready to face the action, but aren't quite ready to brave Hurler's neighbor, Fury 325. Once riders leave the station, they are immediately met with a lift hill that reaches a whopping 83 feet tall! Riders are then "hurled" through a large over-banked turn with even more hills and quick turns in over 3000 feet of wooden track. Because of its unexpected airtime and incredibly hurling speeds of 50 miles per hour, the Hurler is a great thrill coaster for even your younger kids (and parents alike). This wooden coaster provides a grit and thrill all its own, and you'll have a hard time getting your kiddos off of this one!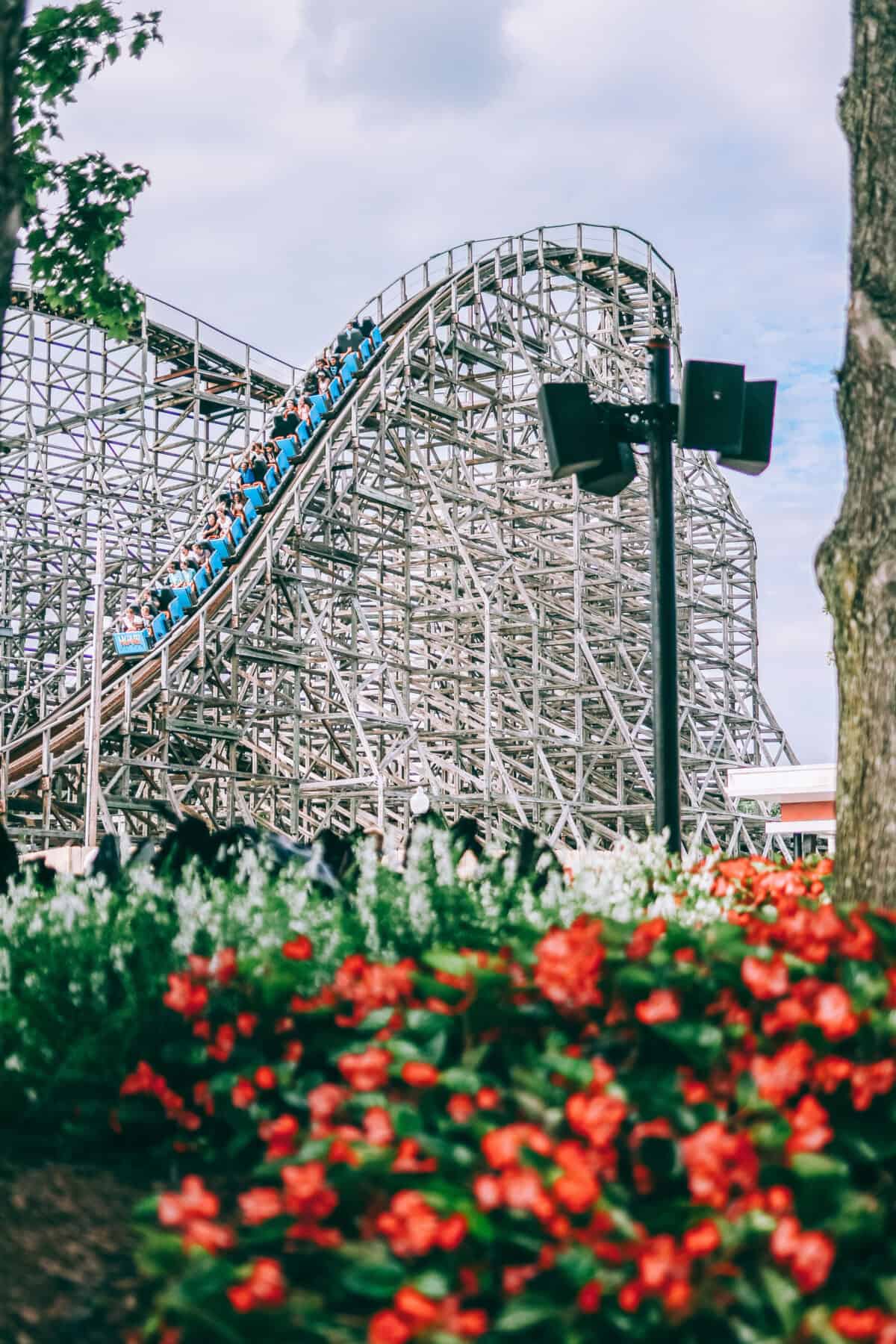 Debuting in 2010, the hyper coaster was inspired by the original intimidator, NASCAR legend Dale Earnhardt, who was a North Carolina native. The Intimidator is one of the tallest, fastest, and longest in the Southeast and is one of the top 10 tallest steel coasters in North America. This thrilling coaster starts with a 232-foot hill before a gut-wrenching 74-degree drop at speeds of up to 80 miles per hour! Families will love racing for the checkered flag through the over 5,300 feet of twists, turns, and hills. Buckle your seatbelt for a thrilling ride that you and your kids surely won't forget!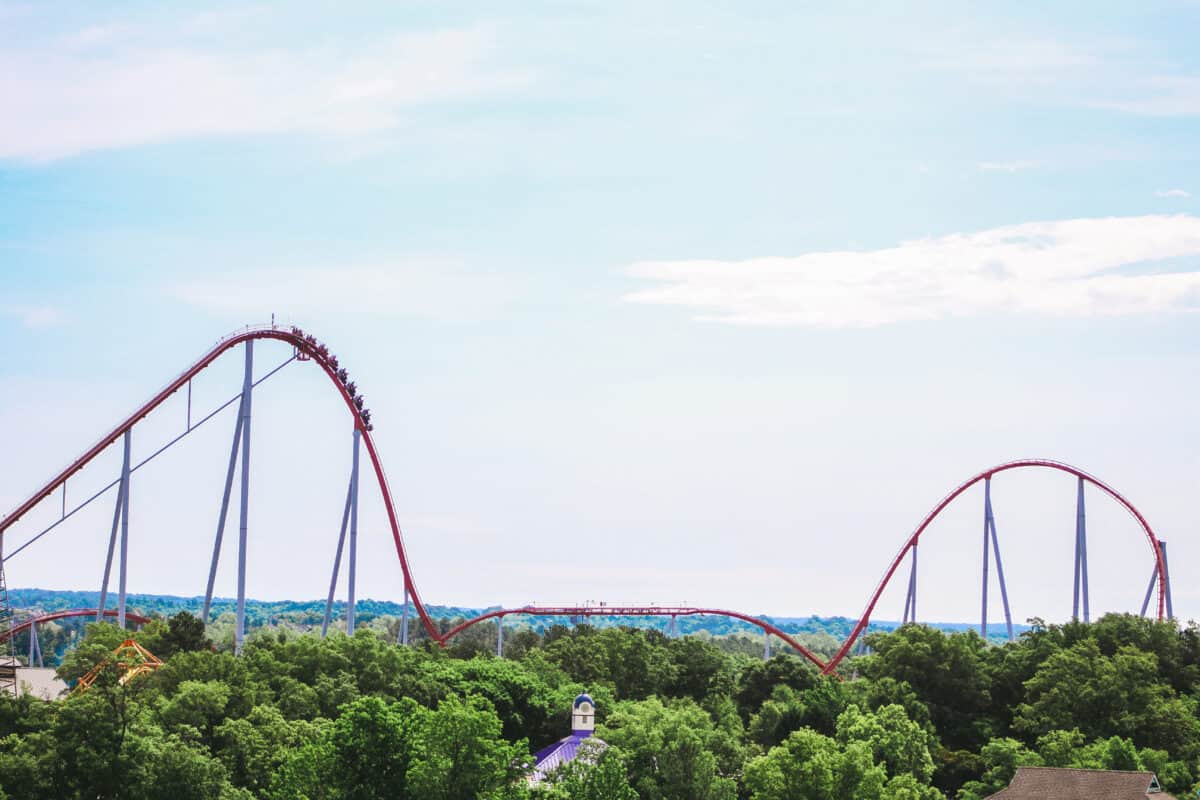 For those brave kids who have always dreamed of flying, Nighthawk is a dream come true! This adventure takes courageous souls through Carolina skies and even over water as they twist, dip, turn, and dive! The first flying coaster in the Carolinas, Nighthawk offers beautiful and unobstructed views of the entire park. To begin, kids and adults will brave a 115-foot lift hill on your back (that's just the beginning!). The track is then flipped, and riders are lying below the track and facing the ground. Similar to a hawk, riders then dive headfirst to the water! There is no shortage of thrill on this one! But that's not all, riders then go through 8 inversions mainly flying face down and reaching speeds of up to 51 miles per hour! If you or your fearless kiddo decide to brave Nighthawk, buckle up for an adventure of a lifetime!
Ricochet may look like a kiddie coaster, but haven't you heard that looks can be deceiving? This steel coaster boasts airtime hills and hairpin turns that will make even the oldest kid's hair stand up! Even parents will love riding this next to their kiddos as you zip and ride through tight turns and stomach-dropping hills. With group carts that can fit up to 4 riders, make it a family date on Ricochet! Once you go once, it certainly won't be the last!
The Flying Cobras is located in the County Fair section of the park, and no fair was complete without an air show! Your thrill-seeking kids (and parents) coast through a 360-degree loop and a cobra roll at up to 50 miles per hour! You then get to catch your breath, but not for long before you're sent flying through the entire ride once more – backwards! Riders go upside down 6 times at over 120-feet tall on this high-speed looping extravaganza! Each car on the Flying Cobras is flown by a different pilot, and kids get to climb aboard and see which one they get to fly with! It could be Chet, Sandy, Flip, Sam, Ace, Gale, or Chuck! While waiting, riders get to look at old-fashioned props and bios of the two brothers that lead the aerial gang!
Last but certainly not least on our tour of the fastest coasters at Carowinds in Vortex! This ride is an unconventional, yet lifelong favorite with its stand-up trains. The first stand-up coaster in the South, kids and adults alike will climb the 90-foot hill to start. A curvy first drop then leads into a huge vertical loop, an oblique loop, a carousel maneuver, and ends with a loop through a flat spin. With its many twists, turns, loops, and hills, Vortex is a classic and well-loved part of Carowinds that the whole family will enjoy! Make sure you keep your eyes open for the outstanding views of the park!
Carowinds is known for its family friendly atmosphere, but that doesn't mean you can't pack some thrill into your day! There are thrilling coasters for every brave member of the family, and then you'll have some coaster aficionados on your hands. While there are plenty of younger kid-friendly rides, these 10 coasters pack an exhilarating punch for the adrenaline junkies!
RELATED LINKS:
The Best Spinning Rides at Carowinds
The Best Fast Rides at Disneyland
The Fastest Rides at Busch Gardens Tampa Bay
The image featured at the top of this post is ©Carowinds.