Six Flags Great America, in Gurnee, Illinois, is known for its family-friendly mix of nostalgic kids' rides and super-thrilling roller coasters. So which ones should be at the top of your list to experience? It's quite a challenge to narrow your options down because the park boasts over 100 rides, attractions, and shows, making it one of the largest amusement parks in the United States. To help you get ready for your next family trip, we've compiled in-depth descriptions of the best fast rides at Six Flags Great America. Prepare for some serious thrills!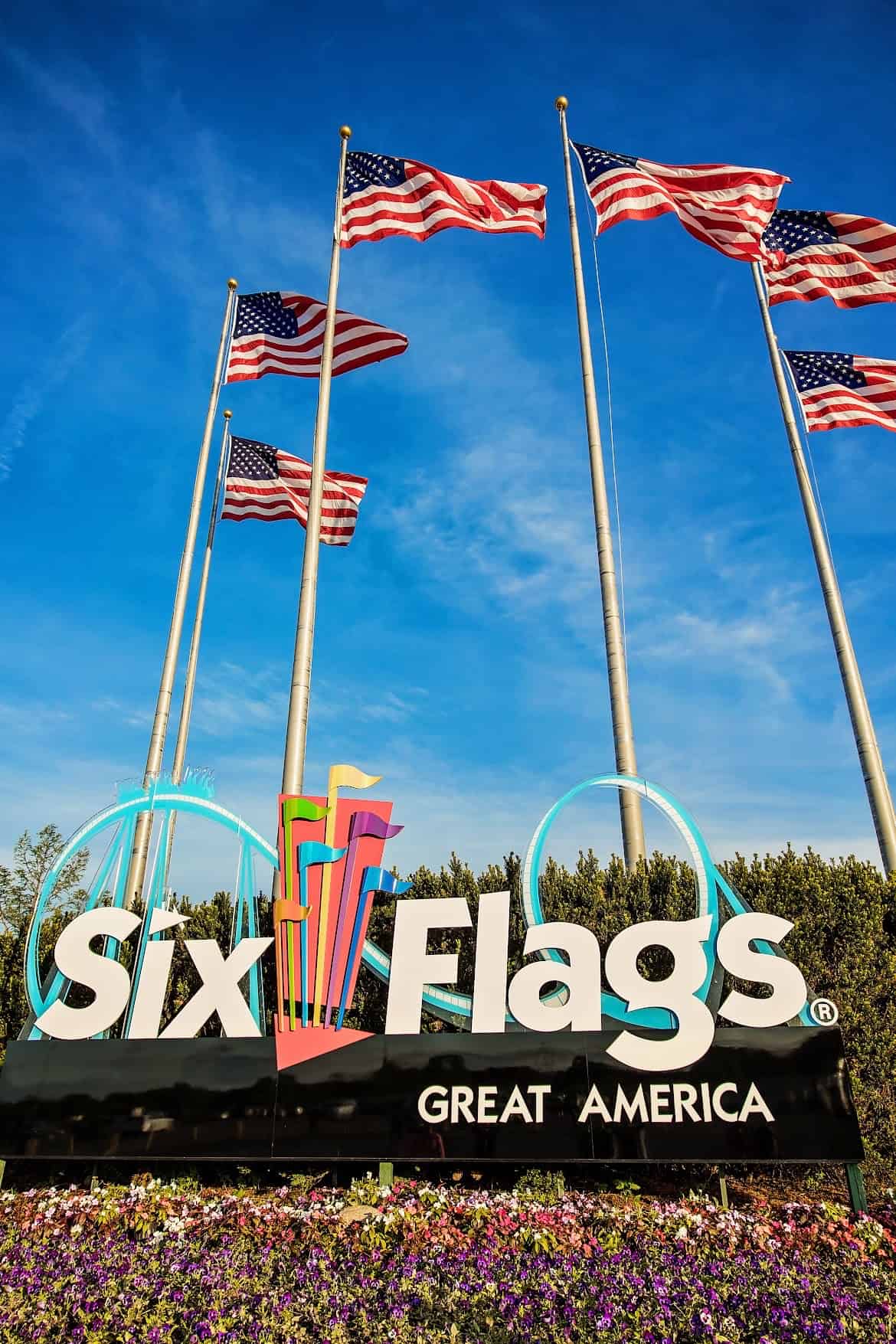 Imagine dramatic music playing, your anticipation growing, and suddenly realizing you are suspended with no visible track above or below you! This unique wing coaster offers thrilling drops, loops, and fly-throughs on 3,000 feet of twisted steel. X Flight is one of the first of its sort in the world and features state-of-the-art technology.
The coaster has a top speed of 55 mph. It goes upside down and has loops, rolls, and twists that send it hurtling towards a control tower. X Flight's minimum height requirement is 54″ and the maximum is 78″.
This dual-track ride has Eagle Red and Eagle Blue coasters that can fly your family high at the same time. This legendary wooden beast is the tallest and fastest racing wooden coaster in the world, and it has been a fan favorite of true coaster lovers for over 30 years.
Brace yourself for descent at over 66 mph while flying along a winding course that features a number of hills and slopes. As Eagle Red flies off in one direction and Eagle Blue flies off in another, you pick up speed and begin to spiral downward.
The next step is an ascent for both trains into the huge wooden structure. After then, the two trains will exit and rise into the brake run so that the winner may be determined. The minimum height for this ride is 48″.
Modeled after the classic Coney Island Cyclone and constructed of 700,000 board feet of southern pine, the Viper roller coaster, which resembles a serpent, winds you through its dark coils. The first drop is a stomach-turning 10 floors tall with an 80-foot drop that features severe airtime that you will need to feel to believe. You'll come to a complete stop at the crest of the hill, then do a sharp right turn, just like a snake getting ready to strike.
As the train winds its way around the wooden track, you will encounter 11 stinging drops, a double-dip in the middle, high-banking corners, and more.
This Viper's tremendous g-forces, great airtime, and unpredictable twists and turns throughout its course make it a ride not to miss. Viper's minimum height requirement is 48″.
This wildly twisted mayhem coaster acts as a significant new centerpiece in the DC UNIVERSE™ portion of the park, next to the Joker's arch-enemy BATMAN™: The Ride roller coaster. If your kids are a fan of the DC universe, then they're in for a thrill.
Your family will be carried vertically up a 12-story, 90-degree hill, where the freestyle coaster will wreak havoc as it flips head over heels up to six times.
This ride also offers thrilling jumps and dives along a horizontal plane. The innovative winged seat design will have riders dangling on the sides of the circuit. Since there is no track above or below, the already chaotic situation becomes much more terrifying.
The Joker's minimum height requirement is 48″ and it has face-off seats that allow you to sit facing your family members as your ride.
Our next thriller is set on a sleek, sturdy, U-shaped steel track, spiking up in two unimaginably high directions. One offers an incredibly twisted inline curve and the other climbs straight up.
You and your youngsters will bolt from the station and reach 70 mph in less than four seconds. The ride first launches forward onto the tall, twisted tower spike before whirling into the top-facing spinning corkscrew. Then, it sprints backward through the station on the way to the 185-foot vertical tower!
By now, you are traveling so quickly that you'll feel ready to launch into space. This experience is enhanced by barreling through the center at peak speed and coming up vertical. The FLASH'S minimum height requirement is 48″.
Not only is this 115-foot-tall steel champion one of the most imaginatively constructed roller coasters you will ever ride, but it is also beautifully proportioned. What's more, DC UNIVERSE fans will get to see the world from Superman's perspective, since you ride in head first and face down like a flying superhero.
As you step over the huge engraved "S," you enter a world of speed and fluidity. You move at hypersonic speeds with red and gold tracks shooting out in front and behind you like SUPERMAN's cape.
Once you clear the initial 115-foot drop, you'll fly into a double-inversion loop. This distorted track, called the pretzel loop, swoops up and dives back down. Then, with the dexterity of Superman, you will tackle a steep banked turn to the left. The minimum height to ride SUPERMAN is 54″.
As the world's first hyper-twister roller coaster, this renowned steel beast is also the tallest, longest, and fastest roller coaster at the amusement park, with a top speed of 73 miles per hour.
These statistics demonstrate that the Raging Bull is not a docile beast; he is attempting to throw you off by bucking fiercely, so be sure you are securely attached!
You'll go up 20 stories high and then rocket through the course at 73 miles per hour, flying over a series of hills. When your tail lifts off the saddle, we say you've successfully tamed the bull.
The Raging Bull's minimum height is 54″.
This high-speed looping coaster, which was once called Turn of the Century, was one of the first roller coasters in the world to include a double corkscrew and a double inversion.
You and your children may approach this ride with the anticipation of any rollercoaster ride. But you'll quickly realize that this terror is unlike any ride you have encountered in the past!
First, you will be catapulted up to ten stories on this 2,130-foot-long monster. Then it's a sharp drop and a spin before you enter a dark rock cavern lit up by colored lights.
Take care after disembarking; all this at 45 miles per hour will surely leave you a little lightheaded! The demon has a minimum height requirement of 42″.
Final Thoughts
Is your adrenaline flowing after our thrilling rides breakdown? If you and your kids love fast roller coasters, then Six Flags Great America will definitely fit the bill!