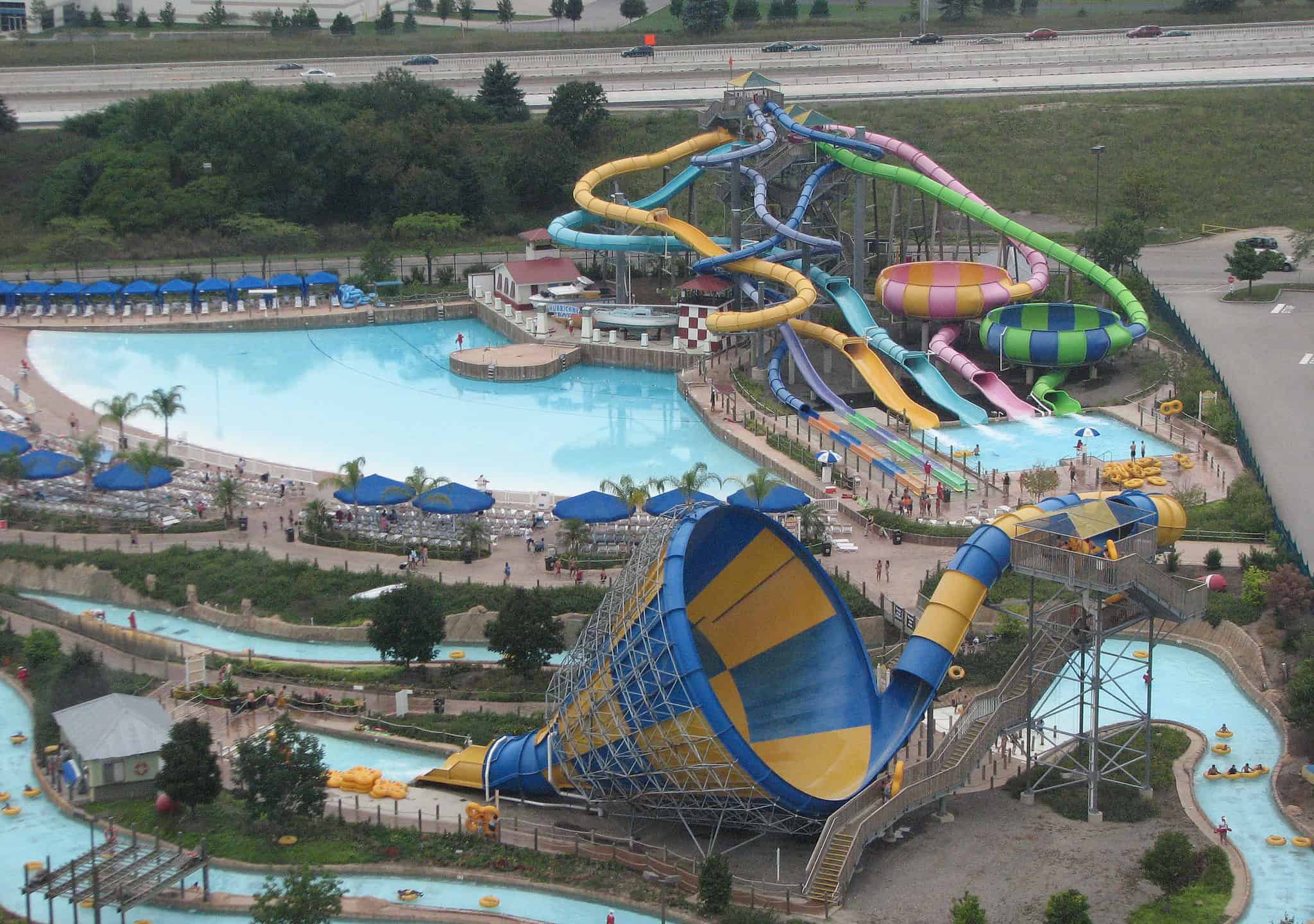 Six Flags Great America opened its doors in 1964 and has since grown into one of the largest theme parks in the United States. Today, the park attracts nearly 4 million visitors each year. If you are visiting during the hot summer, there are several water rides to help you beat the heat. To add some watery excitement to your family's next visit, check out these top water rides at Six Flags Great America!
The Buccaneer Battle is a fun and interactive water attraction for the whole family that takes visitors on a journey through a three-dimensional fantasy world of pirates.
Before the combat begins, eight crewmen join the ship and begin navigating through the stormy waters. Then, with their powerful soaker guns in hand, each pirate aims at other passengers and targets along the road. However, be careful! A few targets fire back, while the others display various spectacular effects.
You can even have some ship-to-shore fun by spraying landlubbers with water. Your family is sure to get drenched in this epic watery battle.
Riders must be at least 36 inches tall to ride with an adult or 48 inches tall to ride alone.
You can take the children in your family on a river tour that has been specially planned for them to enjoy at Camp Cartoon. Get yourself situated in one of the enormous, brightly colored boats, and get ready to float about the river.
Your brave young sailors will cast off for an enjoyable excursion down the river as soon as you have found a seat on the boat that is both comfortable and large enough to accommodate four children.
The boats travel around a central area of dry land, and each boat is equipped with a bell that can be rung to alert the swimmers that you are approaching them. This circle ride is the ideal opportunity for your novice sailors to gain experience at sea.
There is no height minimum for this ride, but there is a maximum height of 54 inches.
If your family enjoys viewing the serenity of nature, then this ride is for you – only taken a notch higher with a boating experience. The ride starts by cruising through trees in a tranquil ride.
As your boat winds its way along a winding path in the skies, you can take in breathtaking views of the park. There will be enough water and splashing to keep everyone cool when you suddenly begin plunging down a 60-foot drop.
This ride has no minimum height requirements for kids when riding with adults, but when they're alone, it is 42 inches.
In case you find the AQUAMAN™ Splashdown underwhelming, try the Roaring Rapids. A dozen of your friends and family can venture together into the turbulent rapids of the river.
This is not an easygoing float trip. When you go on this adventure, you'll be strapped onto a full-sized circular raft and released into the furious downstream flow of the river, where perilous falls will send you careening off the edge. Erratic currents will hurl you around without notice.
This ride's minimum height requirement is 36 inches for kids with adults, and 42 inches without.
In this ride, everyone is bound to get soaked. Each log is made out of fiberglass and can accommodate 5 people. This ride is perfect for hot summer days – what better way to get cool than getting soaked in river water!
Your kids will hop aboard a log-shaped raft and speed-glide down the river instead of going along a track. This family-friendly flume ride starts down a winding river through the trees.
You're floating peacefully through the woods on a river, taking in the sights, when all of a sudden you're rocketed up a hill. On reaching the top, you make a daring dive over the edge of the falls with a landing so spectacular it will steal your breath away.
There's no height requirement for kids with an adult, and a 42″ minimum for solo riders.
Kids of all ages will enjoy running and splashing about in the water at this outdoor playground. The Splish Splash Zone is brimming with watery fun for young children. Your children will have a soaking good time, excellent for a hot summer day.
A system of pipes and a large central fountain ensure that water is constantly moving throughout this family-friendly area. Pop-jet fountains release rapid, pulsating streams of water. To add to the fun, you can never predict when they will launch, and you may easily be caught sprinting through when they do.
Splashing through the Splish Splash Zone on a hot summer day and trying to evade the random water jets is a game no one can lose.
There are no height restrictions for this watery playground.
If you need more watery fun rides, adjacent to Six Flags Great America is Hurricane Harbor Chicago. While the two parks used to be combined, they now require separate tickets. Combo tickets are also available for those who want to enjoy both parks.
Let's explore a couple of highlights:
The Castaway Creek ride is a lazy river that winds slowly through the park. It's perfect when you want to take things easy and relax. So get ready for a scenic and restful cruise in the heart of Hurricane Harbor.
Get on a raft and let the water carry you where you need to go. You can hop off the raft and play in the water with your pals if you want. Or, you might do what a lazy river was created for: relax, put on your shades, and float for a while.
Never fear; there are always lifeguards on duty to lend a helping hand if you get into trouble. There are no height requirements for this ride.
Prepare your kids to make their way down a winding course while riding on a mega-sized raft with up to three other daring swimmers at a time.
This combination of two water slides is brightly colored and winds its way down sixty feet to a pool with lots of splashing water at the bottom. As your raft careens down all six levels, you will experience a quick series of splashes, twists, and turns the entire way.
This exciting journey is similar to white water rafting as you are swept through winding bends and over uneven hills until you finally land in the refreshing lagoon at the bottom of the mountain.
The ride has a minimum height requirement of 42 inches for children with an adult or 48 inches for solo riders.
Final Thoughts
Six Flags America guarantees a watery thrill that only the sharks in the ocean can enjoy. Whether you try the Buccaneer Battle, AQUAMAN™ Splashdown, Roaring Rapids, or any of the other water rides, these rides are sure to cool you off on a hot day.