There's just something about spinning that makes you laugh and instantly feel like a little kid again. Twirling around and around, regardless of pace, is something many of us have done since we were children: on a swing set, a merry-go-round, or even a swivel chair.
If you and your children like spinning, then Dollywood has plenty of rides to choose from. In this post, we'll introduce you to some of the best spinning rides at Dollywood. So buckle up and get ready for a wild ride!
Dizzy Disk Ride
The moment you set eyes on Dollywood's Dizzy Disk, you'll feel as though you've stumbled onto the midway at a local county fair. As you settle into your outward-facing seat for a trip that glides back and forth while simultaneously spinning in circles, you'll soon understand why this ride is called the Dizzy Disk.
To prevent you from flying off the disk once everyone is seated, a back bar is lifted and placed against your back. Once you experience the intensity of the spinning, you'll be grateful that it's a bit of a tight squeeze.
Lemon Twist
This classic ride features nine rotating "lemon cups" around a central pitcher. For young children who crave excitement, the Lemon Twist is the ideal ride. Don't forget about your parents because they will also love this!
Grab the wheel in the center and take a seat inside your enormous yellow cup. The silver wheel is accessible to everyone in the cup.
Make your cup spin more and more quickly by using the wheel. Your cup will spin slowly on its own if you'd prefer to relax a little, but spinning the wheel is the best option if you want to topple over when you disembark.
The Mad Mockingbird
One of the most fun rides in Wildwood Grove is The Mad Mockingbird, which is a sight to behold. Visitors can experience life from a bird's viewpoint while flying through the skies in this dizzying ride.
Each car resembles a stunning mockingbird. As soon as you get close to your car, you can tell how carefully this ride was designed. Sit in your preferred location alone or with a companion. Tandem riding is most suitable for groups of children or for parents with their kids.
The mockingbird cars are swing-styled linked from above. Riders may control the "head" of each car via tiny, curved handlebars as they rotate around a carousel. Although the cars can reach incredible heights like genuine mockingbirds, the ride is generally comfortable for children.
Treetop Tower
The acorns you ride on the Treetop Tower whirl riders through the air. Your family can take time to admire the elaborate details before boarding the ride. Both the acorn that adorns the top of the ride and these acorn cars were hand-carved.
Fall foliage may also be seen right in the middle of the ride, which is almost as lovely as the foliage you'll see if you visit Dollywood in the fall.
With no minimum height requirement, children of any age can enjoy this ride with their families.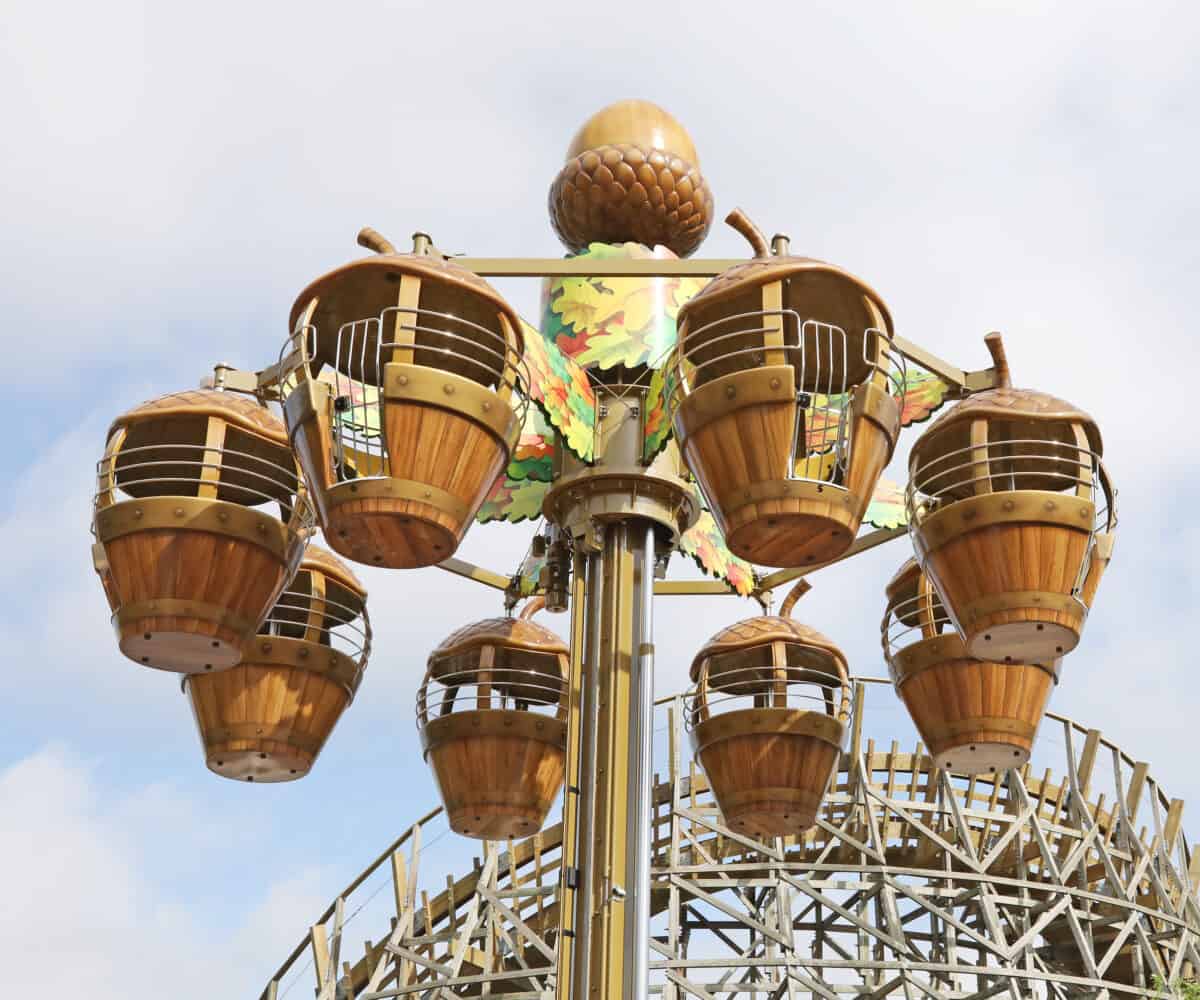 The Amazing Flying Elephants
The youngest visitors are responsible for some of Dollywood's most treasured moments, and The Amazing Flying Elephants were explicitly designed with them in mind.
Take a seat on one of the elephant cars with your kids and hang on tight as your elephant takes you on an incredible journey round and round and up and down.
Dollywood Carousel
This classic attraction has been a staple of the park since it opened in 1986, and it's perfect for young kids who want to experience the thrill of a spinning ride without going too fast. The Village Carousel also has some great views of the surrounding area, so you can enjoy the scenery while you spin.
The Carousel has 60 beautifully painted animals. The lead horse, with its long blonde mane, is affectionately called "Dolly." Calliope music plays and makes it a fun place for moms and dads to hold their small children while first-time riders sit proudly in the saddle.
The Waltzing Swinger
The Waltzing Swinger at Dollywood takes thrill-seeking to dizzying new heights as riders soar through the air at an altitude of 25 feet above Country Fair. There are seats specifically made to accommodate younger passengers so they can ride alongside their parents.
The Waltzing Swinger moves at the same tempo as a waltz. Take a seat in one of the red bucket chairs, and take in the artwork that adorns the swings. Your family will feel renewed as your swing rises and begins to soar through the air, the wind blowing through your hair.
The Scrambler
The Scrambler ride jerks you around in every direction. Your family will undeniably turn and yell, and, likely, you will also laugh and scream even more.
It's exciting to go with the flow as you glide to one side and all the way back again, even though things may appear to be a little "scrambled" as you go back and forth between the two locations.
Final Thoughts
If you're looking for a thrilling time during your visit to Dollywood, check out the spinning rides we've mentioned in this post. From the gentle swing and carousel to fast and whirling roller coasters, there are spinning rides for all ages.
So have a wonderful time – and just be careful not to spin too fast on the Lemon Twist!
Find even more amazing information about Dollywood here.
The image featured at the top of this post is ©Dollywood.