When you're deciding what to eat for dinner on a saturday night, and it comes down to either a burger or pizza, you've got some decisions to make. While there are many, the most significant differences between the two is that the burger has more vitamins than pizza, but it also has more calories. The pizza may have a smaller serving size, so it's typically the healthier of these generally unhealthy options. Today, we'll delve deep into the debate of burger vs. pizza and give you all the details you need to decide your next dinner.
Burger vs. Pizza: What are the Differences?
Since they are two completely different foods, you will see that both of these options have many differences, from how they're cooked to the modifications you can make to each. Here are the unique details in the battle of burger vs. pizza.
Origin
Both pizza and burgers have very different origin stories.
Pizza
Pizza has been prepared and enjoyed for thousands of years. The idea of pizza goes all the way back to the ancient Greeks, Romans, and Egyptians. Back then, they typically ate bread with limited toppings. Fast forward a bit, and we find that the pizza that we know today, that's topped with cheese, tomato sauce, and toppings really got its start in the city of Naples, Italy. Naples was originally settled by the Greeks in 600 B.C., so you can see the connection.
Part of the allure of pizza was that it was a simple meal to create, so it was easy to mass produce it for the large masses of poor working class people. Pizza continued to gain popularity, and as folks from Naples started to come to America for jobs, they brought pizza with them. Soon enough, the big cities, like Boston and New York, started to make their own varieties, and the craze spread around the nation.
Burgers
Believe it or not, the burger also goes back thousands of years. The first recorded mention of a burger was back in Rome during the 1st century AD. Back then, it was a ground-meat dish that had pepper, pine nuts, and a flavoring of garum and wine. Over time, the burger continued to evolve. In the 13th century AD, the Mongols came up with steak tartare, then in 1747, they started smoking the meat, and around 1845, the burger started to gain steam when G. A. Coffman created the meat grinder.
It was in 1891, in Bowden Oklahoma when the first patties were flame-grilled. Then, in 1900, Louis Lassen was the first to put the meat between two pieces of toast. The burger continued to evolve from there. In 1935, putting cheese on the burger became popular, in 1948, Mcdonald's started selling them, and today, there are over 91,990 Burger Restaurants in the U.S.
How It's Made
If you happen to get a pizza that is cooked in a stone oven and you only use the freshest ingredients, and you don't pile on the extras, then you have a chance that it's relatively healthy when eaten in moderation. However, that's not how pizza is typically prepared these days.
Pizza is made by combining yeast, flour, sugar, and water to make dough, which creates a crust. The sauce is made out of tomatoes, or an ingredient of your choice, and it's spread over the dough. After that, you add the toppings, which generally start with cheese. The pizza is then put in the oven and served.
Burgers
One of the most obvious differences in the debate of burger vs. pizza is how burgers are made. Burgers are cooked by adding ground beef and grinding it up before shaping it into individual patties. The patties are then placed on a preheated grill and cooked until they reach the desired redness inside. Typically, they're heated to at least 160 degrees Fahrenheit. That's basically it.
Most people eat a burger on a bun and add a choice of toppings, and that's where the variety comes in. One of the standard toppings is cheese, but people add everything from onions to eggs to add their own unique flavor.
Burger vs. Pizza: Unhealthy Attributes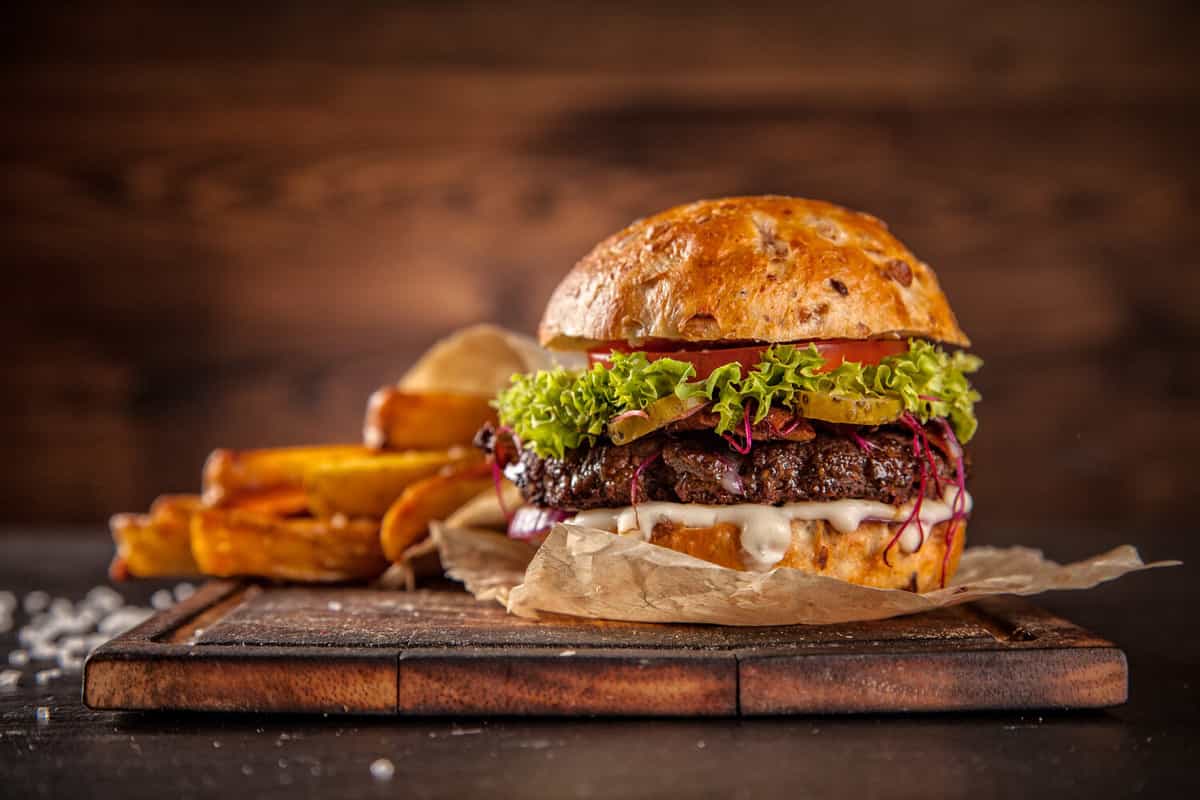 In most cases, eating burgers or pizza is not considered part of a healthy diet. But what makes these foods so unhealthy?
Pizza
Most pizza has a crust made of refined flour. That is loaded with carbs, and refined grains, which are loaded with abnormal fat. This abnormal fat is so bad that it can put you at risk of cancer and health disease. The salt content in the crust and other components of the pizza is also unhealthy. When you eat several slices at a time, it can take its toll.
Eating pizza doesn't necessarily mean that you're set for an early grave. If you eat a slice or two every few days and get a moderate level of exercise, you'll probably be fine. It's also highly advised to avoid frozen pizza because they're typically filled with more salt and higher carb content because they're often eaten as snack food.
While there are a lot of carbs in the crust, typically, the unhealthy part of pizza comes from the toppings. Here are some of the toppings to eat in moderation:
Pepperoni – It's unhealthy because it's loaded with sodium. That's dangerous because it can spike your blood pressure and lead to death.
BBQ Chicken – Most BBQ sauce is made from high-fructose corn syrup. That syrup has been tied to weight gain and affects your insulin resistance, which can lead to diabetes.
Pineapple – It's good if you're buying a pineapple and cutting it yourself. But the pineapple pizza you get from restaurants is typically canned fruit, which is loaded with sugar.
Alfredo Sauce – This sauce is loaded with fat and sodium, which is bad for your heart.
All that said, if you put good toppings on your pizza, like grilled chicken, vegetables, and tomato slices, then you have a chance of having a decently healthy meal.
Burgers
Like pizza, if you have a burger every few days, it won't be the unhealthiest food you eat, but moderation is key. Meat, in general, must be consumed in moderation because it naturally contains fat which adds to the calorie count. The more cholesterol in your blood, the higher the chances of heart issues down the line. Burgers can also cause hypertension over time because they are so rich in sodium. An influx of sodium is bad for your blood supply and could cause a risk of stroke or kidney disease.
Many people don't realize that burgers made in restaurants and factories are often made by machines that treat them for bacteria while spraying them with ammonia. However, ammonia is bad for the body and can cause long-term respiratory damage. Before the meat even hits the factory floor, it comes from cows that are mixed together from numerous sources. That cross-contamination also creates a chance for disease.
One of the differences from pizza is that the toppings you put on a burger typically aren't that unhealthy. When eaten in moderation, tomatoes, onions, and lettuce are actually good for you. However, try to go easy on the ketchup. Although it seems like a harmless ingredient, ketchup is bad when eaten excessively. One tablespoon can contain 4 grams of sugar and a lot of sodium, which is bad for our overall health.
Burger vs. Pizza: Nutritional Value
Just because both pizza and burgers can be bad for you when eaten to excessive levels, it doesn't mean that there aren't some healthy aspects of both. In fact, when you look at our chart below, you'll see that when eaten in moderation, burgers actually win the battle for a healthier meal when it comes to the debate of burger vs. pizza because they contain many vitamins that pizza does not.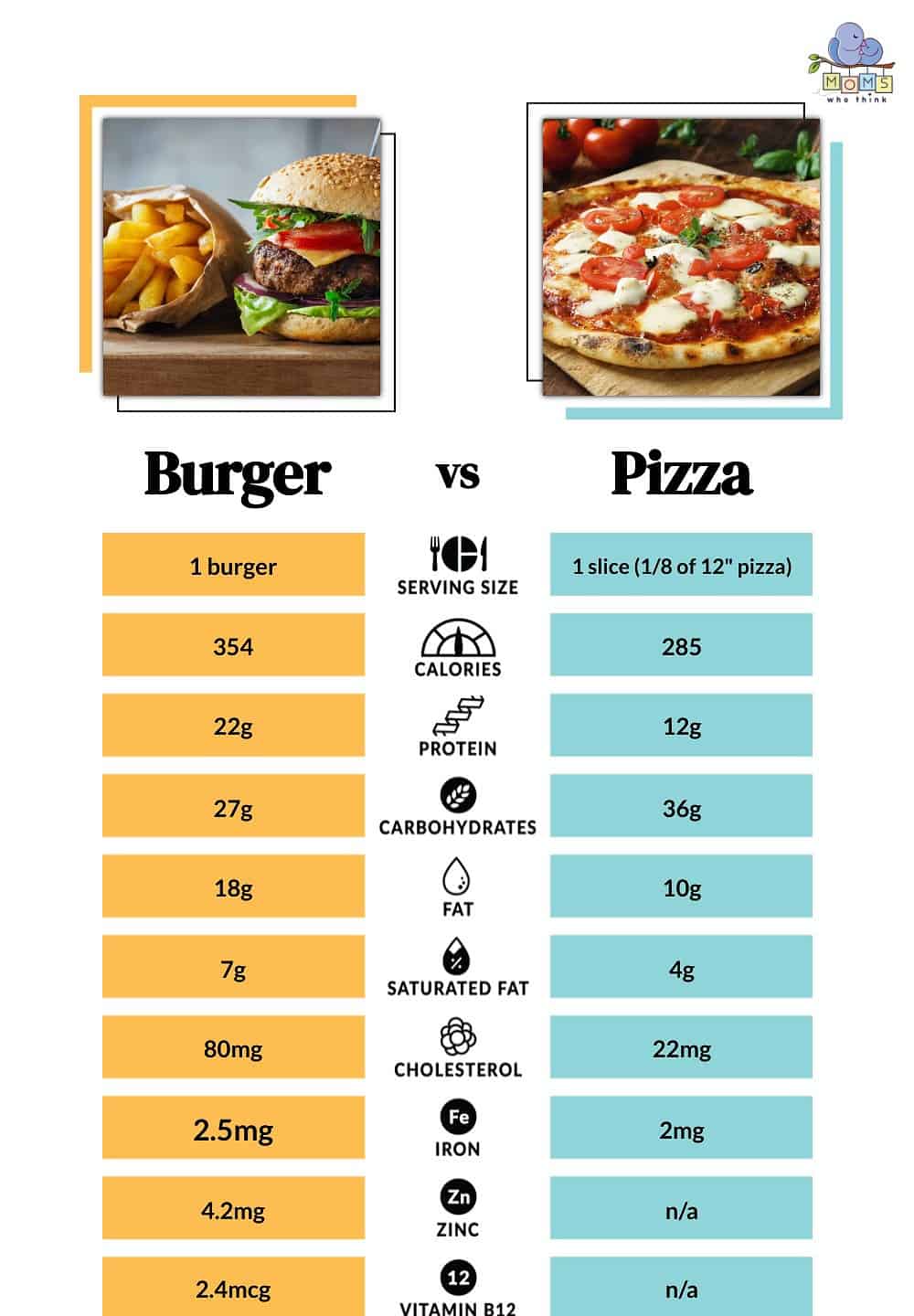 Healthy Components
Here are some of the healthier aspects of each food to consider:
Protein
When you compare one burger with one slice of pizza, you'll find that the burger has 10 more grams of protein. Although a burger shouldn't be your main source of protein, it's good to get some because protein helps us to build lean muscle, speed up our recovery after an injury, and maintain a healthy weight.
Iron
Although it's a slim margin, the burger also passes the pizza as far as iron per serving. Iron is essential for our growth and development. Iron creates the protein that's in our blood cells, and it's essential for making our hormones. Like protein, having iron in your body is important if you're injured. That's because it helps your body to minimize bruising and improve immunity.
Zinc
Pizza doesn't contain any zinc, but a burger has 4.2mg per zinc in every serving. We need zinc for most of our body's systems. Zinc helps with blood clotting, your immune system, thyroid function, and it provides you with your sense of smell and taste. Zinc is also necessary during pregnancy, and it's an essential element of development during childhood and adolescence.
Vitamin B12
Once again, the burger completely outdoes pizza when it comes to vitamin B12 because it has 2.4mcg, and the pizza contains no B12. This is a very important vitamin with many benefits for our bodies, including the production of red blood cells. B12 also supports bone health and prevents osteoporosis. It reduces your risk for macular degeneration and it can help you to fight the symptoms of depression.
With that said, it's not all good news. The burger does have close to 100 more calories than the slice of pizza. It has more cholesterol and higher levels of fat. So it's far from a healthy food. Still, moderation is key, and you'll be alright.
What are Substitutes for Burgers?
If you're not thrilled about the taste of traditional burgers or you want to try something a bit healthier, there are many alternatives you can try:
Black Bean Burger – Same burger texture, but it's made from black beans. It will fill you up, and it's great for digestive health.
Cauliflower Burger – A mix of cauliflower, binders, and quinoa creates a healthy patty and offers plenty of vitamins.
Chicken Burger – Chicken is another hardy meal, and if you grill the chicken, then it's a healthy option. High protein count in these.
Portobello Mushroom Burger – When cooked just right, portobello mushrooms are thick and hearty, and they taste great when grilled.
Quinoa Burger – Quinoa is considered a superfood. It contains essential amino acids, it's high in fiber, and it's rich in antioxidants. Plus, it tastes great when grilled.
Salmon Burger – Cook up a rounded piece of salmon and put it on a bun with some onions, tomatoes, and lettuce, and you're sure to have a delicious meal. Salmon is also good for your cardiovascular health.
Turkey Burger – This is one of the most popular alternatives to the traditional burger, and it's extraordinarily healthy. Plus, it's loaded with protein and vitamin B6.
What are Substitutes for Pizza?
There are also folks who like the idea of pizza. But they want a healthy alternative that can still satisfy their taste buds. There are many options:
Cauliflower Crust Pizza – Add cheese and sauce but put it on a healthy cauliflower crust. Then top it off with tomatoes.
English Muffin Pizza – Add some ham and sauce to a hot and flaky English muffin. You'll have a treat you can take on the go.
Pita Bread Pizza – Do something similar with pita bread for an extra healthy treat. You can get it in white and whole wheat.
Zucchini Pizza – You can make mini pizzas by cutting a zucchini and then putting toppings on top. Zucchini is loaded with vitamins, so this is a healthy alternative.
Calzones – These are a more traditional Italian treat, but since they're folded over, they're typically a smaller snacking size.
Eggplant Pizza – This is a low-carb and gluten-free treat that you can fit in the palm of your hand. It also cuts out the bread, which makes it very healthy.
French Bread Pizza – You can make this pizza on French bread and add your choice of toppings. Make them small, and you won't load up on fat.
Sweet Potato Pizza – Make the crust out of sweet potatoes, and it's gluten-free. Plus, this pie does not require a food processor.
Burger Recipes
If you stand on the burger side of the burger vs. pizza argument, then you likely know that there are many delicious recipes out there that you can try. Here are some to consider:
Print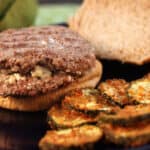 Gorgonzola Burger
---
Description
These delicious grilled gorgonzola burgers are a fantastic dinner choice on busy nights. When you have extra time, serve them topped with caramelized onions.
---
2

pounds

extra-lean ground beef

1/2 teaspoon

salt
Black pepper, to taste

2 teaspoons

Italian seasoning

8

ounces

gorgonzola cheese
---
Instructions
Preheat grill to medium-high heat.
In a large bowl, mix together beef, salt, pepper, and Italian seasoning.
Shape into 16 same-size thin patties. Make as thin as possible.
Place 1 ounce crumbled gorgonzola on 8 of the patties, spreading it out almost to the edges. Place remaining patties on top, pressing down and sealing edges.
Oil the grate and grill burgers for 4 to 5 minutes per side or until desired doneness.
Serve 4 immediately. Transfer remaining 4 to a wire rack and allow to cool completely.
Nutrition
Calories:

258

Sodium:

616mg

Fat:

15g

Carbohydrates:

1g

Fiber:

0g

Protein:

31g

Cholesterol:

96mg
Pizza Recipes
There are also a ton of pizza recipes that will light your world on fire. Here are a few of our favorites:
Conclusion
Neither pizza nor burgers are generally considered healthy foods. However, it is important to note that burgers are higher in both calories and protein than pizza.
Pizza is baked in a pizza oven, while burgers are grilled.
There are substitutes that you can make for both of these dishes that make them healthier.
As you can see, there are many differences and some surprising facts in the battle of burger vs. pizza. The main gist is that neither is the healthiest food, but they both have their positive qualities. Eat them in moderation, and you can enjoy either of these great treats and retain a healthy body.