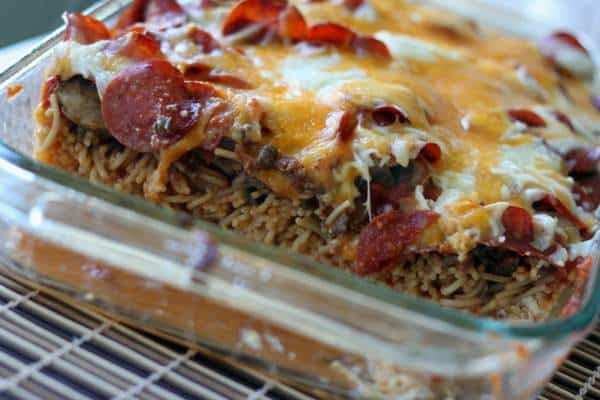 Spaghetti Crust Pizza
Let's Get Ready for Baby!
Sign up for our monthly pregnancy email series, and you'll get regular updates on your baby's development, helpful timelines to get ready for their arrival, must-have baby needs and so much more! PLUS, you'll get instant access to the MomsWhoThink "Ultimate Guide to Baby Naming in 2022."
CLICK HERE
to get started!
Ingredients:
2 eggs
1 cup milk
1 package (16 ounces) cooked spaghetti
1 pound lean ground beef (90% lean), cooked and drained
3½ cups (one 28 ounce can or two 14 ounce jars) pizza sauce
1 package (3½ ounces) sliced turkey pepperoni
8 ounces sliced fresh mushrooms
¼ cup finely chopped onion
1 teaspoon garlic salt
2 cups (8 ounces) shredded part-skim mozzarella cheese
1 cup (4 ounces) low fat shredded cheddar cheese
Directions:
1. In a large bowl, whisk the eggs and milk. Add spaghetti; toss to coat.
2. Transfer to a greased 13×9 inch baking dish.
3. Top with the beef, pizza sauce, pepperoni, mushrooms and onion. Sprinkle with garlic salt.
4. Bake, uncovered, at 350° for 20 minutes.
5. Remove from oven and sprinkle cheeses evenly over top.
6. Return to oven and bake 10 minutes longer or until cheese is melted. Let stand 10 minutes before serving.
Makes 8 servings
Nutrition Information:
1 serving equals:
315 calories
12 grams fat (6 grams saturated fat)
100 mg cholesterol
912 mg sodium
29 grams carbohydrate
3 grams fiber
33 grams protein