When you hear the words cupboards vs. cabinets, can you tell their functional differences? And does it really matter?
Well, if you want to organize your kitchen or find practical solutions in the constant battle against clutter and chaos, this article is for you! And it doesn't matter if you have limited space or want to maximize your area; you'll discover key differences to help you make the right decision for your family's needs. Are you ready?
The Clutter Conundrum
Does the thought of a kitchen counter covered with pots, pans, and dishes overwhelm you? What goes where? If everything would only fall into place with the snap of your fingers! And ignoring it won't make your kitchen organized, either. So let's see how cupboards and cabinets can help tackle kitchen clutter. First up is…
Cupboards
These are freestanding, have open shelves, and no doors. Generally speaking, if you have a cabinet with no doors then it's considered a cupboard. They are great options to showcase your kitchen items, such as decorative pieces, cups, plates, and bowls. Why? Because they're like a visual display for your kitchen essentials!
Styles and Types
Farmhouse – this look has a rustic feel using wood or white-colored shelves.
Sleek glass shelves – held by wall brackets or piping from the ceiling.
Combination – floating shelves using mixed materials held by wall brackets.
Suspended – hangs from the ceiling by using wire hooks, piping, or fabricated metal.
Corner – great space saver to maximize the use of corners.
Pros:
Quick access to items in your kitchen! Open shelves give you a simple and easy-to-reach approach to items in your kitchen.
Appealing visual display! This is a great opportunity to create your kitchen theme from rustic to modern!
See what you have! Plus, you can keep track of inventory instead of rummaging through kitchen doors, trying to figure out what you have.
Makes the kitchen seem bigger! Open shelves create an open, airy look, making them an excellent choice for a small space.
Great for a small budget! Open shelves are quicker, cheaper, and easier to install than kitchen cabinets. So if you're a handy dandy and love do-it-yourself projects, this may be right up your alley!
Cons:
Constant upkeep to maintain a neat and tidy look. Without doors, your kitchen can look messy and become clutter central when items aren't organized.
Prone to dust and requires constant cleaning. This is important, especially if you want to keep your items presentable.
Hard to hide items you don't want to show. For example, mismatched plates or cooking ingredients.
High ceilings can be challenging for open shelves. If shelves are too high, it'll be hard to clean and access, making the kitchen feel unbalanced.
Bottom line: Cupboards are a great way to make everyday items easily available. Plus, with open shelving, they can showcase items to give your kitchen that special touch of charm. On the other hand, they can make your kitchen look messy and add to the clutter if things aren't neatly displayed and regularly cleaned.
Now let's talk about…
Cabinets
If you prefer to hide your kitchen items and have a smooth and clean look, then cabinets may be your way to go. Cabinets have doors which means you reduce the chances of visual clutter and chaos.
Before discussing the pros and cons of cabinets, it's important to note that cabinets with no doors are not cupboards. They are still cabinets. While cupboards are freestanding, kitchen cabinets are considered built-in pieces of furniture.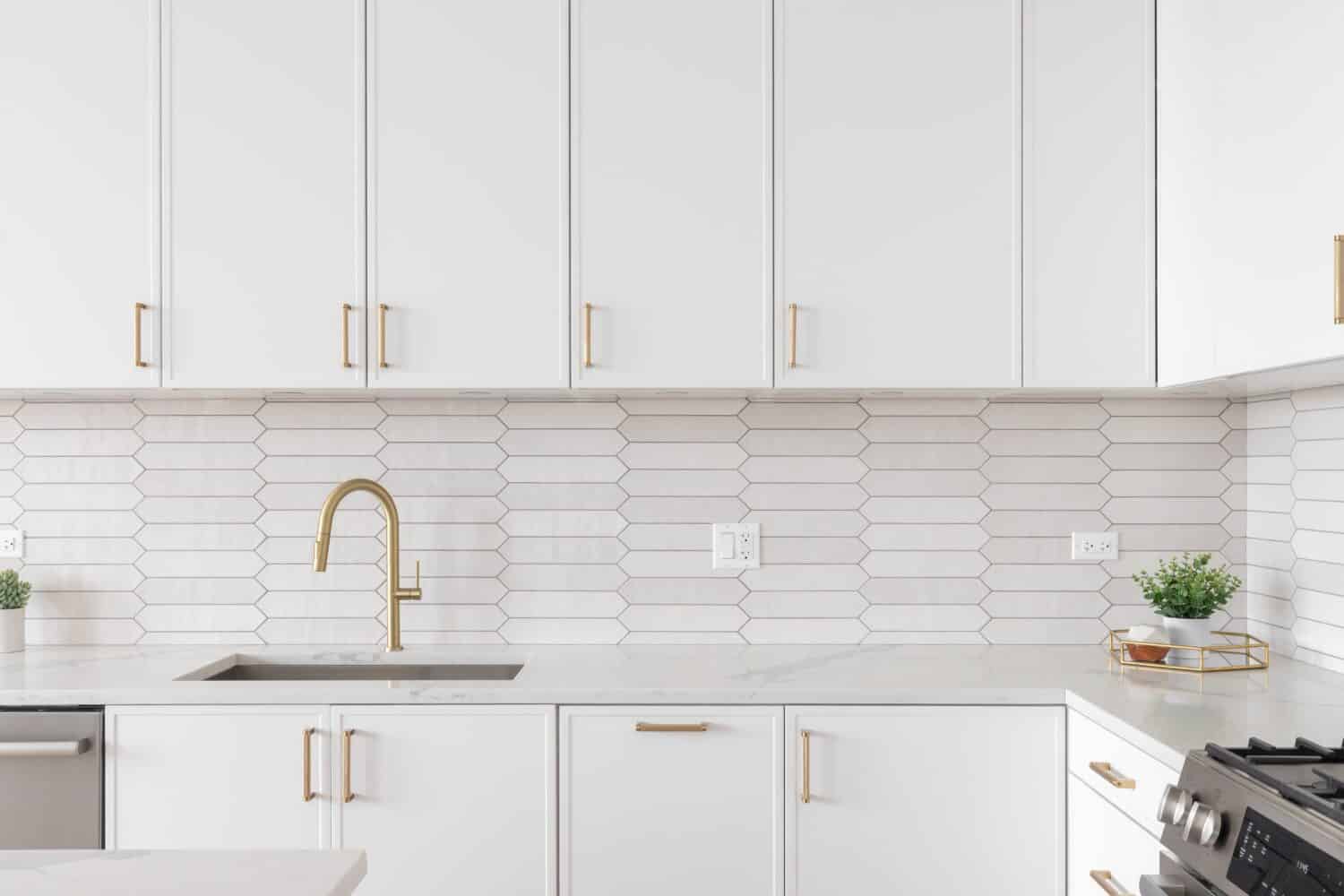 Pros:
The perfect hideaway for a clutter-free look! Storing kitchen items in cabinets with doors helps maintain a tidy and organized appearance.
Increases storage options! You have more opportunities to store things inside cabinets from top to bottom.
Versatile options are endless! Cabinets have a wide variety of storage options like shelves, drawers, sliding shelves, and pull-out features you can customize to your liking.
Helps you maximize vertical storage. This is perfect for high ceilings!
Helps prevent dust buildup since items are behind closed doors! Also, you decrease the chances of dishes, pots, or pans falling, creating a potential accident.
Cons
Cabinets can quickly turn into a clutter zone. Forgotten items buried at the back of deep cabinets can make a once convenient option a nightmare.
Deep cabinets make items hard to reach. This can be frustrating, annoying and waste a lot of your time.
Customizing cabinets can be costly, especially if you are looking for high-quality cabinets. Why? Because not all cabinets are created equal. In fact, according to one study of 2,380 participants by Houzz Research, more and more U.S. homeowners are choosing customized options that are convenient for their families.
Bottom line: Cabinets can help you maximize storage space. You can also customize your cabinets to make them more user-friendly for your family's needs. On the other hand, the deeper the cabinets, the harder it becomes to find what you need. Also, turning a storage convenience into a clutter nightmare is easy if things aren't kept organized behind closed doors.
Cupboards vs. Cabinets – Practical Examples
Now that you have a better idea of cupboards vs. cabinets, let's look at 3 different scenarios to make things practical.
Scenario #1
Imagine you have a small apartment kitchen and like the idea of having some kitchen items on display—for example, things like mugs or plates. Cupboards can make your space feel less cramped and more open. You may even decide to donate, pass on, or get rid of items you don't need or haven't used to create more space. On the flip side, if you prefer a clean and organized look that hides your kitchen items, cabinets may be a better choice.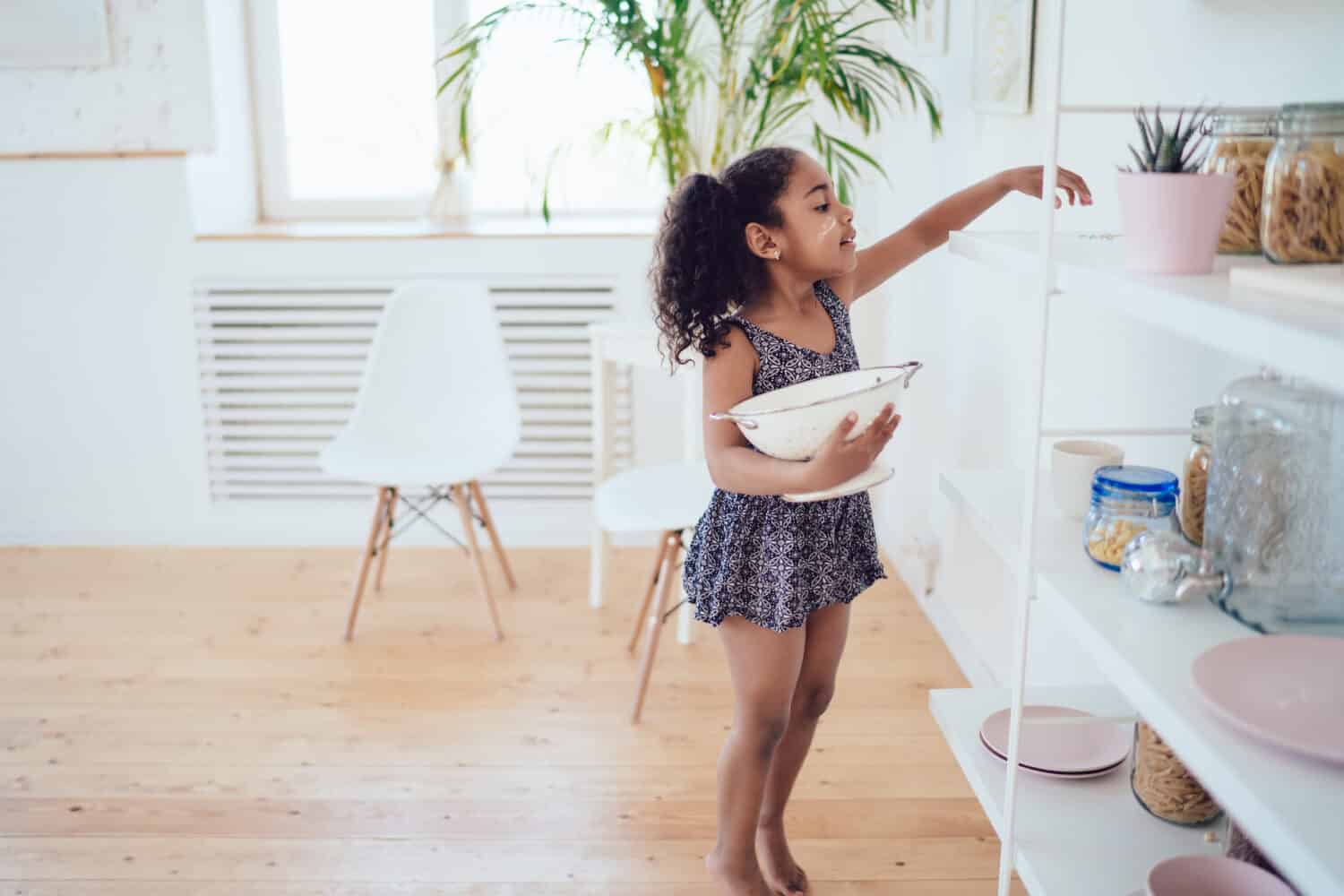 Scenario #2
Let's say you prefer more of a modern farmhouse kitchen feel. Cupboards with open shelves create a cozy, rustic charm that gives you quick access to things you frequently use. But if you're going for a warmer yet clean vibe, then cabinets will do the trick to hide those pots, pans, and dishes. Those doors will come in handy! Why? Because you can tuck just about any of your cooking tools and whatever else you don't want to keep out for everyone to see!
Scenario #3
Now this one is what many moms want, a family-friendly kitchen! Quick breakfasts, busy weeknight dinners, and gatherings on the weekend call for a convenient, family-friendly kitchen. Cupboards allow kids to grab a quick snack and dishes easily. At the same time, you've got to make sure to keep the cupboards clutter-free.
Otherwise, more chaos is created. However, if you prefer to keep things clean and organized because you've got no time for chaos, then cabinets may be your option. You can keep your kitchen looking neat, even if there's lots going on. (Just make sure you tidy up the inside of the cabinets from time to time!)
In Conclusion
While both options offer various benefits, choosing between a cupboard and a cabinet all depends on your style, the size of your space, and other factors. It's important to weigh the pros and cons of each to make the best choice.
The most noticeable difference between a cupboard and a cabinet is open vs. hidden storage.
Cabinets are more expensive and usually need to be professionally installed, whereas cupboards can be put together easily.
For smaller spaces, cupboards are the perfect option, while cabinets are a great way to maximize the space if you have a larger kitchen.
So what do you think? Cupboards vs. cabinets, which suits your family's needs? Cupboards are open shelves that offer easy access to your kitchen items. It also creates an opportunity to showcase your kitchen treasures while creating an open space that doesn't break the bank.
On the other hand, cabinets offer you a way to customize your storage options and keep things tidy and clutter hidden while making the most of your kitchen space. And no matter what you pick, this is your opportunity to turn your kitchen into more than just a room. It becomes your story. So make it comfy, convenient, and organized just the way you like it!
Whether you store your spices and baking ingredients in a cupboard or cabinet, this spiced apple pork tenderloin is sure to be a hit. After you get your kitchen just how you like it, sit down with family or friends and enjoy this delicious meal.
Print
Spiced Apple Pork Tenderloin Recipe
---
Author:

Total Time:

1 Hour
Description
Making pork tenderloin and apples can be a delicious and hearty dinner for your family. It doesn't take too long to cook. But if you're like me, you want to spend as little time in the kitchen as possible while still getting a great meal on the table.
---
3

pounds

pork tenderloin

1/2

cup

brown sugar, packed

2 1/2

cups

warm water

2 Tablespoons

cornstarch

1 teaspoon

ground cinnamon

1/2 teaspoon

nutmeg

1/2 teaspoon

ground ginger

4

Granny Smith apples, peeled, cored and chopped

1/3

cup

raisins
---
Instructions
Preheat the oven to 400 degrees F. Place the pork tenderloin in a roasting pan.
In a medium bowl, whisk the brown sugar with the water until dissolved. Use the whisk to add in the cornstarch, cinnamon, nutmeg and ginger. Combine well.
Add the apples and raisins to the mixture, stirring to coat with brown sugar mixture.
Spoon the apple mixture around the pork tenderloin. Cover and bake 30 minutes.
Uncover the pork and spoon the apple mixture over the top and sides of the tenderloin.
Return tenderloin to the oven, uncovered,  and bake 15 to 20 minutes longer, or until browned and cooked through (a meat thermometer inserted in the center should read 150 degrees to 160 degrees F).
Serve pork in slices with the spiced apple cinnamon sauce on top of each slice.
Prep Time:

10 Minutes

Cook Time:

50 Minutes

Category:

Main Course

Method:

Baking

Cuisine:

British
Keywords: pork tenderloin with cinnamon apples, pork tenderloin and apples
The image featured at the top of this post is ©mapo_japan/Shutterstock.com.