Are you planning to have a BBQ with your family and friends but don't have a griddle? With so many different sizes, materials such as chrome, stainless steel, and cast iron, and utility types like gas, induction, or electric, you may be at a loss for which one to choose. However, Traeger Flatrock and Blackstone griddles are two of the most popular griddles on the market. Both griddles have advantages and unique features. In this article, we will compare Traeger Flatrock vs. Blackstone: Which griddle wins? To assist you in making an appropriate decision, let's take a look at their features, design, cooking performance, and overall user experience.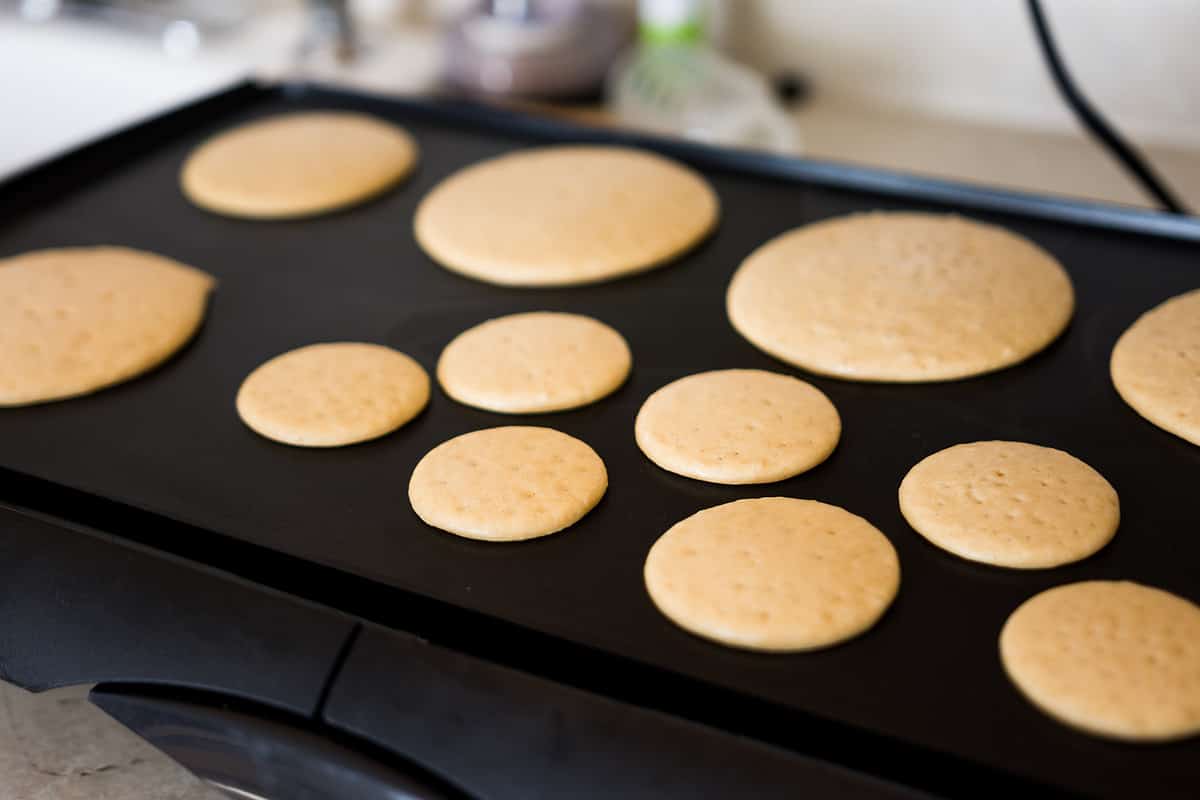 What is the Traeger Flatrock?
Price: $899.99
Traeger grills have been around for 30 years. Their new Flatrock flat-top grill series has a 4.2-star rating and is one of their latest designs. In addition to griddling, sautéing, steaming, frying, and more, this griddle delivers superior quality and advanced features. You can cook any dish of the day, from breakfast to dinner. With its temperature control system, it is quick and easy to fire up fajitas and start flipping those flapjacks.
To get that deeper flavor and superior sizzle, just turn up the heat and enjoy that wonderful taste and texture that we enjoy when eating our favorite dish. The Flatrock will allow your inner foodie to emerge, so you can enjoy every minute of cooking.
Traeger Flatrock Features
The Flatrock features a recessed carbon steel cooktop with three different cooking areas. With Truzone, you can cook concurrently at different temperatures with full temperature control. Additionally, each cooking area is separated by heatshield insulation, providing individual temperature control. Flatrock provides even heating throughout the whole grill surface. The triple U-burner design delivers twice the burner-to-cooktop coverage. It removes hot and cold areas, so you can utilize every inch of space when compared to average outdoor griddles.
Furthermore, it has two 17-inch folding side shelves. The Flamelock construction feature, which locks in heat and blocks out wind, uses 28% less propane than regular griddles while maintaining the heat where it should be. Cleaning up is quick and easy with the EZ-clean grease and ash keg.
You will never run out of fuel because the fuel gauge tells you how much gas is left in the tank. You can customize your Flatrock with the P.A.L. Pop-and-Lock accessory rail. With this rail, you can add a cup holder, roll racks, tool hooks, and storage bins in a way that suits your needs.
Traeger Flatrock Weight and Capacity
Total weight: 189 Lbs
Cooktop dimensions: 33 inch x 18 inch
28 eggs
28 bacon strips
24 burgers
Cooking space: 594 sq. in.
Max temperature: 600 °F
Recipe Ideas for the Traeger Flatrock Griddle
Griddle, stir-fry
Skirt steak fajitas
Classic crab cakes
Stuffed French toast
Gnocchi with asparagus and ricotta
Smoke and sizzle coffee-rubbed pulled beef
Juicy Lucy smashed burger
Fried eggs and bacon with hash browns
Smoke and sizzle pub burger
Ginger garlic pork lettuce cups
Traeger Flatrock Notes
A 9-volt battery will power the ignitors; however, it won't supply electricity to the fuel or flame sensors.
Traeger Flatrocks come with a five-year warranty.
It is not advised to use natural gas; you should use liquid propane only.
You should always cook with the lid open, never closed.
You will need to season your Traeger Flatrock before using it with canola oil, or flattop grill seasoning, and cast iron conditioner.
You do not need to use all three burners at once. With TruZone technology, you can set each burner to a different temperature.
For easy clean-up, there is an EZ-clean grease keg underneath that collects food waste and grease. Be sure to use liners to make cleanup simple.
Traeger Flatrock vs. Blackstone: Which griddle wins? Now let's take a look at the Blackstone features.
What Is the Blackstone?
Price Range from $159 – $1299
The Blackstone brand decided to begin a revolution. Their love of BBQing outside began a few years ago when everyone got together and relied on a grill and other appliances to cook. Some family and guests would be outside, and others would still be in the kitchen preparing other dishes. Blackstone wanted more; they wanted everyone to be together and cook everything outside.
In 2008, their dream became a reality with their 36-inch Blackstone Griddle. Blackstone has grown noticeably in both its expertise and product line. With four 36-inch griddles, two 28-inch XL griddles, four 28-inch griddles, four 22-inch griddles, four 17-inch griddles, and three E-Series griddles to choose from, you may find it difficult to decide which one would best suit your needs. Let's take a closer look at the features of the four most popular Blackstone griddles on the market.
The 36 Inch Original Griddle
Price: $399.00
Cook breakfast, lunch, and dinner with this 4.8-star, 60,000 BTU griddle; you can handle any meal. It features 720 sq. in. of steel with four separate cooking zones, enough space to feed the whole neighborhood.
Features and specs
It has four industrial-strength wheels.
Cooking surface: 35 ¾ inch W x 21 ½ inch D
With the paper towel holder, you can keep all of your cleaning supplies close by.
With four adaptable heat controls, you can control each section individually.
It has foldable side shelves, so you can store it in a small space.
Lighting up is quick and easy with the built-in ignitor.
The magnetic toolbar and side shelf hook make it easy to switch between tools.
Easy to clean with the rear grease management system.
1-year warranty
Weight: 137 pounds
Griddle top capacity
69 bacon
47 eggs
21 pancakes
126 hotdogs
30 burgers
27 steaks
36 Inch Stainless Steel Griddle With Cabinets
Price: $999.00
This 4.1-star high-end performance luxury grill pushes out 60,000 BTUs and has four individually controlled burners. Furthermore, you have plenty of storage space for your cooking accessories, and the propane tank is hidden.
Features and specs
It has four industrial-strength wheels, making it easy to move around.
Cooking Surface: 35 ¼ inch W x 21 ½ inch D
The heavy-duty hood can withstand high heat.
It features a pull-out tank, two drawers, and a cabinet, providing you with a lot of space
The patented heat control system keeps the griddle cool.
Easily remove grease from the surface with the rear grease system.
It has a cutting board and a pass-through garbage bag holder.
The magnetic toolbar on the side shelves holds all your cooking tools.
Weight: 237 pounds
1-year warranty
Griddle top capacity
69 bacon
47 eggs
21 pancakes
126 hot dogs
30 burgers
27 steaks
36 Inch Griddle With Air Fryer and Cabinets
Price: $1299.00
You will be able to do everything with this 4.5-star high-end luxury, performance-designed griddle. What's more, this 769 sq. in. griddle has a 4-quart warming drawer and dual 4-quart air frying draws. The cabinet has enough space for your accessories and tools. This is one of the most popular griddles on the market.
Features and specs
Electronic start ignition
Cooking surface: 35 ¾ inch W x 21 ½ inch D
Four industrial-strength wheels
Heavy-duty hood
One 4 qt. warming drawer and two 4 qt. air fryers
Storage cabinet and two drawers
Rear grease management system
It features a napkin holder and a cutting board with a garbage bag holder.
Side shelf accessory and magnetic toolbar
Weight: 259 pounds
1-year warranty
NOTE: This unit is not compatible with Blackstone's natural gas conversion kit
Griddle top capacity
69 bacon
47 eggs
21 pancakes
126 hot dogs
30 burgers
27 steaks
28 Inch XL Culinary With Rangetop
Price: $999.00
This 4.4-star beautiful luxury high-end XL griddle is made from stainless steel. You will be able to take your cooking skills to a whole new level with this two-burner range top that also features a deep fryer basket. The heat wind guards help maintain the heat levels. The two-burner range top pushes 30,000 BTUs per hour, and the griddle pushes 45,000 BTUs per hour. Furthermore, the griddle top is 612 sq. in. so you have plenty of space to cook a large amount of food.
Features and specs
Cabinet storage
Cooking surface: 28 ½ inch W x 21 ½ inch D
Four industrial-strength wheels
Rear grease management system
Heavy-duty hood
Magnetic toolbar on side shelves
Features their originally designed heat/wind control baffle system.
With the two-burner range top, you can cook more.
Note: You cannot use Blackstone's natural gas conversion kit
1-year warranty
Weight: 224 pounds
Griddle top capacity
56 bacon
38 eggs
17 pancakes
102 hotdogs
25 burgers
22 steaks
Conclusion Traeger Flatrock vs. Blackstone: Which Griddle Wins?
To conclude, when it comes to choosing which griddle wins, there are some factors to consider, such as your budget, the utility usage you prefer gas, induction, or electric size, and the material chrome, stainless steel, or cast iron. Both have different advantages and strengths; however, both are great products made with quality and user-friendliness in mind. The Traeger Flatrock griddle is user-friendly, and you don't need a lighter or matches to light it up. It features a digital control panel, making it suitable for you to set it and monitor the cooking temperature. Traeger products also offer a longer warranty period when compared to Blackstone products.
On the other hand, Blackstone products are easy to set up, and there are over 21 griddles to choose from to suit your budget as well as your culinary needs. There are also optional accessories you can add, such as side shelves and more. So the question is Traeger Flatrock vs. Blackstone: Which griddle wins? I would have to say Blackstone is the winner with its wide variety and suitable price range. Blackstone has a griddle to suit everyone's culinary needs.
Related Articles
The image featured at the top of this post is ©/ via Getty Images.