Traeger grills were invented in Oregon over 30 years ago. It has changed outdoor cooking all around the world. For any event, Trager grills provide that delicious wood-fired flavor. With Traeger, you can BBQ, smoke, roast, bake, and braise all on one grill. If you're thinking about purchasing a new grill, Traeger is the perfect choice. In this article, we will talk about the different grills and pellets as well as the 5 reasons to buy a Traeger grill – from temperature control to smokey flavors.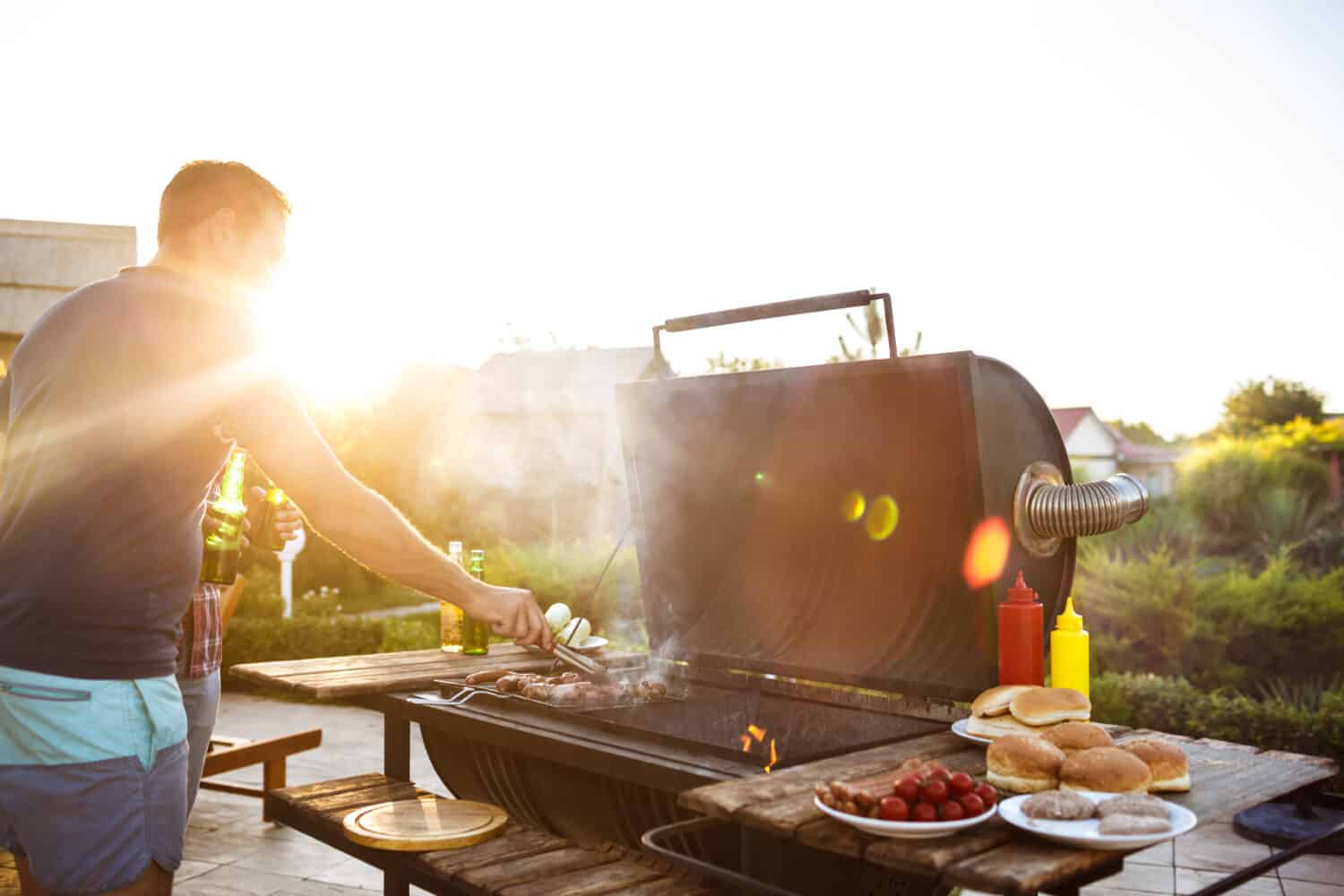 Flatrock Flattop Grill
Explore new flavor frontiers with the Flatrock flattop grill. With the all-new Flatrock flattop grill, you can cook it all at once. It features heat-filled separate cooking zones, allowing you to utilize every square inch. The special u-burner design delivers heat everywhere. It locks in the heat and blocks out the wind. This is because the flat top has been designed to have a sunken feature, allowing it to block out wind and maintain heat control. Unlike other flattops, their grease funnel is locked at the back of the grill. However, Traeger's grease funnel is located in the front. Perfectly designed flame lock heat construction keeps the heat where you want it to be.
Furthermore, you can never run out of fuel; the fuel gauge shows how much gas is left in the tank. Next, it features a large grease keg to make your clean-up easier. Customizable with the P.A.L. accessory rail, you can rearrange your spices, sauces, and more to suit your needs.
Ironwood Series
The all-new Ironwood comes in two different sizes, allowing you to experience that overhead wood-fired flavor. With the free-flow firepot, you can monitor and control your grill from anywhere. Additionally, with wifire control technology, you can also browse thousands of recipes and plan your next Traeger master dish meal through the app. With no limit to what you can cook, you can roast, bake, braise, BBQ, and more. With its revolutionized pellet sensor, you will never run out of pellets. To add to that, cleaning up is easy with the grease and ash keg, which features a five-pack of throwaway liners to make cleaning easier. When one is full, take it out and add a fresh liner within seconds.
The Ironwood series features the P.A.L. accessory rail as well as modifire cooking plates, which allow you to change surfaces without removing the grate.
Timberline Series
The Timberland 850 is another highly recommended wood pellet grill; it portrays the high point of wood-fired cooking and features all of Traeger's premium and advanced features. Furthermore, it is fully insulated to ensure consistent temperature control, and the super-smoke mode lets you jack up the wood-fired flavor to suit your needs. You can monitor and adjust temperatures easily on your phone using the Traeger app. The Timberland 850 is your ticket to discovering a whole new world of flavor.
Pro Series
It's easy to achieve that unforgettable wood-fired flavor with the Pro series. Why? You may ask, but that's because the Pro series has the set-it-and-forget-it feature that allows it to have precise temperature control to help you create those memorable meals everyone will be talking about for days to come. The Pro series also has all-terrain wheels, making it easy to move through any terrain.
Furthermore, with the D2 controller, you can adjust the temperature from anywhere in 5°F increments. The pellet sensor also monitors the number of pellets left in the hopper, so you will never run out of pellets. With its super-downdraft exhaust system, fresh smoke constantly flows over your food, creating the perfect wood-fired flavor. Then with the push of a button, you can use super smoke mode and increase that desired wood-fired flavor. Additionally, you can also monitor your meat without lifting the lid using the meat probe.
Furthermore, with the amazing Turbotemp feature, you can improve your start-up time, which helps the grill temperature recover faster after lifting the lid. With the dual-position sear/smoke grate on the bottom, you can put your food closer to the fire when searing at high heat and further away when slow-smoking.
What's more, with WiFi technology through the Traeger app, you can change the temperature of the grill, access over 1,600 tasty recipes, and even connect it to your smart home devices. The Pro series is a game-changer, that's for sure.
Traeger Grill Pellets
There are a variety of different flavored pellets, and each one is designed to strengthen the flavor of different types of food. Below, we will help guide you in understanding when to use each pellet to help you achieve the best results when creating your next Trager cuisine.
Traeger signature blend wood pellets
This blend is a combination of maple, hickory, and cherry hardwoods. It is a versatile blend-filled flavor and will make your guests come back for more. Signature blend pellets pair well with just about anything you cook. It goes well with veggies, BBQ meats, poultry, fish, and even cocktails. Yip, that's right, and even delicious cocktails.
Popular recipes using signature blend wood pellets include:
Cherry crisp with sweet cream
Summer grilled corn and farro salad
Smoked mashed potatoes
Curried short rib quesadilla with spicy pickles
Traeger hickory wood pellets
Like all pellets, they pair well with just about anything; however, hickory pellets pair exceptionally well with vegetables, pork, beef, and poultry. Hickory pellets are known for their strong, smokey bacon-like flavor, adding that traditional BBQ taste to your meal.
Popular recipes using hickory wood pellets include:
BBQ chicken breasts
BBQ chicken legs
Smoke and sizzle coffee-rubbed pulled beef
Matt Pietmans pulled pork
Traeger cherry wood pellets
These are best for baked goods, ribs, pork, lamb, chicken, and beef. With a sweet, rich fruity flavor cherry pellets add depth to your smoked or grilled meats.
Popular recipes using cherry wood pellets include:
Seared duck breasts
Ham and egg breakfast crepes
Smoked bloody mary with grilled garnishes cocktail
Maple baked ham
Traeger mesquite wood pellets
These pellets are best for beef cuts like brisket and pair well with fish or chicken. It has a strong rich earthly aroma.
Popular recipes using mesquite pellets include:
Grilled corn salad
Reverse seared porterhouse steak
Baked bacon caramel popcorn
BBQ maple baked beans
Traeger apple wood pellets
These apple pellets have a mild fruity flavor that compliments baked goods, pork, vegetables, and chicken.
Popular recipes using apple pellets include:
Fall-off-the-bone BBQ ribs
Honey-glazed roasted pork loin
German potato salad
Chicharron and bacon topped with mac and cheese
Traeger pecan wood pellets
These pellets have a nutty mild flavor with a slight sweetness. Pecan pellets complement poultry, fish, pork, and various other meats.
Popular recipes using pecan pellets include:
Baked brie
Smoked salted caramel white Russian cocktail
Bacon green bean casserole
Butter braised green beans
Traeger maple wood pellets
These pellets have a slightly sweet flavor and will enhance the natural taste of vegetables, beef, and pork.
Popular recipes using maple pellets include:
Cider glazed baked holiday ham
Maple bourbon drumsticks
Braised Italian-style venison meatballs
Smoked beef jerky
The Traeger Grill Bible: 1000 Days of Sizzle & Smoke
Within the Full-Color pages of this cookbook, you will find:
Thе Fundаmеntаlѕ of Wооd Реllеt Grіllіng and Ѕmоkіng: A straight-to-the-point introduction with all the tips to master your Traeger grill.
Maintenance and Care of Your Traeger Grill: Enjoy years of barbecue with the right accessories for proper maintenance and cleaning!
The Different Cuts of Meat and Rules for Perfect Smoking: a one-stop practical guide to discovering different cuts for optimal cooking!
And much more
We earn a commission if you make a purchase, at no additional cost to you.
5 Reasons to Buy a Traeger Grill – From Temperature Control to Smokey Flavors
Easy to use: Traeger grills are designed to be user-friendly. It takes about 30 to 60 minutes to set up your brand-new Traeger grill, and then you can start to grill away. Along with temperature control and an automatic pellet feed system, anyone can become a grill and smoke master using Traeger.
Consistent results: With perfect temperature control and even heat distribution your food will be cooked to perfection each time.
Wood flavors: One of the best features of the Traeger is the ability to steep your food with real wood-fired flavors. Trager has a variety of different wood flavors to choose from allowing you to experiment and find a smokey flavor you enjoy. The depth of flavor cannot be matched by other grills.
Versatile: They are not just limited to grilling you can smoke, roast, bake, braise, and more. The area space is big too allowing you to fill the grate with whatever meals you have prepared. With Traeger, you can open up a whole new world of culinary possibilities.
Set-it-and-forget-it: This feature is easier to use than an oven because the grill sustains its temperature and circulates heat and smoke giving you perfect results each time.
Final Thoughts
In brief, Traeger grills are amazing with their modern design and advanced technology features you can take your outdoor cooking skills to a whole new level and open up your taste buds to experience the perfect wood-fired meal each time you cook. Investing in a Traeger is something you simply won't regret.
Related Articles
The image featured at the top of this post is ©monadinescu/Shutterstock.com.