Weber vs. Traeger: What are the differences? These are some of the best grills when it comes to gas or pellet grilling. Weber has existed since the late 1800s and only exploded into American homes as a summer favorite barbecue in the 1950s. However, Traeger is one of the best pellet grills that make barbecuing seamless.
Knowing the difference between a Weber and a Traeber grill can give you insight into your preference. It can also provide insight into what takes more work, the best food, and what different Weber and Traeger grills can offer.
This guide dives more into what makes a Weber and a Traeger unique. We look at the best features, models, and food you should consider barbecuing this summer. This will ultimately give you a better idea of what
What Is a Weber?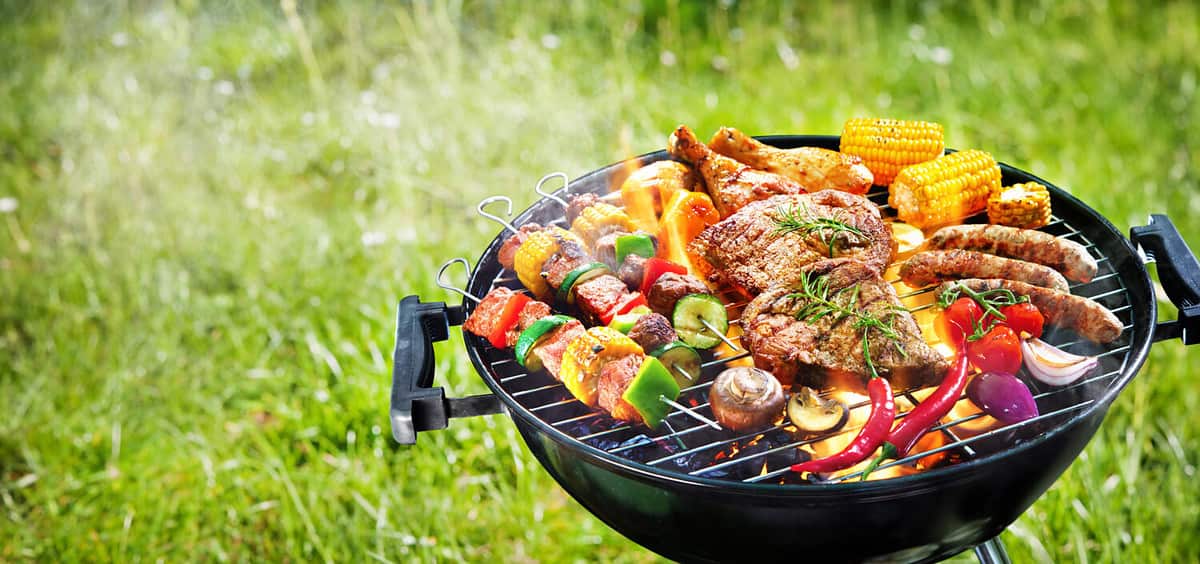 Weber is one of the oldest grills. Today, you can get charcoal, pellet, and gas grills. Depending on your desired specifications and features, you can find them priced between $50 and $5,000.
Here are the best features that stand out with Weber grills:
Durable and diverse selection.
Spacious preparation areas.
Smart technology features on the best grills.
You'll find various grills that range from simple charcoal barbecue to electronic ignition to storage space for your barbecue tools and propane tank. This allows you to do more with whatever kind of Weber grill you purchase. The best Weber gas grills are often considered the Weber Spirit II and Genesis II because of their technological features.
Here are the best Weber grills to consider on the market:
Weber Spirit II E-310
Weber Genesis E-325s
Spirit Series
What Is a Traeger Grill?
If you like pellet grilling and unique features when you barbecue, you should consider a Traeger grill. It's become one of the most popular grilling methods since the 1990s. If you get a pellet Traeger, you add pellets to the grill, press a button, and the grill starts to heat up to whatever temperature you need.
One of the coolest things about Traeger grills is that they have a Wi-Fi feature that allows you to check the internal temperature of your grill and your meat with your phone. You don't have to constantly monitor the temperature of whatever you make. It allows you to relax inside the home.
Here are some of the best features of Traeger grills:
Accurate PID controller for stable temperatures.
Excellent App and WiFi connectivity.
Folding Front Shelf
Given all the bells and whistles that are found on Traeger grills, they are typically not that cheap. They can be as expensive as $2,000 or more if you want more features.
Here's a list of the best Traeger grills:
Traeger TFB30KLF Tailgater Pellet Grill.
Traeger Ironwood X.
Weber vs. Traeger: Pro Tips When Cooking With Either
With any barbecue, you need to know how to use it properly. You need to understand how to clean the grill, how to use it to cook certain foods, and what pro tips can help you whenever you're having a summer barbecue.
Fortunately, a lot of the same tips apply to different grills. For example, you should let your meat rest after you barbecue, regardless of whether you use a Weber or a Traeger barbecue. Another common mistake to avoid is grilling meat straight from the fridge. The meat isn't fully relaxed when you do this, which can toughen it. You should let the meat rest for 15-20 minutes before eating it.
The more you poke your meat, the more it dries out. That's why you should always use tongs to handle your meat on your grill. Avoid using a large fork or something to stab at the meat to pick it up.
Lastly, to ensure your Weber or Traeger grill has a long shelf life, you must ensure the grill is cleaned when it's hot. If you want until it's completely cool, it will stick to it and be tougher to clean.
Other tips and tricks to ensure your Weber or Traeger is properly cleaned and used. Be sure to check the manual to see how to clean it and use it properly.
Weber vs. Traeger: What's the Better Choice?
The Weber and the Traeger grill are perfect for a summer barbecue. When properly cared for, these grills can last years. They also have a lot of unique features and varieties that make each one worth pursuing.
Choosing a Weber or a Traeger is about what you're looking for in a grill. If you love grilling every week, consider getting a higher-end Traeger or a Weber. You can also find more affordable basic ones. Knowing how much you'll barbecue and how many bells and whistles you want on your grill can give you a better idea of what grill is the best for you.
The image featured at the top of this post is ©Alexander Raths/Shutterstock.com.