Meat that is rich and deep in flavor can be hard to beat. Pork belly is just that: it is decadent and packed with flavor that hits just the right spots. When you know how to cook pork belly perfectly, you can serve a delicious main course that is versatile, delicate, and succulent.
Whether you are planning your next monthly meal plan or just trying to figure out what to eat on a whim, there are many benefits to cooking pork belly. While it is high in calories and does contain a high fat content, pork belly is also versatile, juicy, and simple to learn how to cook.
What is Pork Belly?
A pork belly is a meat cut from a pig's belly. It contains a ton of fat, one reason it tends to be juicy and delectable when cooked.
After the pig has been butchered and the various parts, like the loin, have been removed, the belly is left over.
Pork belly is also the meat that bacon comes from. While they come from the same area, pork belly and bacon differ. Bacon no longer has the skin and has been preserved in a way that involves curing and smoking it. On the other hand, pork belly is larger and contains plenty of fat. Therefore, slow cooking is one of the best ways to cook this meat.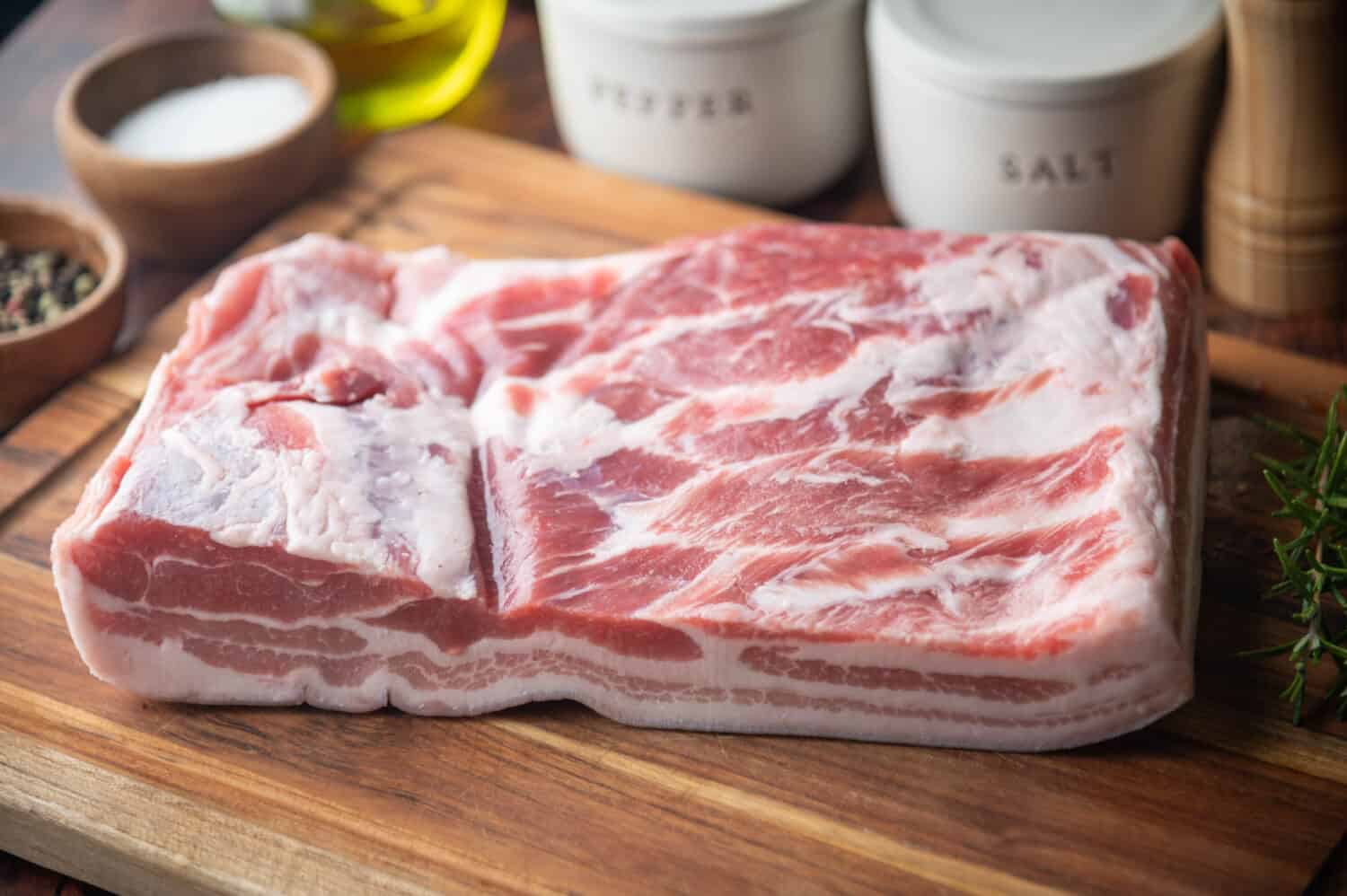 How to Cook Pork Belly Perfectly
An array of cooking methods can deliver the perfect pork belly. These include grilling and pan-frying. However, since pork belly contains a high-fat content, it does well with slow and steady cooking methods. Additionally, slow roasting and braising methods will bring out more flavor and tender juiciness as the pork belly cooks. 
How to Slow Roast in a Crockpot
Slow roasting a pork belly allows the fat to render. As a result, the slow-cooking method produces a tender, moist, and succulent result. Follow the instructions below to cook a pork belly using the slow-roasting method in a crock pot. 
Tools
Ingredients
Pork belly
Salt
Seasoning of your choice
Garlic cloves
Chicken broth
Onion
Instructions
First, spray the crockpot with cooking oil or use a crockpot liner. This step will help with cleanup later.
Next, cut up the onions.
Rub salt and seasoning onto the pork belly. Additionally, it may be necessary to slice the pork belly in half or pieces to fit in the crockpot.
Add the pork belly, garlic, and onion to the crockpot.
Cook on low for seven hours or on high for four hours.
To get a nice crisp outer layer, preheat the oven to 400 degrees Fahrenheit. Roast the pork belly in the oven for 30 minutes.
If you want to skip this step, cook the pork belly in the crockpot until tender. However, the last step will make the pork belly crispier on the outside.
Enjoy with a side salad or your favorite side dishes!
How to Braise Pork Belly
Braising is a popular method of cooking in the culinary world. It combines roasting and steaming to produce mouthwatering, juicy, delicate meat or vegetables.
To braise pork belly to perfection, follow the steps below.
Tools
Oven and stovetop
Roasting pan
Aluminum foil
Spatula
Meat thermometer
Ingredients
Pork belly
Seasoning of your choice
Salt
A variety of vegetables can include onions, garlic, and carrots.
Olive oil
Two cups of dry white wine
Four cups of chicken broth or stock
Instructions
The day before you braise pork belly, remove it from the refrigerator and pat it dry with a paper towel.
Rub the pork belly with your combination of seasonings or a pre-made rub. Rub on both sides.
Place the pork belly in a casserole dish, cover it, and put it in the refrigerator until ready to cook the next day. However, if you would like to cook the pork belly the same day, simply allow it to marinate in the refrigerator for a few hours.
The next step is to make your braising liquid. There are many varieties of braising liquid to try. Also, do not be afraid to play with flavor and add different ingredients.
Chop up the vegetables you are using, like carrots and onions.
Then, sautee the vegetables in olive oil for five to ten minutes. They will begin to soften. Add garlic and cook for four more minutes.
Next, add the dry white wine and cook until it completely disappears.
Then add in chicken broth or stock, and cook until it boils.
Preheat the oven to 325 degrees Fahrenheit.
During this time, place the pork belly on the roasting pan's wire rack and pour the braising liquid over it and into the bottom of the roasting pan. Then, cover with foil.
Roast the pork belly for three hours and then check tenderness.
Increase the oven temperature to 450 degrees Fahrenheit.
Continue to cook for 30 more minutes. You will know it is down when the internal temperature reaches 145 degrees Fahrenheit. 
Remove from heat and eat while warm!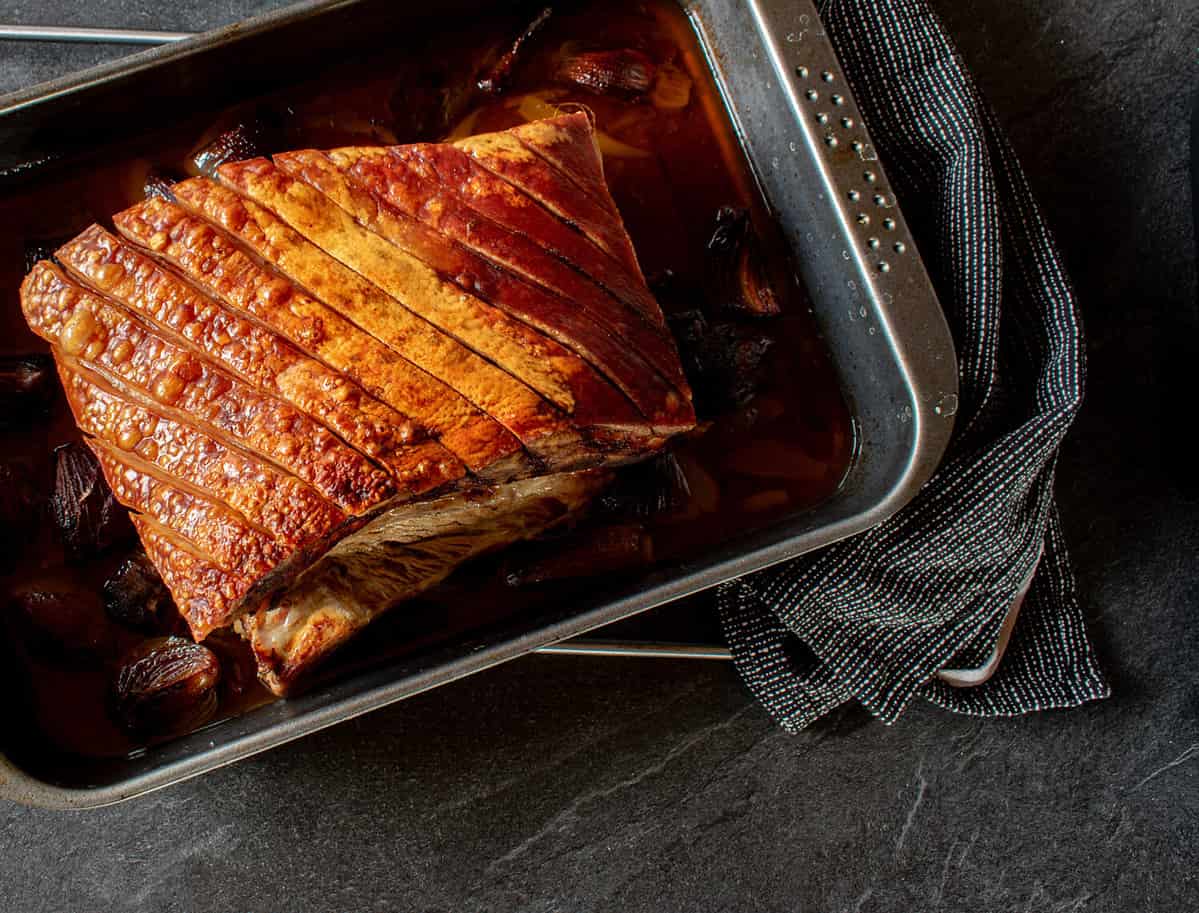 How to Oven Roast Pork Belly
Oven roasting is another slow-cooking method to try when making pork belly. This straightforward method is simple to follow.
Tools
Baking pan or wire rack
Oven
Meat thermometer
Ingredients
Pork belly
Olive oil
Salt and pepper
additional seasoning of your choice
Instructions
Preheat the oven to 350 degrees Fahrenheit.
Next, combine the oil and seasonings until thoroughly mixed.
Pat the pork belly completely dry.
Rub the oil and seasoning all over the pork belly on both sides.
Put aluminum foil on a baking sheet and place the pork belly on the sheet with the skin side up.
Roast the pork belly for two and a half hours.
Then, increase the oven temperature to 450 degrees Fahrenheit and roast for 30 more minutes.
The pork belly will begin to develop a deep golden top.
Remove from heat and allow the roast to rest.
Enjoy the pork roast while hot!
Try These Tips Before Cooking Your Next Pork Belly
Before you cook your next pork belly, keep these tips in mind.
Pork belly cooks excellently on slow and low heat. This allows the fat to render. Therefore, opt for methods that include roasting or braising.
Pat the pork belly with a paper towel to reduce moisture, allowing the meat to cook and brown more evenly.
Rub seasoning all over the pork belly.
Introducing a sudden jump in heat will help the pork belly become crispier.
Use a meat thermometer to check the internal temperature. For pork, the safe temperature to consume is 145 degrees Fahrenheit, but many choose to cook to 165 or 170 degrees Fahrenheit.
Allowing the meat to rest for five to ten minutes gives it more time to continue to cook inwardly.
Pork Belly Recipes to Try This Week
How to Pork Posts
One Last Thought
Pork belly is a moist, tender, and tasty meat to serve for weeknight dinner. With some prep work, you can also learn how to cook pork belly perfectly! Since this meat is high-fat, it does well with slow cooking. There are many ways to cook pork belly, but some of the best ways include roasting and braising. Therefore with these cooking methods it is easy to give pork belly a chance if you are in the mood for a mouthwatering meat for dinner tonight! 
The image featured at the top of this post is ©Konstantin Kopachinsky/Shutterstock.com.