When it comes to garlic clove vs. garlic bulb, the only difference is quantity. Garlic cloves make up the garlic bulb. Depending on whether the garlic is hardneck variety or softneck variety determines how many cloves are in each bulb. Hardneck garlic has only five to eight cloves per bulb, while softneck garlic has anywhere between twenty to thirty cloves per bulb.
What is Garlic?
Garlic is a plant in the Allium family which also includes leeks, onions, and shallots. It is a flowering plant that grows a bulb underground. There are many different varieties of garlic, and they are either hardneck or softneck.
People have been eating garlic for the last 5000 years. Garlic is thought to be from Central Asia but is now cultivated for culinary purposes across the globe. Historically garlic was used medically too. Garlic has many health benefits when eaten raw. Crushed raw garlic releases a sulfur compound that gives garlic its pungent smell and taste. Healthline explains that garlic can lower blood pressure and cholesterol and boost the immune system. And it can be used topically as an antiseptic. It can kill bacteria and foot fungus.
What are Garlic Cloves?
Garlic cloves are the small pieces of garlic that make up the bulb. Softneck garlic has many cloves, up to thirty per bulb. In contrast, hardneck garlic has fewer cloves per bulb, usually five to eight per bulb.
What is a Garlic Bulb?
The garlic bulb is the bulb of garlic and is made up of cloves. It grows underground. Garlic bulbs are sold in supermarkets, and home chefs separate and peel the cloves before cooking with them.
Nutritional Differences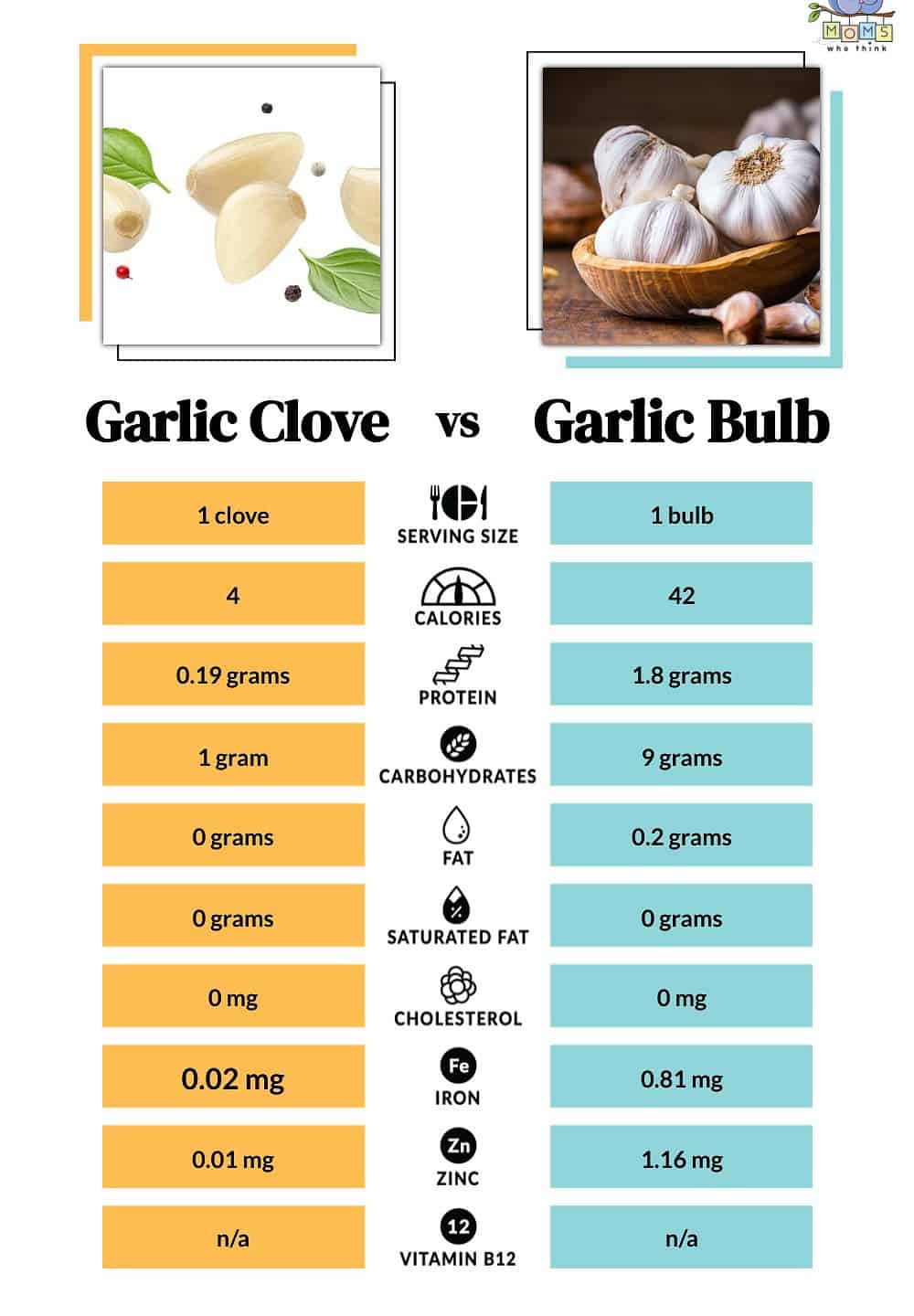 Since garlic cloves are what make up a garlic bulb, the nutritional difference comes down to how much is used. Most recipes do not use an entire bulb of garlic. It is much more common to use a few cloves.
Best Ways to Use Garlic
This aromatic vegetable that is used as an herb is most commonly connected to Italian food, but it is used in other cuisines like Indian, Chinese, Japanese, and Mediterranean cooking. Garlic can be eaten raw or cooked. Garlic bulbs which are filled with garlic cloves, are sold in supermarkets and farmers markets. And you can also find packaged jars of minced garlic on supermarket shelves.
Garlic can be minced, sliced, crushed, microbladed, pressed, or used whole. Whole cloves have a milder taste. Garlic gets its intense flavor when the garlic clove is broken by crushing, pressing, or mincing, and the sulfur compound is released.
Many recipes call for minced garlic. The best way to mince garlic is to peel the garlic, then lay the cloves on the cutting board and use the flat, broad side of the knife to smash the garlic. Then hold the knife in the dominant hand and use the other hand to guide the knife while chopping. Minced garlic is chopped finer and more intense than roughly chopped garlic.
Some recipes call for pressed garlic. Pressed garlic is garlic that has been put through a garlic press. This kitchen gadget is controversial in the culinary world. Some chefs like Anthony Bourdain are vocal about their disdain for the kitchen gadget, claiming it ruins the garlic. While other chefs find it a convenient gadget to aid in the cooking process.
Using Fresh Garlic
Fresh garlic has a strong flavor and is used in salad dressing, dips, and marinades. The intense flavor mixes well with basil and oregano. When using fresh garlic cloves, a little goes a long way. Most recipes only call for a few cloves. Adding an entire garlic bulb and its many cloves to a dish is rare, especially raw, because it is overpowering.
Using Cooked Garlic
Cooking garlic mellows the flavor and allows it to blend with other herbs and spices. Cooking garlic in butter brings out a mellow flavor while cooking it in oil gives it a sharper taste. The key to cooking garlic is to avoid burning it. Garlic cooks quickly and only needs a short time on the stove before the flavor are released. If you accidentally burn the garlic, then it is best to toss it out and start again, as burnt garlic will ruin a dish.
Roasting, sauteeing, and boiling are all ways to cook garlic. Roasting garlic brings out a soft buttery texture and mellow, garlicky flavor. Roasted garlic can be used on its own as a spread or added to sauces. Sauteed garlic is an excellent base for a stir fry. Whole garlic cloves can be thrown in soups, stews, and sauces to boil and infuse the pots with the garlicky goodness.
Treating Garlic Breath
Garlic breath is the unfortunate side effect of eating too much garlic. The smell of garlic can stay in the mouth, and the unpleasant odor lingers on the body, and if a person regularly eats a lot of garlic, their sweat will also smell like garlic. The best way to alleviate the discomfort of garlic breath is to brush and floss your teeth immediately after eating garlic. Drinking a lot of water helps by flushing out the body and the mouth to disperse some of the intensity of the odor. And green tea neutralizes the odor, and mouthwash and mints can help too. Some studies suggest eating fresh lettuce or apple slices to neutralize the smell of garlic.
A Great Garlic Recipe
Print
Chicken Garlic Sauce
---
Author:

Yield:

4

servings

1

x
3 Tablespoons all-purpose flour, divided
1 1/2 teaspoons minced fresh rosemary or 4 teaspoons dried rosemary, crushed
1 1/2 teaspoons rubbed sage
3/4 teaspoon salt
1/2 teaspoon pepper
4 boneless skinless chicken breast halves (1 1/2 pounds)
2 Tablespoons olive oil, divided
7 garlic cloves, halved lengthwise
1/2 cup chopped onion
1/4 teaspoon crushed red pepper flakes
1/4 cup white wine or reduced sodium chicken broth
1 1/4 cups reduced sodium chicken broth
1 Tablespoon butter, melted
3 Tablespoons minced fresh parsley
---
Instructions
1. In a large resealable plastic bag, combine 2 Tablespoons flour, rosemary, sage, salt and pepper; add chicken.
2. Seal bag and shake to coat.
3. In a large nonstick frying pan, brown chicken in 1 Tablespoon oil over medium heat for 4 minutes on each side.
4. Transfer to an 8 inch square baking dish coated with cooking spray.
5. Bake, uncovered, at 325°F for 15 minutes.
6. While the chicken is baking, sauté the garlic, onion and red pepper flakes in remaining oil until onion is tender and garlic begins to brown, about 3 minutes.
7. Stir in wine or broth; bring to a boil. Boil until wine is reduced by half, about 3 minutes.
8. Stir in chicken broth; bring to a boil. Boil until broth is reduced by half, about 7 minutes. Remove pan from the heat.
9. Whisk together butter and remaining flour; add to frying pan. Return to heat.
10. Bring to a boil; cook and stir for 2 to 3 minutes or until sauce thickens.
11. Serve sauce warm over chicken breasts. Sprinkle with parsley.
Nutrition
Serving Size:

1 chicken breast half with ½ cup sauce

Calories:

339

Sodium:

774mg

Fat:

12g

Saturated Fat:

4g

Carbohydrates:

12g

Fiber:

1g

Protein:

42g

Cholesterol:

106mg
Overall Differences in Garlic Cloves and Garlic Blubs
Garlic cloves are just the broken-down parts of the whole garlic blub.