Garlic chives and chives look remarkably similar; both come from the aromatic onion family. But these two plants have some key differences. The flavor is the main difference between these two plants. Garlic chives have a garlicky flavor, while chives have a less pungent onion flavor. Both plants have long green stalks, but they have a different texture. Garlic chives are flat, like a long piece of grass, and chives are hollow, like a small straw. Both plants have flowers, with garlic chives having white flowers and chives having pink or purple flowers.
What Are Garlic Chives?
Garlic chives or Allium tuberosum are perennial plants that can be used as an herb to flavor foods and also just as an ornamental plant. They can be grown from seed or from bulbs and grow best in full sun. The bulb of garlic chives is not edible. It's fibrous and dense. It can be confusing because garlic bulbs that you grow in your garden or that you buy in the supermarket also produce long green-stemmed parts that resemble chives, but these are garlic scapes. Garlic scapes are much more pungent than garlic chives, and the bulb is the common garlic bulb, while the long green scapes are used to flavor dishes.
The garlic chive is the only edible part of the plant. The stalks have a mild garlic flavor that makes it ideal for diners with sensitive stomachs that can't tolerate regular garlic bulbs. Many home gardeners grow them for their pretty flowers. They are hardy plants that grow in zones 4-8, and since their flowers produce excess seeds once they are in the garden, most leave them there since they reseed themselves.
What Are Chives?
Chives or Allium schoenoprasum grow in zones 3-9. They are perennial plants that are easy to grow indoors and outdoors. If not trimmed for use, the stalks will flower with purple or pink flowers, which are also edible. Chives have a very mild flavor and are more delicate than garlic chives.
Chives have a long history; they originated in China and were used medicinally in Chinese medicine. Marco Polo first introduced chives to Europe. In the Middle Ages, chives were hung in the doorway to ward off evil spirits. Later, they were used in cooking.
Chives can be confused with other members of the Allium family, like scallions, green onions, and spring onions. Chives are different than these other plants, but the terms are often used interchangeably. In the case of scallions and green onions, they are the same. They are thin and long with a straight shaft and do not have a bulb at the bottom. They have a mild oniony taste. While spring onions have a sweeter taste and a larger white edible bulb at the bottom.
Differences in Nutritional Value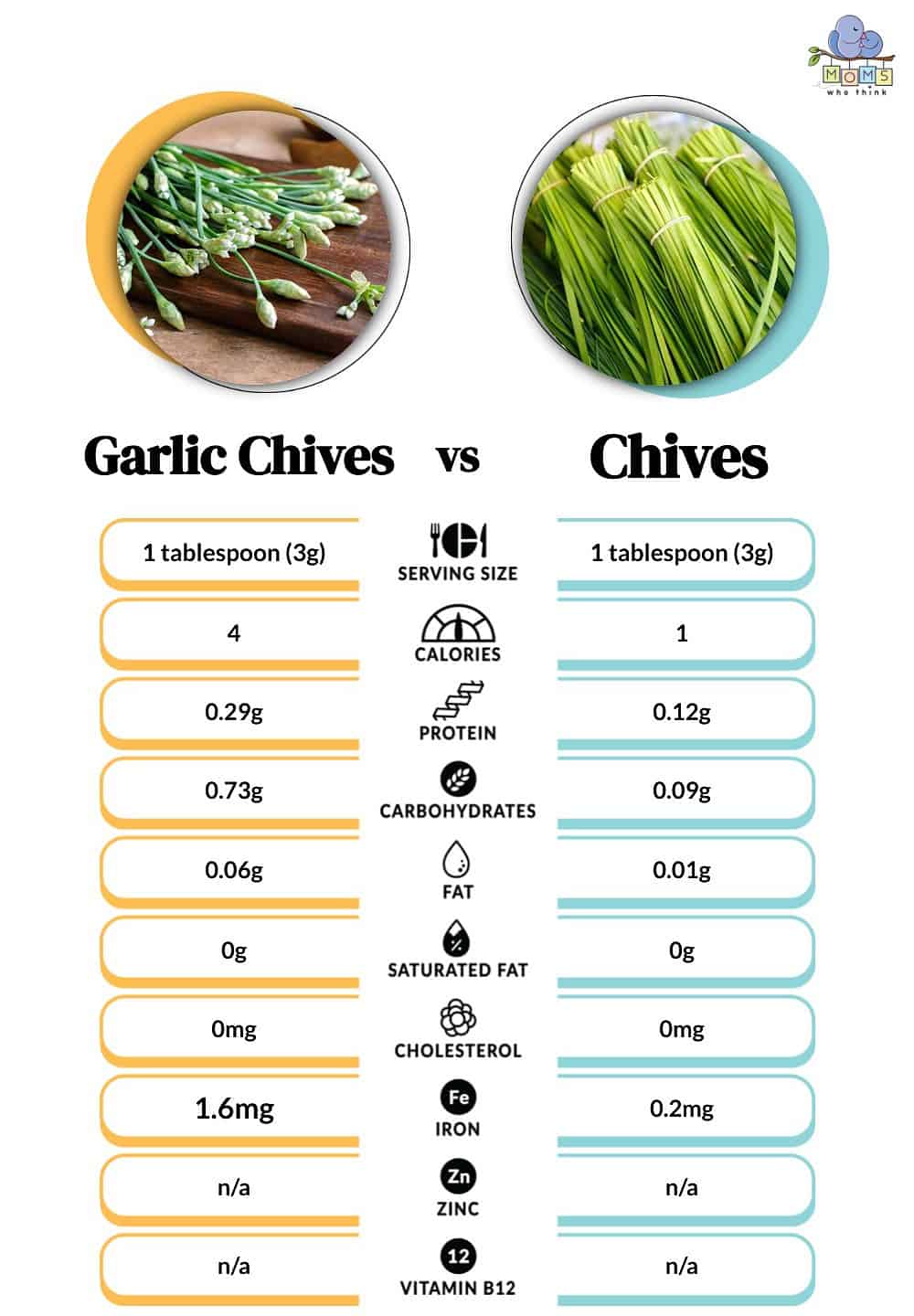 Garlic chives and chives are used similarly in cooking. They add flavor and texture, but they offer little nutritional value. They are nearly the same in nutritional profile, with garlic chives being slightly ahead with a small amount of iron, protein, carbohydrate, and fat than chives.
Can You Substitute Garlic Chives for Chives?
In many dishes, substituting garlic chives for chives is fine as long as the garlic flavor adds to the dish and doesn't distract—for example, stir-fries, salads, and casseroles. Chives are often added as a garnish right before serving; their fine texture and delicate flavor are meant to be an addition, not an overall taste changer. So, if you are substituting stronger-smelling and tasting garlic chives, use less and finely chop them to replicate the flavor and texture.
Can You Substitute Chives for Garlic Chives?
If a recipe calls for garlic chives, the best substitute is fresh garlic or garlic powder, which is just dried garlic. If the garlic chives are being used as a garnish to sprinkle on soup or an omelet, then using chives will be fine. But if the dish requires that irreplaceable garlic taste, then chives are not the best substitution.
Best Ways to Use Garlic Chives
Garlic chives work well in Asian dishes like noodles, stir-fries, eggs, and spring rolls. They are often sprinkled on soups and hot pots for added intensity. The best way to add them is to finely chop them and add them toward the end of the cooking process.
Garlic chives are an easy addition to bring a burst of flavor, but they can be difficult to find. They are commonly sold in international markets, and you probably won't find them in your local supermarket. Luckily, they are easy to grow, so if you can't find them or don't have a good international market near you, plant some garlic chives so you can have your own supply.
Because garlic chives are not as common, you may not find them on the ingredients list in recipes, but you can use them to replace garlic in recipes like Broccoli Chicken Stir Fry, Sesame Chicken, and Chop Suey.
Best Ways to Use Chives
Chives work as a garnish or flavor enhancer and are commonly added to savory dishes with eggs, potatoes, and meats. The best way to use chives is to finely chop them and sprinkle them on dishes like Classic Baked Potato, Texas Chili, and Chicken dishes.
To make the most of chives and use them before they go bad, MasterClass recommends wrapping them in a damp paper towel, placing them in an air-tight container, and keeping them in the refrigerator, where they should last for a little over a week. If you are lucky enough to have an abundance of chives from the garden or farmer's market, you will be pleased to know you can also freeze them to extend their shelf life. There are two ways to freeze them. Start by washing and drying them to remove dirt and debris. Next, finely chop them. Now you can either freeze them on ice cube trays or spread them out on a baking sheet. When they are frozen, seal them in a plastic freezer bag and use them within six months.
How to Grow Garlic Chives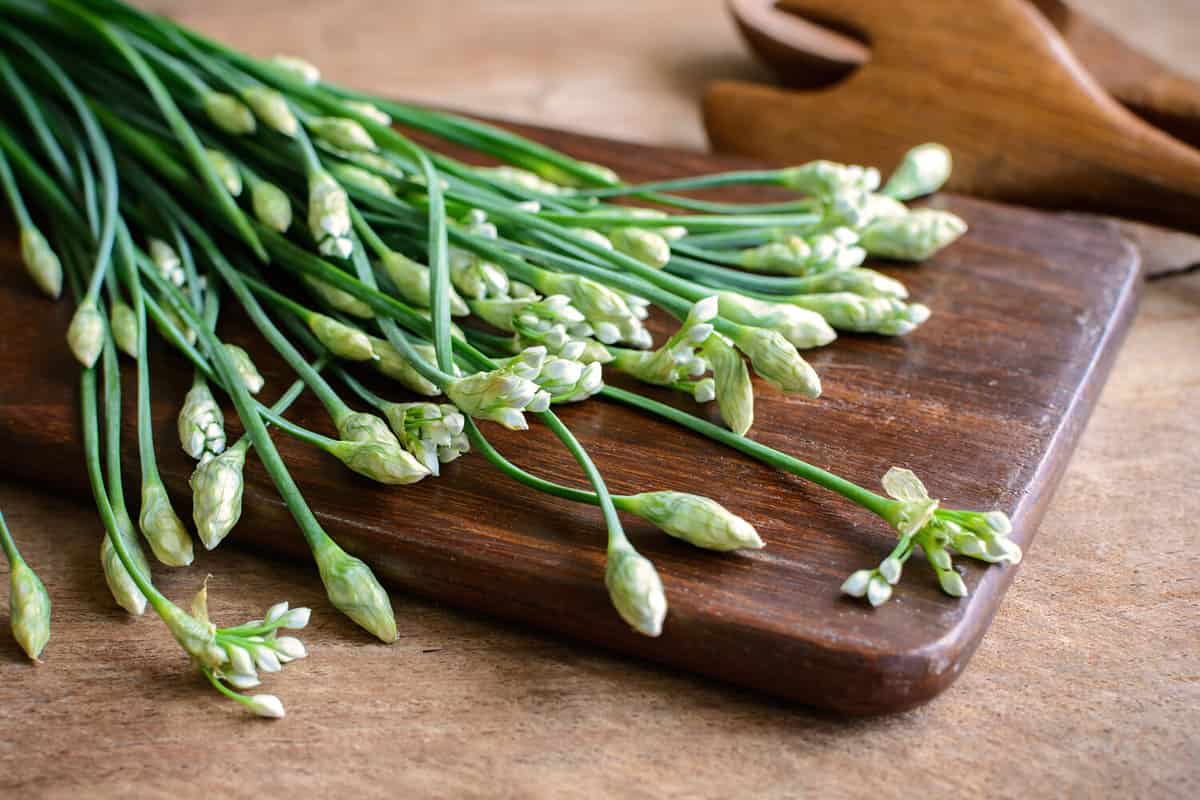 The best way to grow garlic chives is to start indoors. Plant them ¼ inch deep in a planter with a seed starting mix. They do best with plenty of light and should be kept moist. When the plants are 2 ½ to 3 inches tall, transplant them outside. It is a good idea to harden them first. To harden them, take them outside for a few hours a day for a week before planting them in the ground. Once they are in the ground, water them regularly and watch them grow. The flowers are full of seeds, and they will naturally reseed themselves so that you can enjoy garlic chives through the summer and fall seasons.
How to Grow Chives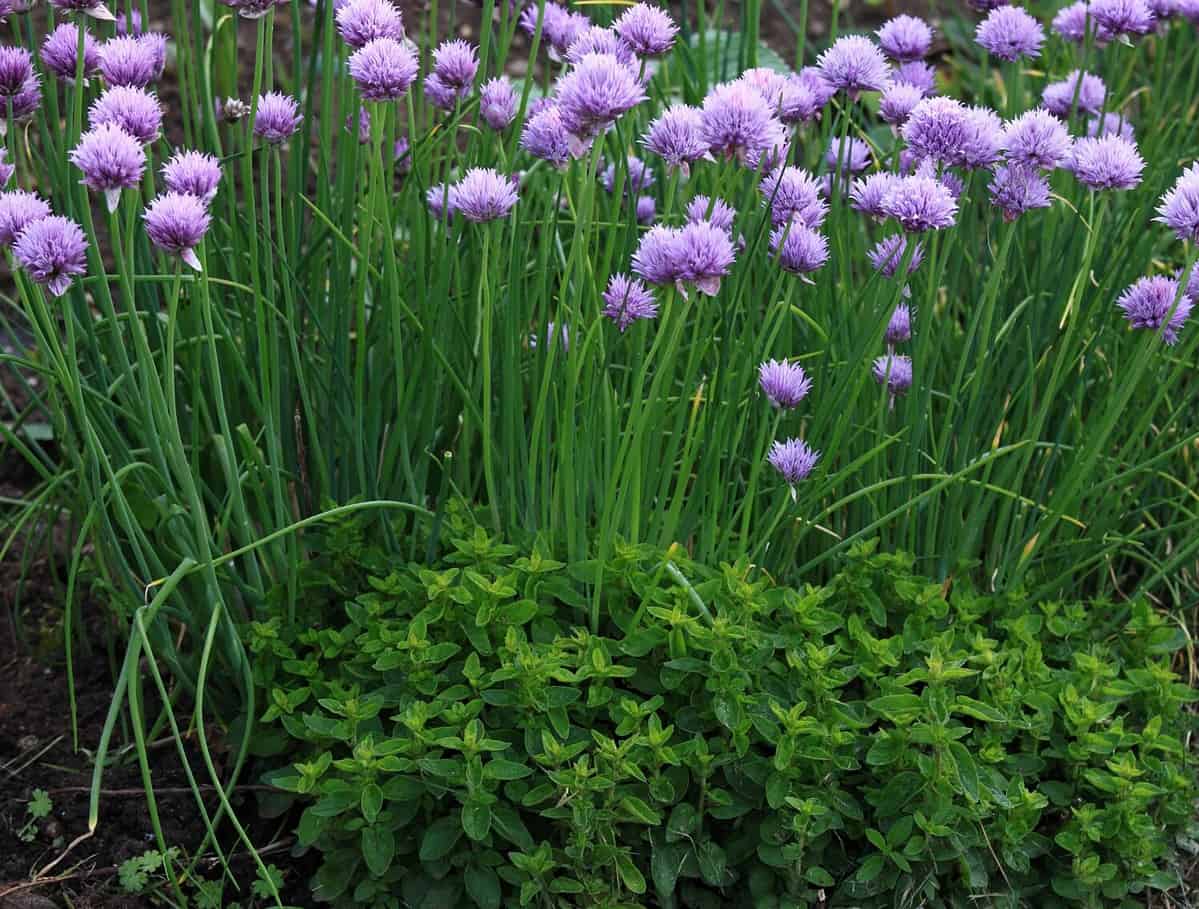 Chives are easy to grow from seed. Start by planting them indoors in early spring, around seven weeks before the last frost. Plant seed ¼ inch deep in well-draining fertile soil. With full sun and regular watering, chives will grow in abundance. Plant chives near carrots, beets, and peas to help deter pests and keep the plants healthy.
Chives will flower in later spring and early fall. They often lay dormant during the hot summer months and prefer cooler weather. Their flowers are edible and best right after bloom. If you don't want the seeds to spread, remove the flowers, or you will have more chives than you may want in your garden.
The best way to store fresh chives is to store them in an air-tight container or freeze them. Dried chives lose their delicate flavor, so drying them is not recommended.
Comparison of Garlic Chives vs. Chives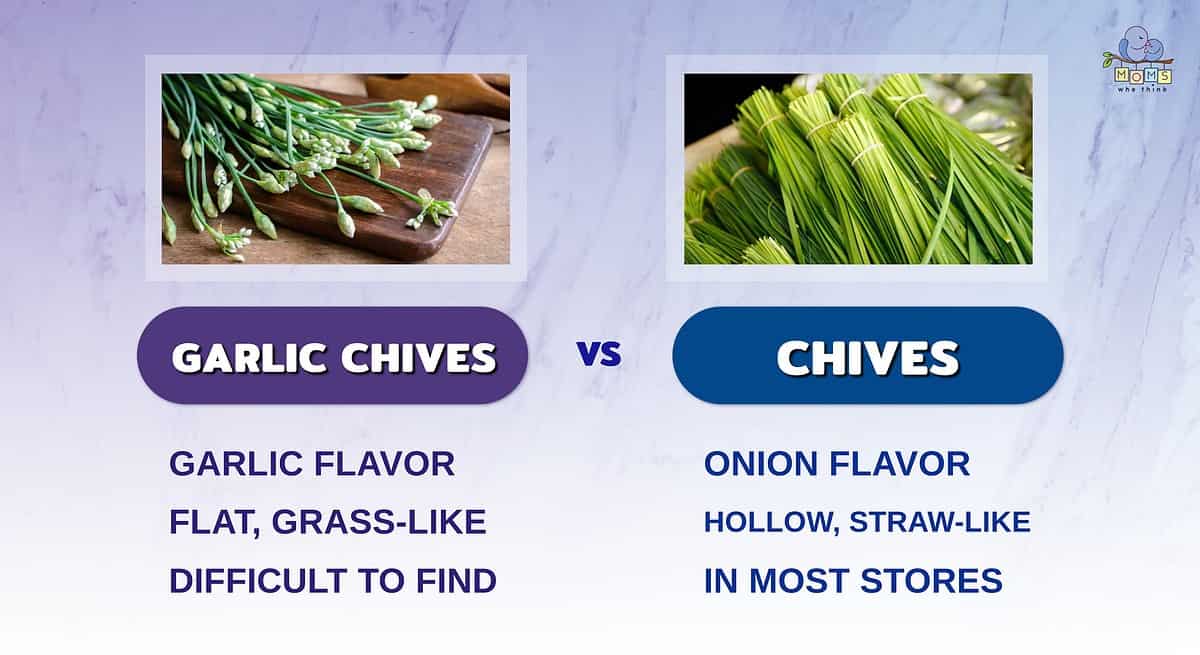 Their names may sound similar, but garlic chives and chives are actually quite different, particularly in flavor. Let's recap on how these two differ:
Garlic chives have more of a garlicky flavor, whereas chives have a strong onion flavor.
While their nutritional profiles are almost identical, garlic chives are slightly higher in calories than chives.
Chives are hollow and straw-like. On the other hand, garlic chives are very grass-like with flat stems.
In search of a new recipe to try that uses chives? Try out this peppery cheese and veggie potato skillet:
Print
Peppery Cheese and Veggie Potato Skillet
---
Author:

Yield:

4

servings

1

x
1 large onion, finely chopped
1½ cups sliced fresh mushrooms
1½ cups chopped green pepper
⅓ cup canola oil
6 cups frozen shredded hash brown potatoes
2 medium tomatoes, finely chopped
1 cup shredded reduced fat cheddar cheese
½ cup sliced ripe olives
2 jalapeno peppers, seeded and sliced or ¼ cup jarred jalapeno slices (about 30)
1 teaspoon seasoned salt
¼ teaspoon pepper
2 Tablespoons minced chives
---
Instructions
1. Sauté the onion, mushrooms and pepper in oil, in a large nonstick frying pan, until tender.
2. Add hash browns, crumbling evenly across the pan.
3. Cook over medium heat for 10 to 12 minutes or until potatoes are browned, stirring often.
4. Stir in the tomato, cheese, olives, jalapeno, seasoned salt and pepper.
5. Cover and cook for 3 to 4 minutes longer, or until cheese is melted.
6. Divide potatoes evenly among four plates and sprinkle top of each mixture with chives before serving.
Nutrition
Serving Size:

1 serving

Calories:

284

Sodium:

595mg

Fat:

14g

Saturated Fat:

4g

Carbohydrates:

38g

Fiber:

4g

Protein:

12g

Cholesterol:

20mg