Wild garlic (Allium ursinum) and wild onion (Allium canadense) are similar plants that often get mistaken for one another. The main difference between wild garlic and wild onion is the taste and shape of the leaves. Wild garlic has a more pungent garlicky taste, and wild onion has a slight onion flavor. Both wild garlic and wild onions have long, thin, green leaves. But wild garlic leaves are round and hollow, while wild onion leaves are flat like blades of grass. The other difference is that wild garlic leaves grow from the main stem, and wild onion leaves grow from the plant's base.
When it comes to wild garlic vs. wild onion, the plants have more similarities than differences. They are both perennial plants in the Allium family and have a similar appearance. In addition, these green grassy plants grow in clumps in less populated parts of the garden and in the wild. Both plants emit a strong odor when cut.
What is Wild Garlic?
Wild garlic (Allium ursinum) has a bulb and leaves and grows white flowers. The entire plant is edible and grows wild in Europe and the United States, most commonly found on the East Coast and in the Pacific Northwest. It has several different local names and is sometimes referred to as ramsons and bear's garlic.
Wild garlic has a long history of medicinal use, similar to regular garlic. According to Health Benefits Times, wild garlic is first mentioned in the first century in an early herbal encyclopedia by the Greek botanist Pedanius Dioscorides. He comments on the medicinal uses of the plant as a detoxification and cleansing plant. It was later seen again in the Middle Ages in King Charlemagne's guide to local herbs and plants. While it is now found in Europe and the U.S., it is commonly believed that the plant was brought across the pond by early colonists and later propagated to the places it is now found.
Wild garlic grows in early spring, and that is the best time to forage for it. But you can also find it in a farmer's market. If you are hiking or out in nature and come across wild garlic, do a quick smell check to see if it has that unique garlic aroma because there are other plants that resemble wild garlic that are poisonous. Foragers and nature lovers will delight in finding wild garlic because it can be used in cooking, similar to garlic scapes or garlic chives. But home gardeners aren't always happy to see it in the garden because it can quickly take over, and the underground bulbs are difficult to remove.
What are Wild Onions?
Wild onions (Allium canadense) are edible weeds that are cousins to the onions you find in the local supermarket. Wild onions grow easily and have star-shaped pink or white flowers that start blooming in late spring and into the summer months. You can find wild onions in meadows, forests, fields, and home lawns. They grow anywhere from 15 to 20 inches in height and produce lots of seeds, making them easy to spread and propagate. The small underground bulb also propagates and quickly takes over a home garden.
Similar to wild garlic, the wild onion looks relatively similar to other plants that are poisonous, and you should always smell it before trying it. Wild onions can be used like chives to add a hint of onion to a recipe. The small bulbs are edible too, but they are so minuscule that it is more common to eat the long green leaves.
According to the United States Forest Service, some Native American tribes used wild onions medicinally. They would crush the wild onions and apply them topically for bee stings, mosquito bites, and to pull venom from snake bites.
Nutritional Differences
Wild garlic and wild onion are so similar that they have the exact same nutritional profile. The taste is the only real difference, but nutritionally, they are the same. So in the wild garlic vs. wild onion, it is an even tie.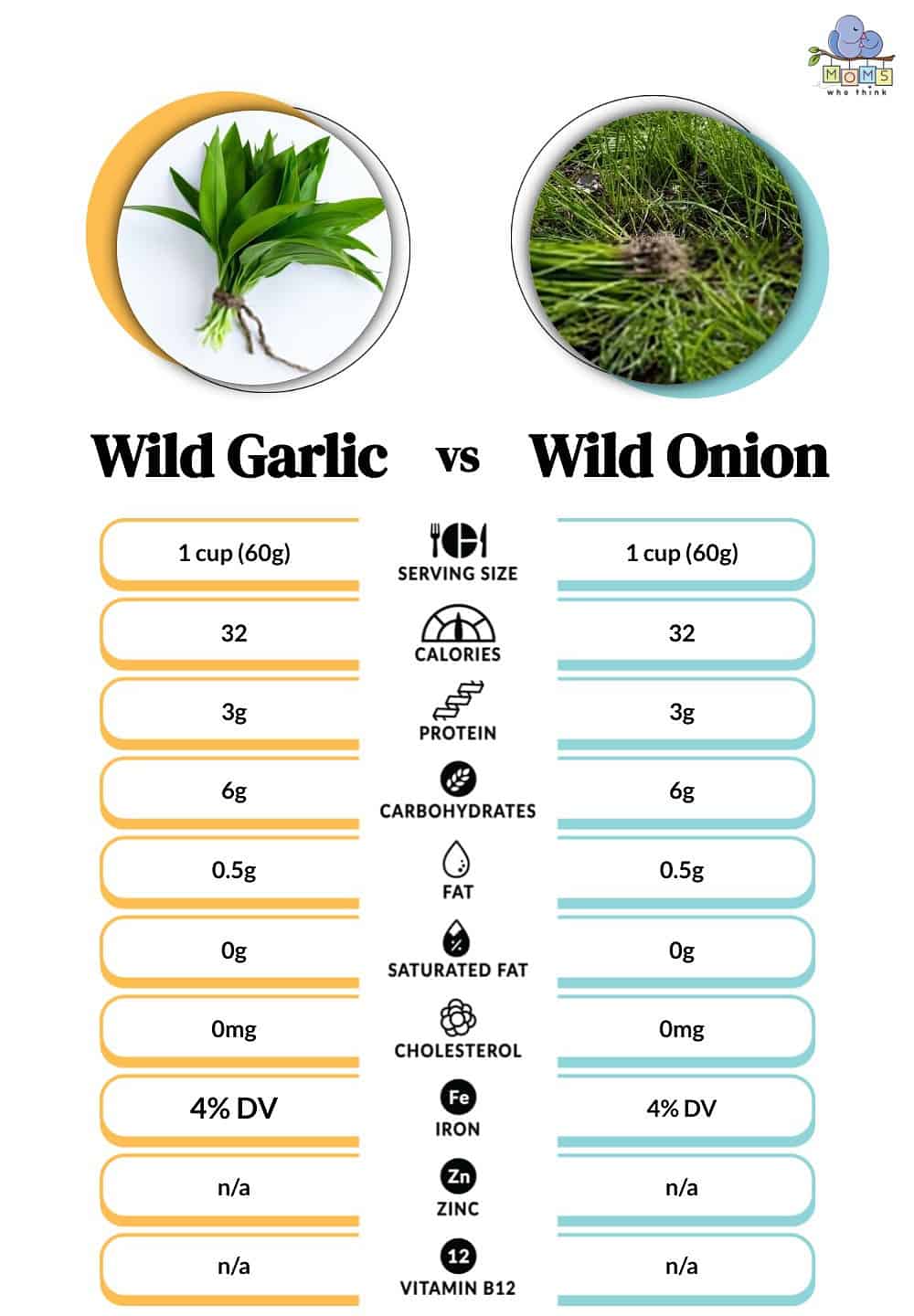 How to Use Wild Garlic
Culinary
Wild garlic can be used like garlic scapes for a hint of garlic in dishes. It can be eaten raw or cooked, although cooking it does mute the garlic flavor. You can chop it and add it to mashed potatoes or sprinkle it on soups or stews. It is a great addition to a salad dressing that calls for fresh garlic and works in marinades.
Wild garlic can also be fermented and pickled. You can also add it to anything you are pickling, like green beans or giardiniera, to add some extra flavor.
Medicinal
Wild garlic is antibacterial and antiseptic, with the main health benefit of reducing high blood pressure. High blood pressure leads to other health issues like heart disease and stroke. Plus, wild garlic improves digestion and boosts the immune system.
How to Use Wild Onions
Culinary
Wild onions can be used fresh or cooked for a mild onion flavor. You can chop the long green leaves like chives and sprinkle them in egg dishes, salads, soups, and any dish that needs some added flavor. It is best to add them towards the end of cooking not to lose the tangy taste.
Medicinal
Wild onion can be used as a bug repellent. The next time you are walking in the woods and the mosquitos are out, grab some wild onion and crush it in your hands to release the strong smell and keep the mosquitos and no-see-ums away.
A Quick Comparison of Wild Garlic vs. Wild Onion
Wild garlic and wild onion can both be excellent additions to your kitchen. They both grow abundantly, and have the same nutritional profiles. Which you choose will come down to what you're looking to get out of a dish; do you want the strong, savory flavor of garlic, or the milder flavor of onion? Both of these wild plants can be used medicinally, in addition to in the kitchen. Of course, always make sure you consult your physician before using either of these plants to treat any medical conditions.
Print
Chicken with Garlic Sauce
---
Author:

Yield:

4

servings

1

x
3 Tablespoons

all-purpose flour, divided

1 1/2 teaspoons

minced fresh rosemary or

4 teaspoons

dried rosemary, crushed

1 1/2 teaspoons

rubbed sage

3/4 teaspoon

salt

1/2 teaspoon

pepper

4

boneless skinless chicken breast halves (

1 1/2

pounds)

2 Tablespoons

olive oil, divided

7

garlic cloves, halved lengthwise

1/2

cup

chopped onion

1/4 teaspoon

crushed red pepper flakes

1/4

cup

white wine or reduced sodium chicken broth

1 1/4

cups

reduced sodium chicken broth

1 Tablespoon

butter, melted

3 Tablespoons

minced fresh parsley
---
Instructions
In a large resealable plastic bag, combine 2 Tablespoons flour, rosemary, sage, salt and pepper; add chicken.
Seal bag and shake to coat.
In a large nonstick frying pan, brown chicken in 1 Tablespoon oil over medium heat for 4 minutes on each side.
Transfer to an 8 inch square baking dish coated with cooking spray.
Bake, uncovered, at 325°F for 15 minutes.
While the chicken is baking, sauté the garlic, onion and red pepper flakes in remaining oil until onion is tender and garlic begins to brown, about 3 minutes.
Stir in wine or broth; bring to a boil. Boil until wine is reduced by half, about 3 minutes.
Stir in chicken broth; bring to a boil. Boil until broth is reduced by half, about 7 minutes. Remove pan from the heat.
Whisk together butter and remaining flour; add to frying pan. Return to heat.
Bring to a boil; cook and stir for 2 to 3 minutes or until sauce thickens.
Serve sauce warm over chicken breasts. Sprinkle with parsley.
Nutrition
Serving Size:

1 chicken breast half with ½ cup sauce

Calories:

339

Sodium:

774mg

Fat:

12g

Saturated Fat:

4g

Carbohydrates:

12g

Fiber:

1g

Protein:

42g

Cholesterol:

106 mg