Nowadays, more and more people are interested in holistic medicine and looking for natural ways to improve their health through diet and supplements. Some have turned to garlic for its health benefits. While garlic has many medicinal traits, it also has a strong smell that can be difficult to swallow. So instead of turning to raw garlic, some are using garlic capsules. Both raw garlic and capsules are considered safe for consumption, but there are a few things to consider when choosing between the two. When it comes to garlic capsules vs. raw garlic, the main difference is that one is all-natural while the other is a manufactured supplement.
Holistic medicines and supplements are not approved by the Food and Drug Administration so there are no restrictions or regulations on how much garlic is in each capsule and the quality of the garlic. But for some health-conscious individuals, the risk is worth taking to get the health benefits without perpetually smelling like garlic.
Health Benefits of Garlic
Garlic has been used medicinally for the last 5000 years. It has long been thought of as a natural medicine to lower blood pressure, boost the immune system, regulate cholesterol levels, and reduce the risk of blood clotting and cancer. In addition, according to Healthline, when used topically, garlic can treat fungus, reduce swelling and inflammation, and kill bacteria that causes acne. Garlic is an antiparasitic and can fight intestinal parasites and amoebas too. It also effectively fights yeast overgrowth like candida albicans that cause yeast infections.
Allicin is the compound in garlic that releases when garlic is crushed and is responsible for its many health benefits. For this reason, fresh garlic is better than cooked garlic because its potency is reduced through the cooking process.
There are a few ways to take garlic: nibble on raw pieces or eat freshly minced garlic. You can also use fresh garlic to make tea or take garlic capsules.
Before you start taking garlic for health reasons, it is important to speak with a medical professional. Garlic has some blood-thinning compounds and should never be taken with blood thinners or before surgery. Your doctor can determine if taking garlic, either raw or in capsules, is right for you.
Nutritional Profile of Garlic Capsules vs. Raw Garlic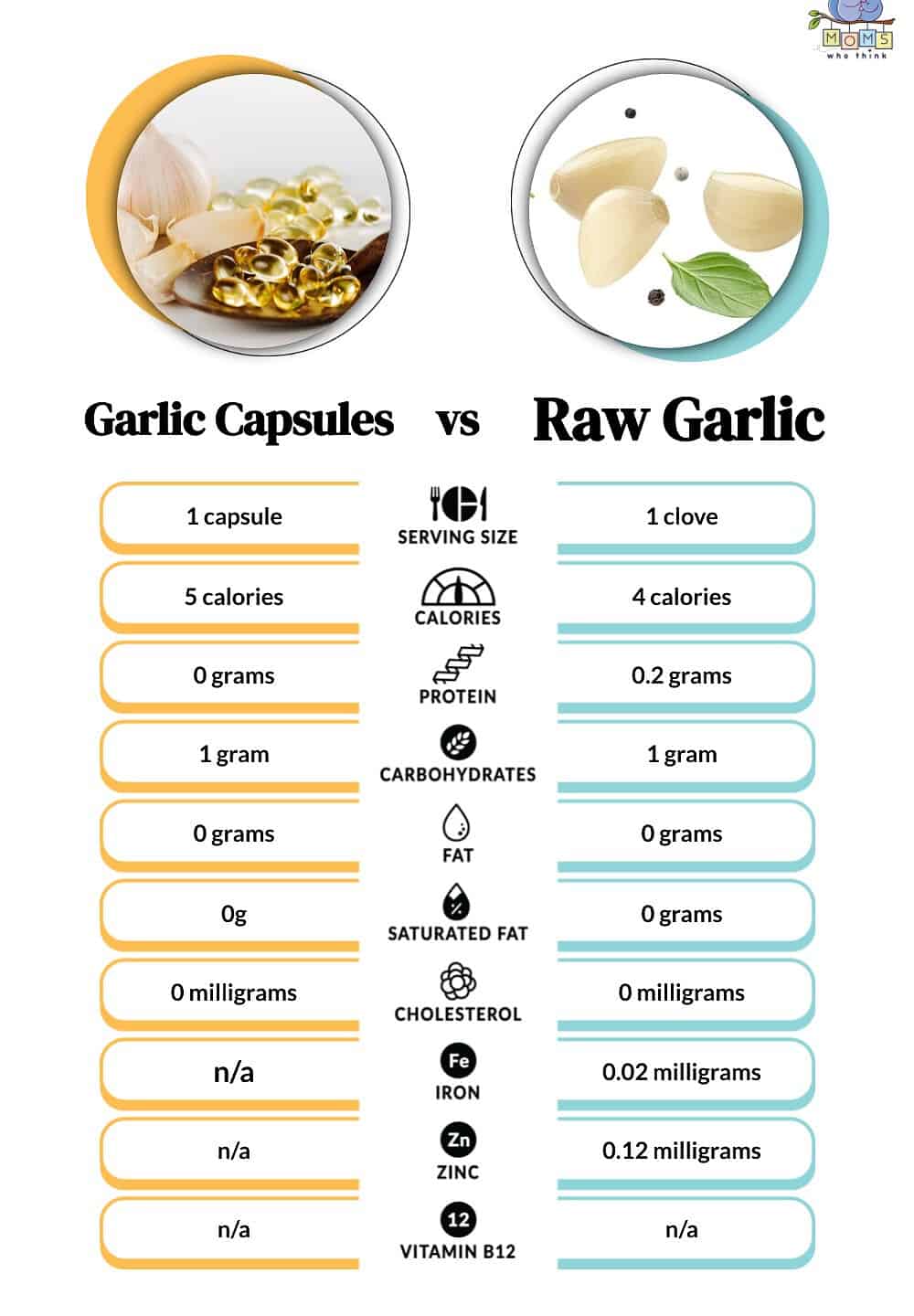 When choosing whether to take garlic capsules or raw garlic, just look at the nutritional profile to see if, nutritionally, one has a clear advantage over the other. The result is their nutritional profile is almost exactly the same, with minimal differences. One garlic capsule has five calories and 1 gram of carbohydrates. In contrast, one clove of raw garlic has 4 calories, one gram of carbohydrates, and minimal amounts of protein, iron, and zinc.
What Are Garlic Capsules?
Health food and vitamin store sell garlic capsules as an herbal supplement. Since there are not any regulations in place for herbal supplements, the qualities and quality are determined by each company. Garlic supplements are herbal supplements packed with concentrated garlic extract. They are also sold in tablets, powder, or liquid extracts.
There are three types of garlic supplements on the market dehydrated garlic powder, aged garlic extract, and garlic oil. Dehydrated garlic powder is dried garlic that is pulverized and then used to fill a capsule. Aged garlic extract is crushed garlic that has been soaked in ethanol or alcohol and aged for up to a year and a half.
Garlic oil is an essential oil and is not an edible form of garlic. It is only for topical use. Garlic oil is different than garlic-infused oil, which is an edible oil like olive oil with crushed garlic used in cooking.
Garlic capsules are concentrated garlic and have more of the compounds that give garlic many health benefits. In contrast, raw garlic is less concentrated, and one must consume several cloves to get those same health benefits.
What Is Raw Garlic?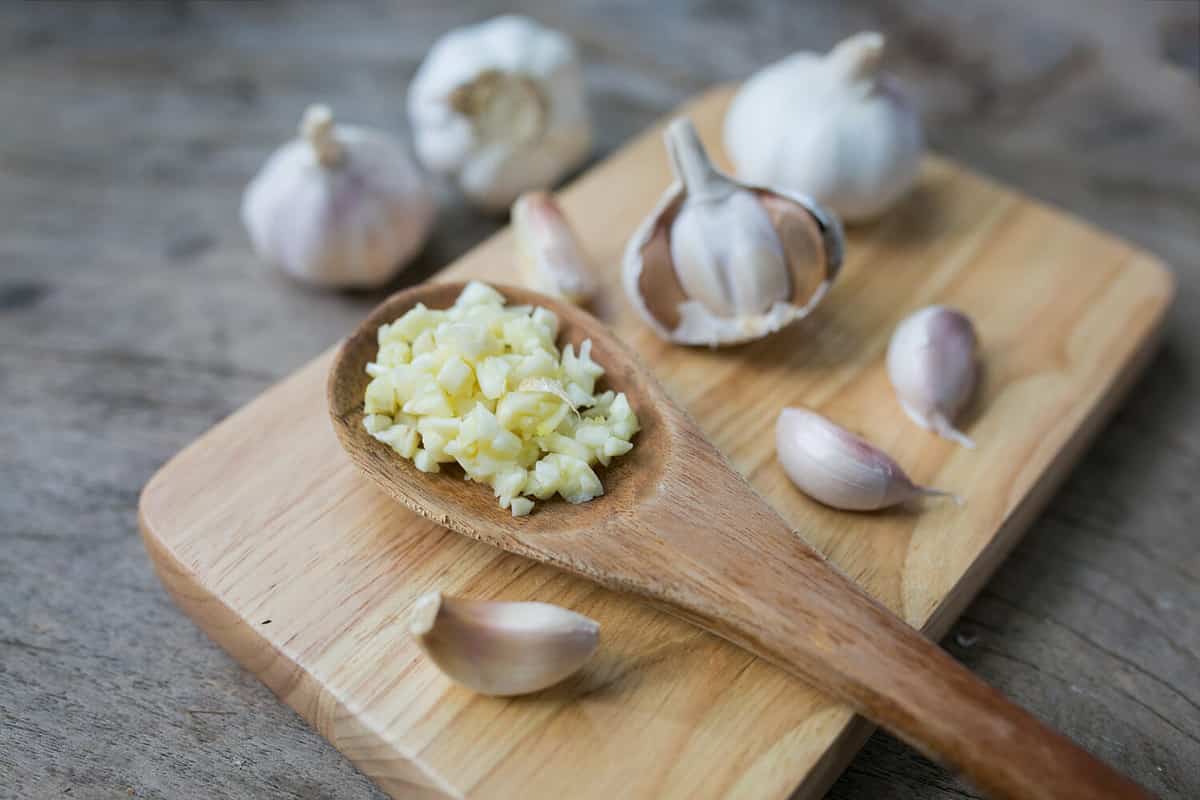 Raw garlic is a plant in the allium family that also includes onions, leeks, and shallots. It is a bulb with long leaves. There are two forms of garlic and many varieties. While there are numerous varieties of garlic, it falls into either two categories; hardneck or softneck. Garlic is easy to grow in the home garden. Softneck varieties grow better in warmer climates, while hardneck varieties are able to stand up to colder conditions.
Garlic is often connected to Italian cuisine but is used throughout the culinary world to flavor dishes. Raw garlic is common in dips, marinades, and salad dressings. Cooked garlic is a key player in sauces, stir-fries, and soups.
Garlic Capsules vs. Raw Garlic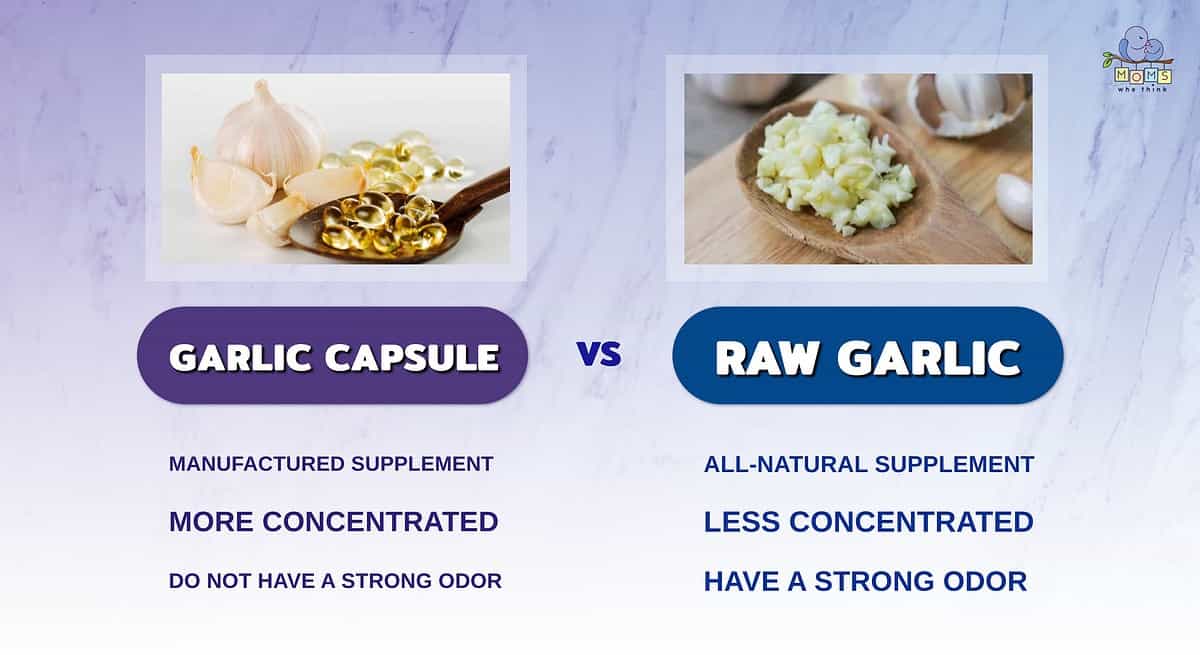 It's important to know that garlic capsules are a manufactured supplement. The FDA does not regulate garlic capsules, so manufacturers are free to use however much garlic they want in each capsule.
Garlic capsules are more concentrated than raw garlic. If you want to get the same health benefits, you'll have to consume more raw garlic compared to garlic capsules.
Many people dislike the strong odor that comes with raw garlic. Garlic capsules have the benefit of lacking a strong odor.
There are some positives to taking garlic supplements. Capsules are easy to take and do not have a strong odor. Still, the cons are that they are not regulated. Anyone considering taking the capsules must do due diligence and research the manufacturer and company to ensure they are from a reputable company.
Consuming raw garlic has its benefits too. It is easy to find and available at any supermarket; no research is required. However, to reap the health benefits, you must ingest three to four cloves which is a lot of garlic. The pungent odor is the most obvious negative. When you take raw garlic, it will affect your breath for at least twenty-four hours, and your body will gradually sweat it out.
Do not take the content of this article as professional medical advice. It's important to exercise due diligence when obtaining relevant information in matters pertaining to your health. Always consult with your healthcare provider before making any medical decisions.
Print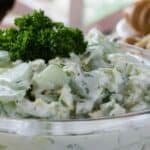 Cucumber Salad with Garlic
---
5

cups

shredded cucumber

1/2

cup

sour cream

1/2

cup

coleslaw dressing

1/4

head of garlic

1/2 teaspoon

salt

1/8 teaspoon

freshly-ground pepper
---
Instructions
Mash the garlic together with the salt until thoroughly blended.
Place cucumber, mashed garlic, and other ingredients in a medium-sized bowl and mix thoroughly.
Chill before serving.