Garlic, the pungent bulb that makes food flavorful, is used in dishes all over the world. This culinary staple can be roasted, baked, sauteed, broiled, and boiled. Home chefs can chop, smash, mince, or press it to get the tasty goodness. But have you ever wondered if there is a difference between minced garlic and pressed garlic? When it comes to minced garlic vs. pressed garlic, the differences all come down to taste and texture. Minced garlic has a granular texture and lighter taste, while pressed garlic has a stronger taste and paste-like texture.
Nutrional Differences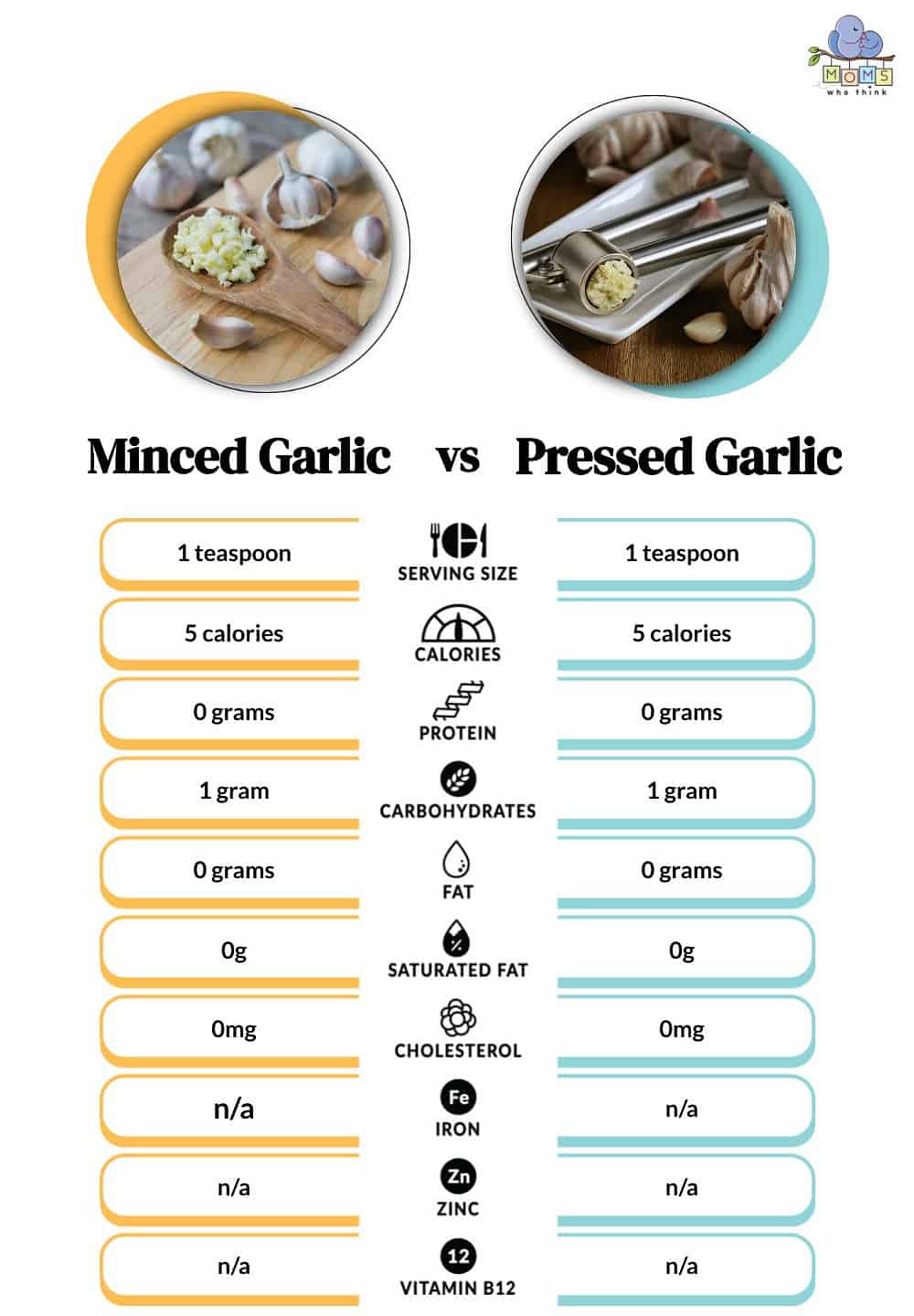 There are some key differences between minced garlic and pressed garlic that affect the texture and taste, but the nutritional profile is basically the same, with minor differences.
What is Minced Garlic?
Minced garlic is garlic that has been finely chopped. The flavor of minced garlic has the intense rawness that you get from raw garlic with a more immediate flavor. Minced garlic is best cooked in butter that mellows the taste. When cooked in oil, it retains a pungent flavor.
The best way to mince garlic is to start with a sharp knife and lay the garlic cloves on the cutting board. Take the knife and lay the broad flat side against the cloves, and press down. This pressure should give the garlic cloves the initial crush and make removing the peels easier. Once the peels have been removed, then use your dominant hand to hold the knife and use the other hand on top of the length of the knife to guide your hands and begin chopping. Depending on the recipe or the home chef's preference, you can mince the garlic cloves finely or give them a rough mince or anything in between. Mincing the garlic releases the sulfuric compounds that release a strong odor and is responsible for the many health benefits that garlic offers.
Minced garlic is also available pre-minced in jars in the supermarket. But pre-minced garlic will not have the same intensity as freshly minced garlic. In addition, it doesn't provide the same amount of health benefits either.
What is Pressed Garlic?
Pressed garlic is created using a garlic press. This kitchen gadget has a place to put the clove and a handle to process the garlic. The garlic comes out of the press through the little holes and comes out like a paste. The garlic juice and oil are often separated from the pulp in a garlic press. Garlic that has been pressed has a stronger flavor than minced garlic. And since pressed garlic is bruised during the pressing, it can have a bitter aftertaste.
In the culinary world, garlic presses are infamous. Some chefs like Anthony Bourdain famously hate garlic presses and complain that they destroy the integrity of the garlic and that the separated juice from pulp is not suitable for the kitchen. While other chefs like the ease of a garlic press and prefer to use this kitchen device rather than risk cutting their fingers by mincing.
The intensity of pressed garlic is due to the release of allium compounds. Since flavor is subjective, it is difficult to determine whether pressed garlic is better than minced garlic or vice versa. Just like some people are sensitive to spicy foods and others eat them in abundance, it is up to each individual to evaluate if pressed garlic is too intense.
How to Use Minced Garlic
When it is time to reach for the garlic in a recipe, it's important to consider the recipe and what garlic is adding to the dish. Since minced garlic is in pieces, using it raw in salad dressings, dips, and marinades can make it overpowering. Minced garlic is best when cooked and used in recipes like stir-fry, sauces, and soups. If the recipe requires garlic but isn't the main flavor, then sautéing in butter is best, but in other recipes that need that punch that garlic provides, then sautéing in oil is ideal. 
How to Use Pressed Garlic
Single-use kitchen gadgets like a garlic press are often looked down upon by anyone serious about food and culinary integrity. But if you have the space and prefer not to get your fingertips soaked in garlicky goodness, then a press is for you, especially if you use raw garlic in your cooking. Pressed garlic is similar to a paste in consistency and is ideal to use when a recipe calls for raw garlic. Salad dressing, marinades, and dips are perfect places to add pressed garlic. The dish gets all of the garlic flavor without the grainy texture of chewing on garlic.
If you are eating garlic for health benefits, then fresh-pressed garlic is the best choice. According to Healthline, uncooked garlic boosts the immune system, lowers cholesterol, and supports a healthy heart.
When choosing a garlic press, look for one made with quality materials with even holes and a sturdy handle. And check that the plunger that presses against the garlic is large enough to cover the space. Ideally, it should be the same size as the space to ensure an even press. Other things to consider are if it can handle multiple cloves at a time and the overall size of the press.
A Quick Comparison of Minced Garlic vs. Pressed Garlic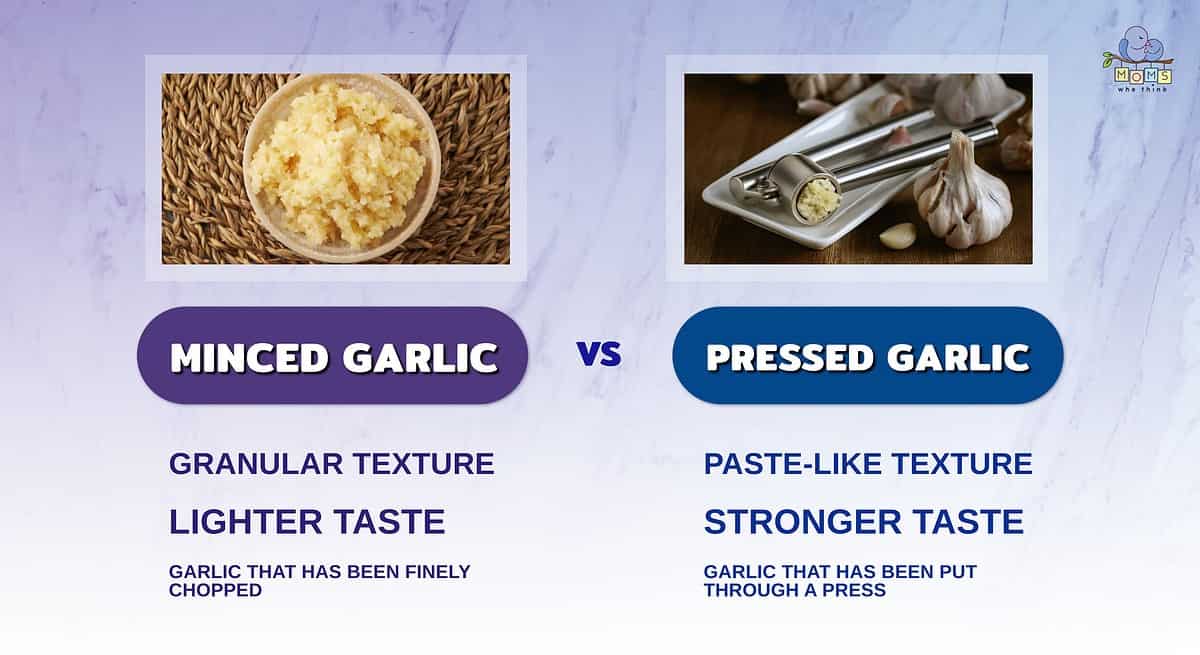 Minced garlic is finely chopped garlic, while pressed garlic is garlic that has been put through a press. Mincing garlic creates an end product that has a granular texture, while a garlic press creates an end product with a paste-like texture. Pressing garlic causes a more intense taste. If you love a lot of garlic taste in your dishes, then pressed garlic is perfect for you. If you're on the hunt for something more subtle, minced garlic is the way to go! Garlic is a staple seasoning in every kitchen, so knowing different ways to use it is a key to mastering cooking.
Give this delicious recipe a try:
Print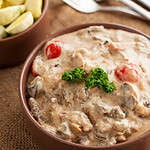 Creamy Slow Cooked Garlic Beef Stroganoff
---
Author:

Yield:

8

servings

1

x
2 teaspoons beef bouillon granules
1 cup boiling water
1 can (10 3/4 ounces) reduced-fat condensed cream of mushroom soup, undiluted
2 cups fresh mushrooms
1 large onion, finely chopped
3 garlic cloves, minced
1 teaspoon salt
1 Tablespoon Worcestershire sauce
1 1/2 to 2 pounds beef top round steak, cut into thin strips
2 Tablespoons canola oil
1 package (8 ounces) light cream cheese, cubed
Hot cooked noodles (optional)
---
Instructions
1. In a 3 quart slow cooker, dissolve bouillon in water.
2. Add the undiluted soup, mushrooms, onion, garlic, salt, and Worcestershire sauce.
3. In a frying pan, brown beef in oil.
4. Transfer beef to the slow cooker.
5. Cover and cook on low for 7 to 8 hours or until the meat is tender.
6. Add cream cheese, stirring continuously until smooth and well blended. Serve with noodles if desired.
Nutrition
Serving Size:

1 portion beef mixture, calculated without noodles

Calories:

281

Sodium:

661mg

Fat:

18g

Saturated Fat:

8g

Carbohydrates:

7g

Fiber:

1g

Protein:

23g

Cholesterol:

81mg