Spaghetti sauce, salsa, tomato soup, pizza, and many foods require tomato sauce or paste. Finding out the difference is key to learning what's better for you. Choosing the wrong one could ruin your dinner.
Tomato sauce vs. paste is often a difference in texture and taste. The cans might look the same when shopping at the store, but knowing the distinction and how it affects whatever you're making is essential. For instance, one is more potent and thick, while the other is thinner. They also have different tastes and nutritional differences.
This guide looks at the difference between tomato sauce and paste. We look at what makes them unique, the difference in texture, and the best recipes for both. You'll have a better understanding of how they are both different.
The Unique Process of Making Tomato Sauce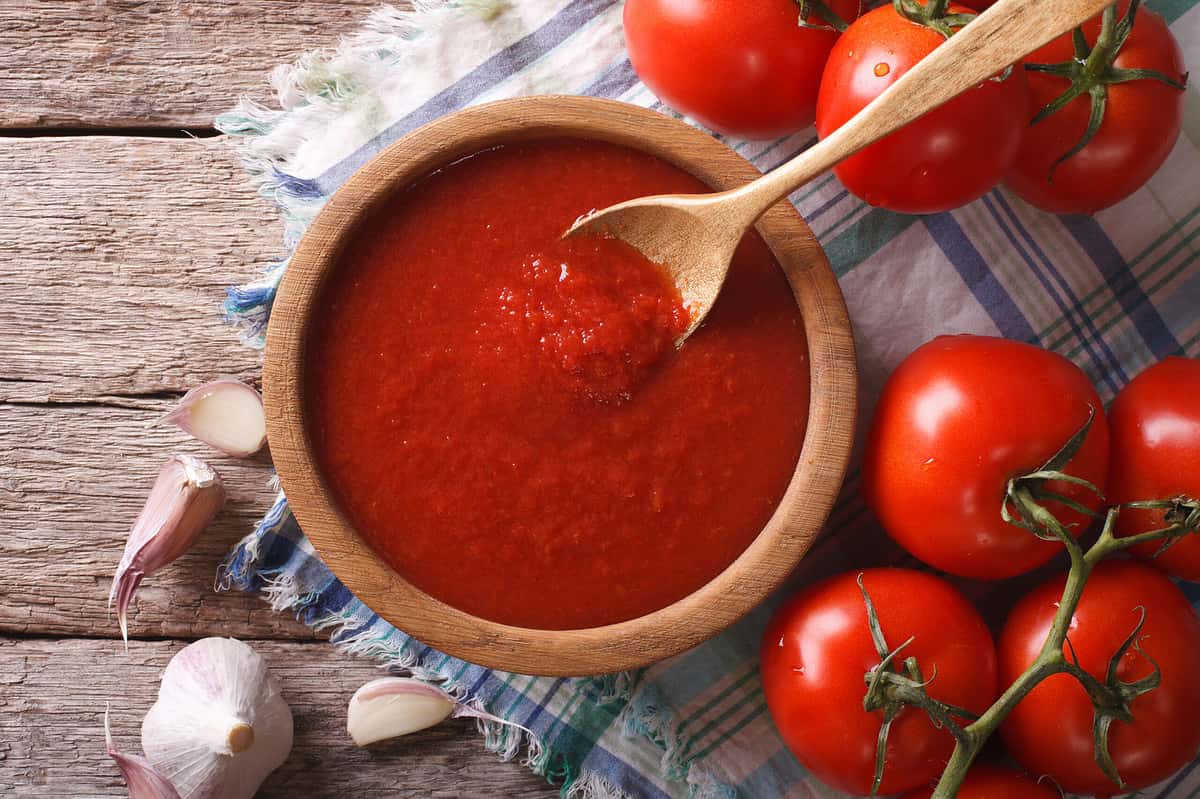 Over 200 million people used tomato sauce in 2020, while around 170 million used tomato paste that year. Although they are the most popular fruit, they are always operated like a vegetable.
One of the things that makes tomato sauce unique is the process of how it is made. By definition, tomato sauce is the liquid extraction from mature tomatoes. For example, you can extract this sauce from cooked tomatoes. In some cases, you can add seasoning to this sauce like vinegar.
While you can make tomato sauce at home, you can also buy different styles at the store. For example, you can purchase Italian-style tomato sauce. There's also organic. The texture and consistency of tomato sauce is often compared to gravy.
Nutritional Value of Tomato Sauce
In general, tomatoes have a big impact on our health. They are one of the best things to eat. They are great for your brain, gut, and digestive health.
Tomato sauce works the same way. While the sugars and salt can dilute the nutrition, you'll still find that tomato sauce is one of the best things for you.
Here's a list of the best health benefits.
Improves your heart health.
Improves digestive health.
Improves bone health.
Improves gut health.
Improves brain health.
The Unique Process of Making Tomato Paste
It's easy to confuse tomato paste and sauce. They often look the same at the grocery store, and they can sometimes taste the same. But there's a level of consistency, texture, and overall flavor that impacts your meal.
When compared to tomato sauce, tomato paste is way thicker because it's so concentrated from tomatoes. It's from cooking tomatoes and draining the sauce from it. The most significant difference between tomato sauce and paste is that tomato sauce is less potent. Because there's more concentration in tomato paste, flavor and texture are more intense.
Another difference is that tomato paste needs to be cooked to taste good with other ingredients. However, tomato sauce is typically ready to be served when you open the can.
Nutritional Value of Tomato Paste
Like tomato sauce, tomato paste has a lot of health benefits that are worth considering. They get the nutrients from tomatoes, one of the healthiest fruits.
Here are the health benefits of tomato paste.
Vitamins that include lycopene, vitamin C, and vitamin K
Improves digestive health.
Improves bone health.
Improves gut health.
Improves brain health
What Are the Best Recipes for Either?
When it comes to making recipes, tomato sauce and paste are great ingredients that add a lot of flavor. The key is to know when to use either of them to cook different foods.
Here's a list of the best foods to cook with tomato sauce.
Eggplant Parm Casserole
Chicken Parmesan Baked Ziti
Polenta and Meatballs
Pepperoni Pizza Sliders
Creamy Caprese Quinoa Bake
Here's a list of the best foods to cook with tomato paste.
Chicken Mole Tostadas
Oven Beef and Barley Stew
Pomegranate Pot Roast
Chicken Cheeseburger Shepherd's Pie
Hungarian Goulash
These are just some recipes to consider with either tomato sauce or paste. They give you simple to complex options on what to make for dinner, especially if you want something new and exciting. Either way, you'll discover that tomato sauce and paste offer some of the best-tasting meals.
What Should You Choose for Cooking?
When you look at the difference between tomato sauce and paste, you may find it difficult to notice. However, there's quite a distinction regarding flavor and texture. Learning how to cook with either of them is tremendously important because using the wrong one could ruin your meal.
Overall, tomato paste and sauce offer the best meal options and health benefits. Knowing how they differ and what makes them unique can give you a deeper appreciation.
Print
Spaghetti with Turkey Meatballs in Spicy Tomato Sauce
---
Author:

Yield:

6

servings

1

x
Sauce:
1 tablespoon

olive oil

1

medium onion, chopped (about

1 1/2 cups

)

4

cloves garlic, minced (about

4 teaspoons

)

3 tablespoons

tomato paste
One

28

-ounce can of crushed fire-roasted tomatoes, with their juices

1 teaspoon

finely minced canned chipotle chile in adobo sauce, or more to taste

2 teaspoons

dried oregano

1

sprig fresh rosemary

Salt and freshly ground black pepper to taste

1/4 cup

torn fresh basil
Meatballs:
Cooking spray

1

pound lean ground turkey meat

1

slice whole-wheat bread, crusts removed and pulsed into crumbs in a food processor

1/4 cup

freshly grated Parmesan

1/2 cup

finely grated carrot

1/2 cup

finely chopped onion

2

large garlic cloves, minced (about

2 teaspoons

)

2 tablespoons

minced fresh flat-leaf parsley

2 teaspoons

minced fresh thyme

1

large egg, lightly beaten

1/2 teaspoon

salt

Freshly ground black pepper
Spaghetti:
One

16

-ounce box whole-wheat spaghetti

1/3 cup

freshly grated Parmesan cheese

Minced fresh flat-leaf parsley for garnish
---
Instructions
To make the sauce, in a 4-quart saucepan, heat the oil over medium heat. Add the onion and cook, stirring a few times, until translucent, about 3 minutes, then add the garlic and cook for 1 minute. Add the tomato paste, tomatoes, chipotle, oregano, and rosemary, bringing to a low boil, reduce the heat to low, and cook until the liquid has evaporated slightly, about 15 minutes—season with salt and pepper.

While the sauce is cooking, make the meatballs. Preheat the broiler. Spray a baking sheet with cooking spray. Combine the ingredients for the meatballs in a large bowl. Form into 2

½

-inch balls and place on a baking sheet. Broil until browned and almost entirely cooked through, about 10 minutes.

Meanwhile, remove the rosemary sprig from the sauce and stir in the basil. Add the meatballs to the sauce, cover, and cook until the sauce has slightly thickened and the meatballs have absorbed some of the sauce, about another 10 minutes.

While the meatballs are cooking, cook the spaghetti according to the package directions. Drain the pasta and return it to the pot. Add the sauce and meatballs, toss together, and heat through over medium heat.

Divide evenly among six pasta bowls, sprinkle with the Parmesan, garnish with parsley, and serve.
Nutrition
Serving Size:

1 bowl

Calories:

330

Sodium:

625 mg

Fat:

10.5 g

Saturated Fat:

3 g

Carbohydrates:

38 g

Fiber:

7.5 g

Protein:

23 g

Cholesterol:

60 mg
The image featured at the top of this post is ©AS Foodstudio/Shutterstock.com.