Shawarma vs. Gyro: What makes them different or similar? While one is Greek and the other comes from the Middle East, they still have a lot of commonalities. For instance, they share most of the same ingredients and cooking methods. The major difference between these two foods is their origin and the flavoring you can get with each one.
Another similar feature that shawarma and gyros share is that they are both inspired by the Ottoman Empire. It's when the meat is stacked on a vertical skewer and rotated as cooked. This is how shawarma and gyros are cooked and put on pita bread. They are a staple of two different Mediterranean cuisines.
In this guide, we look at the differences between Shawarma and Gyro and what makes them stand apart. We look at the key differences in history, tastes, and nutritional differences. A better understanding of this will help you decide what to eat and make you more knowledgeable about the foot.
Shawarma vs. Gyro: Uncovering the Key Differences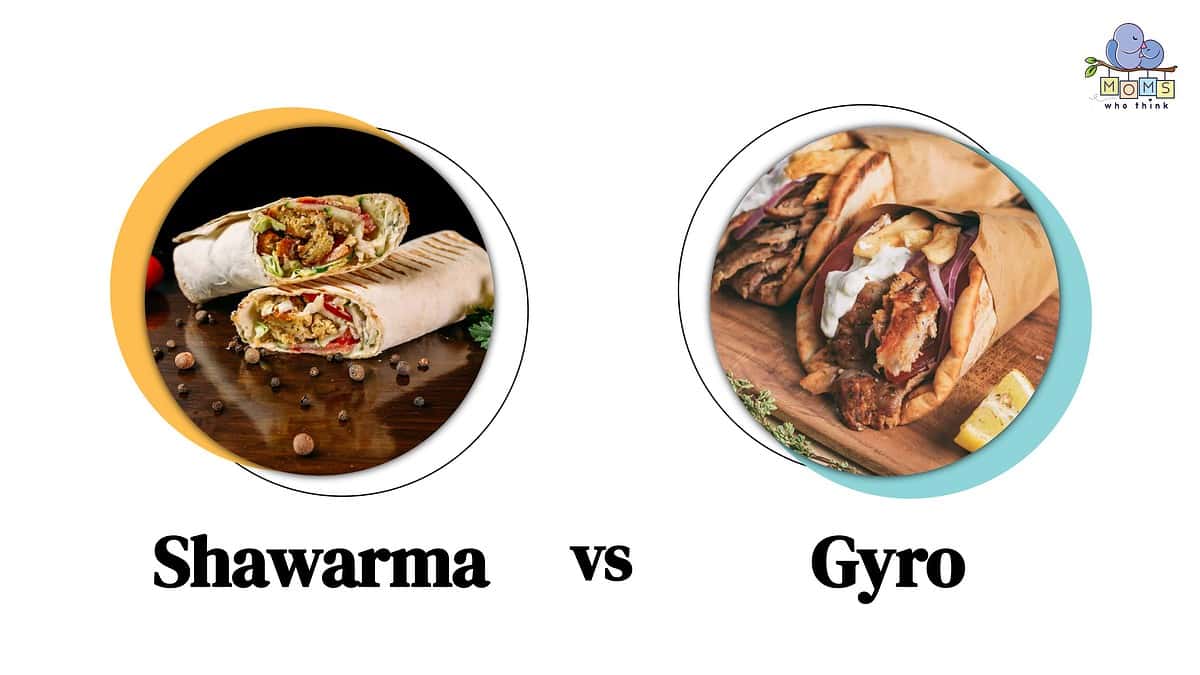 The gyro arrived in Greece in the 1920s, while the shawarma arrived in the Ottoman Empire, now Turkey, in the 18th or 19th century. One of the unique things about shawarma is that the name shawarma is come from the word çevirme, which is Turkish for "turning."
Looking more at the history of shawarma and gyro can give you more insight into their origins.
The History of Shawarma vs. Gyro
In the 18th or 19th century, shawarma was introduced into modern-day Turkey. It's a Levantine Arab meat preparation consisting of either beef, lamb, turkey, or chicken. The meat is placed on a spit and grilled all day. Throughout the day, as the meat is cooked longer, the meat is shaved off and put on pita bread.
It can also be served on a plate with different kinds of bread, not just pita bread. Accompanying food involves tabbouleh, fattoush, and taboon. The toppings on the shawarma is typically tahini, hummus, pickled turnips, and amba.
The gyro was introduced a few hundred years after the shawarma in 1922. One of the reasons it was introduced to Greece was because of the Greek and Armenian refugees that migrated from Asia Minor. Today, gyros are a popular food item sold across the United States. It's cooked with beef, lamb, pork, or chicken and wrapped in pita bread. It gained widespread popularity in New York in the 1970s and has continued to become popular around the United States.
The Unique Differences
While they are both considered sandwiches, a major difference between the shawarma and the gyro are the ingredients. They are served on pita bread and offer the same meat but taste wildly different. For instance, gyros taste like a classical Mediterranean flavor. They use fresh raw vegetables, red onions, tomatoes, and dill from the tzatziki.
However, shawarma uses marinated meat to give the meat its flavor. The meat is often marinated overnight to give the sandwich a richer flavor.
The Nutritional Differences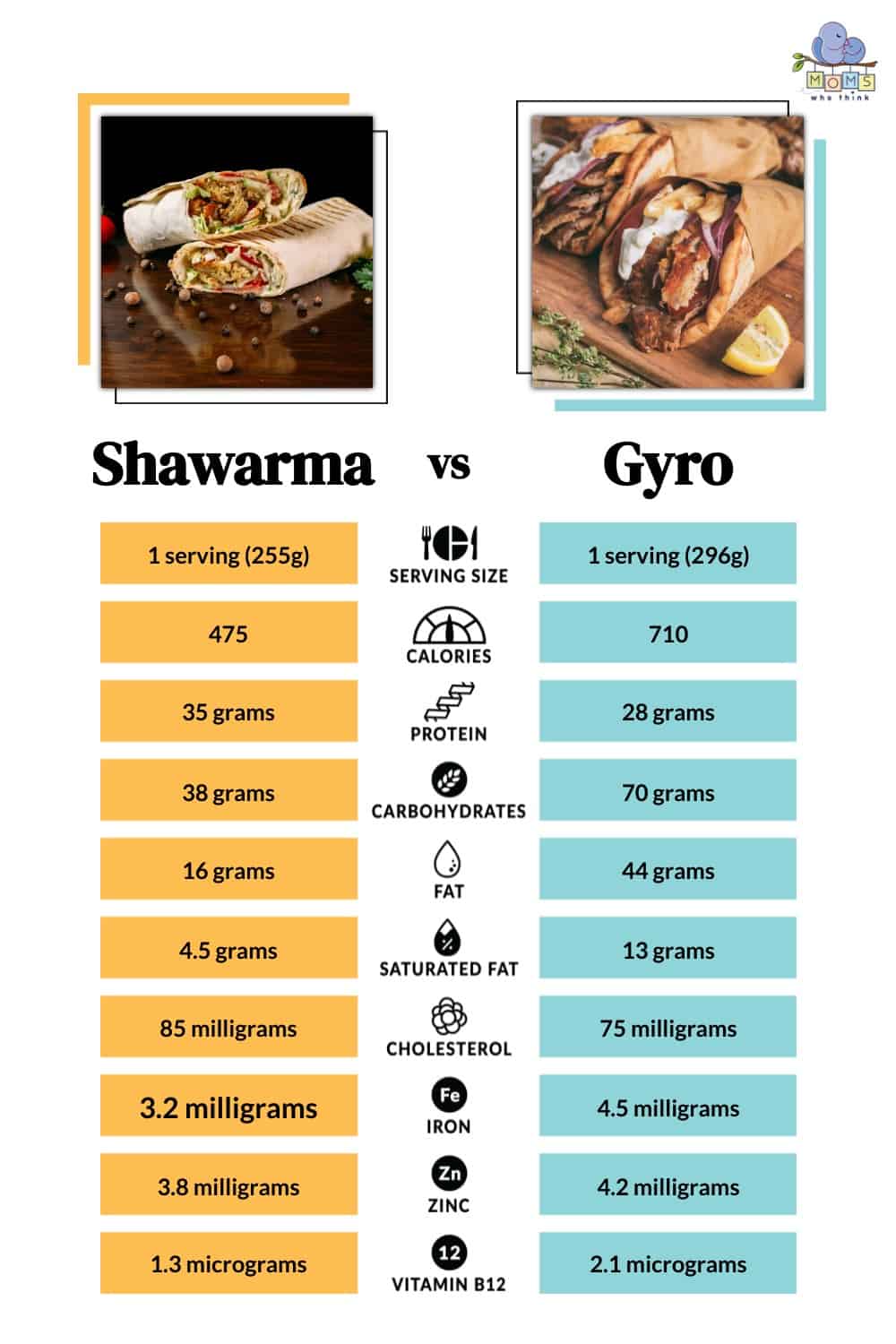 The nutritional differences between shawarma and gyros are marginal. If you're looking for a healthier choice, shawarma is the way to go. Shawarma tends to be healthier because it's not served with a side of french fries. However, shawarma is not the perfect and healthiest meal in the world either. It has more fat because of the tahini.
Shawarmas also have more protein. This could be because the sandwiches have more meat and no room for french fries. A lot of the nutritional value of either shawarma or gyros depends on how the meat is cooked and what you add to the sandwich.
Choosing a healthier meat like chicken is better for your overall health. You can also choose beef or lamb, which has different health benefits than chicken. It also depends on what you eat with the sandwiches. You can exclude fries and choose a less calorie-dense side if it's available. You
You can also have red wine or beer to accompany your gyro or shawarma. This can also influence the health of what you're heating. Red wine can help improve your heart health. A moderate amount of beer can also improve your heart and bone health.
What's the Better Choice Between Shawarma and Gyro?
The origins of these two foods differ. Shawarma comes from Turkey, originating during the Ottoman Empire. Gyros are originally from Greece.
The flavor of shawarma comes from the marinated meat, while a gyro gets most of its flavor from tzatziki sauce.
Shawarma are lower in fat and calories compared to gyros.
While shawarma and gyros may seem similar on the surface, especially since they are both sandwiches, they are actually very different. They have different histories, different sandwich-making processes, and different side dishes. However, no matter the differences, they are both delicious to eat. Shawarma and gyros are some of the most popular Mediterranean foods in the United States.
Print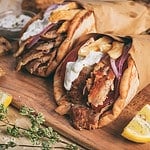 Gyro
---
For the Gyro Meat:
1

pound

(450g) ground lamb or ground beef (or a mixture of both)

1

small onion, grated

2

cloves garlic, minced

1 teaspoon

ground cumin

1 teaspoon

ground coriander

1 teaspoon

paprika

1/2 teaspoon

ground cinnamon

1/2 teaspoon

dried oregano
Salt and black pepper, to taste
For the Tzatziki Sauce:
1

cup

Greek yogurt

1/2

cucumber, grated and drained

2

cloves garlic, minced

1 tablespoon

fresh lemon juice

1 tablespoon

fresh dill, chopped (or

1 teaspoon

dried dill)
Salt and black pepper, to taste
For Assembling the Gyros:
Pita bread or flatbread
Sliced tomatoes
Sliced cucumbers
Sliced red onion
Fresh lettuce or shredded lettuce
Optional toppings: feta cheese, olives, and hot peppers
---
Instructions
1. Make the Gyro Meat:
In a large mixing bowl, combine the ground lamb or beef, grated onion, minced garlic, ground cumin, ground coriander, paprika, ground cinnamon, dried oregano, salt, and black pepper. Mix well until all the ingredients are evenly incorporated.
Cover the bowl and refrigerate the meat mixture for at least 1 hour to allow the flavors to meld.
2. Shape and Cook the Gyro Meat:
Preheat your grill or a grill pan over medium-high heat.
Take the seasoned meat mixture and shape it into a loaf or oval shape. If using a grill, you can shape it directly on skewers.
Grill the meat for about 10-15 minutes, turning occasionally, until it's fully cooked and has a nice char on the outside. Alternatively, you can cook it in a pan if you don't have access to a grill.
3. Make the Tzatziki Sauce:
While the meat is cooking, prepare the tzatziki sauce. In a bowl, combine the Greek yogurt, grated and drained cucumber, minced garlic, fresh lemon juice, chopped dill, salt, and black pepper. Mix well and refrigerate until serving.
4. Assemble the Gyros:
Warm the pita bread or flatbread in the oven or on the grill for a minute or two.
Slice the grilled gyro meat thinly.
To assemble each gyro sandwich, place a warm pita or flatbread on a plate. Add slices of gyro meat, sliced tomatoes, sliced cucumbers, sliced red onion, and fresh or shredded lettuce.
Drizzle a generous amount of tzatziki sauce over the top.
If desired, add optional toppings like crumbled feta cheese, olives, and hot peppers.
5. Serve:
Fold the pita or flatbread around the filling to create a gyro sandwich.
Serve your homemade gyros immediately, while they are still warm and fresh.