There are so many different types of bread to choose from, but white and whole wheat bread are the most common. However, pita bread has gained popularity over the past few years. It became popular due to its soft, fluffy texture and idiosyncratic, pocket-like shape. Many health enthusiasts commonly ask the question: Is pita bread healthy? In this article, we will explore the origins of pita bread and whether pita bread is actually healthy. We will also go into what science says, pita bread's nutritional composition, and how to incorporate it into your diet to maintain healthy eating habits.
The Origins of Pita Bread
Pita bread dates back to prehistoric flatbreads of the Middle East. There is a suggestion that during the Stone Age, the Natufian people, which we now know as Jordan, made a flatbread from wild cereal grain about 14,500 years ago.
What Is Pita Bread?
Pita is a flat, round bread with a pocket-like feature made with wheat flour, yeast, salt, and water. Pita bread is prepared and baked differently than normal white or wheat bread. First, the dough is rolled out thinly in circles and then baked at a high temperature for a short period, allowing it to create a hollow center. The hollow center makes it perfect for stuffing with hummus, meat, and salads.
Is Pita Bread Healthy?
Pita bread is low in calories and fat. It is a good source of whole grains when made with whole wheat flour. Whole grains lower the risk of heart disease and help with digestion. If you are looking to lose weight or just want a healthier bread alternative, it is best to choose bread made with whole grains because it will improve your weight management and overall health. Look for pita breads that are not high in sodium or contain artificial ingredients. Furthermore, if you are sensitive to gluten, you should look for gluten-free alternatives made with chickpea or sorghum flour. Pita bread is easy to make; when you make your own, you know exactly what ingredients are in it.
How to Make Pita Bread
Print
Pita Bread
---
Author:

Total Time:

1 hour 51 minutes

Yield:

8

1

x
Description
Pita bread is so easy to make; you probably have all the ingredients in the pantry already. You can prepare it ahead of time, and it is freezer-friendly. Mix the ingredients together, allow the dough to rise, and watch the family enjoy warm, puffy homemade pita bread. You can cook them in the oven or on the stovetop. 
---
1/2 teaspoon

of sugar

1

cup

of lukewarm water

2 tablespoons

extra virgin olive oil and a little bit more for the bowl

1 teaspoon

of kosher salt

2 teaspoons

of active dry yeast

3

cups

of all-purpose flour, 1 1/2 cups of whole wheat flour, and 1 1/2 cups of all-purpose flour
---
Instructions
First, in a large bowl, add the yeast, sugar, and lukewarm water and stir until dissolved. Next, add ½ cup of flour and whisk. Put the bowl uncovered in a warm place and allow the mixture to bubble for about 15 minutes to form a sponge.
Next, add the olive oil, salt, and 2 cups of flour. The remaining ½ cup of flour will be used for dusting. Stir until you have a loose, lumpy mixture, known as a shaggy dough, with no visible flour spots. Once it has formed a ball, dust it with flour and then knead for about a minute.
Lightly dust a clean work surface with flour and knead the dough for a few minutes until it is smooth. Cover the dough and allow it to rest for 10 minutes, then knead it again. The dough should be slightly moist. Dust it again with a little more flour.
Coat the mixing bowl with a little bit of extra virgin olive oil, and turn the dough a couple of times in the bowl. Next, cover the bowl with plastic wrap and allow the dough to rise until it has doubled in size for about an hour.
Puncture the dough. Divide it into 8 pieces and shape them into balls. Then cover them with a towel and allow them to rest for 10 minutes.
Roll each piece into an 8-9 inch wide circle that is about a quarter inch thick. Sprinkle with a little bit of flour if the dough starts to stick.
Preheat

,

the oven to 475 degrees °F, then put a big cast iron skillet or baking pan on the middle shelf to heat. Place the pitas on the skillet or baking pan and bake for 2 minutes, then turn them over and bake for another minute. The pitas should puff up, be removed from the oven, and be covered with a towel.
Furthermore, you can cook pitas on the stovetop. First, heat a nonstick pan or cast-iron skillet over medium heat. Add a little extra virgin olive oil to the pan, and bake the pita for about 30 seconds. Turn it over and cook for about 2 minutes, then turn it over and cook for another 2 minutes. It should puff up and form a pocket. Remove from the pan and cover with a towel.
Prep Time:

1 hour 48 minutes

Cook Time:

3 minutes

Method:

Bake
How to Warm up Pita Bread?
Pita bread is quick and easy to warm up. You can either use a toaster oven or the microwave. If using a microwave, wrap the pita in a damp towel and put it on a microwave-safe plate. Then, heat on high for approximately 15-20 seconds. When warming it up in the toaster, pop it in for about 30 seconds to 1 minute until just puffed.
Can You Freeze Pita Bread?
Yes, cooked pitas can be frozen in an airtight container for three months. To avoid sticking, place a piece of parchment paper between each one. Reheat in the microwave for a few seconds.
Nutritional Pita Bread Facts
Pita bread is a good source of carbohydrates, vitamins, and minerals and provides a steady release of energy. According to the University of Rochester Medical Center, one large 6 – 1/2 inch whole wheat pita contains:
6.27 g of protein
1.66 g of total fat
170.24 kcal
0.52 g sugar
35.2 g carbohydrate
4.74 g fiber
9.6 mg calcium
1.96 mg iron
44.16 mg magnesium
115.2 mg phosphorus
108.8 mg potassium
340.48 mg sodium
0.97 mg zinc
0.19 mg copper
1.11 mg manganese
28.16 Selenium
0.39 mg Vitamin E
33.92 mcg lutein and zeaxanthin
0.22 mg thiamine
0.05 mg riboflavin
1.82 niacin
0.53 mg pantothenic
0.17 mg vitamin B6
22.4 mcg folate
0.9 mcg vitamin K
22.4 mcg DFE folate
0.26 g saturated fatty acids
0.22 g monounsaturated fatty acids
0.68 g polyunsaturated fatty acids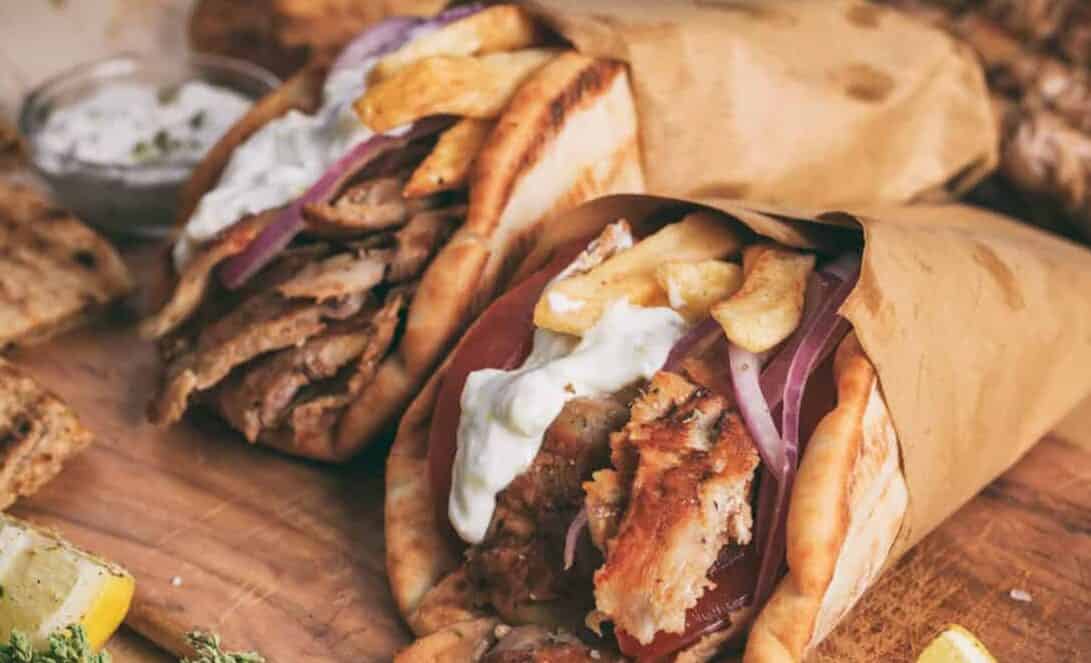 What to Eat With Pita Bread?
Pita bread is a versatile staple in many homes. It has a soft, airy texture, and its pocket is perfect for holding a variety of fillings. However, many people wonder what pairs well with pita bread. Get creative and experiment with different combinations to find your favorite pita filling. Here are a few ideas we are sure will satisfy your taste buds.
Hummus pairs nicely with the slightly nutty taste of pita bread. Add some fresh veggies like bell peppers, cucumbers, and tomatoes to create a healthy, light lunch filled with vitamins.
Create a taco; stuff your pita with ground beef, onion, tomatoes, and cheese. Top it off with guacamole and sour cream for a quick weekday dinner.
Shakshuka is a popular Middle Eastern and North African dish that consists of poached eggs in a delicious spicy tomato sauce topped with fresh parsley. Dunk the pita in the sauce and mop up the runny egg yolks. Yum!
Fill the inside of your pita pocket with falafel. This traditional Middle Eastern dish is made from pureed chickpeas. Add tahini sauce and some salad for a protein-packed, flavorful meal.
For a quick, healthy snack, mix some mustard, herbs, and mayonnaise together with hard-boiled eggs and stuff into a pita.
Make a delightful chicken shawarma to fill your pita bread. Chicken shawarma pairs well with pickles, vegetables, and a garlic yogurt sauce.
For a healthy summer lunch, warm pitas with minced turkey, parsley, lemon, and feta with a cucumber yogurt salad.
Packed with vitamins and perfect for a light vegetarian meal, stuff your pitas with hummus, peppers, grilled halloumi cheese, rocket, and mushrooms.
If you're in the mood for a Mediterranean meal, make some roasted sweet potatoes with chickpeas, cilantro, garlic, Greek yogurt, and chopped spinach.
Something the kids will enjoy is a fruity peanut butter pita. Mix some nutmeg, allspice, cinnamon, and peanut butter together. Then, spread inside and fill the pita with slices of banana and apples.
Conclusion
In conclusion, when eaten in moderation, whole wheat or whole grain pita bread can be healthy. It is high in fiber and low in fat. However, it is important to remember that some store-bought pitas may have extra sodium and added sugars, which can affect its overall healthiness. Pitas are versatile and a nutritious alternative when compared to traditional bread.
Recipe Card
Try out a delicious pita bread recipe. We're sure your whole family will love it!
Print
Cheesesteak Pita Pockets
---
Author:

Yield:

4

servings

1

x
1 Tablespoon

vegetable oil

1

medium onion, thinly sliced

14 ounces

frozen beef or frozen chicken sandwich steak, separated into

8

portions

1 1/2

cups

finely shredded cheddar cheese

1/2

cup

sliced mushrooms (if using canned mushrooms, drain liquid before using)

4

pita breads (6-inch), warmed
large bag of frozen onion rings
---
Instructions
Prepare onion rings in oven according to package directions. Spray lightly with olive oil cooking spray, then lightly salt for crispier onion rings.
While onion rings are baking, heat oil in skillet. Add sliced onion and cook until tender.
Place sandwich steaks on skillet and cook until browned. Pour off fat.
Add cheddar cheese and mushrooms and heat through.
Turn off stove burner, then cover pan to keep steak mixture warm.
Place pita pockets into oven with onion rings during the last two minutes of baking.
Remove pitas and onion rings from oven. 
Spoon cheese steak mixture into pita pockets. Serve with onion rings.
The image featured at the top of this post is ©KarinaKlachuk/Shutterstock.com.