Healthy Ideas for Kids School Lunchboxes
As school becomes routine, don't let the lunches get boring. Try our quick and easy healthy school lunch ideas, you'll save money and time while sending your scholars off to school with a nutritious lunch. All can be made the night before to save precious time in the morning, but if you need to put together a quick lunch most can be made and packed before the school bus arrives .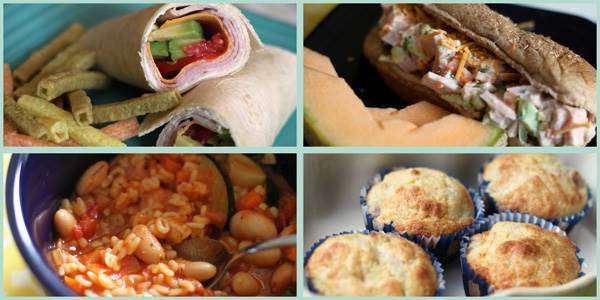 Sandwiches:
Tropical Chicken Salad Pockets – In a large bowl, mix 3 cups diced cooked chicken, 1 (20 ounce) can pineapple chunks in juice (juice drained but reserved), 3 sliced green onions, and 2 tablespoons chopped fresh cilantro. In a separate bowl, mix ½ cup reduced fat mayo, 1 tablespoon lime juice, 1 tablespoon reserved pineapple juice, 1 teaspoon sugar, 1 teaspoon curry powder, ½ teaspoon salt, and ¼ teaspoon grated lime peel. Pour dressing over chicken mixture and toss to mix. Line 4 pocket breads with large lettuce leaf each and fill with chicken mixture.
Very Veggie Turkey Subs – Combine 3 tablespoons plain Greek yogurt and 3 tablespoons ranch salad dressing in a medium bowl. Add 1½ cups finely chopped cooked turkey breast, ½ cup finely chopped broccoli, and ⅓ cup shredded carrot; mix well. Slightly hollow out tops and bottoms of 4 whole wheat hotdog buns. Sprinkle bottom buns with ½ cup shredded cheddar cheese. Spoon turkey mixture on top of cheese. Sprinkle with 2 tablespoons sunflower seeds. Top with bun tops. Shown top right with fresh cantaloupe.
Nutty Tuna Pitas – In a medium bowl, combine 3 ounces tuna, ½ cup mayo, ⅓ cup chopped celery, ¼ cup grape halves, ¼ cup chopped pecans, and ½ teaspoon dried dill weed; mix well. Add salt and pepper to taste. Line 2 pita breads, halved with 4 curly leaf lettuce leaves; fill each with ¼ of tuna mixture.
Cinna-Apple-Raisin Bread – In a small bowl, combine ⅓ cup spreadable cream cheese and ¼ cup finely chopped unpeeled apple; spread onto 4 slices raisin bread. Combine 1 teaspoon sugar and ⅛ teaspoon ground cinnamon in another small bowl; sprinkle over cream cheese mixture.
Super Fruity Peanut Pitas – Spread inside of 8 large pita bread halves (4 large pitas cut in half) with the following for each half: 1 Tablespoon peanut butter and 1 teaspoon strawberry preserves. Fill pita halves with 1 large banana sliced into very thin slices (about 6 slices for each pita) and sliced strawberries (about 2 each).
Cold Pizza Rolls – Preheat oven to 400°F. Spray large baking sheet with nonstick cooking spray. Lightly sprinkle with 1 tablespoon cornmeal. Roll 1 (14 ounce) package refrigerated pizza dough into a 16 ½ x 11-inch rectangle on a lightly floured surface. Lightly sprinkle with 1 tablespoon cornmeal. Cut into six squares. Evenly divide 6 ounces thinly sliced Canadian bacon, ⅓ cup crushed pineapple, well drained, and ⅓ cup pizza sauce over each square. Cut 3 pieces (1 ounce each) string cheese in half. Place one on each square. Bring up two opposite sides of each square and seal. Place rolls, seam side down, on prepared baking sheet. Crimp ends of each roll to seal. Bake 15 to 17 minutes or until brown. Cool completely.
Ham and Cheese Corn Muffins – Preheat oven to 375°F. Line 9 (2¾-inch) muffin cups with paper liners. In a medium bowl, combine 1 (8 ounce) package corn muffin mix, ½ cup chopped deli ham, and ½ cup shredded Swiss cheese. In a small bowl, beat ⅓ cup milk, 1 egg, and 1 tablespoon Dijon mustard. Stir milk mixture into dry ingredients; mix just until moistened. Fill muffin cups ⅔ full with batter. Bake 18 to 20 minutes or until light golden brown. Remove muffin pan to cooling rack. Let stand 5 minutes. Shown bottom right.
Rolls and Wraps:
Sweet Turkey Tortillas – Spread 4 (6- to 7-inch) flour tortillas evenly with 1 ounce Neufchatel cheese. Evenly divide ⅓ cup peach preserves on each; spread to cover cheese. Sprinkle evenly with 1 cup shredded Cheddar. Arrange ½ cup packed, stemmed, and washed fresh spinach leaves and 3 ounces thinly sliced turkey breast. Roll up and trim ends.
Wrapped Breadsticks – Bake 1 (11 ounce) package of breadsticks according to package directions; cool. Beat together 1 (8 ounce) package softened cream cheese and 1 to 2 tablespoons milk for spreading consistency. Stir in ¼ cup finely chopped carrots and 2 tablespoons minced chives. Spread 1 rounded tablespoon cream cheese mixture over 12 slices deli ham. Roll ham slice around breadstick.
California Beach Wrap – Spread ½ cup garden-vegetable flavored cream cheese to within ½ inch of edge of 4 (10-inch) flour tortillas. Layer each tortilla with one-quarter of ¼ pound thin-sliced deli turkey and ¼ pound thin-sliced deli ham. Top with 4 (1 ounce) slices American cheese, 2 thinly sliced Roma tomatoes, ¼ cup bacon bits, and 1 diced avocado. Roll up tortillas and slice diagonally. Shown top left with veggie straws.
Thermos Lunches:
ABC Minestrone – In a 4 quart saucepan, heat 1 tablespoon olive oil over medium heat and cook 1 medium chopped onion, 2 medium chopped carrots, and 1 small chopped zucchini, stirring frequently for 5 minutes or until vegetables are tender. Add ½ teaspoon dried Italian seasoning and cook, stirring occasionally, 1 minute. Add 4 cups chicken broth and 1 (1 pound 10 ounce) jar pasta sauce and bring to a boil. Stir in 1 (15 ½ ounce) rinsed and drained cannellini beans and 1 cup alphabet pasta. Cook, stirring occasionally, 10 minutes or until pasta is tender. Shown bottom left.
Taco Lover's Mac and Cheese – In a large stockpot, boil 1 (12 ounce) package macaroni in unsalted water just until tender. Drain and toss with 1 tablespoon Seasoned Salt. Meanwhile, in medium skillet brown 1 pound lean ground beef; drain fat. Stir in 1 (1 ounce) package Taco Seasoning. Spray 13×9 baking dish with nonstick cooking spray. Layer half of macaroni in bottom of dish. Top with 1 cup each shredded Colby longhorn cheese and shredded mind cheddar cheese. Spread taco meat over top and repeat layers of macaroni and cheeses (4 cups total of cheese). In a medium bowl, beat together 2 cups milk and 3 eggs. Pour egg mixture over top of casserole. Bake in preheated 350°F oven for 3o to 35 minutes or until golden brown.
Fruits and Veggies:
Chicken Salad – Toss together ½ cup diced roasted skinless chicken, ½ rib celery, ¼ cup drained mandarin orange segments, and ¼ cup red seedless grapes in plastic container; cover. For dipping sauce, combine 2 tablespoons lemon yogurt, 1 tablespoon mayo, ¼ teaspoon soy sauce, and ⅛ teaspoon pumpkin pie spice. Place dipping sauce in small plastic container; cover. Pack in insulated bag to keep cool.
Watermelon Kabobs – Alternate cubes of (1-inch) seedless watermelon between 1-inch cubes of turkey breast and 1-inch cubes of Cheddar cheese.
Banana Roll Up – Combine ¼ cup smooth or crunchy almond butter, 2 tablespoons mini chocolate chips, and 1 tablespoon milk in medium microwavable bowl. Microwave on MEDIUM 40 seconds. Stir well and repeat if necessary to melt chocolate. Add more milk if necessary for desired consistency. Spread almond butter mixture on whole wheat flour tortilla. Place 1 large peeled banana on one side of tortilla and roll up tightly. With sharp knife, cut into 8 1-inch slices.
The image featured at the top of this post is ©Species125/ via Getty Images.