Let's examine tzatziki vs. tahini sauce and their roles in traditional cuisines around the world. Each packs a punch in terms of flavors and textures. However, the creamy and garlicky tang of tzatziki is quite different from the smooth and sweet sesame-based tahini. We'll explore all their differences below, each sauce's history and origin, how they're made, and more!
Tzatziki vs. Tahini sauce: What is the difference?
The primary difference between tzatziki and tahini is that tzatziki is yogurt-based while tahini is sesame-based. Tzatziki is cool, tangy, and refreshing while tahini has a rich, nutty flavor and is creamy in consistency.
Both dishes are popular condiments in Middle Eastern and Mediterranean cuisine. The ingredients of tzatziki include yogurt, cucumbers, garlic, herbs, and sometimes lemon juice while tahini is a simple condiment that normally is made from just sesame seeds and olive oil.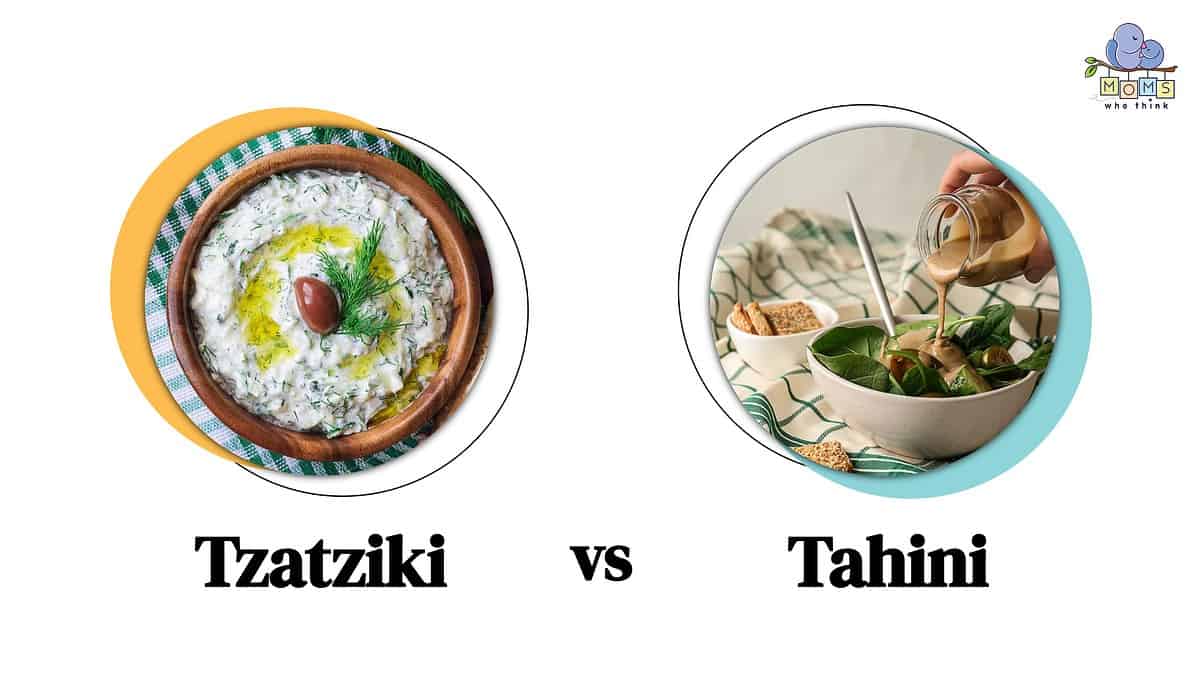 Tzatziki is a popular dip on both slices of bread and vegetables but is also fantastic on gyros. Tahini is often used as a dressing or sauce but is also famously used as a base for dishes like hummus. Tahini has been widely used across regions like the Indian subcontinent and certain parts of China.
Let's discuss both condiments in more detail, including ways that tahini can be sweetened and tzatziki enhanced with tangier herbs. Let's get into the details of tzatziki vs. tahini!
What is Tzatziki?
Tzatziki is a classically Greek sauce. Used often as a side to family-style meal with lots of Mediterranean mezze platter options, it is also popular as a counter dip to other spicier dishes or hot meats. Tzatziki can be made with oils and spices to make certain elements really pop against its creamy, cooling base.
History And Origin
There are variations of the Greek tzatziki in Indian cultural cooking, commonly called raita. It is suspected to have originated in India. The Persian trade routes were the reason the recipe made its way to Greece and other countries. In Turkey, it is known as cacik, and there is more water added to the mixture to create a thinner sauce. There are also theories that the recipe was spread during the Ottoman conquests to areas like the Balkans and the Middle East (via World Food Story). Tzatziki is easy to make and delicious with most dishes. It's no wonder Tzatziki has such a rich and varied history, all over the world! Iranian, Bulgarian, and Serbian dishes,
How Tzatziki Is Made
Now, let's look at how tzatziki is made. The main ingredients are oil, vinegar, Greek yogurt, cucumber, garlic, parsley, dill, mint, and salt. The Taste Atlas recipe recommends that after peeling, chopping, and de-seeding your cucumbers, you prepare a salt soak for about 15 minutes. After your cucumbers are ready, combine them with Greek yogurt, vinegar (lemon juice will also do), fresh herbs, garlic, and whatever other spices your heart desires. Refrigerate your stirred-up mixture for at least an hour before serving.
Tzakziki vs. Tahini Nutritional Value: Calories, Fat, Protein, and More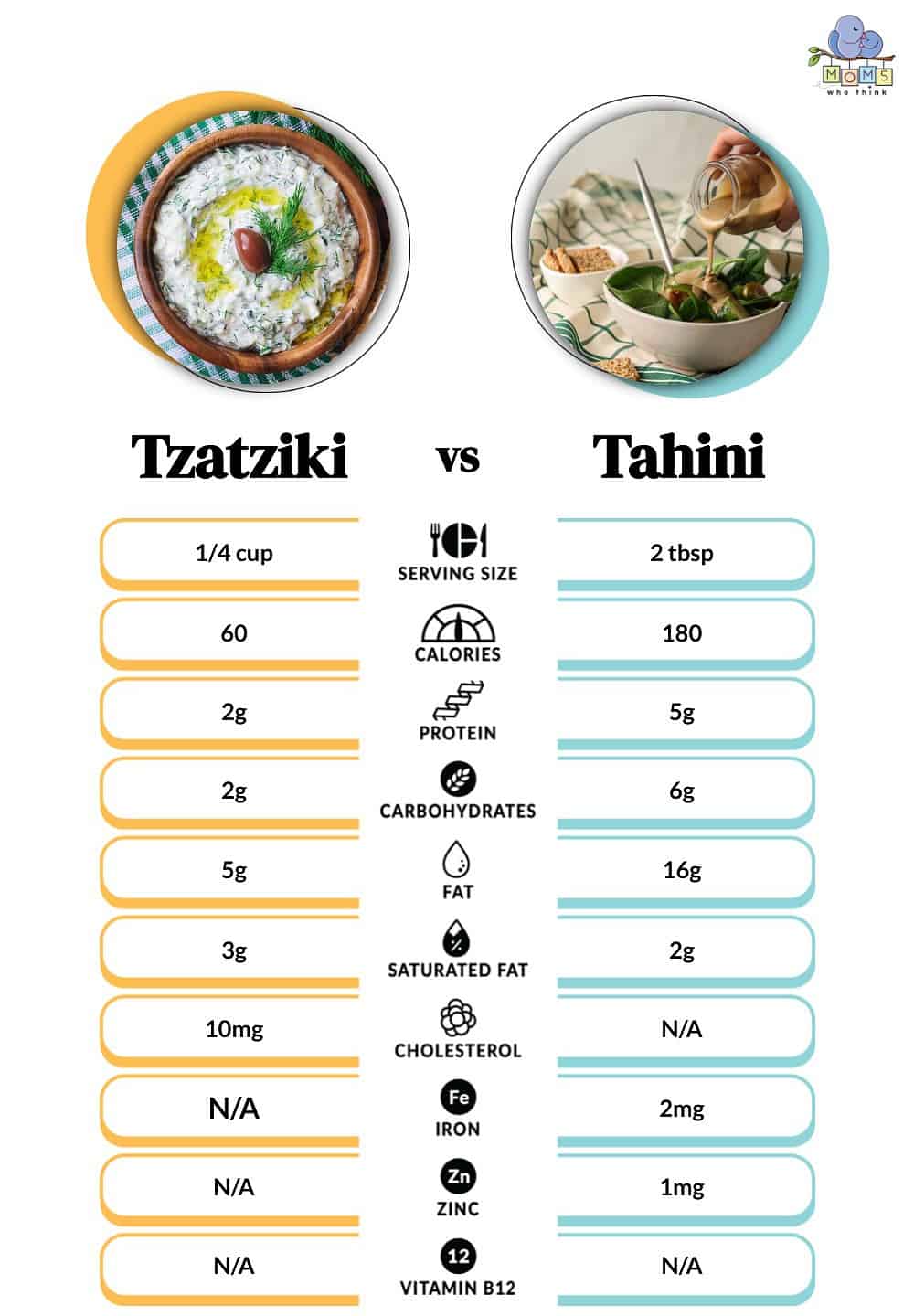 The base of yogurt makes tzatziki a good source of calcium, probiotics, and the proteins, minerals, and vitamins that are prevalent in Greek yogurt. Add in vegetables and herbs, and this dish is a relatively low-impact healthy dip to add to heartier meals. There are ways to make your tzatziki healthier, using low-fat Greek yogurt, for instance, can reduce the calorie count of your homemade dip. According to Live Strong, yogurt has been traced to dietary weight management, and improved gut health.
Overall, tahini has significantly more calories per ounce than tzatziki. There are about 180 calories per two tablespoons with the majority coming from fat calories. Both condiments are relatively low in carbohydrates, but additions to them like honey can add to that total.
Popular Uses
Tzatziki is popular as a dip in mezze-style family meals. It is commonly associated with Greek recipes like Gyros, Spanakopita, Souvlaki, and Pita Bread, but is also used in all kinds of other cultures' cooking. For instance, in Polish cuisine, they have a cucumber salad called Mizeria that has some crossover with the recipe for Tzatziki. Tzatziki is a great alternative to creamy sauces, you could try it on a sandwich or in a burger to switch up the taste profile. It is a cooling, creamy, and lovely dish to try out with many meals.
What Is Tahini?
Tahini has been sometimes compared to peanut butter, not in texture but in taste. It makes sense because both have a nutty flavoring, however, one comes from peanuts and tahini comes from sesame seeds. This sweet and nutty sauce is a staple of salad dressings and meal garnishings and has some very unique features. A fun fact about tahini, as per Taste Cooking, is that, like quicksand, tahini is a non-Newtonian substance. What this means is that the more it is stirred up, the thicker it becomes! This quality is specific to tahini in the debate of Tzatziki vs. Tahini sauce!
History And Origin
Ground sesame seeds in cooking have been around since 5000 BC (via Splendid Table). With roots in Indian, Arabic, and Chinese cooking, for a long time, the seeds were grown in Ethiopia where they are called Humera. This style of sauce has been around for a long, long time and is used in all kinds of cuisines. The name tahini is believed to be linked to the Arabic word that means "to grind," which is a big part of the process of making tahini paste from roasted sesame seeds.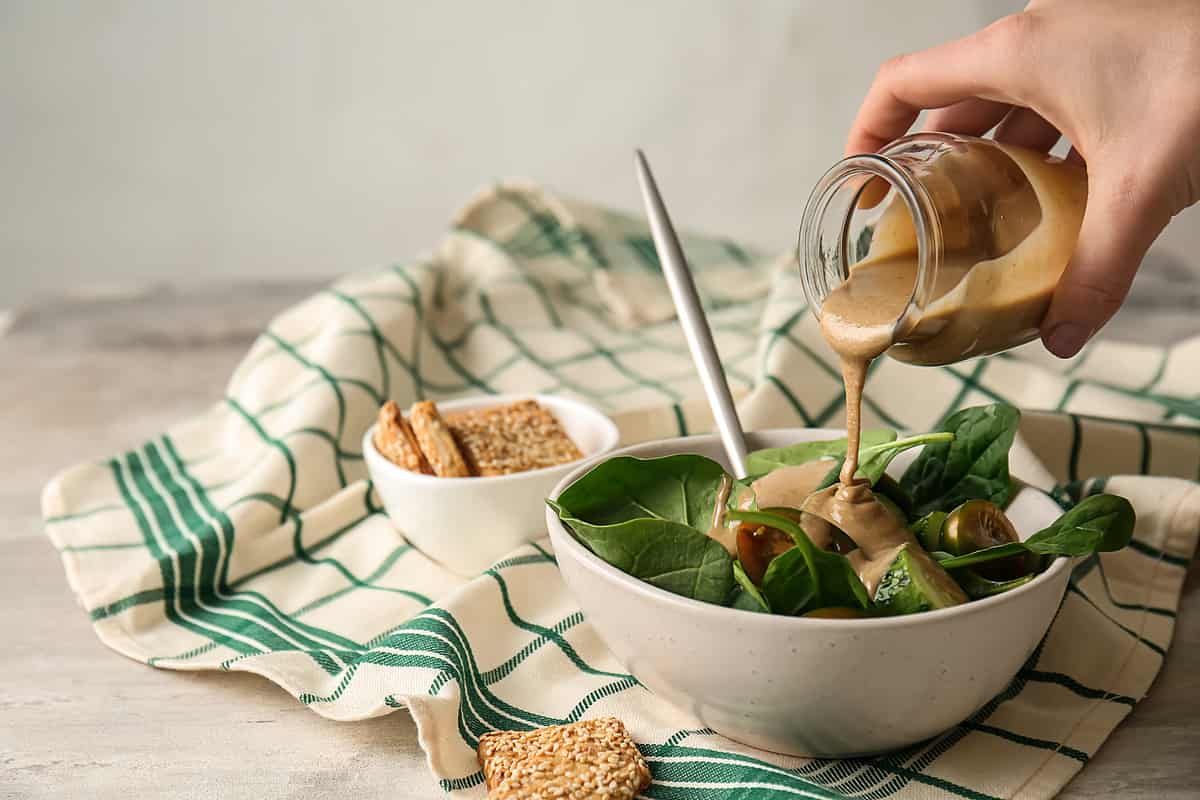 How Tahini Is Made
The first step in the tahini-making process is to buy sesame seeds. There are two types of sesame seeds, hulled and unhulled. Hulled means the seeds are devoid of their shell when you buy them, which can make them less bitter but also slightly reduces their nutritional value (more on this later.) Next, toast the seeds to a light golden brown before putting them into a food processor. This is the easiest way to grind them into a paste, however, if you want to mortar and pestle it, be our guest! The only other required ingredient is olive oil or vegetable oil, but you can experiment with adding citrus juice or other spices if you want a bit of tang or spice to your homemade tahini (via Mediterranean Dish). Once all of that is blended up, refrigerate your tahini and use it whenever and wherever your heart desires!
Nutritional Value
Tahini contains thiamine, vitamin B6, and nutritional elements like phosphorous and manganese. It has beneficial antioxidants that may help your body fight against diseases, as well as antibacterial and anti-inflammatory compounds that aid your immune system response. The recipe's nutritional value will change depending on if you use hulled or unhulled sesame seeds. The hull of the sesame seeds will add to the bitterness of the sauce but increase the nutritional value of the seed. Who knew sesame seeds could be so good for you?
Popular Uses
Tahini is really quite versatile. Not only can it be a sauce and a dip, but it can be used in baking. Tahini brownies anyone? The nuttiness and rich quality of tahini pairs well with chocolate and other sweet treats. It can be used to thicken soups, as a spread for toasts, as a marinade for meats, and drizzled over roasted, spiced vegetables. Use your imagination or look up some inspiration, tahini is a great addition to most dishes.
Possible Alternatives To Tzatziki vs. Tahini
For the tzatziki, a good alternative base is always a non-dairy yogurt, though you can use sour cream or crème fraîche in a pinch. As for tahini, nut butter that can be diluted down to get a silkier texture, are your best bet. Try out cashew tahini or almond tahini for a similar flavor profile.
Are Tzatziki And Tahini The Same Thing?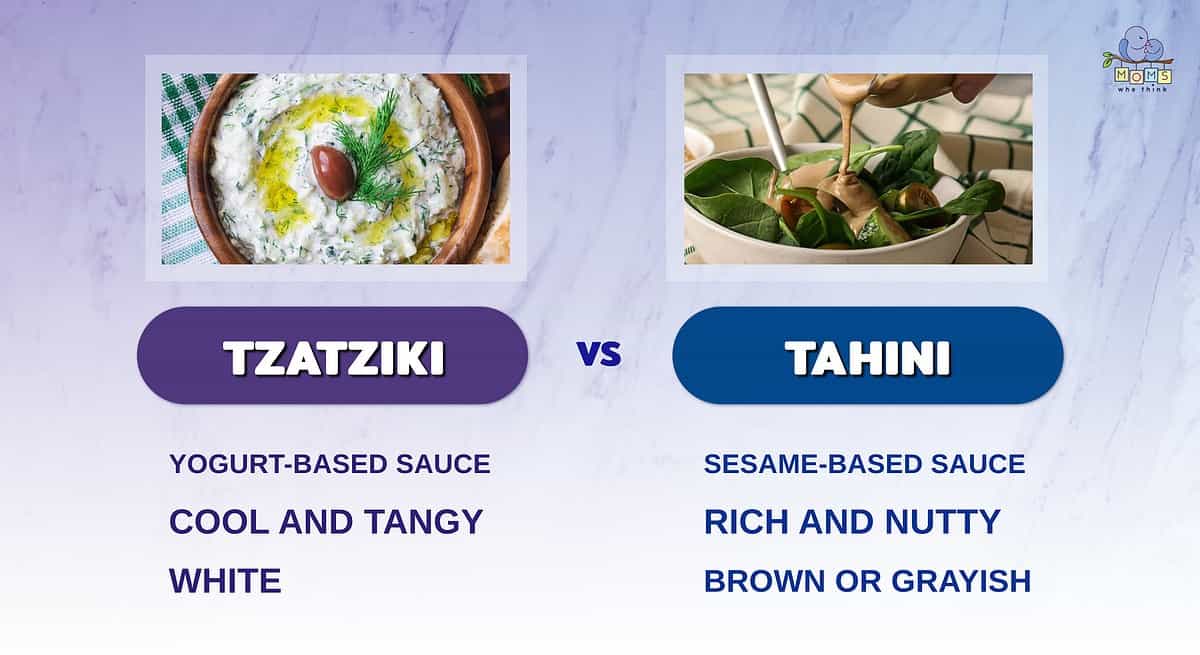 One of the biggest differences between these two sauces comes down to their ingredients. Tzatziki sauce is a yogurt-based sauce, while tahini is sesame-based.
Some may find the cool and tangy flavor of tzatziki more refreshing than the rich, nutty taste of tahini. Both sauces do an excellent job of elevating a dish.
Traditionally, tzatziki is white while tahini is brown or grayish.
Print
Red Pepper Hummus
---
2

(15 ounce) Cans chickpeas, rinsed and drained

3

Garlic cloves

1/2

cup

jarred roasted red pepper, drained

1/2

cup

tahini

1/4

cup

water

2 Tablespoons

olive oil

1 1/2 Teaspoons

salt

1/2 Teaspoon

ground cumin

1/4 Teaspoon

ground red pepper

1/3

cup

fresh lime juice
---
Instructions
Blend all ingredients in a food processor until smooth, scraping sides often.
Cover and chill until ready to serve.
When considering the debate of tzatziki vs. tahini, it is quite clear they are not the same thing. They have different flavor profiles and different bases and even the process of making them is unique in its own way. While they are each used in many cultural dishes and pretty versatile in their use, these two sauces are definitely stand-alone choices. But that's not to say they can't be used together. Both are great in mezze Mediterranean meals.
The image featured at the top of this post is ©iStock.com/Sergey Kirsanov.